Only, this isn't a fantasy. You can create big shifts to dramatically improve the quality of your life by adopting and maintaining simple daily habits.
The payoff will be huge.
I'm going to share with you 5 activities that you should consider trying to make your life at home—and post-quarantine—better than ever.
1. Raise Your Fitness Level
How are you staying fit and active during these periods of self-isolation?
We've all created our own at-home versions of staying active, especially while most gyms are off-limits right now. Chances are, your workout frequency and intensity have dropped dramatically. But, all you really need is 20 minutes a day and a kettlebell.
The kettlebell has to be one of the most versatile pieces of exercise equipment. From the moment you get one and learn how to use it properly, you really don't need any other equipment in your at-home gym
Kettlebells can improve flexibility and conditioning and allow cardiorespiratory and muscular endurance, without adding pressure on the body with running-type exercises.

– Steve Cotter
If you've been following me for a while, you know that I like to first test out new ideas and programs on myself before I recommend them to my followers. And I understand how effective of a workout you can get with only kettlebells thanks to my friend Steve Cotter, who is a renowned kettlebell expert, martial artist, and certified strength and conditioning specialist.
In fact, Steve is likely one of the main reasons why kettlebells are so popular today. His resume is impressive: he is the founder of the International Kettlebell and Fitness Federation (IKFF). He is an advisor to US Navy SEALs and was voted one of Men's Health Magazine's Top 100 Fittest Men of All Time. I've been friends with Steve for a while now, and he taught courses at Mindvalley as well.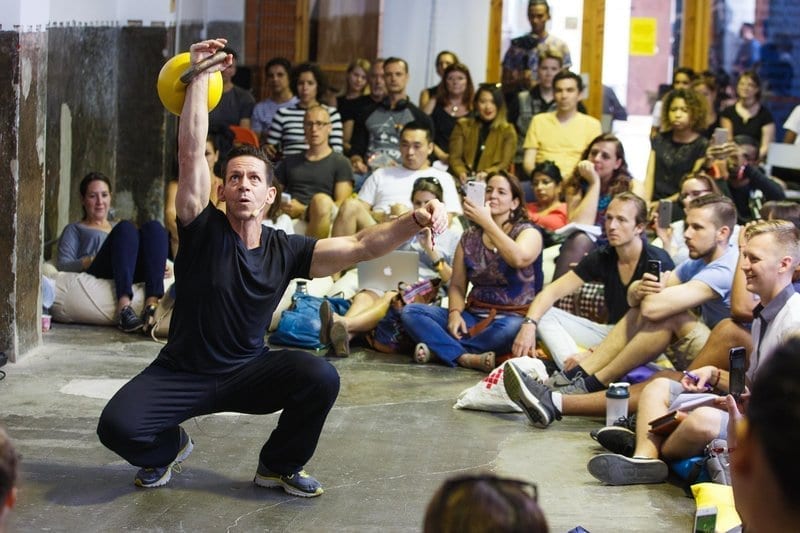 When he recently visited our headquarters in Malaysia, we created a mini-quest called The Way of The KettleBell.
If you don't have your own kettlebell, try these substitutes:
A bag of potatoes, onions or fruit – wrap them tight to prevent bruising
Jug of water – any water bottle with a handle will work; adjust the weight by adding or removing water
A tote bag – make sure you don't fill it with too many things. Twist the handles so nothing flies out mid-workout.
And if you enjoy the workout, you can order yourself the real thing—Amazon has some great options. It could be the only piece of gym equipment you'll ever need!
If you want to leave quarantine in better condition than when you went in, you can do this 7-day quest from the comfort of your own home, for free.
2. Reprogram Your Thoughts
This global pandemic may have understandably brought some fears to the forefront of your mind. You may be experiencing anxiety about the future, a lack of control of your present, or nagging doubts and worries about how things will eventually pan out.
Are these fears a genuine response to the current situation, or are they a manifestation of your brain's "meaning-making machine"?
Our thoughts, when constantly recycled and replayed in our minds, become the stories we carry. The more we tell ourselves the same story over and over, the faster it becomes true to us and shapes our feelings and behaviors.
The truth is, we all have beliefs—real or imaginary—that we battle with every single day.
Self-doubt is natural, especially during these times. What's important is recognizing these patterns and knowing what you can do about them.
In 2015, I met the brilliant Marisa Peer. Back then, I was going through a hard time and I asked Marisa to guide me through her technique (called R.T.T) to see what was going on in my mind. I went through hypnotic regression and images from my childhood popped up.
As Marisa guided me, she helped me see how my childhood experiences had come to shape my beliefs.
What happened next was a profound turning point in my life…being able to view how I took on beliefs helped me rewrite and discard the ones that were no longer serving me. Learning the right way to speak to my subconscious also helped me make better decisions. Check out this video on logic vs. emotion: who wins?
If you'd like to dive deeper into this idea of reprogramming your mind, I suggest you watch this one-hour video with Marisa Peer.
3. Supercharge Your Brain
First you make your habits, then your habits make you.

– Jim Kwik
While spending more time at home, there's an excellent opportunity to develop a hyper-productive morning routine.
Brain performance expert Jim Kwik, who has worked with actors, celebrities, and top organizations, identifies some genius morning habits—10 to be exact. You can try a couple of them consistently every morning and you'll quickly see a remarkable difference in your life.
For instance, check out this video of a Navy Admiral's commencement speech to college graduates on why the most important advice he gives his officers is to make their bed every morning. Such a simple, almost mundane task, can change the course of your life.
You see, it's all about having a 'quick win' under your belt. Make your bed perfectly first thing in the morning and it'll reset you into a completely different frame of mind for the rest of the day. I love this idea.
It reminds me of this Mindvalley video we filmed with Jim: 10 Morning Habits to give you that emotional pick-me-up every single morning. There's no better time to reinforce these, especially when we are hyper-craving routines during the quarantine.
You'll love them and see improvements quickly if you stick with them.
4. Power Up Your Immune System
Your immune system is your body's last line of defense, and it's crucial to maintain a healthy lifestyle and boost your overall immunity.
Restoration is important. You can strengthen your immunity by making simple alterations to your workouts. Focus on dividing and spacing out your workouts during the day, instead of having one long session. The key is to avoid exercises that increase the inflammatory state, which will mildly suppress your immune system.
Intermittent fasting while avoiding sugar intake could be highly beneficial during this time as it also improves your immunity. Science has proven its many benefits in regards to reducing risks of getting cancer, increasing your heart's health, and boosting your metabolism.
Make sure you are also getting the right kind of nutrition, so include leafy greens, vegetables like broccoli, and vitamin C-rich foods in your diet. Finally, remember to get sufficient sleep.
This will not only boost your immune system – it will help you live longer and be more productive.
5. Be Still And Meditate
Mindfulness and meditation have been scientifically proven to radically improve your health, reduce stress and anxiety, improve sleep and emotional health. It can also help you create a better connection between compassion and love.
Setting aside time to meditate around 10 minutes a day can actually make a massive difference in your productivity as well if you're working from home.
The roots of meditation can be traced back as far as 2,000 years, to old Buddhist traditions and it continues to evolve as society evolves.
So I created a meditation practice based on my personal daily routine. Since then, millions of people have made this practice part of their daily routine. as well.
I distilled hundreds of the world's most powerful personal growth books and designed them for remarkable transformation in minimal time. I called it The 6 Phase Meditation.
It uses scientifically proven techniques that, when practiced over time, can boost your happiness by 20% or more, and condition your brain to experience more compassion.
The 6 Phase has been used by pro athletes and NFL legends like Tony Gonzalez, and mega artists like Miguel who shared with Billboard Magazine that he has been using this practice to connect with his fans before each show, as a way to incorporate his personal habit of meditating into his professional life.
If you're new to meditation and would like to try out something backed by science and experts, try out my 6 Phase Guided Meditation.
As always, follow me on Instagram for more life-changing ideas.
Making Personal Growth A Daily Practise
These habits have no doubt changed my life for the better because fundamentally they facilitated my growth. Not just as a CEO, but as a man. As a father, a son, a partner, and a friend. Self-development, in my eyes, is the key to true success.

That's why I'm a firm believer that there's nothing that should come before your personal growth.

From what I've seen, sustainable transformation more often than not happens in stages, bit by bit, month by month, day by day, as practices.

Albert Einstein once said that 'growth should commence at birth and cease only at death.' I believe this to be the only way to not only survive given your circumstances but thrive too. So I asked myself, 'how do I make damn sure that I'm transforming at exponential rates to keep up?'
To share the answer to this question, I've created a full-immersion Masterclass on how to put yourself in an accelerated cycle of transformation and rise above anything life throws at you.

I'll be sharing the core principles of personal growth that took me just over 15 years of intense experience to attain – I've named the Masterclass The 3 Keys To Transformation. It's a totally free, 90-minute deep dive into integrating life-changing personal growth into your day-to-day living so you can create tangible, consistent shifts in your journey. Bring a journal – I'll also be sharing how to hack transformational learning so it occurs for you on a subconscious, intuitive, and automatic level.
(This article was first published on Thrive Global.)