How To Start Journaling In 3 Easy Steps
Have you wondered why so many history makers, like Leonardo da Vinci, Maya Angelou, Charles Darwin, Frida Kahlo and Andy Warhol, spend so much of their precious time writing in a journal?
The power of journaling is also known among celebrities and great minds of today: Lady Gaga, Emma Watson, Tim Ferriss and Sara Blakely, just to name a few.
We all know that journaling is one of the most powerful habits we can develop, and yet we're unsure about how to start journaling.
I write in a journal daily. This extraordinary ritual has revolutionized my mindset, transformed my heartset and generally influenced my life exponentially.
In order to support you on this journey of starting the habit of journaling, here's an easy 3-step guide that will help you understand how simple, and yet powerful, journaling really is.

Step #1: Get clear on your why
One of the aspects I love the most about journaling is how flexible it is. You can use it to organize your day, declutter your mind, spark your creativity, record your extraordinary life, among other amazing benefits of journaling.
Hence, the first step is all about getting clear on why you're doing what you're doing. That is, being deeply aware of what your intention with starting a journal is.
To give you an example, for me journaling is my number one tool to live an intentional life. I keep a daily journal to reflect, stay on track to meet my goals, and plan the future ahead.
Step #2: Choose your media
Journaling is simply the practice of free self-expression by writing things down.
Some people prefer to type it in their computer or smartphone, while others prefer to write it by hand.
It's recommended to journal with pen and paper. Not only because it gives you the focus to digest and retain information, but also because you have less distractions — no Whatsapp notifications, no emails coming in. It's just you and the journal.
Regardless of which media you choose, make sure you enjoy the process! Journaling is not supposed to be a tedious chore to check off your daily to-do list, but rather an intimate moment you look forward to.
Step #3: Find your journaling type
And now, the big question… What to journal about?
There are many types of journaling, from gratitude journaling to bullet journaling. The good news is that there's no "right" or "wrong" type of journaling, it all depends on why you're doing it (step #1).
If you want to start journaling and you don't know where to begin, I'd recommend you to find a guided journal such as My Life Journal. As you open a guided journal, you'll be instantly inspired with its creative writing prompts, exercises, and quotes to help you put pen to paper.
Starting to journal is not as complicated as it seems. All you need is to set quiet and uninterrupted time for yourself (5-10 minutes is sufficient!) and pen and paper. I promise, this can be one of the most powerful tools for your personal growth journey!
---
Most people think that learning is the key to self-development
It's how we were raised – when we were young, we studied algebra, read history, and memorized the names of elements on the periodic table.

But once you grow up and experience life, you realize that you can't 'learn certain things – like personal growth.

Vishen Lakhiani, founder of Mindvalley and New York Times Bestselling author, discovered that the key to self-development was not to 'learn', but rather, to 'transform'.
If You Want To 'Transform' And Are Ready To Accelerate Your Own Personal Growth, Then Join Vishen Lakhiani's FREE Masterclass, Where You'll Learn:

✅ The Framework For Flow: The 3 Big Pillars of Life which will help you to rapidly grow on autopilot, so personal development happens naturally.

✅ How you can harness the energy surrounding you to automatically attract the tools you need to unlock your true potential, allowing you to easily make transformative shifts in your life.

✅ Apply the #1 principle to eliminate obstacles in your life, and subsequently show up as your best self and make a positive impact on the world.
Discover The Proven Framework for Extraordinary Transformation and a Brand New You in 2020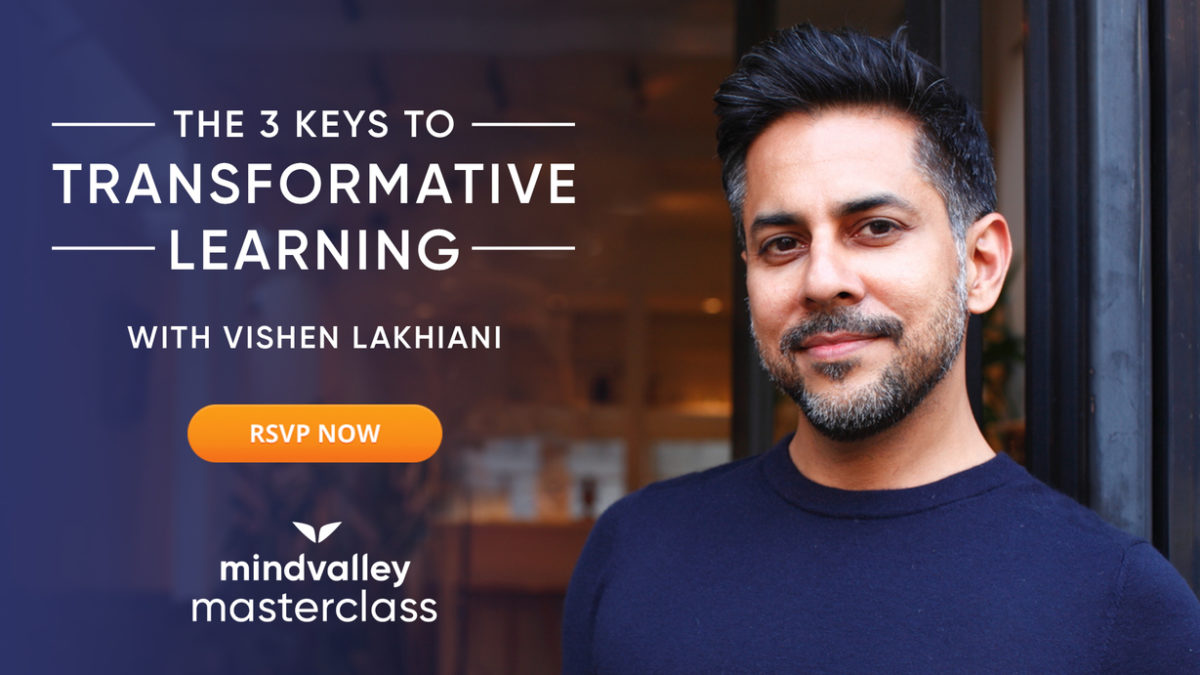 Do you have any questions on how to start journaling? Share with us in the comments below, I'll do my best to answer them!