Most of us have a good understanding of how to keep our physical bodies fit and in shape. But what about your spiritual fitness?
We caught up with the "healers' healer," Jeffrey Allen, to find out how we can take our spiritual fitness to the next level.
Jeffrey Allen identifies here the six areas of "spiritual fitness" that comprise a meaningful life.
But first, let's explore what spiritual development is and how it works.
What Is The Meaning Of Spiritual Development?
Most of the time, we assume our beliefs are true — like unchanging facts about the world. From an energy perspective, however, nothing could be further from the truth.

—Jeffrey Allen, Author of Mindvalley's Unlocking Transcendence Program
Pursuing personal growth often means making sacrifices to further our development.
But what sort of development are you trying to achieve?
For those looking to improve their physical fitness, setting everyday goals, like going outside for a walk, can help bring you one step closer (literally!) to your personal growth goal.
For those who seek to improve the mind, courses, seminars, and meditative practices may help.
But what about spiritual development? What if you're trying to augment your spiritual growth?
Spiritual development is the pursuit of spiritual growth. It's a form of personal growth that focuses on spiritual maturity.
And it requires frequent spiritual shifts and changes to proceed.

What does spiritual change mean?
A spiritual change is an internal shift that occurs on the path towards spiritual maturity.
A spiritual change can be a shift in either direction: toward the more enlightened or less.
And the goal when pursuing personal growth of this nature is to make small but consistent spiritual changes toward awareness.
What is the spiritual development of a child?
Do children also undergo spiritual change? You bet.
In fact, childhood is one of the peak periods for our spiritual growth.
With or without the thoughts and guidance of parental figures, children will naturally have spiritual thoughts and feelings. This is such a widespread phenomenon that it's considered to be one of the hallmarks of human development.
Sociologists and psychologists have been working to understand the seemingly natural human inclination towards spiritual beliefs.
The human grasping towards spirituality is something that can be observed across the world and throughout history.
And as children, our spiritual growth potential is nearly limitless.
Before we've begun to solidify our belief systems, our spirits and impressionable and malleable. But as we age, it becomes more and more of a challenge to make spiritual changes in the right direction.
So, how can you work on spiritual growth well into your adult years? By exercising the 6 muscles of spiritual fitness.
If you want to improve your physical fitness, you hire a personal trainer, right?
But if you want to work on your spiritual fitness? You need to learn how to identify and build your spiritual muscles.
6 Muscles Of Spiritual Fitness By Spiritual Growth Expert Jeffrey Allen
---
Ready to find out where you stand on the spiritual fitness scale?
Take a look at the infographic below.

---
Discover Your 12 "Spiritual Muscles" To Heal Yourself, Attract Synchronicities And Eliminate Negativity with Jeffrey Allen's FREE Masterclass.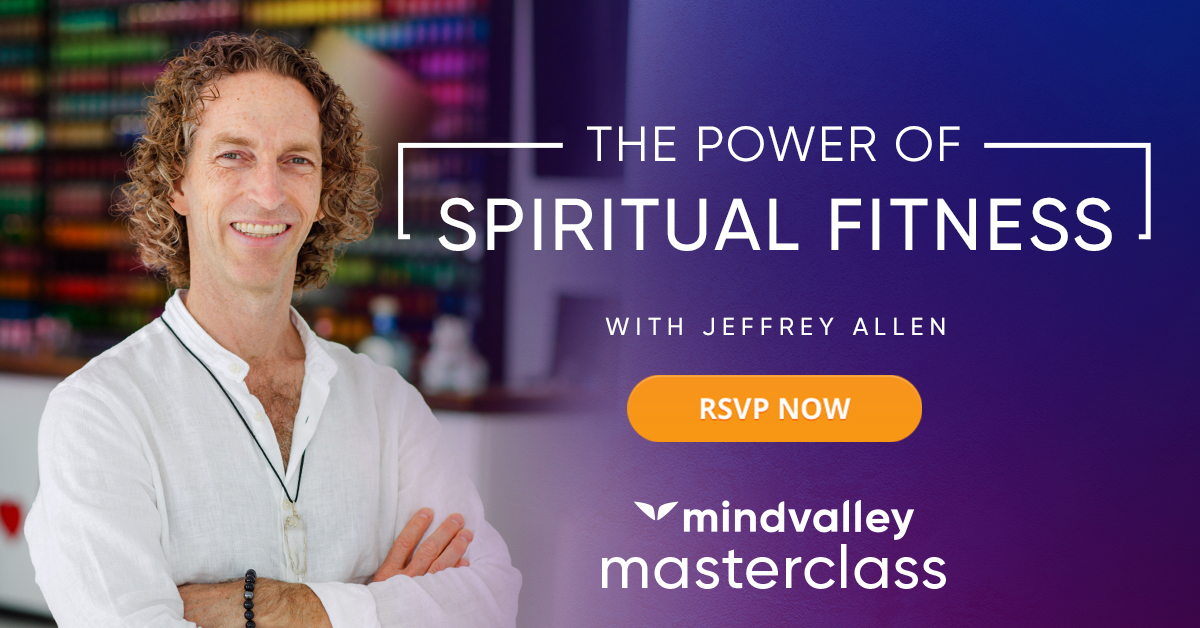 ---
So, which muscle do you want to work on to improve your spiritual growth? Share in the comments below.