If you've done a bit of research into the best diets for weight loss, you've probably stumbled across the Paleo vs Keto debate.
Both of these diets have received tremendous amounts of hype in recent years.
A number of celebrities and fitness experts have had their say, praising one of these diets as being primarily responsible for their incredible physique.
Indeed, each of these diets can probably help you shed the pounds – if you stick to them.
The real question is: how easy are these diets to stick to?
After all, if you're having to exert too much willpower to make Paleo or Keto a part of your life, it will only ever be a temporary fix.
Eventually, you'll fall off the wagon – and your excess weight will typically begin to pile back on.
It's important that you analyze Paleo, Keto or any other trendy diet plan from a long-term perspective, rather than what will help you shed enough pounds in time for summer.
You should ask yourself which diet you'd like to adopt permanently. That is assuming you don't want to be stuck in a 'yo-yo diet' cycle, where you work hard to lose weight only to regain it within a few weeks.
Lasting transformation is not about following a bunch of restrictive rules. It's about changing our psychology and our relationship with food.

— Eric Edmeades, Author of Mindvalley's WildFit program
This article will outline the difference between Paleo and Keto, helping you to decide which option is likely to be the most sustainable for you.
What Is The Paleo Diet?
---
The Paleo diet encourages you to only eat foods that were available in the paleolithic era before agriculture was introduced.
This diet is also commonly referred to as The Paleolithic Diet, Hunter-Gatherer Diet or Caveman Diet.
A key reason why the Paleo diet is so effective is: you'll avoid all of the processed man-made products, which tend to be packed full of sugars, artificial sweeteners, and unhealthy additives.
Some 70% of packaged foods have sugars added to them. These might make them taste great, but they're the biggest contributor to weight gain and a range of diet-related health problems.
Sugar triggers our appetite – and so manufacturers put it in everything.

— Eric Edmeades, Author of Mindvalley's WildFit program
You'll also be avoiding dairy and grains. This might sound difficult – but humans in the Paleolithic era got by just fine without these foods. In fact, there's plenty of evidence that dairy is extremely harmful to our health. You'll feel a lot better without it.
By sticking as close as possible to The Human Diet, you're most likely to reach your physical potential. It'll work wonders for your immunity and energy levels, as well as your weight.
What can I eat on the Paleo diet?
Meats are completely natural, so feel free to gorge on chicken, lamb, turkey, pork, beef, seafood and others. Grass-fed meats are considered healthier – and a 'strict' paleo diet might only include these. Avoid heavily processed meats, like chicken nuggets for example.
Eggs are not considered dairy for the purposes of the Paleo diet. In fact, since grains and dairy are banned from this diet, eggs are a staple of many Paleo-friendly breakfasts.
Fruits and vegetables are allowed on the Paleo diet. Organic fruit and veg would be ideal, so you limit your consumption of artificial ingredients. It's recommended to consume sugary fruits in moderation. Consider snacking on a nutritious smoothie if you get hungry between meals.
Healthy nuts and seeds like almonds, dates, walnuts and chia seeds are packed with protein, making them a great addition to any snack.
Oils and fats gathered directly from the plant are recommended as part of the Paleo diet. So, help yourself to olive oil, walnut oil, flaxseed oil, coconut oil, avocado, and macadamia oil among others. The plants themselves are all included in Paleo too.
What foods are not allowed on the Paleo diet?
That means no wheat, corn, crackers, pasta, bread or beer. Cavemen weren't chowing down on any of this. Most grains are packed full of sugars. Eliminating these from your diet can have a fantastic impact on your weight loss.
Milk, butter, yogurt, cream, cheese, and all other dairy products are out the window. Dairy-free milk such as coconut milk or almond milk is allowed.
Refined sugars, sweeteners, and oils
These were completely absent from our ancestors' diet and are therefore not permitted in the Paleo diet. This means the majority of packaged meals and processed meals are banned.
Beans, peas, lentils, tofu, peanuts, and other legumes aren't permitted on the Paleo diet.

What Is The Keto Diet?
---
The Keto diet aims to put your body into a state of ketosis. This is an alternative metabolic process, where the body burns fat to create energy, instead of using blood sugar. Once you reach this state, your weight loss tend to skyrocket, provided you're not overeating.
To prompt ketosis, you must limit your intake of food containing all types of sugars. That's why sugar and carbs are highly limited within the Keto diet. Protein is also limited on the Keto diet, as it's believed that too much protein will throw you out of ketosis.
With the Keto diet, it's important to track your macronutrients. Most models of the diet suggest your daily diet should something look like this:
75% of your daily calories from fat

20% of your calories from protein

5% of your calories from carbohydrates.
That's a lot of fat, and barely any carbs. If you're consuming 2,000 calories a day, you're permitted to consume 100 calories per day of carbohydrates. That's one tortilla wrap or one-and-a-half slices of white bread.
What can I eat on the Keto diet?
You can eat anything on the Keto diet, provided you remain within your daily macro limits.
Still, that means the majority of your diet will be based around fats, such as:
Fatty meats and seafood;

Full fat dairy, including butter, cream, cheese, and yogurt;

Nuts and seeds;

A

vocado and avocado oil;

Olives and olive oil;

Coconut and coconut oil.
Paleo Vs Keto: Pros And Cons
---
When exploring the difference between Keto and Paleo, it's important to look beyond what foods you can and can't eat.
The general effects on your health and wellbeing should also be considered. This will vary depending on the individual.
Nevertheless, there are various side-effects that are considered common for both diets.
Keto vs Paleo: health benefits
As both Paleo and Keto diets remove unhealthy foods from your diet, there are a lot of similar health benefits reported.
These include:
improved immunity;

higher energy levels;

improved sleep;

improved digestion;

lower blood pressure and balanced blood sugar levels.
A key difference between the two diets is that one aims to cause ketosis, while the other doesn't. Although ketosis is generally regarded as safe, there are a lot of common symptoms that may occur as your body adjusts to this new form of metabolism.
This adjustment process is often referred to as the keto flu, because symptoms include headaches, sore muscles, cramps, fatigue and brain fog. These symptoms tend to last a couple of days at the start of the diet.
Cravings for sugars – or other foods you've suddenly removed from your diet – are common when switching to Paleo or Keto. Once again though, you can expect these to wane over time.

Paleo Vs Keto: Which Is Likely To Be Better For You?
---
It's difficult to crown one of these diets as the champion. Both are generally very healthy and have been proven to help spur weight loss.
The key to the success of any diet is: how likely you are to stick to it.
So, let's compare some of the factors that might affect this.
Paleo vs Keto: Variety of food
A blanket ban on your favorite foods is going to be tough to stick to.
Willpower is finite and is more likely to break if you are never allowed to break your fast.
Keto may appear to have an advantage of Paleo due to this, as you'll at least be allowed a tiny portion of your guilty pleasures every day.
The alternative argument is that Paleo arguably offers a wider variety of meals that you are allowed. You don't have to worry about piling up on fats every day.
Either way, it's worth having a small think about what foods you may crave when you begin your diet – and whether Keto or Paleo is more generous towards these cravings.
Don't get too caught up on this though. Cravings for certain foods will die down as you adjust towards your diet.
This typically happens as you learn to value the long-term advantages of feeling great all the time, over the short-term spike in emotions that come from eating unhealthy food.
Non-functional foods make us feel terrible later.

If you can simply help the 'food devil' to see that time in the future, you might find – slowly but surely – the 'food angel' and the 'food devil' will start to agree with each other.

— Eric Edmeades, Author of Mindvalley's WildFit program
A great way to fight against unhelpful cravings is to learn about the alternative reasons why humans feel hungry, understand the motive behind your hunger and then to act accordingly. Our guide on the six human hungers can help you do this.
Paleo vs Keto: how organized do you need to be?
A common criticism of the Keto diet is the effort involved with counting macros. Indeed, it can be complicated and time-consuming to do this, even with the assistance of the various online calculators and mobile apps designed to assist with this.
However, preparing yourself for the Paleo diet isn't a walk in the park either. It arguably takes a bit more effort to find and prepare natural unprocessed Paleo-friendly ingredients, compared to packaged meals. It's likely to cost more too.
You could see this as time and money well invested. This is your health and your body, after all. Still, it's worth considering which of these inconveniences will annoy you least.
Paleo vs Keto: the final verdict
As previously mentioned, the 'best' diet depends on you as an individual.
Now you have all the vital information, go with your gut feeling and try it out. If it doesn't work out, try switching.
Both diets allow you to eat all the nutrients you need while consuming an adequate amount of calories.
It can be safely suggested that either of them is likely to be more sustainable than some of the "calorie control" fad diets currently being marketed.
These are far too reliant on willpower and you'll be fighting a losing battle from the start.
The vast majority of people are malnourished. That is to say they eat too much of the wrong stuff and not enough of the good stuff.

Then, we put them on a diet – for example, calorie restriction. They're undernourished and now we put them in a calorie restriction program. So they eat even fewer nutrients.

That's never going to work.

— Eric Edmeades, Author of Mindvalley's WildFit program
---
Why Diets Don't Work
The idea that modern diets improve your health is a myth.
When we go on diets, we expect to radically change our life. We want to feel healthier, happier, and fitter.
Unfortunately, that's not what ends up happening most of the time: 95% of people who went on diet programs say it didn't work for them.
The problem is, these people were duped into the
diet myth
.
The diet myth is the idea that to be healthy, you need to eat less, or focus only on a specific food group.
But those restrictions create problems of their own. They don't address the real problem – the fact that we're not getting all the nutrition our bodies really need.
If You Want To Develop True, Lasting Health, Then Join Eric Edmeades, The Creator Of WildFit, Mindvalley's Most Successful Diet Program In This FREE Masterclass, Where You Will Learn:
✅
Uncover the true definition of the word 'diet'.
When you understand this simple fact you'll realize why most diets don't work and what you should do instead to reclaim your health and correct your weight.
✅ Discover the
new health paradigm
Vishen Lakhiani used to get slimmer, fitter and stronger in his 40s than he was at 27,
in just 8 weeks
— without changing his exercise routine or calorie restriction diets.
✅ The
simple science behind why we eat what we eat
, and a simple trick to
curb your cravings
and rewire your brain to eat healthy.
Register Now To Experience A Life-Changing Transformation Of Your Health & Fitness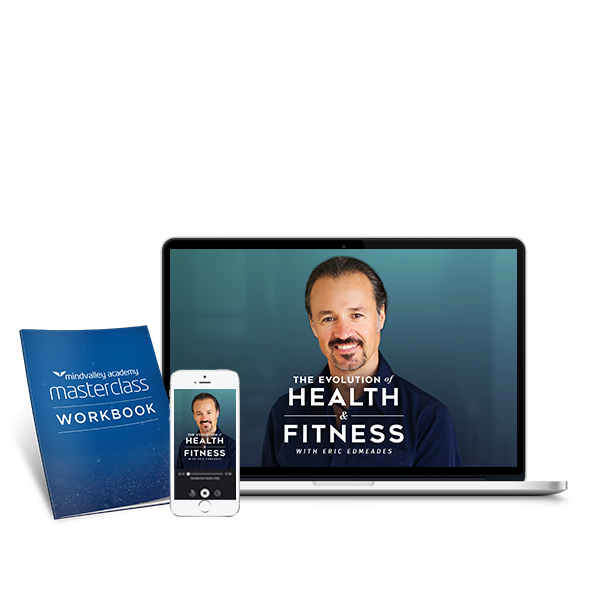 Eric Edmeades Teaches The New Paradigm Of Easy and Effective Health Transformation
Choose a date and time below to tune in to the broadcast in your own local time zone.
[blink_amp_form webinarid="5011753021997056"]
---
Have you tried the Paleo or Keto diet yourself? If so, be sure to share your experience and tell us all about it in the comments section below!