In this video above, Jim Kwik, the sought after brain coach teaches you how to learn anything faster, and more effectively.
About The Video
---
The number one skill you can cultivate in today's fast-moving environment is learning how to learn faster.
Jim Kwik is known for effortlessly memorizing 30-digit numbers back and forth on stage, leaving the audience in awe, as he humbly adds:
I don't do this to impress you. I do this to express to you what's really possible. Because the truth is: You can do it too.

— Jim Kwik
Jim is one of the most renowned learning experts in the world today.
He has trained Hollywood stars on how to develop an impeccable memory. He coached world-class business professionals like Elon Musk on how to keep their mental performance at the highest level at all times.
In this video above, he will share how you can learn anything in half the time — and make it stick.
---
Do you have trouble remembering names?
Maybe you struggle to remember important dates or even basic facts and figures you need for a presentation?
If you do, don't worry - it's a common problem.
But what's also common is the
myth
that some people are just born with good or photographic memory, while the rest of us just have to struggle.
The truth is, memory is just like a muscle - you can train it to be
stronger
.
Whether you're a working professional looking to learn new skills, a student cramming for exams, or even just a senior who's looking to stay sharp - there are techniques you can do to actively and permanently improve your memory.
If You'd Like To Tap Into This Secret Power You Didn't Know You Have…Then Join Jim Kwik, Peak Performance Expert And Memory Guru, In This FREE Masterclass
From it, you'll also learn:
✅
The biggest lie we've all been told about our brains
that's holding us back from our potential. Contrary to conventional wisdom, your memory actually isn't fixed. Once you realize how much control you have, you'll begin to discover what you're truly capable of.
✅
10 powerful mental hacks you can apply to unlock your inner super learner
. Small tweaks in these areas could make the difference between being someone who's forgetful, to someone who has near-perfect memory.
✅
A powerful memorization technique
you can use in any situation. You'll be able to deliver a speech without having to use your notes, and even remember your entire grocery list without having to write it down!
Register Now To Discover Powerful Hacks To Unlock Your Superbrain (Feel the results in 1 hour)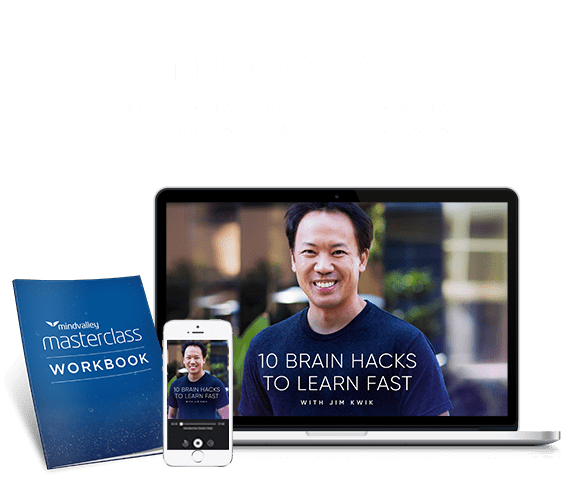 Discover how to activate your Superbrain, in a powerful Masterclass that will transform the way you think, learn, and live.
Choose a date and time below to tune in to the broadcast in your own local time zone.
[blink_amp_form webinarid="5750669740081152"]
---
If you could learn at double the speed you do right now, what would you use this superpower for? Share it with us in a comment!