You're interested in getting yourself into shape and start losing weight. So, you search online for healthy recipes for weight loss and keep an eye out for low-calorie weight loss foods.
But that approach will either get you halfway to your goal or lead you totally astray and worse off than you started.
Don't believe it? Then let me tell you about calories for a moment of your time.
This is a bold statement, and you may not believe it at first, so I'm just going to rip the bandaid out now and tell you that if you are counting calories to lose weight, then you, my friend, are wasting your time.
As a matter of fact, calorie counts are so difficult to measure that they are basically useless for weight loss.
It seems to be that the majority of people are confused about calories and understanding how they work.
Read on for a healthier alternative to calorie counting, complete with five healthy recipes for weight loss.
Weight Loss Foods for Shedding Stubborn Fat
The main problem with calorie counting is that not all calories have the same effect on your body.
If your daily calories are supplied through food with little nutritional value, often called 'empty calories,' your weight loss efforts will be almost impossible to sustain.
Most dieters adopting this strategy give in to the hunger pangs, fall off their diet, and yo-yo back into their old habits. Because their body isn't getting the fuel it needs.
Every living thing has a diet, what is yours?

— Eric Edmeades, trainer of Mindvalley's WILDFIT Quest
By the end of this section, you should have a more accurate understanding of which foods to eat and which to avoid.
Not only will we dig deeper into some delicious and healthy recipes, but we'll also shift your paradigm of thinking about food in general.
It can be discouraging if you've been trying to lose weight for quite some time, but no diet seems to work.
Calorie-counting and fad diets can sometimes be effective, but these strategies can also be flawed.
The vast majority of people are malnourished because they eat too much of the wrong food and not enough good 'healthy' food.

Then, we put them on a diet – a calorie restriction program – so they eat even fewer nutrients. Now they're even more undernourished.

That's never going to work.

— Eric Edmeades, trainer of Mindvalley's WILDFIT Quest
Diets are often defined as a temporary eating program. It simply doesn't last. Sooner or later you are back to your old habits. Why? Because you never addressed your relationship with food.
So instead of thinking about diets, it's suggested you focus on healthy foods for weight loss instead.
You can eat these foods frequently to give you enough fuel to get through the day, without making your mind and body feel sluggish.
This is because your body remains well-nourished. At this point, your desire for unhealthy 'comfort food' tends to go out of the window.
Below, we list the foods that you can combine together for healthy cognitive as well as physical well-being.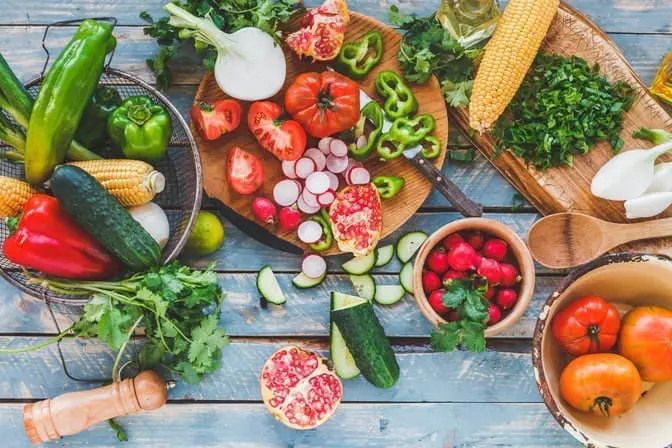 Healthy foods list
Protein (pick one per meal):
Chicken / turkey

Pork

Salmon

Sardines / tuna

Eggs

Plain yogurt

Cottage cheese

Cheese

Tofu/tempeh

Soy/edamame

Peas

Chickpeas

Beans

Lentils

Quinoa

Protein powder
Carbs (pick one per meal):
Half a cup of rice

Potatoes

Oatmeal

Pasta

Buckwheat

Whole grain flour

Millet

Amaranth
Healthy fat (pick one per meal):
Nuts

Nut or seed butter

Cocoa powder

Carob powder

Vegetable oil

Avocado
What foods help to burn belly fat?
There are no foods that would directly burn belly fat. Belly fat burning is a process that occurs when you're in a caloric deficit.
Since every food is a calorie, it's, therefore, most important to stay below your weight maintenance level. Essentially, this involves eating fewer calories than is required to keep your body at its present weight at its current levels. That's why it's important to be aware of low-calorie foods that fill you up
To do this effectively, start becoming mindful of what you eat on a daily basis. Make intelligent decisions and start consuming healthy foods that are nutritious and satisfying. When you do this, you can eat more to lose weight.
This beats trying to stick to an extreme caloric deficit. If you try to shortcut your way to a better body with a crash diet, you're almost guaranteed to quit and put the weight back on.
5 Healthy Recipes for Weight Loss
Here are some healthy recipes for weight loss based on our list of healthy ingredients above. As a bonus, you should be able to whip these meals together in 30 minutes or less.
1. Chicken & blended brassica stir fry
This stir-fry is sugar, dairy, gluten, and preservative-free. It includes several brassica vegetables, which help to gently detox the body and cleanse the liver.
This also happens to be one of WildFit founder Eric's favorite homemade fast and easy meals – so it must be good!
Ingredients:
1 pound boneless, skinless chicken breast, thinly sliced

1 large egg, beaten

2 tbsp tapioca starch

A pinch of sea salt and white pepper

3 tbsp coconut aminos (or 2 T gluten-free Tamari)

1 tbsp toasted sesame oil

2 tbsp rice vinegar

1 ½ piece of fresh ginger root

2 tsp Chinese 5 Spice (star anise, cloves, cinnamon, pepper,

and fennel seeds)
½ tsp turmeric
1 ½ pound Brussels sprouts, washed and thinly sliced
4 cups kale, washed and stems removed, chopped finely
4 tbsp coconut oil, divided
½ head of white cabbage

sliced thinly lengthwise

¼ cup of broth or water

½ tsp sea salt
Directions:
Crack the egg into a mixing bowl and beat well. Add in the tapioca starch, white pepper, and sea salt. Beat again until even and set aside to thicken. This will make a light, crunchy breading for the chicken.

Thinly slice the chicken and add to the egg mixture, tossing evenly to coat.

Combine the coconut aminos, toasted sesame oil, rice vinegar, grated ginger, and Five Spice in a bowl and mix well, then set aside. This will create your savor sauce.

Heat a large saucepan to medium and add broth. Once steaming add the cabbage, sprinkle with salt, stir and cover.

Chop the Brussels sprouts, onion, and kale, and fry in a wok for 1-2 minutes. Pour into a bowl for the time being.

Add your sliced chicken mixture and stir nearly constantly until cooked through.

Pour the vegetables back into your wok, combine with the sauce and warm through for two minutes.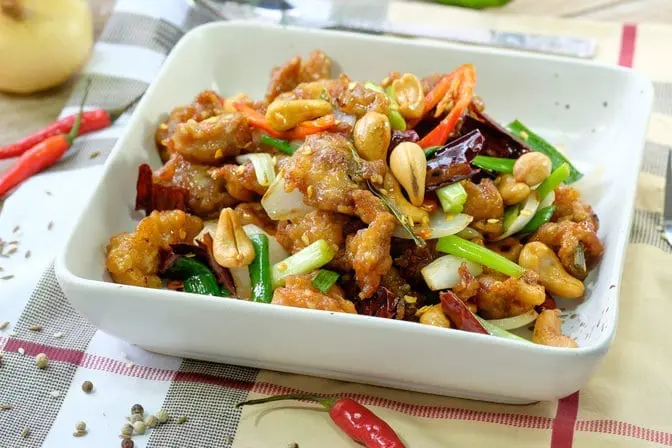 2. Salmon rolls
This light lunch provides plenty of elements to improve your energy levels as well as spurring weight loss.
Salmon is one of the best sources of omega-3 fatty acids, which are well-known for helping to stabilize mood and reduce depression, among other benefits.
What's more, the chromium in asparagus stabilizes appetite by improving your digestion and reducing blood sugar spikes.
Sunflower seeds are rich in the B complex vitamins, which are essential for a healthy nervous system and producing happy hormones.
Ingredients:
1 ½ cups raw sunflower seeds, soaked

½ cup of water

juice of 1 large lemon

1 garlic clove

Dash of onion powder

2 tbsp olive oil

Himalayan sea salt & cracked pepper, to taste

2 tbsp basil, chopped

4 (4-ounce) skinless salmon fillets or one 1-pound fillet, portioned

2 tbsp olive oil
Directions:
To create your creamy cheese mixture, squeeze juice from your lemon into a blender. Add your sunflower seeds, garlic, olive oil, and onion powder. Process until creamy and smooth. Stir in your chopped basil.

Season your salmon pieces with salt and pepper.

Smooth your creamy cheese mixture onto each fillet with a knife or spoon.

Preheat the oven to 400 degrees. Bake the rolls for 12-15 minutes until it is tender and golden.

Serve and enjoy.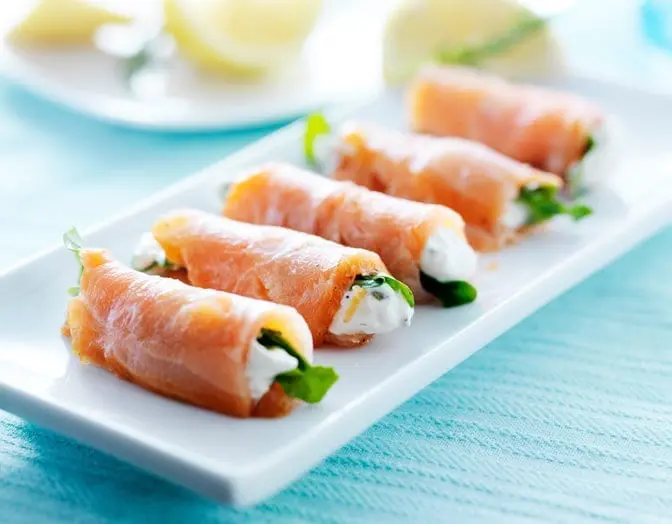 3. 20-Minute chicken enchiladas
This Mexican dish doesn't have to be fattening, nor does it need to take hours to make.
The recipe below can be put together in a simple. The suggested herbs and spices are mandatory but help to create some unforgettable flavor.
Ingredients:
1 cup pre-chopped onion

1 cup unsalted chicken stock

1 tablespoon all-purpose flour

1 ½ tablespoon

chili powder
2 teaspoons ground cumin
¾ teaspoon garlic powder
½ teaspoon crushed red pepper
¼ teaspoon salt
1 (15-ounce) can of unsalted tomato sauce
3 cups shredded skinless, boneless rotisserie chicken breast (about 15 ounces)
1 (15-ounce) can of

unsalted black beans, rinsed and drained

12 (6-inch) corn tortillas

Cooking spray

3 ounces pre-shredded 4-cheese Mexican blend cheese (about ¾ cup)

1 cup chopped tomato

¼ cup chopped fresh cilantro

6 tablespoons sour cream
Instructions:
Preheat broiler to high.

Combine your onion, chicken stock, flour, chili powder, cumin, garlic powder, red pepper, salt,

and tomato sauce in a medium saucepan; stir with a whisk. Bring to a boil over high heat; cook for two minutes or until thickened.
Reserve 1 ½ cups sauce mixture. Add chicken and beans to pan; cook for two minutes until chicken is thoroughly heated.
Stack tortillas; wrap stack in damp paper towels and microwave at HIGH for 25 seconds. Spoon about ⅓ cup of chicken mixture in the center of each tortilla; roll up.
Arrange tortillas, seam sides down, in the

bottom of a 13 x 9-inch glass or ceramic baking dish coated with cooking spray. Top with reserved sauce and cheese. Boil for three minutes or until cheese is lightly browned and sauce is bubbly. Top with tomato and cilantro.

Serve with sour cream.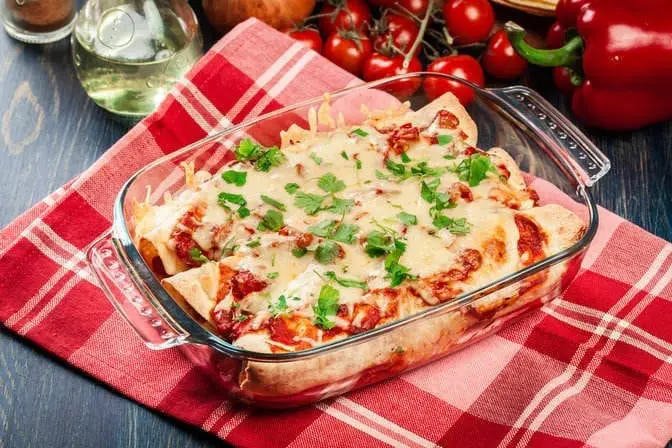 4. Creamy chicken quesadillas
The classic quesadilla gets kicked up a notch with a creamy, béchamel-like sauce. A saucy base helps the cheese go further and keeps the chicken from drying out.
If any dish called for a dash of your favorite hot sauce, this would be it: Just a little cut through the creamy filling and packs the right amount of heat.
For golden, crisp tortillas, coat both sides of the uncooked quesadillas with cooking spray instead of coating the pan.
Ingredients:
1 tablespoon olive oil

4 teaspoons all-purpose flour

½

cup unsalted chicken stock

1 cup coarsely chopped spinach (about 1

½

oz.)

1 tablespoon hot sauce (such as Cholula)

¼ teaspoon kosher salt

⅛ teaspoon black pepper

6 ounces skinless, boneless rotisserie chicken breast, shredded (about 1 1/4 cups)

4 ounces pre-shredded mozzarella cheese (about 1 cup)

4 (8-in.) whole-wheat flour tortillas

Cooking spray

1

ripe avocado, quartered
Instructions:
Heat oil in a small saucepan over medium. Slowly add the stock and cook for two minutes, stirring frequently.

Remove pan from heat; stir in spinach, hot sauce, salt, pepper, chicken, and cheese.

Heat a large skillet over medium heat. Carefully coat both sides of quesadillas with cooking spray and add to the pan. Cook until each side is browned and the cheese is melted.

Cut each into four wedges. Serve with avocado.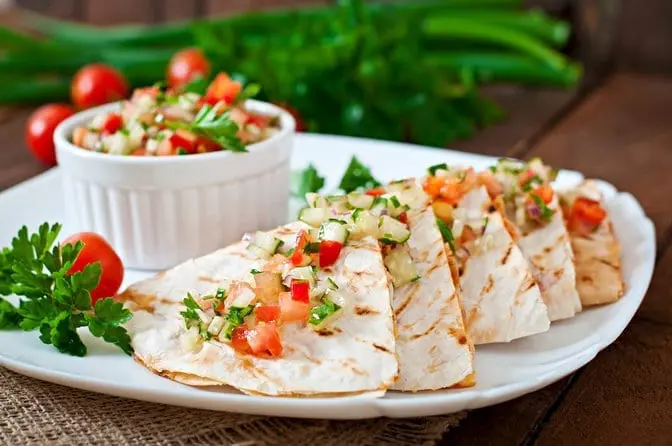 5. Mediterranean broccoli & cheese omelet
If you're looking to kick your hunger away with a highly nutritious meal, this is the dish for you. This dish can pass as a hearty breakfast or pretty much any time of the day as it is healthy, high in protein, and nutrient-packed.
Nothing goes better with the eggs than cheese, and on top of that your broccoli for a nice contrast and crunch, and you've got a great go-to meal.
Ingredients:
2

½

cups fresh broccoli florets

6 large eggs

¼ cup 2% milk

½

teaspoon salt

¼ teaspoon pepper

⅓ cup grated Romano cheese

⅓ cup sliced pitted Greek olives

1 tablespoon olive oil

Shaved Romano cheese and minced fresh parsley
Instructions:
Preheat broiler. In a large saucepan, place a

steamer basket over an inch of water. Place broccoli in the

basket. Bring water to a boil. Reduce heat to a simmer and boil for 4-6 minutes until crisp-tender.

In a large bowl, whisk eggs, milk, salt, and pepper. Stir in cooked broccoli, grated cheese, and olives.

In a 10-in. ovenproof skillet, heat oil over medium heat; pour in the egg mixture. Cook, uncovered for 4-6 minutes until nearly set.

Let your meal stand for five minutes. Cut into wedges. Sprinkle with shaved cheese and parsley, then serve.