No matter how hard some couples may try, they simply can't find a way to stay together. This situation can get especially complicated if there are children involved.
But how do you maintain a healthy relationship with someone you just separated from?
You don't necessarily need to be best friends to be good co-parents. But finding a way to create a relationship in which you can teach your children healthy morals and values is key.
It takes a lot of effort. But parallel parenting is possible.
Here's how to make parallel parenting work for you, your partner, and your children.
What Is Counter Parenting?
---
Counter parenting occurs when each parent has different views on how to raise their children.
Different parenting styles don't always mesh, and this is where parallel parenting comes in.
Simply put, it's about two conflicting sets of beliefs.
Each parent has a specific view on how they believe their children should be raised. When parents butt heads with conflicting parenting styles, counter parenting is sometimes the only feasible solution.
It can be a challenge, but there are ways to make this parenting style work.
Is co-parenting a relationship?
Even though it's not a typical form or parenthood, co-parenting still needs to function as a healthy friendship between two adults.
Despite any personal disagreements between parents, children should never be the victims. So, parents need to learn to compromise to make parallel parenting work.
Open communication and a willingness to compromise are two of the most important components of successful co-parenting.
If you're looking for some parenting inspiration, Jon and Missy Butcher suggest some excellent ideas on how to raise extraordinary children in Mindvalley's Lifebook Program.

How Do You Deal With A High Conflict Co-Parent?
---
Divorce or separation is most definitely an unhappy occasion. But what can make things even worse is when one of the partners is a high-conflict individual.
Finding a successful way to communicate can be very challenging. But at the end of the day, the child's wellbeing is what matters the most.
So, do your best to accept that you can't change your co-parent. The best approach is to adopt a non-reactive attitude. Use neutral language and exercise patience when your co-parent is trying to instigate a fight. Most important of all: know when to step away when things are getting too heated.
Do your best to maintain a healthy, cooperative co-parenting relationship. And if you have a high conflict partner, adopt a non-reactive attitude and neutral language, especially when discussing your children and parenting strategies.
What does co-parenting really mean?
Co-parenting is an exercise in coordinating and balancing your partner's attitudes. Especially when it comes to parenting strategies.
The key to parallel parenting is developing a healthy respect for each other.
You don't need to be best friends with your co-parent to execute effective co-parenting. You simply need to acknowledge your co-parents place and importance in your children's lives.
---
Whether a parent or not, discover a radically new and empowering model of parenting in this FREE Masterclass by Dr. Shefali. Sign up for the Masterclass below: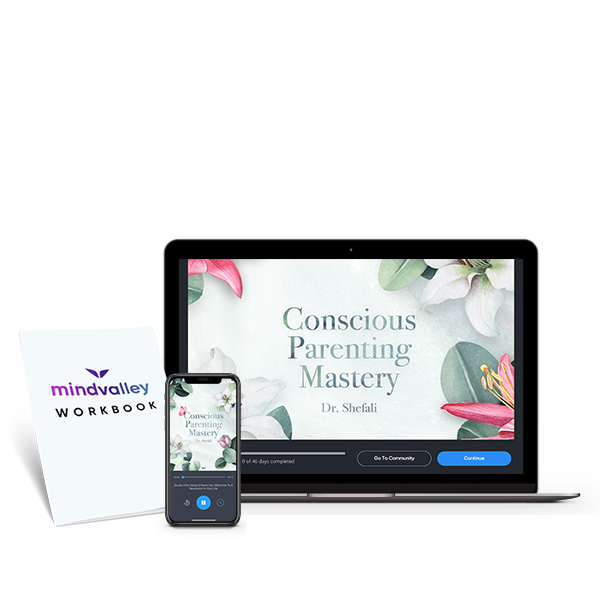 Dr Shefali takes you through some exercises that provide you instant breakthroughs in regards to parenting in this FREE Masterclass.
Choose a date and time below to tune in to the broadcast in your own local time zone.
---
How do you view parallel parenting? Is it something that you would be willing to try?