Praise for the Mindvalley Podcast
We're delighted to announce that The Mindvalley Podcast just hit 10 MILLION plays as of 23rd September 2020.

Inspiring talks on all things personal growth – from philosophical conundrums to business and biohacking – have been flooding the ears of our Mindvalley listeners for over two very exciting years. Through tens of thousands of headsets, phones, laptops and car speakers our podcasts have accompanied you through many a commute, dish-washing session, tea break and gym workout.

Whether you've connected with us on the move or from the comfort of your own sofa…

…Thank you for listening up for us!
Here's our top 10 must-listens of the year
It was tough to choose just 10 of our top picks, especially when megastars like Arianna Huffington, Mel Robbins, and Marianne Williamson took the mic by storm…but here are Mindvalley's Top 10 most loved and listened to podcasts.
10. Rapid Transformational Therapy To Heal Your Body And Mind | Marisa Peer
When it comes to hypnosis, nobody is more well-known in the therapeutic arena than the legendary Marisa Peer.
Voted as Britain's Number 1 Therapist and founder of the 'I Am Enough' movement, Marisa Peer stole the show with this mind-blowing podcast covering everything from neuroplasticity, self-healing, and the subconscious mind – and there's even a free Healing Vortex Hypnotherapy Session included…
9. The Secret Formula For Human Happiness | Gelong Thubten

There's a question that transcends race, culture, gender, and any international border…
At some point in every human being's life, we're challenged to ask ourselves what it really takes to find true, ever-lasting happiness. In this special podcast, we were joined by the globally-celebrated monk (who coached the entire cast of Marvel's Doctor Strange!) – Gelong Thubten.
As well as an enlightening Q&A session, you'll also have a chance to practice a 15-minute guided meditation for compassion guided by Gelong Thubten himself.
8. How To Improve Yourself Everyday Using The 1% Rule | Vishen Lakhiani

What if you could improve yourself every single day by 1%?
Founder of Mindvalley Vishen Lakhiani rocked the mic with this well-known and well-loved 5-Minute '1% Rule' podcast.
In this bitesize personal growth talk, Vishen shows us how to apply the 1% Rule for exponential development as well as sharing a little something he always does as part of his super effective morning routine…
7. 9 Steps To Unlock The Millionaire Within You | Regan Hillyer

Ready to start manifesting millions?
Serial Entrepreneur, Mindset Coach and Global Speaker Regan Hillyer showed us how. In this podcast, Regan breaks down the 9 steps she took that allowed her to flourish into the millionaire she had always dreamed of becoming.
This session also includes an abundance visualization to leave you feeling like a million dollars!
6. The 5am Club: Why We Need To Start Our Mornings With Personal Growth | Robin Sharma

The way we start our day dramatically affects how the rest of it will unfold.
That's why we hooked up with one of the world's top performance experts – Robin Sharma – to guide us when it comes to creating the perfect morning routine.
Get ready for Robin's series of mental frameworks for daily routines that are guaranteed to increase your productivity, prosperity, and performance.
5. How To Access Higher States Of Consciousness Through Sex, Meditation And Lucid Dreaming | Vishen Lakhiani, Charlie Morley, Jade Shaw & Helena Houdova

Who said accessing higher states of consciousness couldn't be fun?
In this fascinating podcast, we discovered the strategies behind nailing lucid dreaming, meditation and conscious intimacy as skills that directly lead to deeper, more fulfilling spiritual lives.
Put aside some time and grab a notepad and pen for this one…you don't want to miss a thing.
4. How To Hack Your Habits For Exponential Growth | James Clear

As former athlete and New York Times bestselling author James Clear says, 'every action that you take is a vote for the type of person you want to become'.
So where do we start when it comes to successful habit forming?
Discover the answer through James' 4 Step Formula to becoming the architect of your habits and unlock daily self-improvement strategies for inevitable success.
3. How To Be Better In Bed: The Quest For Better Sleep | Michael Breus

Everything you do, you do better with a good night's sleep under your belt.
If you're having sleep issues, this one is for you. In this popular Mindvalley Podcast, we were joined by America's most trusted Sleep Doctor – Michael Breus – to help us catch forty winks.

Prepare for some of the most cutting edge sleep hacks of all time in this informative stage talk recorded with a live audience (before the lockdown).
2. How To Master Speed Learning And Speed Reading | Jim Kwik

With the mission of leaving no brain behind, Jim has trained Hollywood actors, top entrepreneurs and organizations including Nike, Harvard University, GE, Virgin, Singularity University and now…us here at Mindvalley!
From being 'the boy with the broken brain' to the world's leading expert in optimal brain performance, Jim Kwik is about to share the invaluable tools you need to start learning smarter and faster in this jam-packed hour-long learning curve.

1. A Formula For Healing The Body With The Mind | Dr. Joe Dispenza

We were delighted to have been joined by legendary researcher and neuroscientist Dr. Joe Dispenza on the Mindvalley Podcast to discuss such a vital subject.

Tune in with Dr. Joe to discover how to rewire your brain and recondition your body to make incredible, long-lasting biological upgrades.

This isn't wishful thinking – it's science. And on this podcast, he'll prove it to you.
Lend us an ear and subscribe…

We hope our Top 10 Podcast Picks have served you well on your personal growth journey.

Check out our full podcast collection including our Superhumans at Work content here and be sure to subscribe with us on iTunes, Spotify, or your favorite podcasting app to never miss an episode.

Happy listening!

If you liked this article, go ahead and share this with your friends for us too.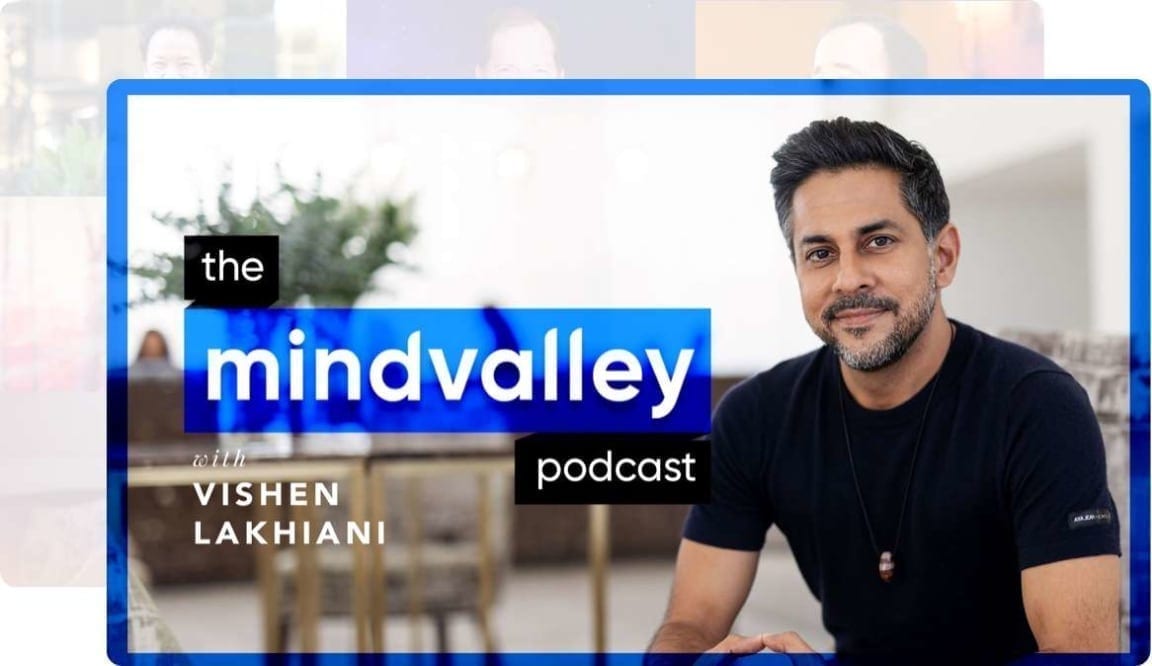 Mindvalley Podcast