There are athletes who rely solely on talent and training. Then, there are athletes who also incorporate holistic practices, like meditation and creative visualization.
Professional tennis player Bianca Andreescu is the latter.
In 2019, she defeated one of the greatest tennis players of all time, Serena Williams, in the U.S. Open. Fun fact: she was only 19 years old.
This young trailblazer's road to success has been far from pure luck or chance.
What's her story? How did the Bianca Andreescu use meditation to put her mark on history? And how does Vishen, founder of Mindvalley, fit into all of this?
In an interview with Vishen on The Mindvalley Podcast, Bianca shared that beyond her training and preparation for this momentous event, she knew this moment was coming long before she set foot on the court.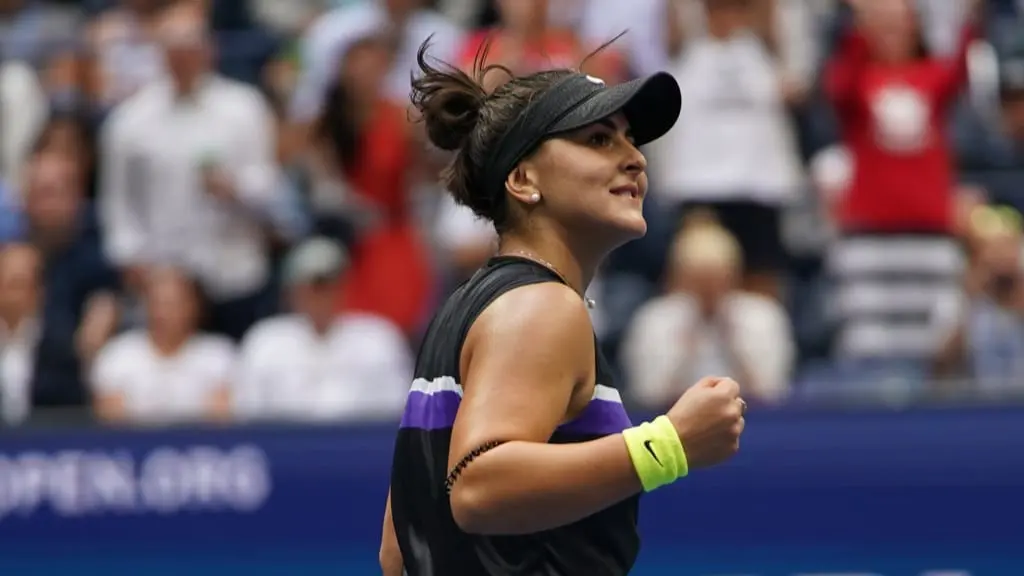 A Champion in the Making
Born in Mississauga, Canada in 2000, Bianca had always been drawn to sports. The first time she picked up a tennis racket, "something just clicked."
At the age of seven, she began playing in her parent's home country of Romania and it didn't take long for her coaches to realize she had a gift.
When asked about her sudden rise to glory after her momentous win, Bianca's childhood coach, Aref Jallali told CBC, the leading Canadian news station, that he had never doubted she would make massive waves in the tennis world.
From the very beginning, Bianca had an ingrained belief that she could make a name for herself in the sport, confidently writing "I won" on her hand before every match at the age of 11.
But it wasn't until she won the prestigious Orange Bowl ITF tournament at 15 years old that she truly began to believe in herself.
She told Vishen, "At that moment I really thought that I could eventually accomplish what I wanted to." All of a sudden her dreams to win a Grand Slam and become the No. 1 tennis player in the world didn't seem far off.
And as a young Canadian woman born into an immigrant family, Bianca's groundbreaking win symbolized something that extends far beyond any trophy or title.
Before even reaching her twenties, she has already become a beacon of hope for second-generation immigrants and female athletes in Canada and around the world.
In an interview with Canada's Global News, Bianca admitted it's always been a goal to inspire others just like those who came before her.
After meeting the venerable Billie Jean King for the very first time at the U.S. Open, Bianca felt immense gratitude for how she paved the way for women in the sport and added with a smile,
"Hopefully, I can be part of that journey and continue Billie's legacy a little bit."
And with three WTA singles titles under her belt already, it's fair to say she's well on her way.
So how did she do it? How did such a young woman rise up the WTA ranks to face and defeat one of the most gifted players the sport has ever seen?
Beyond hours upon hours of practice and raw talent, Bianca credits much of her success to meditation and creative visualization.
In other words, years before making it to the 2019 U.S. Open she knew that she would win, because she had already seen it all play out in her mind.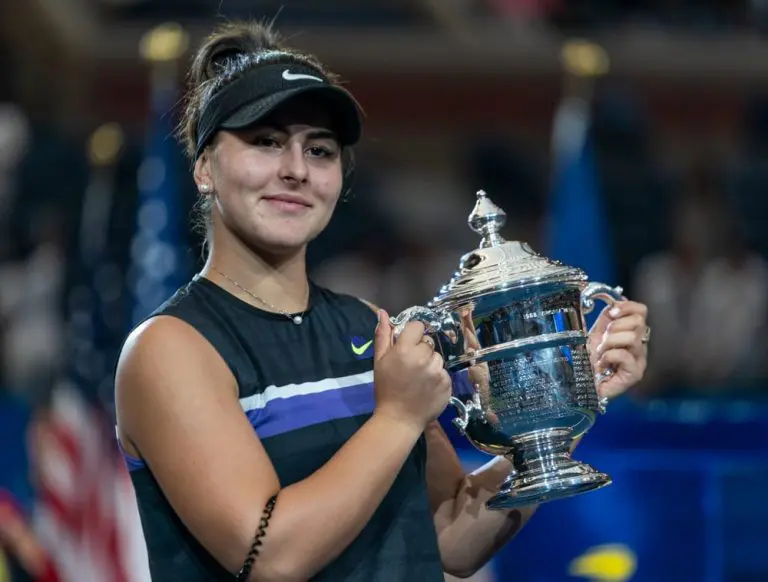 Visualizing a Victory
After her victory at the 2014 Orange Bowl, Bianca wrote herself a check for the prize money she would one day win in the U.S. Open, and remarkably signed it for the year 2019.
"For it to become a reality is so crazy," she said at her post-match news conference with a sigh of relief. "I guess these visualizations really, really work."
When asked how she prepared herself for the event, the 19-year-old sensation eagerly held up her phone to reveal Vishen's 2016 book, The Code of the Extraordinary Mind.
Bianca later explained how she applied creative visualization concepts from the book like Jose Silva's 'mental screen' model to envision her win, and moved toward it with confidence until the day it finally happened.
I think at this level everyone knows how to play tennis. The thing that separates the best from the rest is just the mindset.

— Bianca Andreescu, Canadian professional tennis player
Ever since she was a young girl, meditation has been a part of the tennis superstar's life, thanks to her mother, Maria Andreescu who she affectionately says some would call 'a hippie.'
For years, Maria would leave personal development books on her daughter's nightstand without a word, letting Bianca take to them in her own time.
And while they were left unread for quite some time, one day she picked one up, turned the page, and never looked back.
Around the age of 12, Bianca began practicing guided meditation. While she struggled to tap into all five senses at first, with repetition and practice it became a daily habit that is now embedded in her.
Before a match, Bianca takes a moment to breathe in the aroma of fresh-cut grass, feel the impact of the ball ricocheting off her racket and imagine the satisfaction of hitting that winning shot and rejoicing, trophy in hand.
And through all of her hard work, setbacks, and sacrifices along the way, before doing anything she asks herself, "Will this get me to the #1 spot?"
Reflecting on the astounding achievements she's made in such a short time, Bianca stresses the importance of looking within, trusting your intuition, and letting go of any external opinions.
When Vishen asked if after all this time she's become a hippie just like her mom, Bianca responded with an ear-to-ear grin, "I proudly say yes, VERY proudly."
And with all of the chaos and fear the world is undergoing in this global pandemic, Bianca's cheerful disposition truly comes as a breath of fresh air.
But how is she doing it? How is someone her age keeping it all together when to so many of us it feels like the world is falling apart?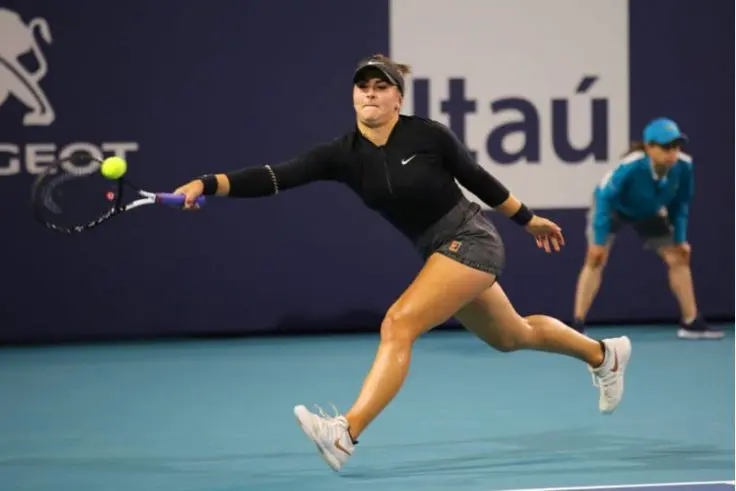 Finding Peace in Personal Growth
Bianca shares with Vishen that she still meditates every single morning using the 6 Phase Meditation.
Studies have shown that envisioning yourself practicing is actually equally as effective for increasing athletic performance as physical training itself, so in her words, "I am technically still practicing."
Bianca has also been seeing 'major shifts' unfold in her life, finding balance through various energy healing practices and Mindvalley's Lifebook Quest which is now one of her personal favorites.
And with joy emanating from her, it was clear that this remarkable 19-year-old was taking this unusual time in stride, and becoming better for it. So Vishen just had to ask…
With over a billion students out of school and countless teens missing major milestones like prom and graduation, what is your advice to another teenager who may be struggling?
In a time when the world feels scary and unpredictable, Bianca's two key pieces of advice are:
Focus on what you can control.
Remember all the great things you do have but might not always pay attention to.
Whether it be a home, food on the table, or time with family, Bianca says that "this time really shows us that we can't take these things for granted."
It's the little things that keep us going, keep us grounded, and serve as a reminder that we don't need as much as we think we do.
In the end, she hopes we can emerge from this crisis with a newfound sense of perspective, gratitude, and "hopefully our world can become a better place."
Had an amazing experience at the Be Extraordinary seminar downtown in Toronto yesterday. One day I would love to be part of this incredible team. What Mindvalley is doing for humanity rn is what we needed a long time ago. Respect. pic.twitter.com/FwGhSWmRx3

— Bianca (@Bandreescu_) September 30, 2018
Manifest Your Own Victory
It's without a doubt that Bianca is the quintessential example of someone living up to their highest potential. Through years of inner work and tapping into a new state of mind, Bianca was able to achieve her wildest dreams.
And the truth is, so can you.
Regardless of your age, profession, or any other limitations you may think you have…You're just as capable of making the greatest visions you've ever had for your life a reality.
If you feel like you're struggling to reach a goal, feel a sense of inner peace, or find fulfillment, Vishen's latest book, The 6 Phase Meditation Method may just be what you need — delivered with classic Vishen humor, a practical how-to, and a free app to support you on your journey.
There's no boredom, special breathing, or 'clearing your mind' techniques to learn. Just you, the book, and the revolutionary meditation to emerge into the badass you are.
—
Featured Image: Shutterstock; Image: @Bandreescu_ / Twitter