The 6 Most Fascinating Studies On Consciousness (Infographic)
Measuring things like love, intuition, and consciousness has always been a controversial subject in science.
However, it hasn't stopped people from trying.
The Question Of Consciousness
---
The question of consciousness has puzzled scientists since the times of Aristotle. What is it exactly? Where does it come from?
And how should we study it?
Most scientists agree that consciousness does exist. Consciousness mandates two things: that you be aware of your existence, and that you're able to respond to your environment. This awareness and arousal make up all that we experience.
And while it may be difficult to study, there are some recent findings. In 2016, researchers at Harvard Medical School started to pinpoint the physical origin of consciousness.
The researchers in the study looked at the brain scans of 36 people with brainstem lesions. Twelve of them were unconscious (in a coma) while 24 of them were still conscious. It turns out that 10 of the 12 unconscious patients had damage to the rostral dorsolateral pontine tegmentum while only 1 of the 24.
Hopefully, this research will lead to new treatment options for people with consciousness disorders, as well as a better understanding of consciousness itself.
The Observer Effect
The observer effect is a theory where simply observing or measuring a phenomenon necessarily changes that phenomenon. This theory applies to almost everything, from complex humans to the smallest electron.
John Wheeler, an esteemed physicist and Princeton University professor best known for linking the concept of a black hole to gravitational collapse, believes that the observer effect shows that our observations can alter reality.
Is it possible that our mind matters as much as matter?
Some of the world's greatest scientists seem to think so.
One Of The World's Best Energy Healers
We spoke to Christie Marie Sheldon, one of the world's leading energy healers, about how far science has gone towards understanding the nature of human consciousness.
Christie Marie Sheldon is a gifted and intuitive energy healer.
She's also one of the world's leading energy healers and experts on intuition coaching, reaching out to thousands through radio shows and working with leaders from all fields.
Her gift lies in helping people eliminate limiting beliefs, transform life patterns, increase energy vibrations and abolish their fears so that they can unleash their fullest potential and lead the extraordinary life they've always dreamed of.
She's Mindvalley's No. 1 bestselling and viral author, teaching our students how to raise their vibration and clear their energy blocks. Christie has conducted over 30,000 private consultations for clients, including renowned political and business leaders.
And in her Mindvalley course, she empowers people with the tools they need to live in a constant state of abundance and flow.
Her central strategy is to elevate your consciousness.  In the infographic below, she shares with us six of the most fascinating studies of all time about how our consciousness affects the world.
Here are the six most fascinating studies of all times:

---
Here's How To Clear The Biggest Obstacles To Your Success
The biggest obstacle to your dreams isn't hard work - it's something you're not even aware of.

You could be working hard in your career, your health, and your relationships – but still not achieve success.

Why?

It's because you still have what we call 'Abundance Blocks' – limiting beliefs and thought patterns that cause you to unconsciously pull back from success.

The good news is that you CAN easily remove your Abundance Blocks - in less time than it takes to finish a cup of coffee.
So, if you want to eradicate these Abundance Blocks from your life, sign up for this Free Masterclass With Abundance Coach, Christie Marie Sheldon, Where You Will Learn:

✅ How to clear ALL your Abundance Blocks through an incredible 20-minute Energy Clearing session with Christie as she taps into your energy field and amplifies your ability to attract wealth.

✅ What are the 24 Abundance Blocks that lock you in a scarcity mentality, and how to destroy them so you can create a direct path to success and abundance in 2020, and

✅ Everything else you need to know about Abundance Blocks, as Vishen Lakhiani dives deep in a Q&A session with Christie to find out just how fast a newbie can expect results, and how exactly Christie taps into your energy through the internet.
Sign Up Now To Clear The Energy Blocks That Stop You From Attracting The Abundance You Deserve!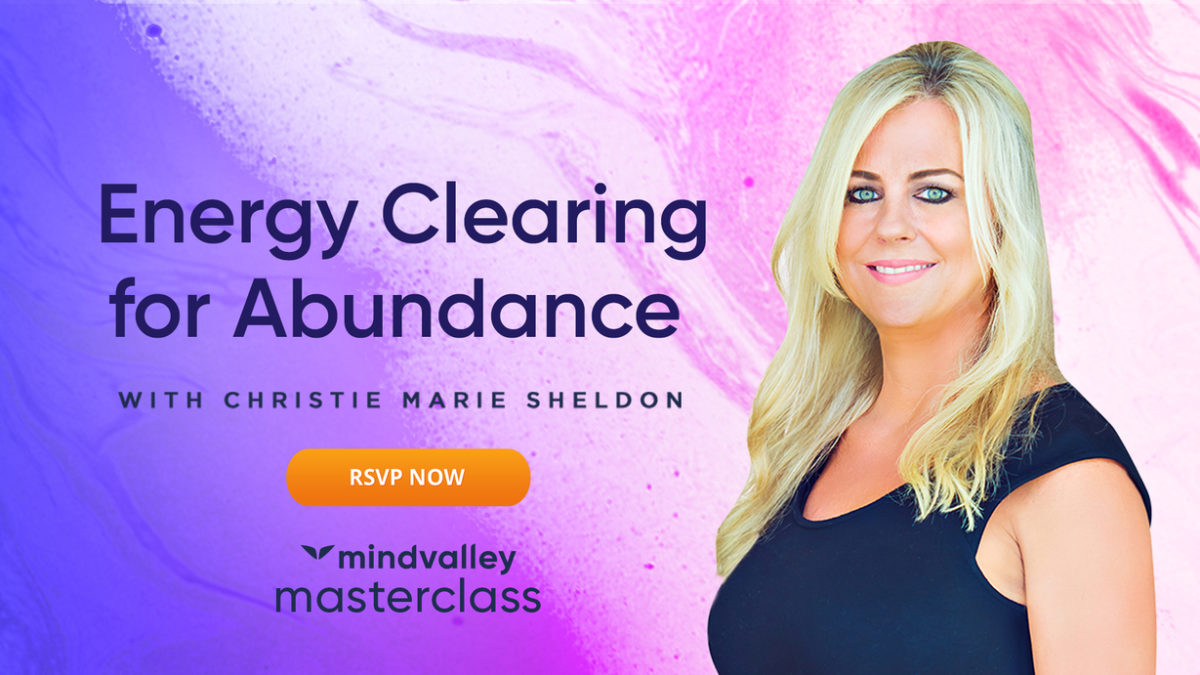 Which study did you find most fascinating? And what's your own experience with energy vibrations and consciousness?
Share in the comments below!