Podcasts have become an online auditory phenomenon set to change the way we produce and consume radio.
Instead of tuning in with dials, we open a website, an app, or a downloaded file. With a few taps, a few clicks, we're in — learning, growing, consuming, and getting better.
Every month, millions of people download and listen to podcasts. Why so many people? Well, podcasts can really make us better people. They have the potential to impact and influence our lives in profound and practical ways. The right podcast can change your life, even if only for a day.

If you're looking for the next podcast to listen to in the car, at work, or at the gym, we've got 'em all.

So, sit back, put your feet up, and prepare for some sweet, fresh, auditory goodness.
Best Podcast to Listen to While Driving
One of the best places to get your podcast on is in the car. Why? Because it's a stretch of undisturbed you-time.
If you know you've got a long trek ahead and have time to squeeze in an episode of two of your favorite podcast, there's no better feeling than the open road and fresh soundwaves.
Haven't found a podcast to listen to while driving? No worries! We've got you covered.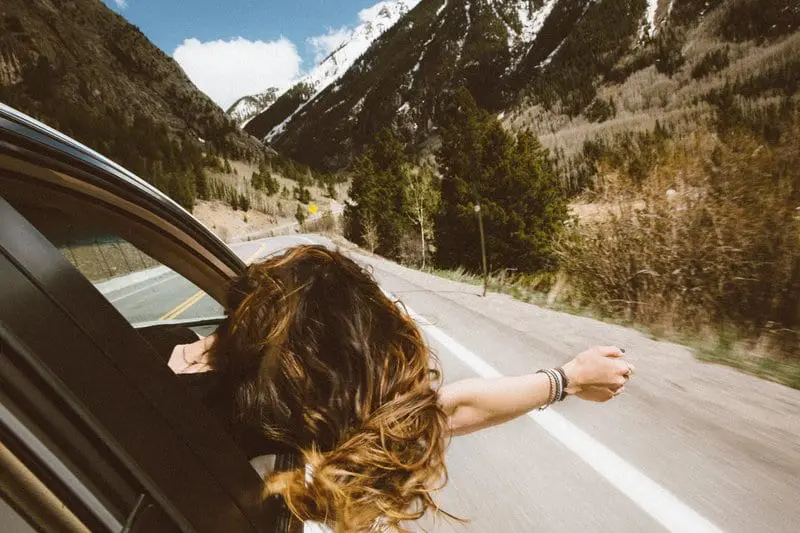 1. Indie Travel Podcast
If you've got big plans for travel, this is the podcast for you.
The Indie Travel Podcast is hosted by New Zealand couple Craig and Linda, and they want to teach you how to travel on a budget.
After working multiple jobs to pay off university debt, the pair were finally ready to hit the road and spent several years touring Europe. Along the way, they made their fair share of mistakes and miraculous discoveries, and that's when the podcast was born.

Learn from two people traveling the globe on their own dime and experience new sights, sounds, and cultures alongside The Indie Travel Podcast.
2. Mortified
Sometimes, after a long day at work, what you really need is a good laugh.

Enter Mortified: the relief-inducing reminder that somewhere out there, someone's day is (or was) definitely worse than yours.
Mortified features real adolescent diaries read on stage by their owners in front of a live audience. This podcast features all the angst-ridden, embarrassing episodes of adolescence we all remember, from puberty and first crushes to failed homework assignments and breakups.
If you're looking for an after-work pick-me-up, the Mortified podcast is for you.
3. Re:sound
If your schedule is jam-packed and your daily commute is your only time to catch up on podcasts, Re:sound will give you a perfectly balanced dose of creative learning and artistic flair.
The show is hosted by Gwen Macsai out of the Third Coast International Audio Festival in Chicago. It curates some of the best audio content released around the world in the form of documentaries, sound bytes, and audio clips, then meld it all together to form a weekly show.
The Re:sound podcast is a gem of a show, and if you're strapped for time, this podcast can pack a powerful punch.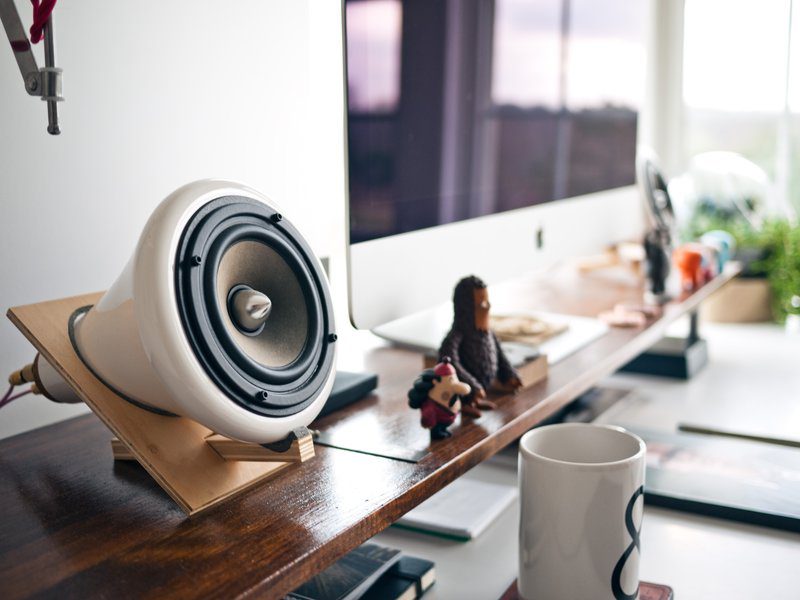 Best Podcast to Listen to at Work
If you're someone that does your best work with your earbuds in, we've got some stellar at-work podcasts for you.
Finding a suitable podcast to listen to at work can be a challenge. You need to make sure that the topic covered is appropriate — nothing that could potentially upset or offend coworkers if you happen to be listening out loud.
But you also want to select a podcast that will reflect well on your personal tastes, right?
Don't worry. These podcasts are sure to inspire and motivate everyone in the room.
1. Radiolab
Ready to look like a total smarty pants in front of everyone at work? Get ready for Radiolab: the science-based podcast with serious heart and finesse.

Radiolab is hosted by Jad Abumrad and Robert Krulwich. Together, they tackle some of the tougher questions we humans encounter: color perception, memory loss, and genetic engineering, to name a few.
This show blends scientific inquiry with sweeping auditory soundscapes that envelop and transport you.

Learn in style with the one-of-a-kind Radiolab.
2. 99% Invisible
Another show that has plenty to teach is California-based 99% Invisible, hosted by Roman Mars.
Roman Mars, one of the founding members of the podcast collective, Radiotopia, narrates the show with a subtle eloquence that leaves you craving more.
99% Invisible delves into the origins that underpin many of the design staples that go unnoticed in the world, from high-heeled shoes to the inflatable men you often spot at used car lots.
99% Invisible will teach you about the invisible world that surrounds you on an everyday basis: the world of thought, invention, architectural design, and creative innovation.
3. This American Life
Would any best podcast to listen to list be complete with the inclusion of the acclaimed This American Life?

This is a podcast you may need to listen to with headphones, if only because this show isn't afraid to go there, if you know what we mean.
Where is there? Well, This American Life leads the quality podcast front wherever its heart desires, from politics to parrots to amusement parks to human rights.
Hosted by Ira Glass and consumed by more than 2.2 million listeners each week, this show never fails to hit its mark.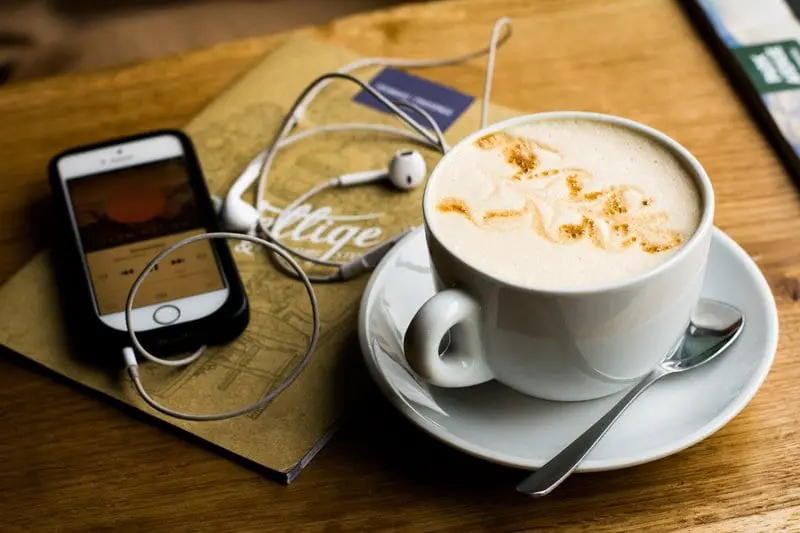 Best Podcast to Listen to on Spotify
Everyone's got their favorite platforms, and if yours is Spotify, then we've got a few suggestions for you.

Here are some of the top picks for the best podcast to listen to on Spotify.
1. Stuff You Should Know
This one is great for the car, at work, the gym, you name it.

Stuff You Should Know is an award-winning podcast and spin-off audio series of the education website, HowStuffWorks.
Hosts John Clark and Charles W. Bryant seek to educate listeners on a wide range of topics, including pop culture, science, and technology. They even debunk the odd conspiracy theory for kicks.
2. The Moth
If you love a good story, The Moth could be the podcast you're after.
The Moth features real stories, unscripted, told in front of a live audience. Storytellers come from all walks of life, and the semantic range spans from the hilarious to the heartbreaking.
You never quite know what sort of story you'll be in for with The Moth. But rest assured, what you will get is a powerful listening experience.
The Ultimate Podcast to Listen to for Genuine Inspiration
We've given you podcast suggestions for your morning commute, your afternoon coffee break, and just about everything in between.

But we haven't yet introduced our favorite podcast on this list. The ultimate podcast to listen to for that inspirational motivation you're craving. The podcast to listen to when you've only got time for one.

If there's one podcast on this list that can boost your entrepreneurial spirit, it's the Mindvalley Podcast.
This is your daily wake-up call, your pep talk, your boost of influential inspiration. Learn from some of the most prolific teachers and guides around the world, including Neale Donald Walsch, Lisa Nichols, and Eric Edmeades.

The Mindvalley Podcast covers topics of entrepreneurial success, nutrition, and energy medicine, self-love, life hacks, and more. Whatever you're seeking in the realm of profound inspiration, the Mindvalley Podcast has got you covered.