How To Find A Personal Mission Statement That Really Matters
Back in the day, sailors used the North Star to help them navigate because its light stayed consistent through the day and night.
In our lives, it's easy to get lost in troubled waters and stray from our goals. That's why each of us needs a "North Star," of sorts, to keep us headed in the right direction.
A personal mission statement can become your North Star. It helps you evade obstacles to actively steers you toward your purpose in life.
Let's explore how to write a personal mission statement alongside some inspiring personal mission statement examples.
In this article, we'll explore:
Ready? Let's get started!

What Is A Personal Mission Statement?
---
Long before Oprah Winfrey became the infamous TV personality that she is today, she envisioned herself as an inspirational teacher.
Her personal mission statement was,
To be a teacher. And to be known for inspiring my students to be more than they thought they could be.
This vision arose from her difficult childhood.
As a child, she watched her grandmother wash clothes in a small iron pot and hang them on a wire.
So, she resolved to make her life more than what her grandmother had settled for.
Oprah's story is perhaps one of the world's greatest personal mission statement examples.
What is the purpose of a personal mission statement?
A personal mission statement is what guides you to your ultimate goal in life. It can be inspired by the experiences in your life that have moved you the most.
Studies show that 90% of law students in America are depressed. Yet, Law degrees are one of the most coveted courses in American education.
This begs the question:
Why?
People today are chasing goals envisioned by society, their families, and their friends. As a matter of fact, superficial goals drive our entire lives.
But you'll notice that the most extraordinary people in the world have mission-driven careers. Their careers are centered around a greater purpose.
Bill Gates wanted every home to own a PC, while Steve Jobs wanted the world to experience technology in a life-changing manner.
As Vishen Lakhiani (founder of Mindvalley and author of the life-changing program, Becoming Limitless) points-out: personal mission statements can give your life a greater meaning.
It can transform your day-to-day experience into work towards a worthwhile mission.

How Do I Write A Personal Mission Statement?
---
Looking to learn how to write a personal mission statement? You're already halfway there, friend.
Because half the battle is finding the intent.
Before you create your mission statement, you have to know where you want to go.
Then, you have to get specific.
Be inspirational and succinct. Keep it short, sweet, honest, and to the point!
What matters most to you?
What drives you? Inspires you? Powers you forward?
Sometimes it helps to think of the people you've encountered that have left a lasting impact.
So, who do you admire? What did they say or do that stuck with you?
Take some time to consider these questions and see what you come up with.
What is an example of a personal mission statement?
Looking for some personal mission statement examples to get the creative juices flowing?
Take a look at these famous examples of personal mission statements:
To serve as a leader, live a balanced life, and apply ethical principles to make a significant difference.

— Denis Morrision, CEO of Campbell Soup Company
To have fun in [my] journey through life and learn from [my] mistakes.

— Sir Richard Branson, Founder of Virgin Group
To use my gifts of intelligence, charisma, and serial optimism to cultivate the self-worth and net-worth of women around the world.

— Amanda Steinberg, Founder of Daily Worth
To constantly be striving to be the best version of myself—in my job, with my health and fitness, with my relationships with family and friends, and with my emotional well-being.

— Katie Arnold of Talk Less, Say More
What Are Some Examples Of Personal Values?
---
Nike was built on the value of enabling athletic pursuits at the highest level. That's the value that each of Nike's ads. You never see Nike focus on style, even if their shoes are aesthetically pleasing.
All of their ads are focused on how you can elevate your performance.
That's a core value. Similarly, each of us has a core value.
What's yours? Are you more dependable, consistent, or honest than your peers? Are you open-minded? Committed?
In most cases, core values develop and manifest early on when we're children. However, they can also be cultivated later on in life.
You can identify these values by asking your family for memorable stories of your early life. You can also ask your friends for adjectives that they think best describe you.
The most consistently stated value is probably your core value. This value will play a critical role in helping you shape your personal vision statement.
What is your life mission?
Personal beliefs are a set of ideas that you hold to be true. They can be regarding your life, personal experiences, or universal assumptions. They form as a result of your education, culture, environment, and influences.
Your personal beliefs influence your decision-making.
They also influence the trajectory of your life.
Author Franz Kafka requested his closest friend, Max Brod, to destroy Kafka's work before death because he believed that it wasn't worthy of recognition. The same work, preserved by Max Broad against Kafka's wish, went on to be critically acclaimed in the literary world.
As Kafka's story demonstrates, your personal beliefs (about yourself or the world) can either bring you success or keep you from it.
The question is:
What do you believe in?
And how will you use those beliefs to shape your own personal mission statement?
---
Gain Instant Clarity On What You Really Want In Life – And Have It All
There's a reason that so many brilliantly talented, naturally creative, intelligent and capable people never reach their potential, and it is, quite simply, a lack of direction.

Even if you have a vague goal in mind, you still need a plan, a process to get you there.

You can have the most expensive, fastest car in the world, but if you set off without a clear idea of where you're going, then the rusty old Beatle with a map and compass will beat you there every time.
If You're Ready To Experience The Extraordinary Life Design System That Gives YOU The Power To Author Your Ultimate Life, Then Join Jon & Missy Butcher's Free Masterclass

Where You will Learn:

✅ Are you stuck on the hamster wheel of life, instead of rushing towards your fullest potential? Discover how to escape the 3 soul-crushing reasons most people unknowingly cheat themselves of their greatest lives.

✅ Do you always set goals and rarely achieve them? It's not your fault – traditional goal-setting is seriously incomplete! Discover how Lifebook empowers you to rapidly and consistently take charge of your life, and realize your every dream.

✅ Experience the 'Instant Clarity' exercise: a powerful visualization exercise that guides you through your ideal day – and gives you instant clarity on who you really are, and what kind of life you really want to be living.
Step Into The New Year With A Crystal-Clear Vision For Your Ultimate Life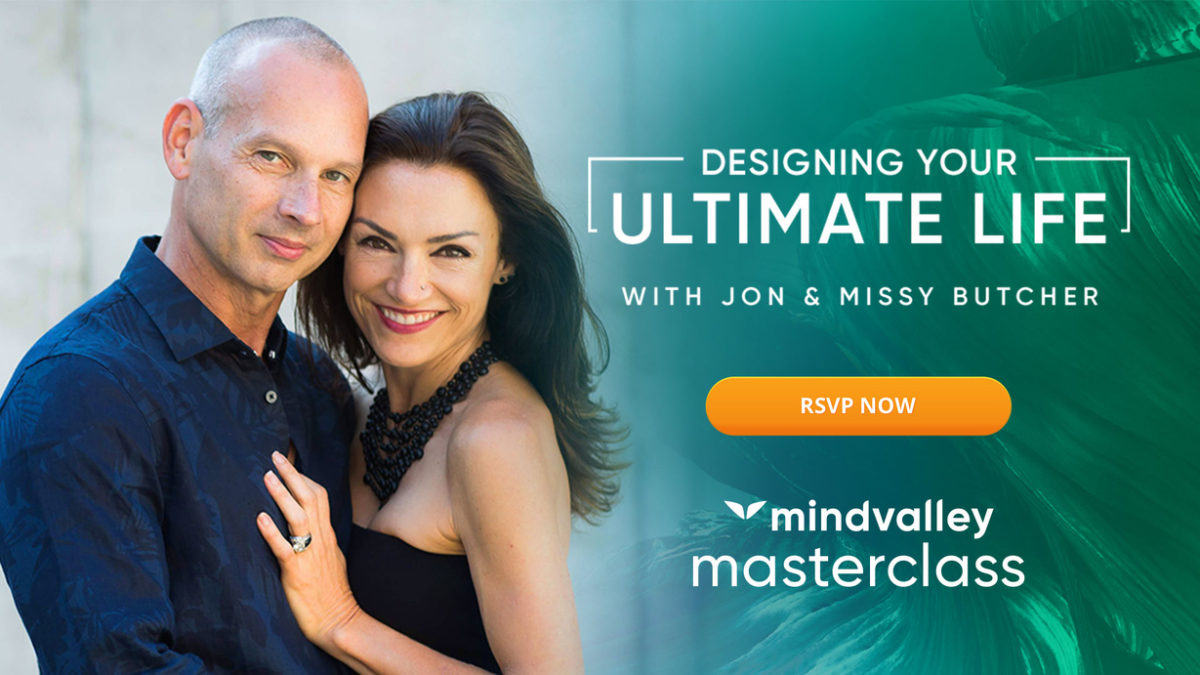 So, do you have any personal mission statements to share? Let us know in the comments below!