Do you know the books that radically shift your worldview? The ones that are able to cut through the fog of long-held assumptions and change the way you think, live, and breathe in the world?
The good news is that Mindvalley teams up with the best-selling authors who come up with new book releases this year to inspire you for living your best life. You can benefit from their wisdom by either grabbing their latest book or enjoying their Mindvalley content in the form of podcasts and quests.
So here's a list of the eight most anticipated upcoming books written by Mindvalley trainers and guests.
Are you ready? Steady? Then read on.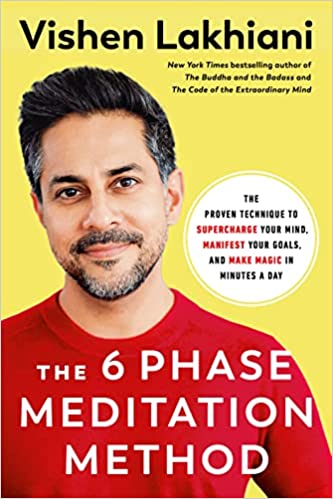 About the author: Founder of Mindvalley, an award-winning entrepreneur, speaker, and New York Times best-selling author, Vishen is a certified Silva instructor and credits this method as a core base of his personal development. His journey with Mindvalley led him to explore the science behind helping people achieve their highest potential.
Key takeaways: The 6 Phase Meditation Method shows you:
A six-step magic-making protocol to increase creativity, focus, and overall joy in your life
Six unique mind programming exercises that you can do every day from the comfort of your home
How to experience peak states of mental clarity in just a few minutes a day
What's special about this one of the new book releases is the complexity of the simplicity it brings into your day-to-day life. Written with a touch of humor, it's impossible to get bored while uncovering this hyper-efficient method of improving your life quality right away.
Related Mindvalley quest: The 6 Phase Meditation
You can learn more about Vishen's meditation method by reading this article: The 6 Phase Meditation: The Secret Weapon of the World's Top Achievers.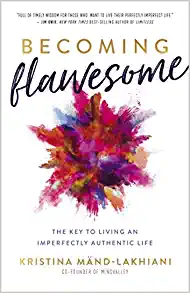 About the author: Being part of the personal development field for 15 years and still counting, Kristina Mänd-Lakhiani has been collaborating with leading teachers in consciousness, relationships, human performance, and life optimization.
As co-founder of Mindvalley, Kristina's core value is pouring her authenticity into any corner of her life and she invites you to do the same.
Key takeaways: By reading Becoming Flawesome, you will better understand how to:
Celebrate your imperfections and embrace your "dragons" as Kristina refers to her flaws
Live every moment from a place of vulnerability and inner truth
Enjoy every step of your life journey, instead of rushing to the destination
Kristina is a living example of how embracing your "flawesomeness" will take you to the higher peaks of life. So, go ahead. Be vulnerable. Be authentic. Learn how to use your flaws for your greatest good, and you won't regret it.
Related Mindvalley quests: Live By Your Own Rules and Becoming Flawesome (to be released in 2023)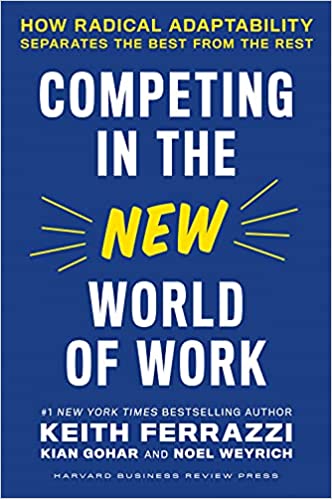 About the author: A New York Times best-selling author, American entrepreneur, and globally recognized thought leader, Keith Ferrazzi is one of the most sought-after coaches in the whole world. He is the creator of a new operating system he calls 'co-elevation' that brings significant value and transformation to one's personal and professional life.
Key takeaways: Being one of Mindvalley's recommended new book releases, Competing in the New World of Work: How Radical Adaptability Separates the Best from the Rest highlights:
How leaders can change their businesses and practice to thrive in a post-pandemic world
How the pandemic brought innovations for the work environment and how to better use it to the maximum capacity
The new definition of leadership and how it will continuously change in the next few years
This book is one of your chances to embrace the transformation chance the post-pandemic context offers you to grow and elevate your working strategies. Keith encourages leaders to use every opportunity to its full potential and transcend all challenges coming their way.
Related Mindvalley quest: Ultimate Leadership
If you're interested in learning more about how to build your path to becoming a great coach, check out this article: 9 Must-Read Books to Become a Successful Coach.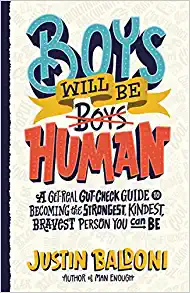 About the author: Justin Baldoni is an actor, director, producer, entrepreneur, and changemaker whose efforts are focused on creating impactful media and entertainment. He is the creator and director of CW's My Last Days, an uplifting documentary series about life as told by courageous people living with a terminal illness, and of Man Enough, the dinner conversation series about redefining masculinity.
Key takeaways: A fair warning that Jason gives about his book is how honest it will be. It reveals:
What kind of rules boys should unlearn and exactly how to do that
The actual definition of what masculinity is and why it has been distorted all along
A guidebook on how to be strong, confident, authentic, and super raw without compromising yourself for societal standards
Justin encourages everyone to get real on how and what boys should or should not be. Written with lots of vulnerability and emotion, this is one of the new book releases in 2022 that will shift your perspective on one of the most controversial topics out there: what does it mean to be a man?
Related Mindvalley podcast: Undefining Masculinity: How to Break Free from Gender Stereotypes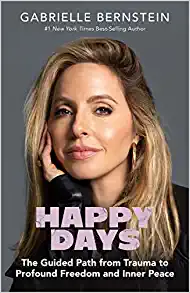 About the author: Influenced by her mother's spiritual practices, Gabby Bernstein has been on a spiritual path her entire life. Although she had the knowledge directly passed on to her, her journey was rough and rocky, struggling with addictions during her teenage years and early adulthood.
Spirituality saved her life in the end, pushing her to become an international motivational speaker and best-selling author who teaches people how to live in alignment with their truest purpose.
Key takeaways: Through her self-help book, Gabby shares everything you need to know about:
Nine transformational techniques for genuine happiness and peace of mind
How to ride the wave of your fears and come out on the other side freer than ever before
How to rewire the patterns that keep you stuck in an unhappy place
Gabby wrote her book with the beautiful idea of delivering it as a gift to anyone who needs answers to why they get anxious, scared, lonely, or depressed. Through this new book release, she reveals a new path to becoming a better version of yourself. Right here. Right now.
Related Mindvalley podcast: Powerful Techniques to Wake Up Anxiety-Free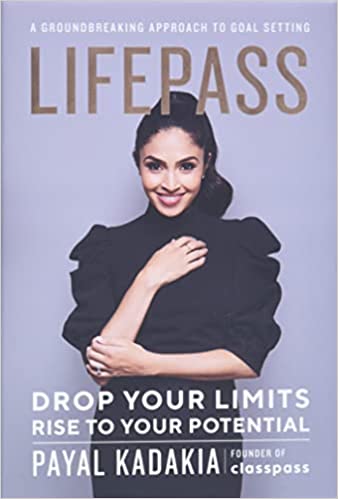 About the author: Payal Kadakia walked into the world of dancing and entrepreneurship at the age of three years old when she started training in Indian and folk dances. Nurturing a burning passion for dance and movement, she went on to create ClassPass, a membership program for fitness classes in various gyms. Her business made working out easier and more affordable for sports enthusiasts in the United States.
Key takeaways: Payal's book will uncover many tips and tricks on goal achievement, including:
A special method of goal setting to fulfill your deepest desires
How to focus on what's meaningful to you
How to live a life that works in your favor in every possible aspect you can think of
Payal has been quoted as "the dancer possessing not only the stand-out talent, but the undying passion, congenial disposition, and sharp business savvy to be truly a force to be reckoned with." So, it's time to grab this one of her new book releases and discover the ins and outs of living fiercely and passionately from a leading expert who leads by example every day.
Related Mindvalley podcast: The Golden Rules of Goal Setting
If you're excited about goal-setting and improving your self-growth game, here are some more Mindvalley personal development books to read for maximum life improvement.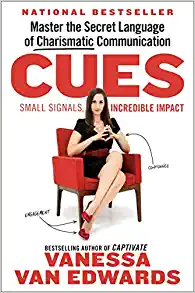 About the author: Founder of People School, Vanessa Van Edwards is a "recovering awkward person," as she proudly calls herself. She's now helping people all over the world develop their interpersonal skills with her science-based framework of improving their emotional intelligence.
Key takeaways: One of the best new book releases of 2022, Cues: Master the Secret Language of Charismatic Communication, will uncover exactly how to:
Show up as your most charismatic self
Integrate the secrets of the most charismatic people out there and stand out when walking into any room
Use your body language cues to the best of your advantage
This book is an indispensable guide to anyone who desires to become more influential, strike the greatest deal, and attract the right people as a powerful charismatic magnet.
Related Mindvalley quest: Magnetic Charisma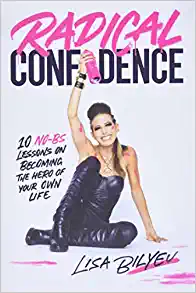 About the author: Lisa Bilyeu proved everyone wrong who said her dreams were too big for a little girl. Although she spent eight years of her life being a housewife, she completely transformed her way of living when she realized everything she had ever wanted just required the confidence to create the life of her dreams.
Now, Lisa is a leader in personal development and the founder of Impact Theory, a billion-dollar company. Everything she achieved was due to learning how to face her shadows and embrace new challenges. And she's teaching people all over the world how to do the same.
Key takeaways: By reading her book, you will learn how to:
Live your life fiercely and unapologetically
Save yourself from your current life situation and become the hero of your own destiny
Toughen up and embrace challenges with optimism and curiosity
Through her eye-opening book, there are valuable life lessons to be learned, inspired by Lisa's own personal story. The book sums up how to achieve emotional mastery, build confidence step by step, and make peace with your insecurities once and for all.
Related Mindvalley podcast: 10 No-BS Lessons on Becoming the Hero of Your Own Life
Get Excited about Your Reading List
Reading might be one of the easiest self-help methods available out there. It's accessible, affordable, and packed full of wisdom. And if that is what you're looking for, then Mindvalley is the perfect place for you to find some of the greatest new book releases, and so much more.
Welcome in.