Unlimited Personal Growth
Founder and CEO of Mindvalley, Vishen believes that our personal growth should always come first — and for good reason. As a society, we're beginning to realize that the more deeply committed we are to our own evolution, the better we can serve humanity.
So, the more clued up you are about what it takes to become a world-class leader, the happier your employees become.
The more in tune you are with your emotions, the better you show up in your relationships.
And the more you know about the art of learning and transforming, the more able you are to adapt and thrive in an ever-changing world.
With personal growth, the sky really is the limit. And because your potential to grow is limitless, Vishen figured that Mindvalley should be too.
That's what inspired Mindvalley Membership.
Introducing Mindvalley Membership
Mindvalley's Membership (previously called Quest All-Access) is a yearly subscription that grants you a full, V.I.P. pass to all of our Mindvalley Quests. With unlimited access to our entire vault of 50 (and growing) online courses and over 200 shorter training, you become immersed in one of the most powerful online learning experiences on the planet.
For the first time ever, Vishen wanted to grant our students access to all of our world-class courses at once for a fraction of the original cost. It actually averages out at less than $2 per day, way less than a Starbucks coffee!
From Biohacking to Business, from Healthy Lifestyle Hacks to Guided Meditation courses, this pass is for anyone who truly wants to take personal growth to new levels in all facets of life. You'll be getting to know world-renowned authors and life coaches in their easy-to-digest 5-15 minute daily classes that deliver the BEST results and completion rates out there.
And our students seem to agree. Every week more and more touching stories flood into our inboxes about how Mindvalley Membership has changed lives all across the globe.
Here are some of our favorites.
Love Stories for Mindvalley Membership
There is no better platform for learning than Mindvalley."

— Jason Gagnon, Strategic Interventionist, Speaker, Quebec, Canada
As a fast-growing coach, consultant, and speaker, Jason knew that if he wanted to level up his leadership, he'd need inspiration from the very best pioneering entrepreneurs and coaches. That's why he chose us. "I am so grateful to have access to the top thought leaders and change agents of the world."
Since becoming a member, Jason informed us that Mindvalley became his number 1 resource in his daily routine. After observing such a profound transformation in himself and his career, Jason tells us that he inspired many people in his life to join the personal growth revolution too.

"Everyone I know knows about Mindvalley and many hopped on the train to personal mastery with me."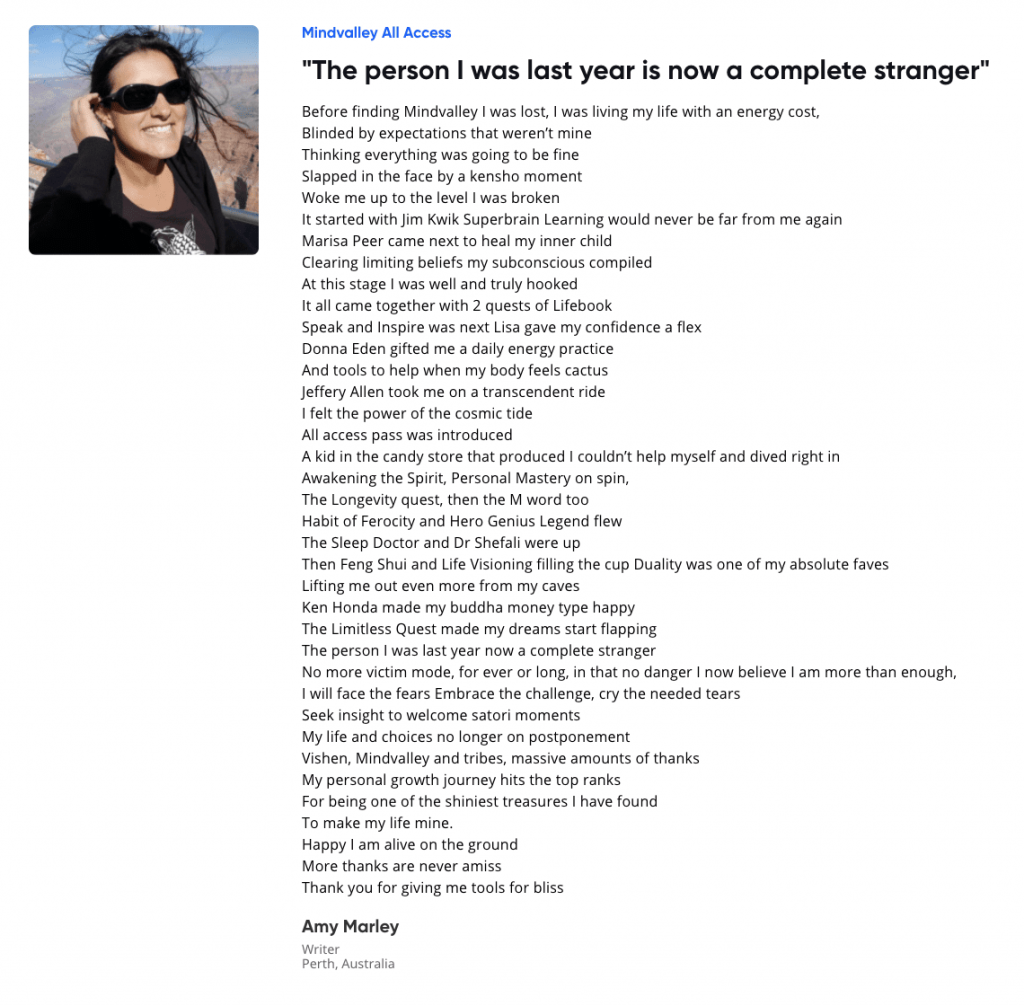 "The person I was last year is now a complete stranger."

— Amy Marley, Writer, Perth, Australia
Amy's story touched our hearts immensely.
Ongoing turmoil at home accompanied by anxiety around the ill health of her loved ones, Amy was going through the toughest time of her life. Inspired to turn things around, she promised herself that if she couldn't change her external circumstances, she would learn to change how she felt about herself.
She discovered Marisa Peer's Hypnotherapy course, celebrating that "the whole quest and support of the tribe helped me more than words can describe."
After clearing up ingrained limiting beliefs and finding a happier base to live her life from, Amy then embarked on the Lifebook Quest, sharing that "Jon and Missy took me on a journey of self-discovery."
Amy's transformation led to her quitting her unfulfilling job to find the rewarding post of helping children learn to read and rekindling her talent for writing. She also dove into energy healing with her family, accompanied by the guidance of our Energy Medicine Coach, Donna Eden.
"I have to admit I have been like a kid in a candy store with this pass so far…"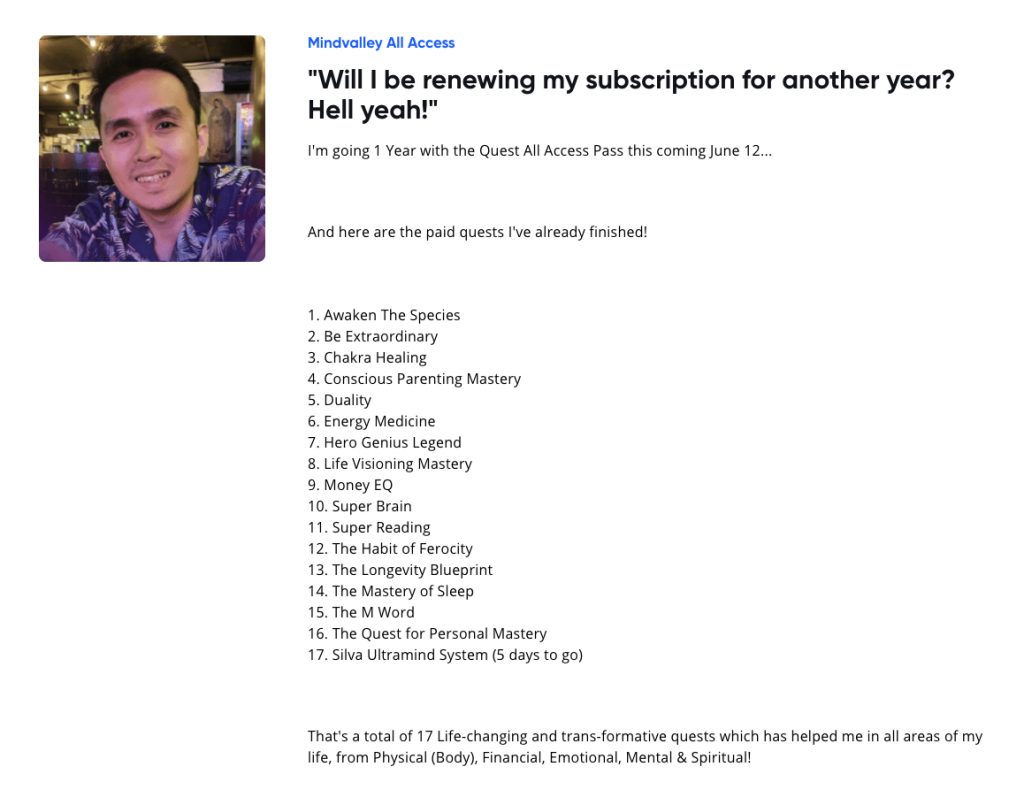 Will I be renewing my subscription for another year? Hell yeah!

— Jan Mckingley Hilado, Author & Entrepreneur, Cebu City, Philippines
From a struggling business owner to the 'Always at Ease Entrepreneur', Jan is a self-proclaimed Quest All-Access Superfan. Jan shared with us that Mindvalley hasn't only helped him to hit his goals, but to feel a deep sense of wellbeing and belonging.

"The tribe is a very safe and supportive space where you can voice out your thoughts and feelings…without being judged for being weird or different, and where you are understood."
Jan has renewed his subscription, having completed 17 Quests already! More recently, Jan shared with us that he'd studied our Sleep Quest with the Mindvalley Sleep Specialist, Dr. Michael Breus. We're happy to report that Jan is now free from insomnia and sleeping soundly.

"I couldn't be grateful enough!"

I'm not only learning but breathing Mindvalley!

— Lorela Gheorghiescu, Teacher, Liège, Belgium
Lorela shared with us that before discovering the power of personal growth, she was down and out. "My financial status was very unstable."
But after receiving Mindvalley Membership as a birthday gift from a loved one, things finally started to look up.

She began her journey with Christie Marie Sheldon's Unlimited Abundance Quest. She wanted to face her financial life head-on to achieve mastery in a field that was once so intimidating to her and so many others. "I took all this time to invest in me, to change myself, to find myself, and I am so grateful that I was guided to do it."

Lorela's confidence has grown ten-fold and she shared with us that she's by far from done with her personal growth!

"You call it a learning platform. I call it a Portal to upper levels."
Keep Growing
Here at Mindvalley, we believe that no matter our age, culture, race, ethnicity, gender, or financial situation, we all deserve support and guidance when it comes to navigating what can be an overwhelming world. Be sure to check out our ever-growing personal growth blog collection as well as our free Masterclasses.
You can also find inspiring talks and Mindvalley personal growth content on our YouTube, Instagram, and Facebook profiles. And if these stories have sparked curiosity in you, join to be a Mindvalley Member. Welcome in.