Like the idea of yoga for two but aren't ready for the gymnastic style of acro-yoga?
You are in luck! There are plenty of yoga for two practices you can do and keep all four feet on the ground. Below you will find some super simple, yet, super powerful practices.
3 Powerful Yoga For Two Practices
1. Breathe as One
Traditional and modern styles of yoga usually start with a breathing practice, sometimes sitting and sometimes moving. This is a great yoga for two breathing practice.
Sit back-to-back. Try this crossed legged on the floor or on cushions. Or try sitting on two stools or sideways turned chairs.
Feel the warmth and touch of each other's back.
Begin deep full yogic breathing. Inhale expanding your belly, then the lower ribs and the upper ribs. Exhale reversing the movement.
As you breathe, also feel your partner breathing.
Repeat 12 times.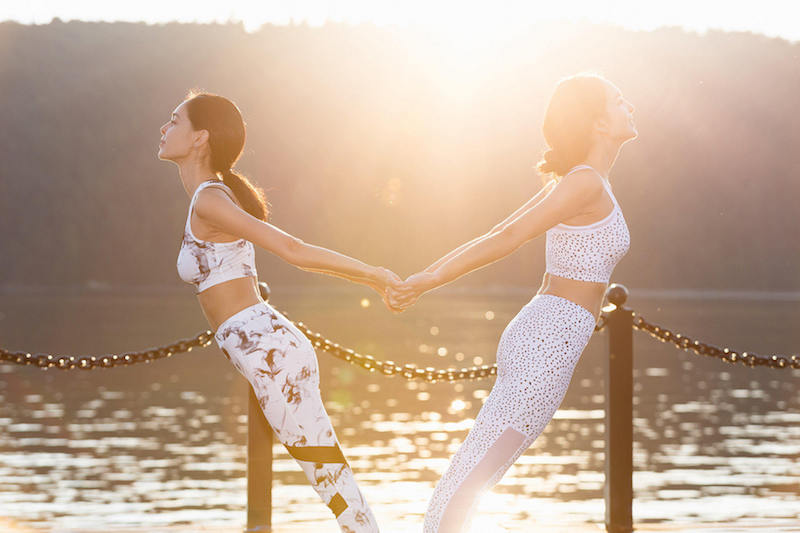 2. Bend as One
Still sitting, practice a side bend next. Try to keep the same areas of your back touching that were touching when you were upright when you bend to the side. Don't forget to communicate! 
Sitting back-to-back, lift the same arm up (one person will lift their left, the other their right). Place the opposite hand on or toward the floor. Move toward that opposite side in a sideband. Keep your backs together as best you can! Talk to each other!
Try to keep your sitz bones down. Lengthen through your spine.
Breathe. Remind your partner to breathe. See if you can feel each other breathing.
Slowly come up after about 10 – 30 seconds.
Repeat on the other side.
3. Be as One
Now turn and face each other. If it works for your respective body proportions, attempt to have your knees touch each other. The idea is to be close.
Be sure you are sitting comfortably.
Close your eyes.
Practice any meditation technique that you know (try one from Omvana here).
Even though you are with your partner, at this point focus inwardly.  Do your own meditation practice. Decide ahead of time how long you will practice. 1 – 20 minutes or whenever one of you starts to stir and needs to come out of the meditation.
Slowly come out of your meditation. Slowly open your eyes.
Hold hands.
Breathe together for a few moments. Resist talking right away.
There is something special and unique about being together and practicing an inward meditation. It's as if you are connecting on the soul level — in ways that you are unable to connect when your eyes are open or through talking.
---
What's your favorite yoga for two practice? Share it with us in a comment!