What can a crystal skull remind us of? In this short video, Vishen Lakhiani talks about crystal skulls, the power of energy healing, and what makes Energy Medicine Practitioner Donna Eden so amazing.
Vishen On Healing And Donna Eden
---
After billions of years of evolution, the human body has developed into super sophisticated machinery.
But scientists have started to realize there's more to the body than simple mechanics… It turns out that there's a form of energy that helps the human body function and heal.
Vishen Lakhiani learned about the power of this energy from Master Energy Medicine Practitioner, Donna Eden. After receiving a diagnosis of Multiple Sclerosis, she started working with Energy Medicine. She healed herself, staying symptom-free after the past 40 years.
Now, she's taught over 100,000 people — both professionals and laypeople — how to heal themselves, too.
Watch the video above to hear Vishen's how Energy Medicine impacted his life. You'll learn what's so unique about Donna, and why going beyond your physical body will change the way you function in the world.
What Is Energy Medicine?
---
Energy Medicine uses time-honored techniques to tap into the invisible forces that animate the human body. These traditions include acupuncture, yoga, kinesiology, and qi gong. Energy medicine also works off of the principles of flow, harmony, and balance.
Instead of focusing on mere symptoms, Energy Medicine focuses on healing the underlying energy patterns. The energy fields of the body begin to reorganize and control the growth of tissue, cells, and organs. It's a non-invasive and incredibly efficient practice.
As Vishen said in this video on healing and Donna Eden, these practices start to change your opinion of your body's capabilities.
So how does it work with Western Medicine?
Energy Medicine doesn't have to work against Western Medicine. In fact, it can complement Western Medicine.
About Donna Eden
---
Five physicians changed the course of Donna Eden's life.
They told her that:
Her organs were breaking down;
Western medicine could no longer help her;
And she should get her "affairs" in order.
So she decided to take her health back into her hands. She began to experiment with and manipulate her body's energies through healing traditions. Eventually, she healed herself.
Then she decided to take her knowledge and empower others to heal themselves, too. Over the last 40 years, Donna has taught others how to reclaim their health and vitality. Today, she is the New York Times bestselling author of The Energies of Love and an international leader in Energy Medicine.
She and her husband, David Feinstein, Ph.D. (a pioneer in Energy Psychology), run the world's largest Energy Medicine school. More than 100,000 people have attended her classes, including doctors, physicians, and nurses.
And now, you can learn from Donna four powerful and practical ways to increase your health and vitality in her Masterclass. Her simple tools will help you tap into your energy reserves, choose the right food, and conquer stressful situations.

---
Revitalize Your Health With Energy Medicine
What would it be like if you could heal and revitalize yourself?
And what if you could enjoy living in your own body more?
Master Energy Medicine Practitioner Donna Eden is no stranger to chronic illness.
After visiting many doctors, she made the decision to do something about her own ailments. That's when she turned to energy medicine.
Now, Donna has over 40 years of experience. Her expertise in energy medicine has transformed the lives of over 100,000 of her students (including many physicians, nurses, and other mainstream health professionals).
And as part of her mission to increase global health and wellness, she has decided to bring energy medicine to Mindvalley.
You don't have to be a gifted healer to start using energy medicine on yourself and your loved ones.
If You Want To Discover Powerful Practical Ways to Bring Energy Medicine Into Your Everyday Life, Then Join Donna Eden, Master Energy Medicine Practitioner, In This FREE Masterclass, Where You Will Learn:
✅
Simple techniques to tap into your hidden reserves of life energy.
With these simple techniques, you'll heal, restore, and revitalize yourself naturally.
✅
Conquer stressful situations with two fun energetic shortcuts.
Anyone can do this. You don't have to be a healer.
✅ And so much more…
Register Now to Master the Secrets of Energy Medicine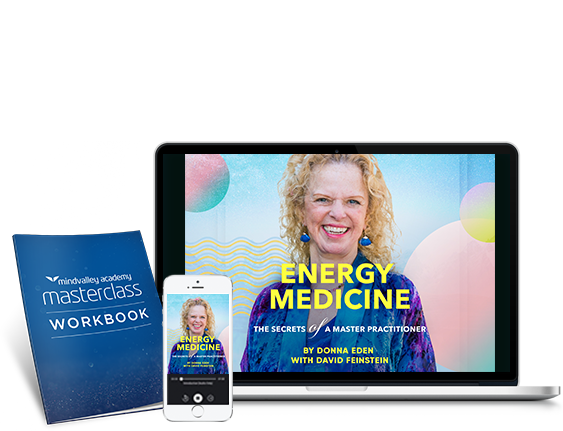 Discover Four Powerful Practical Ways to Bring Energy Medicine Into Your Everyday Life
Choose a date and time below to tune in to the broadcast in your own local time zone.
[blink_amp_form webinarid="6362335083233280"]
---
Do you agree that there's an energy that powers life?
Share in the comments below.