Conventional learning is important, for sure. It teaches your child structure and hard skills that will help them in their careers.
However, it's also the same educational system that can leave your child feeling like an uninspired robot instead of a vibrant, curious being.
Now, imagine a world where learning is not just about memorizing facts and regurgitating them on exams. Imagine a world where your child's young mind isn't confined to the four walls of a classroom. And imagine them being ignited with curiosity, creativity, and the power to change the world.
That's where Mindvalley education for kids and teens comes in. A part of the annual Mindvalley University, this program is a journey of exploration and self-discovery for little humans.
No doubt, future generations will face unique challenges with their exposure to not only offline but online worlds as well. And Mindvalley for kids and teens can equip your child with the tools and confidence to brave the world of their future.
About Mindvalley Education for Kids and Teens
If there's one thing Mindvalley understands well, it's this: learning about life goes beyond stuffy textbooks and mind-numbing tests. It's about a holistic approach that…
Nourishes personal growth,
Fosters meaningful connections, and
Ignites the fires of critical thinking.
While these are topics that adults often seek out, they're also applicable to toddlers, kids, and teens. They ensure that young learners embark on a fascinating and well-rounded educational journey.
And here's the secret sauce that sets the Mindvalley Youth Program apart—it's not just what they teach; it's how they teach it.
"The kids get exposed to a space in which [they're] learning alongside their parents, other adults, and other people of different ages," says Gigi Márquez Suárez, the events lead for Mindvalley Youth Programs.
She goes on to add that since Mindvalley University is open to anyone, from three-year-olds to those in their 90s (or beyond), kids can connect with people of various ages and life experiences.
The fact that the kids get to interact with people of all ages in a space in which they're all learning is very powerful.

— Gigi Márquez Suárez, the events lead for Mindvalley Youth Programs
After all, the "university" of Mindvalley University doesn't refer to the "high-level educational institution" as we've come to know it. Its etymology derives from the Latin word universitas magistrorum et scholarium, which roughly translates to "community of teachers and scholars."
There's even scientific evidence that supports the effectiveness of such an approach. According to a 2005 study, positive experiences (like Mindvalley education for kids and teens) increase happiness and well-being.
And so, to put it simply, being part of a community and having these experiences make us happier—more than possessions.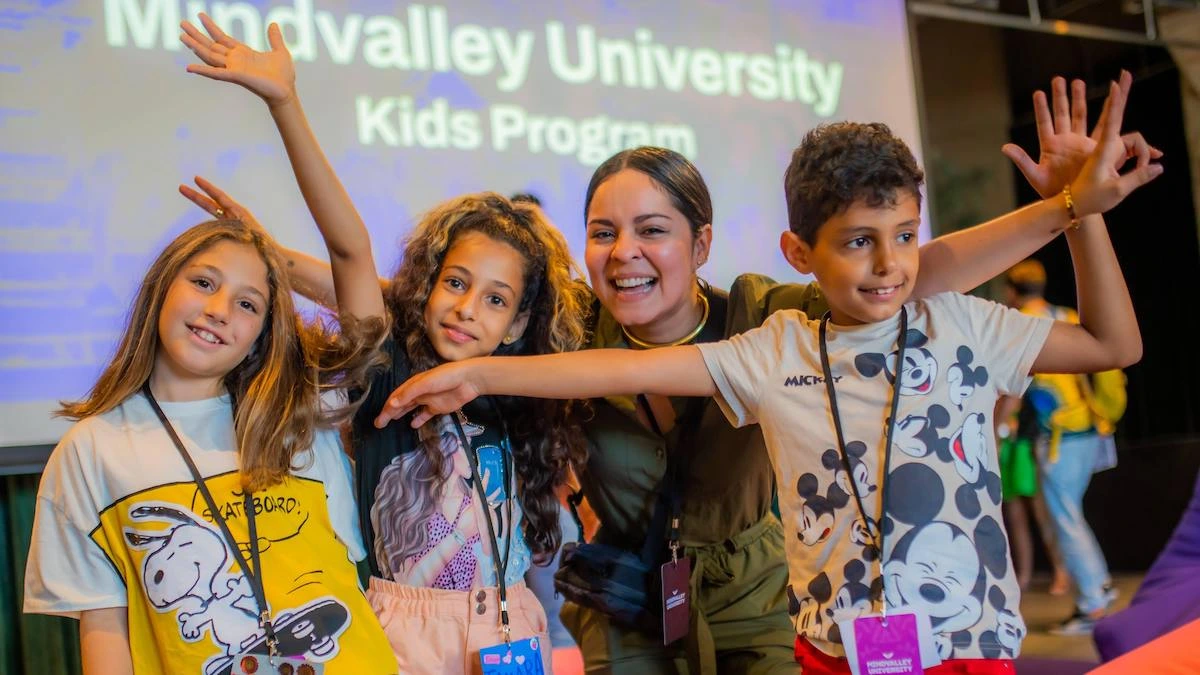 How Mindvalley University Is Changing Modern Education
If there's one thing we can all agree on, it's that the times…they are a-changin' (kudos to Bob Dylan for that line). And often at such a rapid pace that many of us find it hard to keep up.
"Is our consciousness changing as fast as our tech?"
"Are our current society's metrics of success really making sense?"
These are the questions Vishen, the founder and CEO of Mindvalley, posed for the inaugural Mindvalley University in 2017 in Barcelona, Spain.
He's got a point, though. Because, let's be honest: success is more than the title on your business card; wealth is more than the balance in your bank account; health is more than a number on a scale; relationships are more than saying those infamous three words; life is more than hustling until you "go"… And education is way, way more than learning from a book.
That's the idea behind Mindvalley University—a 21-day campus set in iconic cities around the world. (This year, it's in the beautiful Baltic city of Tallinn, Estonia.) It's like an oasis for the thirsty minds of those who crave more than the rigid structures of traditional education.
As Vishen explains, it's designed for everyone of all ages to learn…
In a community with close bonds,
From the greatest teachers on the plant, and
Things that school forgot to teach us.
Here, the students aren't mere passive recipients of knowledge but active participants in their own learning journey. This is where education comes alive—a vibrant tapestry of knowledge, creativity, and real-world application.
How Mindvalley is rethinking education for kids and teens
Mindvalley itself centers around personal growth. So it comes as no surprise that at Mindvalley University, it's the topic that takes center stage.
As with the saying "You're never too old to learn," you're also never too young to learn. And young learners in the Mindvalley Youth Program have the chance to get in some world-class educational experiences.
"One of the biggest highlights of Mindvalley University," says Gigi, "is bringing in programs from different places in the world."
Let's take a look at Mindvalley University 2023, for instance. Here's what your child has to look forward to:
Toddlers (for ages three to five). A school in Estonia is leading the program, which employs the Waldorf approach to education. The curated curriculum allows toddlers to engage in activities that foster exploration, curiosity, and innovative thinking.
Kids (for ages six to 12). Partnering up with Apollo School, a Canadian company, this program will revolve around topics like science, technology, entrepreneurship, expression, and health.
Teens (for ages 13-17). Making friends as a teen is hard enough offline, but now with the internet, finding authentic connections can be even harder. With the help of Gahmya Drummond-Bey, the founder of Evolved Teacher, Inc. (who's also the trainer of Mindvalley's Creating Friendship and Deep Connections for Teens Quest and Be Extraordinary for Teens Quest), teens will learn how to feel seen, feel heard, and feel valued.
As you navigate the landscape of education for your child, keep in mind that Mindvalley University is more than just an alternative—it's a revolution. It's rewriting the story of education, one inspired mind at a time.
And if you want to know more, you can find out more:
Why Parents Pick Mindvalley University for Their Kids
Choices are personal. And every parent who has attended Mindvalley University in the past has had their own reasons for bringing their kids along.
However, here's the thing: bringing your kids to Mindvalley University is like bringing them to the best playground in town. The swings of personal growth, the slides of social connection, and the merry-go-rounds of confidence—they all await.
Here are three main reasons why parents go to Mindvalley University with their kids in tow:
1. It's a safe and supportive environment
There's a bubble of warmth and acceptance, like a cozy fort made of supportive pillows. Kids and teens step into a space where they feel secure, valued, and free to express their wildest ideas.
"The Mindvalley community is very supportive, very encouraging," explains Gigi. And it's with that same spirit that she and the events team want to translate to the Mindvalley for Kids and Mindvalley for Teens programs.
"It's kind of like setting the mood and setting the expectations for the kids and the teens and the toddlers," she adds, "that they're in a space where they're safe to explore, they're safe to express, and there's no judgment."
Mindvalley University is a sanctuary where self-doubt takes a backseat. With compassionate mentors and fellow adventurers by their side, your child can spread their wings and soar to new heights without the looming shadow of criticism.
Stories from parents in the Mindvalley community:
"After a couple of hours of feeling intimidated by all the English-speaking wild other children, feeling insecure in his own English abilities, and yes, asking me to go straight back home again, he completely blossomed.
Day after day, he got more confident, running around Kultuurikatel with the other children, making friends for life, and falling in love with the team."
— Anne-Sophie Reinhardt, Germany
2. It's an immersive experience
Being at Mindvalley University is like diving headfirst into a pool of endless possibilities. It's an experiential wonderland where learning comes in all shapes and sizes.
"It's a lot of simulations and getting kids exposed to grown-up conversations in a thoughtful way," Gigi says. "That's interesting to them, and that really lets the knowledge sink in."
Your child can engage in hands-on activities, interactive workshops, and mindfulness practices. Twenty-one days worth.
From exploring the wonders of personal development to unleashing their inner entrepreneurs, every day becomes a thrilling chapter in their educational journey.
Stories from parents in the Mindvalley community:
"My 16-year-old daughter and I spent the entire month in Barcelona at Mindvalley University!! Even though I was sick for three of the four weeks, we had a blast.
We met some great people, went to a wide variety of classes, and got to know an amazing city. I'm incredibly excited about this concept for my daughter, who is not academically focused.
She's an introvert and loved coming to classes with me. We've been home for three days, and she brings up MVU at least once a day, talking about something she learned or is still thinking about."
— Tracey Schmidt, United States
3. They develop deep, authentic connections
Education isn't all about knowledge. It's about forging connections with kindred spirits.
The entire program is designed so that everybody's interacting with each other, according to Gigi. So your child has the opportunity to connect with like-minded peers from all walks of life, forming friendships that feel as solid as the Avengers' alliance.
Through shared experiences, collaborative projects, and heartfelt conversations, they can develop a support network that extends far beyond Mindvalley University. These connections can become the foundation for lifelong friendships and an invaluable support system as they grow.
Stories from parents in the Mindvalley community:
"Taking my son with me to Mindvalley University this year has been one of the best decisions we've ever made. He made friends and learned a lot about himself, about a new culture, and about traveling."
— Steffani Fort LeFevour, United States
Cultivate Changemakers at Mindvalley University
"I think it's everyone's responsibility to care for the future generations," explains Gigi. And with its unique blend of immersive learning, personal growth practices, and deep connections, Mindvalley education for kids and teens can help do just that.
It's our responsibility as adults in the world to ensure the next generations get access to the best possible options out there.

— Gigi Márquez Suárez, events lead for Mindvalley Youth Programs
That's the power of Mindvalley University—a place where there are teachers left, right, and center. And so, as you learn how to step into the world as your best self, your child is right there next to you as theirs.
Are you ready for an educational experience like no other? Make your way to Mindvalley University 2023 in Tallinn, Estonia.
Welcome in.