"Going viral" is the equivalent of instantly gaining popularity in high school. Think: Cady Harris of Mean Girls when she gained everyone's attention after sitting with the Plastics at lunch one day.
Sure, there's the dark side of "going viral," where someone does something ill-advised and it suddenly reaches every corner of the internet (Kendall Jenner and Pepsi, for example). So learning how to go viral properly can be extremely good for you and your brand.
Who better to advise on creating content that will hit that "trending" status than Gerard Adams, The Millenial Mentor™ and trainer of Mindvalley's The Science of Personal Branding Quest? His experience at Elite Daily, which he co-founded, helped generate over 100 million views and 80 million unique visitors. He even won an Emmy for one of their short-film documentaries.
With his insights and tips, here's how to go viral (properly and positively, of course) so you can make your mark on humanity with your personal brand.
1. Produce Relevant Content
Generating relevant content doesn't mean fitting in. Rather, it means providing content that is "shareable."
The reasoning is that social media algorithm is no longer based on how many "likes" you get. Instead, it's actually based on engagement and shares. And when people can relate, they'll share it with their followers.
"You really want to create content that is easily shareable and that people can engage with," Gerard explains. As a result, it can trigger a certain emotion and bolster human connection.
For example, the "Charlie Bit My Finger" video on YouTube started off as just an ordinary family clip. However, thanks to the boys' adorability factor and the humor of it all, it went viral and had more than 900 million views to date.
Granted, that was before the emergence of Instagram, Snapchat, and TikTok. But its cycle on the internet made it one of the most viral videos out there, and it ended up being made into an NFT and sold for $760,999.
Gerard Adams' tip on how to go viral: "At the end of the day, what's going to help you to grow your audience and attract your tribe is creating content that is shareable."
2. Leverage What's Already Trending
While using your creative intelligence to come up with original content is always advisable, it's not always an easy process. Gerard suggests "leveraging content that's already out there on the internet that has proven to be shareable."
Now, copy-and-pasting or piggybacking off of someone's content sounds like poor behavior (although let's be real, this is essentially what social media is all about). However, using a trending formula and adding your own spin to it can help take it to another level.
One example is actor Penn Badgley's version of the Taylor Swift-inspired trend. Penn shared a TikTok video of him as his character Joe Goldberg from the Netflix series, You, running through his apartment to the tune of Taylor's "Anti-Hero." It's racked up 7.8 million views and 1.7 million likes.
Gerard Adams' tip on how to go viral: "You can really leverage at looking what's already going viral on the internet. And how can you be able to leverage that? Give credit where credit's due, of course. But be able to reshare that content to your audience and then, maybe, add your own subtitles to it on why it's meaningful and will connect to your demographic."
3. Repurpose Videos That Inspire You
At times, producing high-quality content on a regular schedule can get overwhelming. Fortunately, one "trick" to knowing how to make something go viral is to repurpose content that resonates with you. And because your audience likely shares a similar vision statement as you, they should find that the content resonates with them, too.
This could be anything you've done before, like old graphics or viral videos, that has gotten many engagements. Case in point: a YouTube short Gerard did of an interview with the late Stan Lee.
It wasn't even a sit-down Gerard did with Stan; rather, it was an already-viral video of the comic-book writer sharing how he created the Spider-Man. But that's just it — the video, along with an attention-grabbing header, appealed so much to Gerard's audience that it gained over 7,000 views on YouTube.
Gerard Adams' tip on how to go viral: "What I typically will do is find an interview that someone who has inspired me and repurpose that interview — a bite-sized part of that interview."
4. Have Fun and Be Creative
If you're on any form of social media, there's a 99.99% chance you've seen those dance trends. And if you're not actively participating on any platform, you've likely seen someone filming themselves doing a dance trend.
"This is what we're seeing in the boom of [Instagram] Reels and TikTok, where you can now find music," explains Gerard. However, fun and creativity aren't limited to dancing and Khaby Lame is a great example of this.
His silent mockery of overly complicated life hack videos with his signature hand gesture provided people with relatable humor, especially during pandemic lockdowns. He may have stumbled upon the formula on how to make a video go viral, but it has proved to be a winning one because, as of October 2022, Khaby is the most followed user on TikTok.
Gerard Adams' tip on how to go viral: "You can find different songs that you can be dancing to and just add your own example of your creativity where you are still teaching or sharing a part of you."
5. Tell a Great Story
Vulnerability is the key to connecting and building trust with your audience, as Gerard shares in his Mindvalley Quest. And that's an element of great storytelling.
Based on his experiences, Gerard explains that content should be speaking about your pain points, hardships, and things you've had to overcome, all while finding your purpose in life.
There are plenty of examples of this, but one to highlight is by Vishen, founder of Mindvalley. The Instagram video may seem unassuming at first — it's of a quote — but to Vishen, it has a deep meaning. His caption explains its significance to him and from that simple and personal story, the post gained more than 65,000 views.
Gerard Adams' tip on how to go viral: "Go deep with your audience and get vulnerable and take them on a journey where they can really resonate with what you're talking about."
6. Share Your Knowledge
Online platforms can be about fun and games, but they can also be a place of learning. Gerard calls this a "responsibility" post — making it your duty to share your knowledge with your audience.
For example, if you're in human resources, you can create posts on how to make a career change. If you make punch needle pieces, you can teach this skill the proper techniques. Or, if you're more on the spiritual side, you can make videos of how vision boards can help reinforce someone's manifestations. The list of teachable lessons is literally endless.
Kat Norton is someone who does this well (so well that she was picked as one of the top social media influencers of 2021 by Forbes). Her TikTok tagline: "I make Excel fun." That's right, she teaches Microsoft Excel while dancing and infusing her creative energy.
Gerard Adams' tip on how to go viral: "If you're out here building a business as a coach or a consultant, or you have a service like an agency, this is where you get to really teach."
7. Ask Your Audience for Feedback
Have you heard of CTA? It means "call-to-action," a marketing term that invites your audience to take the next step toward your product.
There are several ways to do this. In a blog post, you may see it as a few sentences with a click-worthy link to attract the reader to a free trial or to purchase the product. For social media posts, it could be a caption with "Link in bio." Or, on most platforms, you can ask your audience for feedback.
Take Netflix, for example. They are masters of memes, especially when it comes to their own movies. And by using easy, daily life questions, like "Should pizza be eaten flat or folded?", it can spark an open conversation for users to interact.
Keep in mind, though, that there's no right or wrong way to do it. Just ensure it's the way that is most ideal for your audience.
Gerard Adams' tip on how to go viral: "[CTAs] will help to drive leads for people who are looking for an alternative to learn about a specific topic that they're interested in."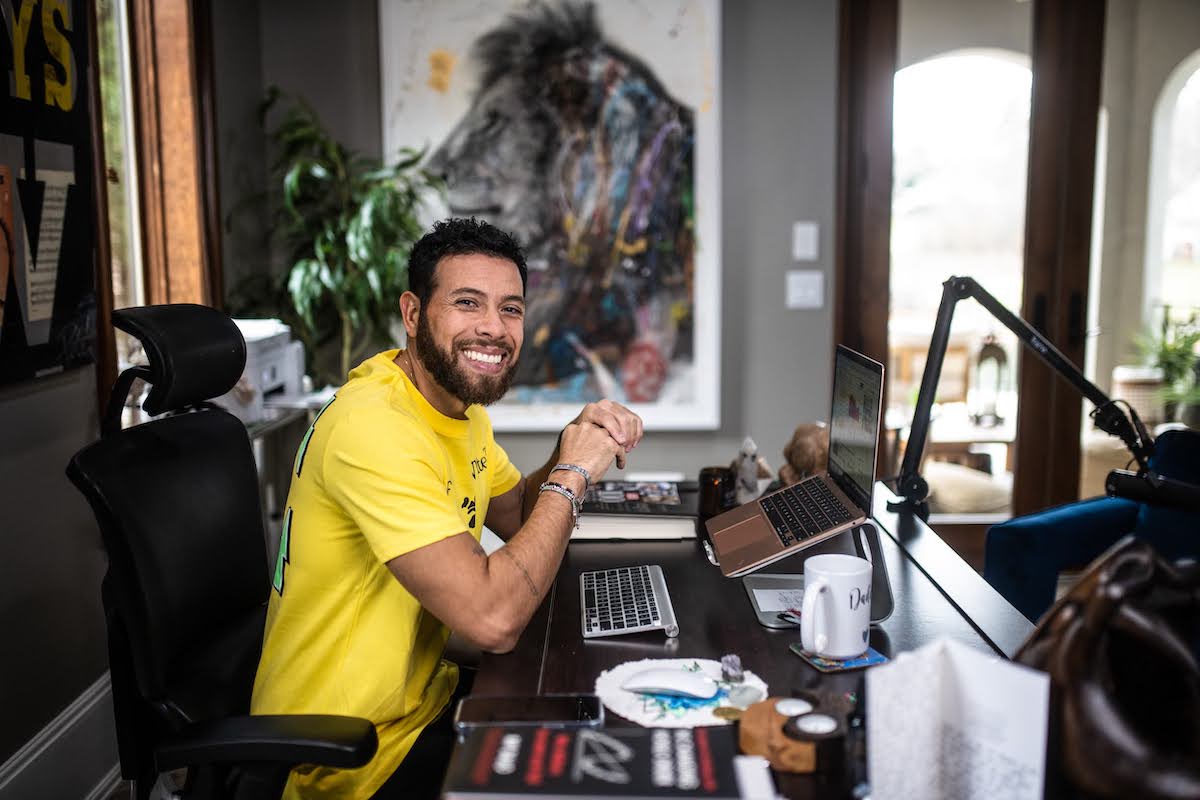 Capture the Internet
The internet may be a vast universe, but the great thing about modern online platforms is that it gives everyone a chance to make a difference. That includes you, too.
You can definitely learn how to go viral on your own. However, if you'd like some guidance from someone who's cracked the code, you can always turn to Gerard Adams in his The Science of Personal Branding Quest on Mindvalley.
The first few lessons are viewable for free when you create a Mindvalley account. What's more, Mindvalley is known for its community, where you can find others to co-create with and learn how to go viral together.
That's the beauty of Mindvalley — bringing people together, not only offline but online as well.
Welcome in.