Harvard Studied People For 75 Years And Found That Happiness And Longevity Comes From One Thing…
This post was originally published on Ted.com
What makes a good life? Many people around the world would say fame or money or "success." But it turns out, a good life consists of much more than that.
The Secret To Happiness And Longevity
---
We all want to extend our happiness and longevity — so what keeps us happy and healthy as we go through life?
If you think it's fame and money, you're not alone – but, according to psychiatrist Robert Waldinger, you're mistaken. Happiness doesn't just come from "leaning in" at work or pushing harder for achievements. It doesn't come from hearing our names spoken about in an envious way or from seeing our face plastered on billboards.
As Dr. Waldinger says in the video, "We're giving the impression that these are the things we have to go after if we want a good life." But that's actually not true.
And he would know. As the director of 75-year-old study on adult development, Waldinger has unprecedented access to data on true happiness and satisfaction. It's known as the Harvard Study. And it's the longest study of adult life that has ever been done.
They've studied people who grew up in tenements, others who went to the best schools, and some who developed schizophrenia. They've watched as some climbed to the top of the social ladder from the bottom while others who made that journey in reverse.
And they've been able to study and develop what the real picture of life looks like. It turns out that feeling connected to the people around you is the most important secret.
3 Lessons for relationships that improve your life
If you want to invest in your best life, here are 3 tips you should consider.
1. Social connections make us happier and healthier while loneliness kills
When you're more socially connected to your family, your friends, your partner, and your community, you tend to be much happier and healthier. But the reverse is also true: the less connected you are and the more lonely you feel, the more vulnerable you are to an early death. And the unfortunate paradox in this day and age is that a lot of people are more connected before through technology, but less connected to real people in their lives.
2. It's not just the number of your relationships but the quality of relationships that counts
Just because social connections make us happier doesn't mean you should get more of them or keep them all. Unhealthy marriages, for example, were actually almost more toxic that divorcing or staying single. It's the quality, not the quantity, that counts.
3. Good relationships protect both our bodies and our brains.
Secure, attached relationships — relationships where both partners feel they can count on each other in times of need — protect our mind and our body. That doesn't mean that you have to find a relationship where there is never any bickering or conflicts. It means that your relationship can protect you as long as you feel you can truly turn to the person you're in a partnership with when the going gets tough.
Take a look at the full talk to hear more about the study, as well as some practical, old-as-the-hills wisdom on how to build a fulfilling, long life.
---
Your Biological Age vs Your Chronological Age
Do you know how old you really are?
We all know our chronological age based on the years we've spent on this planet… But it turns out, our longevity has more to do with our biological age.
Ben Greenfield
is chronologically 38 years old. But biologically? He has the body and health of a 20-year-old.
How did he reverse his biological age?
In one word -
Biohacking
Ben reduced his biological age with simple biological 'hacks' which he honed and perfected over the years. It's so simple in fact, that anyone can do it.
We all have the power to hack our biological age to become younger, healthier, and happier people.
So, if you'd like to learn these powerful hacks for enhanced health & longevity, then join Ben Greenfield, Renowned biohacker, In This FREE Masterclass, Where You Will Learn:
✅
How to maintain your strength, energy and still have a lean, sexy body
well into your golden years (this idea will shift your entire idea of what it means to "age gracefully")
✅
Why hour-long exercise routines are a waste of your time
and how you can get better results in under 10 minutes.
✅
The FOUR pillars of complete and balanced wellness
— This single concept is the key to crafting a ripped, healthy body that will last a lifetime.
✅
A simple 5-minute shower routine that will boost your metabolic rate
so you're naturally burning fat throughout the day.
Register Today And Discover Ben's Rapid Biohacks For Enhanced Health & Longevity!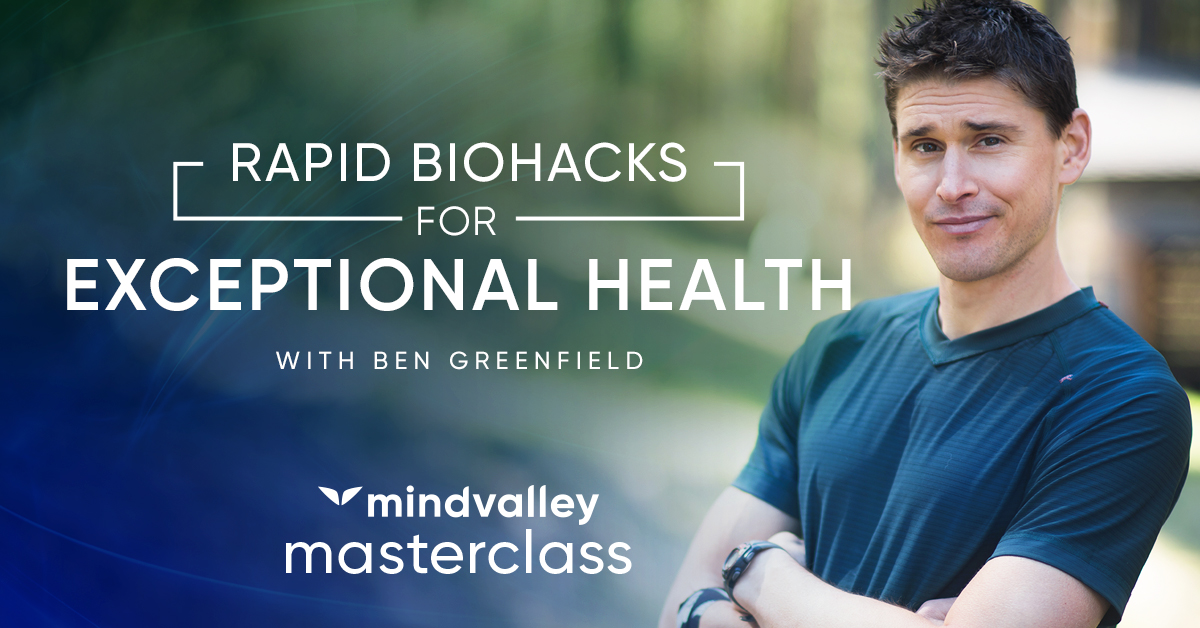 What was the most surprising thing you've learned from this talk? Share it with us in a comment.