If you've done Lifebook (or heard of it, at least), you may be well familiar with the 12 life categories it focuses on. There's one area, however, that not many are aware of — and that's Category 13 of Lifebook.
It's not that it's a secret, really. It's more of an area of life that can be greatly enhanced and enjoyed after the first foundational 12 have been well-balanced.
What's this mysterious, glorious category about? Sex and sensuality.
"The natural state of things is to disorganize and decay," explains Jon Butcher, trainer of Mindvalley's Lifebook Online Quest. "And that will happen to your love relationship if you don't consciously put energy back into the system."
The same goes for your intimate life—the very thing that is Category 13 of Mindvalley's Lifebook, where you and your partner are everlong.
Category 13: Lifebook's Category That No One Really Talks About
Sex is quite a vulnerable subject—one that is openly mentioned in songs, books, and movies, but yet, discussed in hushed tones in personal conversations.
As a matter of fact, a 2021 survey commissioned by Durex found a few key interesting things:
While couples have sex on average seven times a month, they don't really like to openly discuss the topic with their partners.
One-fifth of the 2,000 sexually active adults they surveyed said they wouldn't bring up the topic of sex at all during the course of the relationship.
With the state of sex conversations these days, it's no wonder many aren't equipped with the knowledge to make their relationship go the distance. But sex is the essence of life—we're born from the act of it and humanity depends on it to survive.
This is where Category 13 of Lifebook can be of help. The essence of it boils down to this:
Category 13 is an exploration of what may be the most powerful force available to a couple: the power of sex, the power of intimate connection, sensuality, passion, [and] romance. — Jon Butcher
Click To Tweet
It's about creating, as Jon says, "a smoking-hot, sexually-charged love relationship" and then, harnessing the energy that it creates and riding that energy wave all the way to your ideal life.
As Jon's wife, Missy Butcher (who is also the trainer of Mindvalley's Lifebook Online Quest) puts it, it's "X-rated personal development for couples." After all, it's the reason they not only have the relationship they have, but it's the reason they have the life they have. It's like "the fuel in the gas tank," explains Jon.
How Category 13 Made an Impact on Jon and Missy's Life
It's no secret that Jon and Missy's love life is charged with such intense sexual energy. And that's done with intention.
Their sex life is one of importance to them as a couple. So much so, they spent time over the years studying sex and eroticism with "a lot of exploration and experimentation."
"Over a period of years, we made our relationship so hot—and that was our baseline," explains Missy.
By doing so, all that energy they put into their thriving sex life permeated into the other aspects of their lives. For example, it inspired them to build spaces in their home to "turn us on." It motivated them to get in and keep in excellent physical shape. And it encouraged them to show up as the best versions of themselves, which, in turn, influenced their children to do the same.
Category 13 of Lifebook is based on sexual transmutation—channeling that sexual energy and directing it into something else. It's used as an energy source for a higher purpose, like motivation and manifestation to achieve your goals.
Sexual energy can contribute to every facet of your existence. It's just as simple as that. — Missy Butcher
Click To Tweet
"You can actually direct it to maximize the potential of every goal that [you] set," says Missy. The formula is relatively simple: stay "turned on" as a couple. Jon adds, "That energy that you feel, that arousal that you feel, can then be used as fuel for any important area of your life."
3 Simple Things to Try to Spice Up Your (Sex) Life as a Couple
Short of taking relationship classes, what are the ways you can harness the magic that Jon and Missy have? Here are three things you can try to spice up your (sex) life.
Granted, they're not all the sensual strategies the Butchers share in their Category 13 short film on the Mindvalley app (available for Mindvalley Members). However, they're three simple things you can do as a start.
It's also important to note that these strategies are merely ingredients to the overall recipe that make up an extraordinary love relationship. As Jon puts it, "No amount of lust and excitement could ever substitute for the fundamentals of a deep, fulfilling love life."
1. Dress to thrill
Wearing your favorite sweatpants and t-shirt, no matter how comfy they are, screams Netflix without the chill. The thing is, visual stimulation can help ramp up the heat, so dress the part.
"That says to your mate, 'I care about you. I spent the time to make myself look beautiful because I want to make you happy,'" says Jon.
Wearing something eye-catching or clothes that the other loves. If your leather jacket reminds her of a rockstar and gets her stimulated, wear that. If your Jennifer Lopez's Versace-inspired green dress gets him turned on, then wear that.
2. Set a sensual ambiance
While dressing to thrill may set the mood with one of the five senses (sight), there are the other four senses—hearing, smell, touch, and taste—to consider. Here are a few of Jon and Missy's suggestions to elevate the experience:
Sight: Light candles or use the fireplace to set the tone.
Hearing: Create a playlist of music that gets you both going.
Smell: Turn on an aromatherapy diffuser or wear your favorite perfume and cologne (the one you know your partner loves).
Touch: Use oil and give each other a sensual massage.
Taste: Make a little platter of nuts and fruits for a pre-, mid-, or post-coital snack.
These are merely suggestions; you and your partner may have your own things that turn on your five senses. And that's something important to consider when you design your love life.
3. Write love notes
It's amazing how loving words can affect us. And when it's sexual in nature, you best be sure it could go down the path of a kama sutra-inspired time.
It doesn't have to be overly expressive or expensive, but just something sweet and simple from the heart. As Jon says, "It's always nice to have a little gift or a little love note or a little card just to say 'I love you'."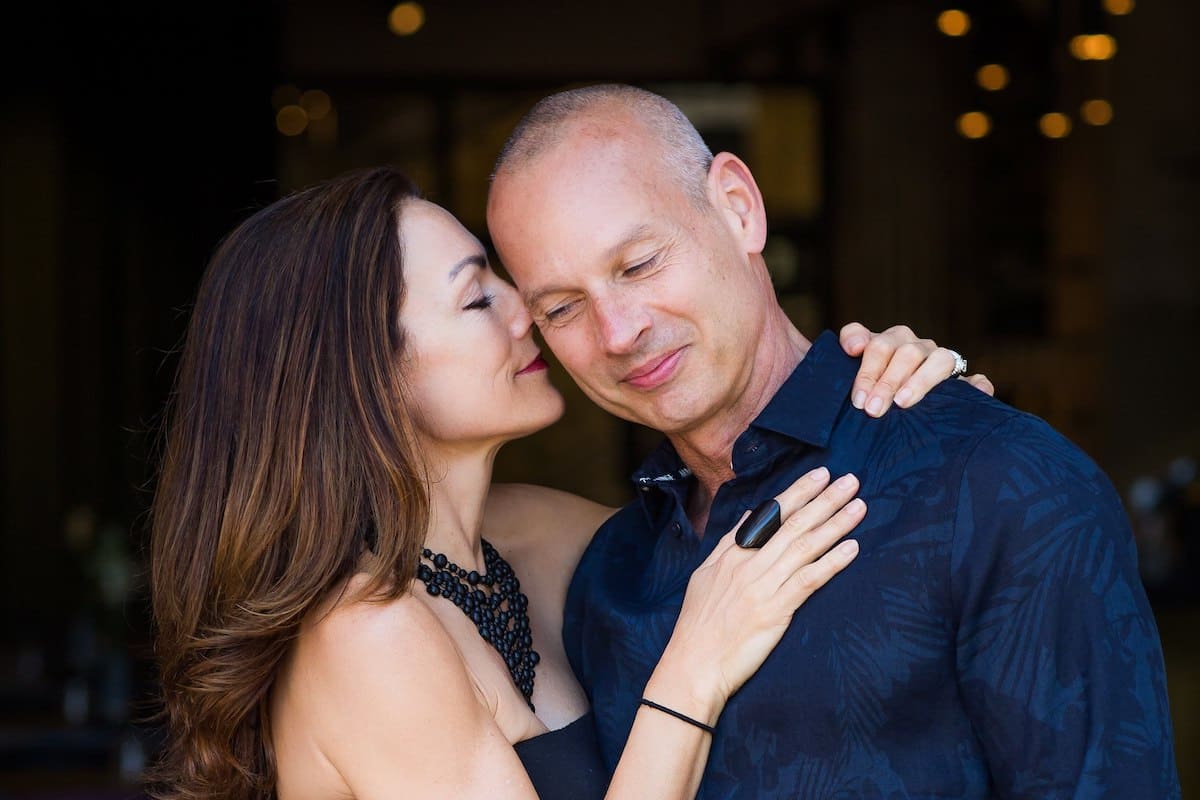 Awaken Your Sensuality
A thriving sex life takes some exploration and experimentation, much like how Jon and Missy Butcher did. In addition, it's also about the connection to your partner.
"When a couple really connects deeply in this way, over time, they become something different than they were before," explains Missy. "Something bigger than they are individually. They are something together; it's a sacred union."
That's how Category 13 of Lifebook can have a major impact on you and your partner's life.
When you're ready to do so, you can learn more from Jon and Missy Butcher in their Lifebook Online masterclass. It's a crash course, if you will, on the Quest itself, but you'll still gain a great amount of knowledge on how to take the steps toward your ideal life.
In addition, doing Lifebook on your own is incredible. However, when you do it with a partner, life can be that much more extraordinary. As the Butchers say: 1 + 1 = everything.
Welcome in.