What do Google, Siri, and Tesla have in common? If you guessed "artificial intelligence," you've hit the nail on the head.
AI is two words (well, two letters, really) that's been thrown around a lot—the promises of productivity, streamlined operations, automation, and all else. And it's no longer just for tech giants.
It's for all of us. Even you, the entrepreneur.
The reality is, AI for business is just in its infancy stage. Regardless, it can still help revolutionize your company, no matter how big or small it is.
What Can AI Do for Business?
The magic of AI lies in its versatility. So what can AI tools for business do for you? Here's a list to begin with:
Help with productivity by automating mundane tasks;
Drives effective marketing through data analysis and revolutionizes customer service with 24/7 availability;
Mine and analyze customer data, gleaning vital insights about your target audience;
Refine your marketing strategies for maximum resonance and impact;
Fielding customer queries or providing personalized recommendations; and
So much more.
No just imagine: It's the beginning of the week, and your calendar is filled with back-to-back meetings. Your phone messages keep ping-ing at you, and your email notifications keep coming in. And all this without having yet mentioned the mountain of paperwork. 
It truly is a manic Monday.
But amid this tumult, your AI assistant has already handled your emails, replied to your messages, and even prepared last week's data report.
This is a small sample of AI's capabilities for streamlining business operations.
According to a study by Accenture, businesses can expect an astonishing 40% productivity boost when implementing AI. (And bonus: It also found that those who effectively use AI could boost their profits by roughly 38% on average.)
AI's potential to take over time-consuming, routine tasks frees entrepreneurs to focus on strategic growth initiatives.
I believe that if we can use artificial intelligence as individuals to build our brands, to build businesses, that each one of us can be an entrepreneur.

— As Vishen, the founder of Mindvalley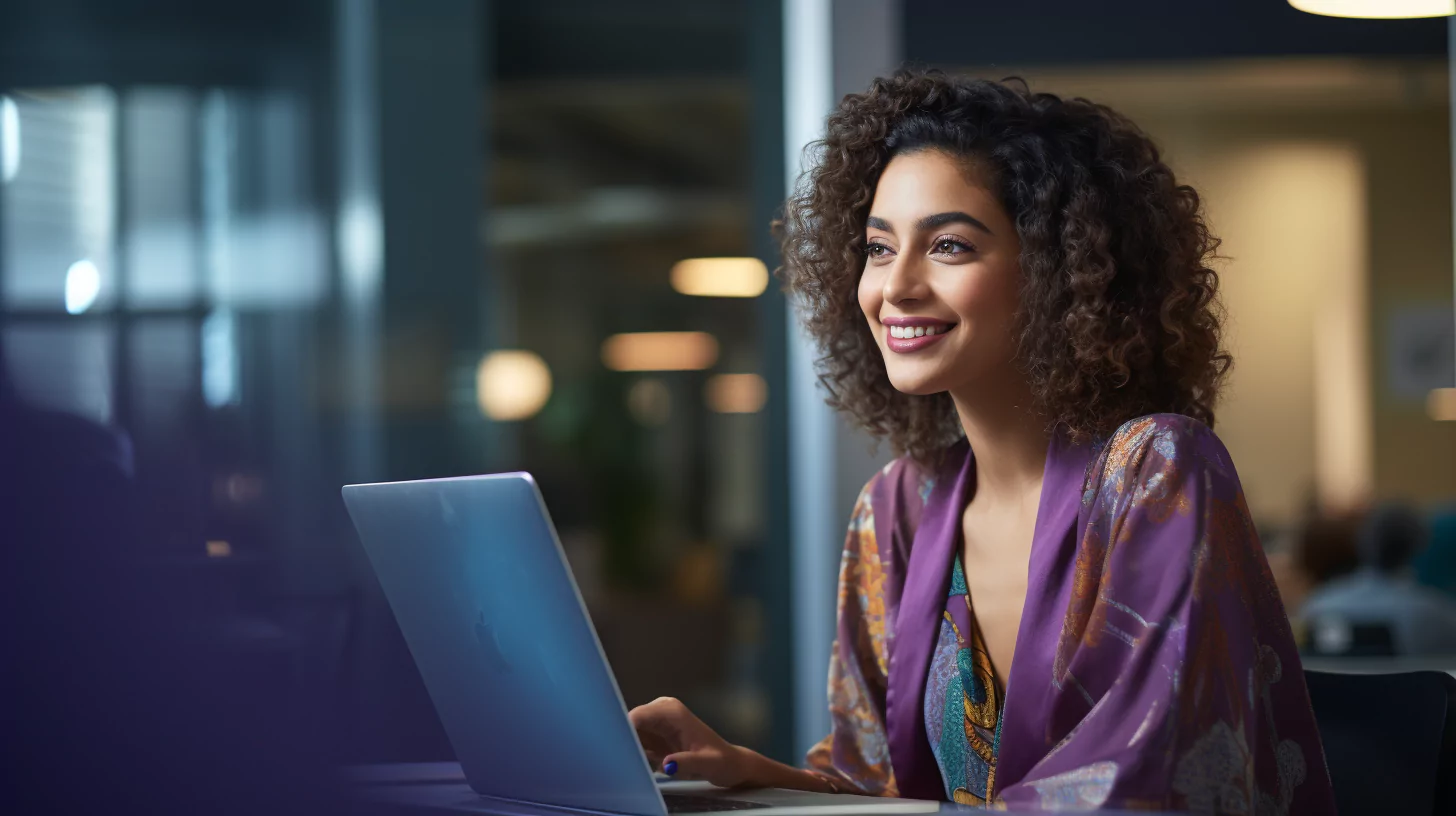 How to Use AI for Small Businesses
Small business owners might look at AI as dangerous or a costly endeavor. Yet, this shouldn't deter them from exploring its immense potential.
In fact, using AI is not just a strategy for tech behemoths; small businesses can stand to gain immensely from it too. Here are a few ways:
Get to know your customers better. AI can analyze customer data and predict trends and customer behavior. This can help you stay one step ahead.
Help with customer service. Every customer counts. But you can't do everything, everywhere, all at once. With AI chatbots, your customer service is on, 24/7. No query goes unanswered. No customer feels ignored.
Supercharge your productivity, from automating invoicing to scheduling tasks. This upside can leave you with more time to focus on business growth.
The thing is, AI isn't about replacing the human touch; rather, it's about enhancing it. And using AI tools for your small business can make your company smarter, faster, and more customer-friendly.
According to Vishen, these resources aren't just another tool; they're a revolution. And learning about AI as well as which tools to use can pave the way for this transformation.
12 Best AI Tools for Business
AI-powered technologies can, without a doubt, take the entrepreneurial game to another level. So if you have a company, whether big or small, here's a list of AI tools for business leaders that can revolutionize the way you operate.
For workflow
1. Airtable
Spreadsheet? Kanban board? Creating a form? Airtable does all that…and more.
This intelligent, cloud-based spreadsheet is an all-in-oner to help manage your projects. So there's no need to juggle between apps. It's perfect for entrepreneurs looking for a streamlined work approach.
A standout feature of Airtable is its intuitive and visually appealing user interface This can help make project management less of a chore. And not to mention, it integrates well with other applications, like Slack, making it an easy addition to your existing workflow.
Features:
Seamless project management
Enhances team collaboration
Allows integration with other apps
2. Rev.com
Imagine having a personal secretary transcribe your meetings, webinars, and podcasts. That's exactly what Rev.com offers—an AI-powered transcription service.
Because communication is a huge part of the business world, having a tool like this ensures that no word is left unheard or unrecorded. What's more, it can keep its accuracy high even when the sound quality isn't good.
Features:
AI-powered transcription service
Transcribes meetings, webinars, and podcasts
High accuracy levels despite the audio quality
For content creation
3. ChatGPT
Saying that ChatGPT turned the world topsy-turvy is an understatement.
But this powerful AI language model can generate human-like text. What this means is that you can prompt it as if you're having a conversation with it. And this can make it easier for you to get help with content creation, drafting emails, coming up with unique business ideas, and more.
What makes ChatGPT special is that it can understand what's being talked about. It gives answers that make sense, are important, and are related to the topic.
Features:
Understands and generates text in multiple languages (useful for international business)
Handles a high volume of queries or tasks
Can be trained and customized to fit specific business needs or industry terminology
4. Quillbot
It's not just about what you say, but how you say it (and how properly you say it). And this is where Quillbot can help.
It's an AI-powered writing assistant that can take your ideas and turn them into clear, concise, and effective writing. Drafting an email? Or preparing a presentation? It's got you covered.
Its paraphrasing tool stands out, as it restructures your sentences without losing the original meaning, ensuring your message is always on point. It's like having your personal editor on standby.
Features:
Enhances written communication
Provides clear and concise writing
Paraphrases effectively while retaining the original meaning
5. GPTZero
Whether it's in education, business, or everything else, AI is here to stay. And with any kind of technology, our morals come into question. So tools like GPTZero, which is an AI detector, become important to use.
It examines text on three levels: sentence, paragraph, and document. It has the ability to accurately pinpoint if a large language model, like ChatGPT, wrote a document.
Features:
Ability to handle a large volume of text analysis
Supports various file formats for analysis
Offers language model training data for improved detection accuracy
For artwork
6. Midjourney
If you're bored of yet another stock image, then try Midjourney. It uses machine intelligence to help you design visually striking images for all your business needs. Use it for your social media posts, website graphics, or promotional materials—anywhere you need graphics.
You can create compelling and visually engaging content. And its standout feature is the ability to generate numerous variations of an image in an instant, saving you hours of manual work.
Features:
Generates unique images from text descriptions
Can create a variety of image styles to suit different needs
Incorporates latest design trends in generated images
Learn more about creating art on AI: What Is AI Art? Discover How It Sparks Your Creativity
7. Canva
If you're not a graphic designer, Canva can be your best friend. It makes it possible to create visually stunning graphics or artwork for all your business needs, from social media posts to presentations.
A distinct feature of Canva is its huge repository of templates. This feature makes it easy to design professional-looking collateral and level up the potential of your business ideas in no time.
Features:
AI-enhanced graphic design platform
Suitable for various designs, including social media posts and presentations
Large collection of professional templates
For customer service
8. Reply.io
When it comes to sales, timing, and persistence are everything. Reply.io can help make sure no prospect ever slips through the cracks.
How? It automates your sales emails and follow-ups. And this can give you more time to build relationships and close deals.
What's great about this tool is that it personalizes communication. This is based on how the prospect behaves, which increases the chances of making a sale.
Features:
Automates sales emails and follow-ups
Increases prospect conversion likelihood
Provides personalized communication
9. Chatfuel
Instant is the name of the game in today's world. And it's no different when it comes to customer service: they expect instant support.
Chatfuel lets you create AI-powered chatbots. These bots can answer customer questions at any time, which improves customer happiness and keeps them coming back.
No coding? No problem. It's got an easy-to-use interface so that you can build a chatbot that's on brand.
Features:
Facilitates the creation of AI-powered chatbots
Ensures 24/7 customer support
User-friendly interface
For marketing
10. Semrush
As a business, you'd want to be on the first page of Google. Or you want to be part of the algorithm.
You can improve your online presence with Semrush. It can help refine your SEO strategy, optimize your website, and increase your visibility on search engines.
It also has the ability to provide competitive analysis. This allows you to understand your competitors' strategies and adapt yours for better performance.
Features:
Provides comprehensive SEO insights
Helps optimize the website for improved visibility
Facilitates competitive analysis
11. Rapidely
It's no secret that social media is all about content. TikTok, Instagram, Facebook, YouTube, LinkedIn, and so many more, it can be hard for your team to keep up.
Rapidely can help. This AI-powered tool based on GPT-4 technology was born out of a desire to elevate the quality and effectiveness of social media engagement. And so, its purpose is to simplify and streamline the process of content creation, specifically for your business's social media.
What's great about it is that it allows users to manage multiple accounts, collaborate with teams, and maintain a smooth workflow. And with the monthly calendar being a huge part of social media planning, the generator auto-populates with custom posts, freeing you from the stress of planning.
Features:
Create engaging carousels with ease
Craft compelling captions with advanced AI tools
Stay updated with weekly collections of trending audios for Reels
Note: While it is a French-speaking company, there is an option to change the language to English.
12. Brand 24
Brand24 is a robust media monitoring tool designed to aid digital marketers in their quest for an improved online presence and reputation. You can track keywords across a broad spectrum of online platforms:
Websites,
Blogs,
Review sites
Newsletters,
Social media platforms,
Video descriptions, and
Podcasts.
The analytics provided by Brand24 enables you to evaluate the performance of your monitored keywords. These insights can prove invaluable for your brand reputation management, marketing, influencer marketing, market research, consumer insights, and public relations.
Features:
Tracks keywords across a variety of online sources
Offers powerful analytics for performance assessment
Provides metrics of reach, engagement, and volume
AI-ming for Success
There was the Industrial Revolution, the Neolithic Revolution, the Digital Revolution…and now it's time for AI. And using it in the business world can be a game-changer.
So if you're looking for an "AI for Business" course, join Mindvalley's AI Mastery program. You'll learn from experts, like Vishen, Dominic Ashburn (a.k.a. Mr. Grateful), Andri Peetso, and more.
What's amazing is, this comprehensive course goes beyond mere learning; it's about revolutionizing. And here's what you'll gain:
Learn to use AI to open new doors for your career and get a chance at better jobs.
Understand how to add AI to your business easily and lead your team with confidence.
If you're a business leader, discover how to combine AI with no code to make products faster, find new markets, and give more value to your customers.
After all, the future isn't about AI taking over the world; it's about how you can embrace AI to level up in the world.
And Mindvalley's AI Mastery can help you get there.
Welcome in.