In every large city, there are people we sometimes don't really take notice of. Janitors, valets, cleaners, the migrant worker mowing the lawn.
This could be due to various reasons – from us simply being too busy, through to socioeconomic or cultural differences, or even language barriers, to name a few.
Many of these people are those with low-income jobs – sons, daughters, mothers, and fathers who leave what is familiar and comfortable with the hopes and dreams to make enough money to support their families left back home, to feed themselves and survive, to purchase land and/or a home for their loved ones.
And ultimately – to return to their homeland as a better, more prosperous person.
It's not easy to take notice of these individuals. Sometimes they appear to be "invisible" as we plug away in our own busy lives, oblivious to their stories and struggles.
Recently though, I had a very special encounter with someone at our Mindvalley headquarters. He was the cleaning attendant who had been sweeping and cleaning our offices for the last year. He wasn't a member of staff, nor a full employee, he was just the 'simple' cleaner who took out the trash, cleaned the washrooms, and did other odd jobs.
His name is Amitoj.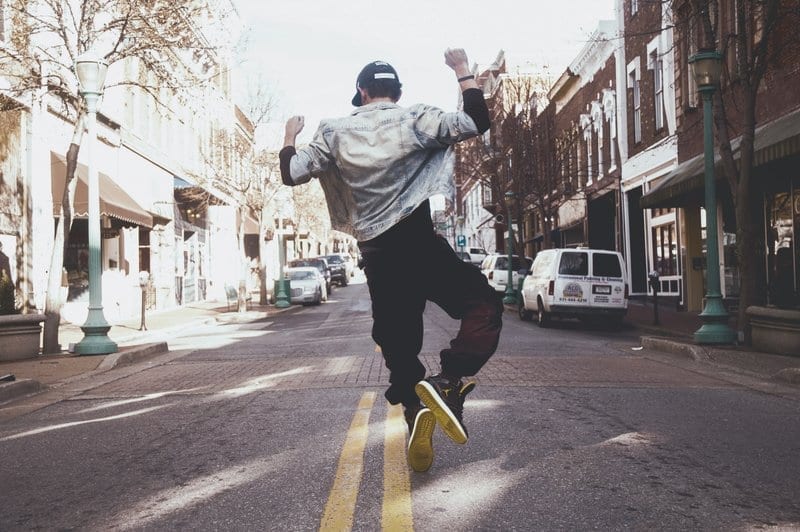 This Is The Story Of Amitoj
I was heading out to get my lunch one day when I bumped into Amitoj in the elevator and seeing that I didn't have any actual lunch plans, I asked him if he wanted to join me.
He's a quiet man, and he was slightly nervous, but he said yes.
Polite chatter ensued throughout our lunch, and as I was getting to know more about him, I found out some pretty surprising things about Amitoj.
I found out that he left India, leaving his wife and family behind, to pursue "a better life." With a Bachelor's Degree in Hospitality, Amitoj first went to Singapore in search of a respectable job. Earning meager pay in his first job as a janitor in a hotel, he had little savings to show for his family. His pursuit of "a better life" wasn't going so well. So he decided to find a higher-paying position, and finally, after a few more odd jobs over the course of a year, he was given an opportunity to work as a cleaner at Mindvalley in Kuala Lumpur.
But the thing that really shocked me was when I learned that he hadn't seen his wife in 2 years as he was saving up to return home to India someday to provide for his family. I was in awe at the struggle that so many like Amitoj go through just to provide for their families.
"So how's everything going for you here right now?" I asked him. What I learned afterward blew my mind away.
Throughout the past 8 months, Amitoj has been silently observing our Awesomeness Reports each week, checking up on Mindvalley's company-wide Vision Board, paying attention to our goals and dreams, and all the while, little by little, putting together his own personal and professional goals.
Amitoj's Epic Life
In truth, he wanted to build an epic life of his own.
He wanted to earn enough money, find meaning in his work, contribute to society, and be a respected citizen in his community. He wanted to finally see his wife, whom he hasn't seen in almost 2 years. He wanted to be a man with not just a good job that pays well, but one with a career and a prospering future. But life just wasn't treating him well.
I thought, what would happen if we simply gave him a chance and made him a Mindvalley employee?
For the first time, I broke our own hiring rules. No 5-part interviews. No video cover letters. No resume. I hired Amitoj on the spot. Anyone who can go through that much struggle and still cling to their dreams is someone I want to support.
A few days later, we made him a full-time Mindvalley employee and inducted him at our weekly Awesomeness Report where we introduce our new hires. And something remarkable happened. See, at every Awesomeness Report, new hires introduce themselves and have to answer 3 questions from over 100+ existing hires in the audience.
Someone from the audience, a fellow Indian native, casually asked him to dance. I tensed up. I knew Amitoj was nervous enough speaking in public and I wasn't sure how he'd react to THIS request.
But he cooly turned to the women who asked and responded without pause. "Of course. If you'll join me."
She did.
And for the first time in 10 years, with Bollywood music blasting, a mind-blowing but heartwarming performance ensued, and a new employee got a standing ovation. That was Amitoj.
It was the FIRST time in history a new hire had received a standing ovation at our weekly company report. It was heart-warming to see 100+ people stand up to applaud Amitoj – the guy who once cleaned our toilets and washed our dishes.
"Best company weekly report in years" was a running comment from many of our other employees.
This video shows his dance.
Everyone was deeply moved. This was a testimony of something extraordinary.
The story of Amitoj has inspired all of us at Mindvalley… The cheers, hoots, and even tears from the audience made me realize that we are all part of a family and we are here to inspire each other. We've shown that when you give people a moment, a chance to speak about their goals and aspirations, they may surprise you.
Most of the time, people simply need a chance to be asked and to be heard.
Seeing Amitoj get on stage, seize the moment, and go all out with his Bollywood moves, was a testament to how far he has come and how far he will go.
Who knows… looking at his passion and big dreams, he may be leading a team at Mindvalley one day.
So next time you're talking to a grocery store clerk, doorman, cleaning lady, or taxi driver, simply ask them where they are from. Ask them what their story is. Ask them what they are passionate about or what they want to do in life, and you'll be surprised how many people have big dreams for themselves.