What do you need to do everyday to become more successful? In the video above, one of the top 5 leadership experts in the world, Robin Sharma, shares the five rituals that predict success – at work and in life.
They will make you unstoppable and undefeatable as long as you adopt them as your new "Standard Operating Procedures."
About The Video
---
If you want to be successful, rather than waiting for the big opportunities to show up, take a closer look at your daily habits. Do you feel stuck in between tasks? Do you get distracted throughout the day because you have a lot on your mind?
Robin Sharma explains that it's actually what you do every day that will lead to success. With the five rituals he shares, you too, can do remarkable things each week.
Here's what you'll learn:
The Ritual of Early Rising because it's important to start the day sweating.
Why you need to schedule time for all things in life – including relationships.
Why you should practice the muscle of over-delivery and become "a merchant of wow."
That no matter what's on your plate you must schedule an hour a day for learning (and how to do that).
And how the antidote to being busy will help you leave a legacy.
Watch the video to get ready to impact the world and be the hero of your own life.
But remember: "Ideation without execution is nothing more than delusion."
Consistency is the mother of mastery.

– Robin Sharma
About Robin Sharma
---
Robin Sharma is a world-renowed life coach and the best selling author of  The Monk Who Sold His Ferrari and The Leader Who Had No Title. 
For over 20 years, Sharma has worked with Fortune 500 companies such as Nike, FedEx, and HP to bring a collaborative effort of all its CEO's, top-level management and employees.
Known for his motivational speeches, Sharma continues to inspire the world with his public appearances and seminars and has won the Top 5 Leadership Speaker Award courtesy of Speaking.com. His life coaching experience includes working with public figures and world leaders  such as Bill Clinton and Richard Bronson.
What Are Some Powerful Rituals You Can Do Daily?
---
Do you want to improve your productivity on a weekly and monthly basis? The best part of staying on top of things is that you only need to make a few changes in your lifestyle.
Here are some powerful rituals you can start practicing every day that predict success.
Exercise. When you dedicate 30-45 minutes a day, three times a week on exercising, you feel uplifted and have more energy to get things done.
Keep a journal. Writing down your thoughts or events that happened to you that day can make you feel better at the end of the week.
Self-reflection. Keeping a journal goes hand in hand with self-reflection because it forces you to take a look at your day and pick out the moments that made you feel good.
Reward yourself. The best part at the end of the week is to treat yourself to something you enjoy. It could be a nice dinner or buying a bouquet of flowers. Whatever it is, hard work pays off with rewards.
Need more ideas on powerful rituals that will help you succeed? Take a look at the video above to get inspired. 
---
Want to learn the secret recipe for creating an impactful life? Join one of the world's most trusted leadership experts, Robin Sharma in his upcoming FREE Masterclass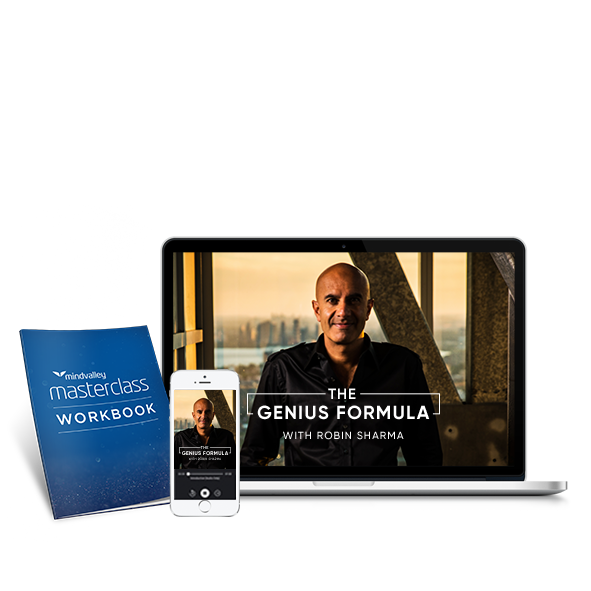 Discover Robin Sharma's Five NEW Rituals, Mindsets And Heartsets To Outperform Yourself
Unfold your greatness and turn yourself into a super-performer in work and life with this FREE Masterclass. Choose your preferred session to attend below.
[blink_amp_form webinarid="5667906802417664"]
---
Do you practice any one of these rituals? Which one will you start with next?
Share it in the comments below!