Have you ever felt motivated by Tony Stark's brilliant determination or Black Widow's perseverance? These characters embody traits of immense personal power that are truly inspiring.
But personal power isn't the prerogative of fictional superheroes alone. You, too, can tap into your innate starkness and become the best you can be.
When you step into your greatness, you can overcome any hardship and achieve your dreams.
What is Personal Power?
At its core, personal power is your ability to create the life of your most audacious dreams. It gives you the confidence and tremendous grit to pursue your goals, even in the face of a setback. And it's the key to living in alignment with your true essence—the essence of the creator.
Lisa Nichols, one of the most powerful speakers in the world and trainer of Mindvalley's Speak and Inspire Quest, defines it as inner strength and resilience that allow you to overcome challenges and pursue your goals with consistency and determination.
"Resilience is the big one, as it is something you tap into when you hit a wall," she explains. "It's what you master up when nothing goes the way you wanted, when your dreams shatter and your relationships fall apart."
Simply put, it is about owning your life and your choices to create the outcomes you desire from a place of authentic power.
The True Importance of Personal Power
When it comes to personal power, it isn't about social status, wealth, or any external factors. Instead, it's all about your mindset and habits.
And mindset changes everything, according to this phenomenal Dr. Carol Dweck's scientific research. For example, children who have a growth mindset are so much better at overcoming academic stumbling blocks than those with a fixed mindset.
So, cultivating inner strength is essentially about developing an ever-growing mindset as opposed to a predetermined one. It's your moment-by-moment readiness to make decisions and take action that moves you closer to your goals.
You see, when you let your circumstances control you, you give your power away. But when it's the opposite, you have the ability to direct your life from within.
Examples of Personal Power
This kind of strength can be seen in everyday occurrences.
Think of a time you overcame a challenging obstacle, like a serious illness or a significant setback at work. This is your personal power in action.
Here are a few more examples:
The Nelson Mandela story
Nelson Mandela was a real force. He fought against apartheid in South Africa, even when it cost him 27 years of imprisonment for his beliefs.
But even after all that time in jail, he never lost his sense of personal power that eventually enabled him to become the very first black president of South Africa.
Even though he spent so much time as a prisoner, he kept believing in his innate power and became South Africa's first-ever black president.
The Lisa Nichols story
One of the most inspiring instances of personal power is the story of Lisa Nichols—a story of immense resilience and unshakable conviction.
At some point, as a young single mother, she was left with $11 in her bank account and had to have her son wrapped in a towel for two days. That's when she promised her baby that she would never be broken nor broke again.
"I was willing to completely die to any form of me that I had been so that I could birth the woman I was becoming," she shares in one of her motivational speeches.
It took her 10 years to find her passion and voice for speaking and motivating others, instilling empowerment and hope into millions of hearts. That was her conviction—her personal power.
The Different Types of Individual Power
Individual powers differ, and not all of them are benevolent. Here's a chart of different types of inner power and their possible adverse effects:

| | | | |
| --- | --- | --- | --- |
| Type of Personal Power | Definition | Application | Adverse Effect |
| Coercive power | A type of power based on the ability to punish | Used in situations that require the use of various forms of coercion to get a desired outcome, such as military situations | When used excessively, it can lead to resentment and rebellion |
| Reward power | A formal type of power to provide incentives or rewards to others | Used to motivate, encourage, and recognize employees in a professional setting or reward desired behavior in personal relationships | Too much of it can lead to dependence on external rewards and a lack of intrinsic motivation |
| Legitimate power | A type of power based on the authority of one's position or role | Typically associated with formal leadership positions, in settings with clear hierarchy and rules | If the authority is only formal or illegitimate, it can lead to resistance |
| Expert power | A type of power based on knowledge, skills, or expertise | Used to impact others through sharing information, providing guidance, or offering solutions to problems | Can lead to excessive reliance on experts and a lack of diverse perspectives |
| Referent power | A type of power based on respect and admiration | Used to influence others through building strong connections and displaying charisma and positive qualities | Requires constant and consistent efforts to maintain it |
The different types of individual power
What Are the Sources of Our Power?
Our personal power isn't something we are born with. It's the result of inner work and the growth mindset we intentionally cultivate.
Your convictions and your convenience won't live on the same block.

— Lisa Nichols, trainer of Mindvalley's Speak and Inspire Quest
There are only two external sources of this capability that serve as your support system: 1) a strong network of friends, family, and mentors; and 2) an overall healthy environment. In other cases, your personal power is internally generated.
Let's take a closer look at these internal sources:
Your beliefs and attitudes. First, we make our beliefs, and then beliefs make us, according to Marisa Peer, the formidable hypnotherapist and trainer of Mindvalley's Rapid Transformational Hypnotherapy for Abundance Quest. This is why it's crucial to examine your belief system and identify the limiting beliefs that make you powerless, and replace them with empowering ones.

Your skills and abilities. By developing your skills and abilities, you grow more self-confident and powerful from within. This is how you also cultivate expert powers.

Your inner talk. Lisa explains that the words you speak to yourself can either help you build unshakable grit and self-belief or get you stuck in your own misery. So before you talk to anyone else, it's important to talk to your reflection in a mirror and say all you ever needed to hear to feel empowered.

Your conviction. This is your passion in life. When you find out what you are convicted of, you find your power and clarity. It's contagious so the more conviction you have, the more impactful your personal power will be.

Your actions. Taking consistent, purposeful, intentional actions toward your goals and dreams is paramount for building momentum and personal power. By taking small, incremental steps in the direction of your desired outcome, you will eventually create a lasting change and feel more in control of your life.

How to Reclaim Your Personal Power
So, how can you tap into your personal power and start creating the life you want? Here are five tips:
1. Cultivate self-awareness
Self-awareness is a clear perception of yourself, including your traits, flaws, thoughts, feelings, emotions, beliefs, and motivations. It implies understanding your physical, psychological, emotional, and spiritual aspects.
Most importantly, it's one of the four pillars of freedom that enables you to shed light on your human conditioning and transcend it to unlock your fullest potential.
Learn more: 5 Practical Tips on How Self-Awareness Can Change Your Life
2. Take responsibility for your life
Responsibility is your ability to respond to every situation in life from a place of power. It implies taking full ownership of your actions and not blaming others for your circumstances.
Moreover, it's the foundation of your relationship with yourself, according to Mahatria, spiritual teacher and trainer of Mindvalley's A Journey to Infinitheism Quest.
"Just as the quality of a painting is the painter's responsibility, so is the quality of your life," he explains. "Only you can get your life right, and blaming the world won't help."
3. Cultivate a growth mindset
Essentially, a growth mindset is seeing your abilities and intelligence as ever-evolving faculties. It entails embracing challenges as opportunities for improvement and viewing failure as a natural part of the learning process.
To cultivate it, you can start by recognizing and challenging your fixed mindset beliefs and focusing on the learning process.
Learn more: How to Develop a Growth Mindset That Will Change Your Life
4. Set clear boundaries
Lisa explains that your convictions can't coexist with your convenience, so you'll have to be ready to walk this path alone. Because your conviction means setting boundaries with people, situations, and your own habitual behaviors that no longer serve you.
"You have to like yourself first instead of needing to be liked or validated by others," she says.
5. Do you
"Doing you" is accepting yourself and taking good care of your physical, emotional, mental, and spiritual well-being. It's about your consistency and determination to become what you've chosen for yourself. And you don't need permission to create the life you want.
As Lisa says, "You do you, and the world will adjust to what you've chosen to be."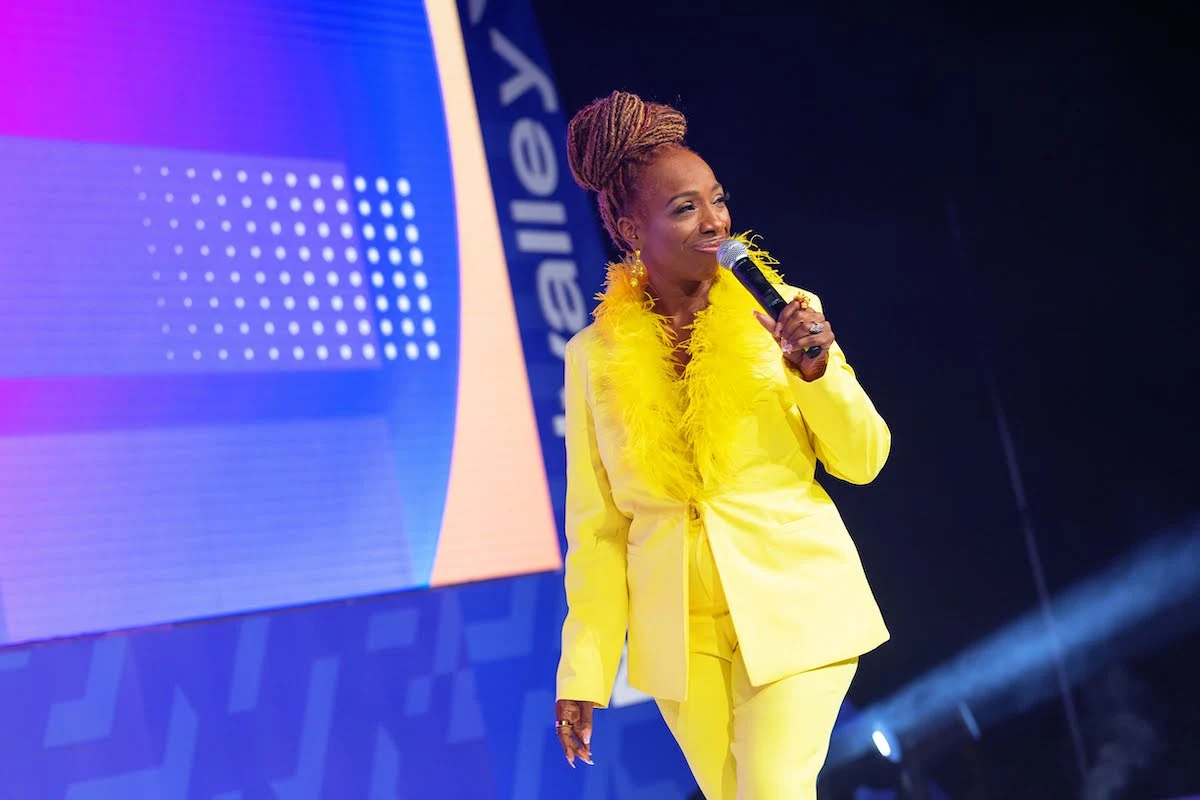 Awaken Your Personal Power with Mindvalley
Believe it or not, your most heart-wrenching and difficult moments can be the key to unlocking your unique voice and discovering your true potential. Because they enable you to pivot to the new version of yourself.
That's what makes Lisa Nichols' Speak and Inspire Quest so powerful—it's not just another public speaking course; it's a journey of "finding your unique voice," as Lisa defines it.
And if you aspire to find your personal power and learn how to express it through your voice, her Mindvalley Quest is the place to start your journey.
Take this course and be ready to uplevel how you communicate with yourself, your loved ones, and the world!

— Corry MacDonald, student of Speak and Inspire Quest
With over 250,000 students enrolled and more than 18,000 successful stories, this Quest is more than just another public speaking course. It will help you find your power and purpose and give you tools for expressing them through your voice.
The best part is that you can sample classes from it by unlocking your free access.
Welcome in.