There's one thing that's often underrated but highly appreciated at every moment of our lives—and that's a camera. It's ever-so-ready to capture memories or document happenings that can help us relive those frozen moments in time.
In today's "livin' for the 'gram" world, knowing how to look good in pictures can ensure that awkward photos of you won't be floating around the internet for years to come. No, you don't have to be an Annie Leibovitz or a Brandon Stanton, but knowing a few extra tips can make all the difference.
To help you look your best in every photo, Paulius Staniunas, a professional photographer and founder of All Is Amazing, is here to share his insider advice. In his Picture Perfect: The Art of Looking Good in Photos Quest on Mindvalley, he explains the three-part aspects you should keep in mind: emotional appearance, physical appearance, and how you pose.
"The road to looking the best version of yourself and never taking a bad photo begins now," he says. Whether you're taking a selfie or posing for a professional headshot, his tips can give you the confidence to be camera-ready at the sound of "Say cheese!"
Tip 1: Hydrate, Hydrate, Hydrate
"The first thing I can tell you is: hydrate, hydrate, hydrate," says Paulius. When you don't drink enough water, your skin can be dry, look dull, and be prone to fine lines and wrinkles.
You may already know the great benefits of drinking water. Research shows that regularly hydrating can "positively impact normal skin physiology," allowing it to look more radiant.
Paulius also advises avoiding caffeine, sugar, and alcohol a few days before. These can not only dry your body out, but they can also make you feel lethargic or super hyper.
So water is your best friend. Make sure you're drinking plenty of it throughout the day, especially in the days leading up to a photo shoot. It'll help ensure your skin is looking its best when the cameras start shuttering away.
Paulius Staniunas' pro tip: "It's not going to surprise anyone that being healthy also translates to photographs. Your skin looks better, your energy's radiating, your posture is great, [and] your mood is fantastic, which is absolutely visible in front of the camera."
Tip 2: Glam Up Your Hair and Makeup
The right hair and makeup can make all the difference and help define your personal branding. However, it's important to keep in mind that the camera can be unforgiving—what looks great in person might not translate well on camera.
To understand how to look good in pictures, Paulius has these tips for you:
Don't try any new makeup products before the shoot. There's a risk of a reaction to the product and that can cause the shoot to be postponed. So stick to what you're using and what's safe.
Get a haircut or get a professional to style your hair. The right hairstyle can enhance your look and personality. One study explains it's "much more than purely superficial cosmetic treatments," rather, it contributes towards "the creation of a feeling of dignity, and deep human needs are satisfied."
Your makeup and hairstyle reflect your physical and emotional states, according to Paulius. How so?
"Very simple," he explains. When you're beauty-ready, you, emotionally, "start feeling more confident and better because you're being beautified even more," and physically, "you look more presentable as well."
Paulius Staniunas' pro tip: "If you engage a professional makeup artist and a hair stylist, it will make a world of difference, because not only will they know how to do your makeup for the camera, so the light will not shine too much on your face and all the wrinkles will be more even, they will also, I would say, put you in this state of mind that you are getting ready for something big."
Tip 3: Choose the Best Outfits
The clothes you wear can affect the way you feel and the overall mood of the photos. So it's important to choose the right clothing that expresses your authentic style.
What's Paulius' advice on clothes and how to always look good in pictures? Here are a few dos and don'ts he recommends doing:
Do bring more clothes. If you don't know what clothes to bring, bring as many as you can. When you do so, the more options you have on what to wear.
Don't wear clothes with patterns, drawings, or logos. These types of clothing tend to draw the attention of the viewer. But the focus should be on you, not your clothes. So the plainer it is, the better.
Don't wear wrinkled clothes. As mentioned, the focus of the photograph should be you. Unneat, wrinkled clothes can pull the attention away from you and onto an unsightly aspect of the picture. So make sure your clothes are well steamed.
Do be mindful of how you accessorize. Belts, earrings, watches, glasses, and other accessories can complete your look. However, make sure they're not glossy or too shiny as they can reflect the light when you're being photographed, especially in the studio.
Remember, the most important thing is to wear something that makes you feel confident and comfortable. When you feel good in your outfit, it'll show in your photos.
Paulius Staniunas' pro tip: "The clothes as a rule of thumb should be well fitted, not too baggy, unless that's the style of the shoot you want to go for, not too tight, unless the style of the shoot you want to go for, the well-fitted clothes are the best clothes."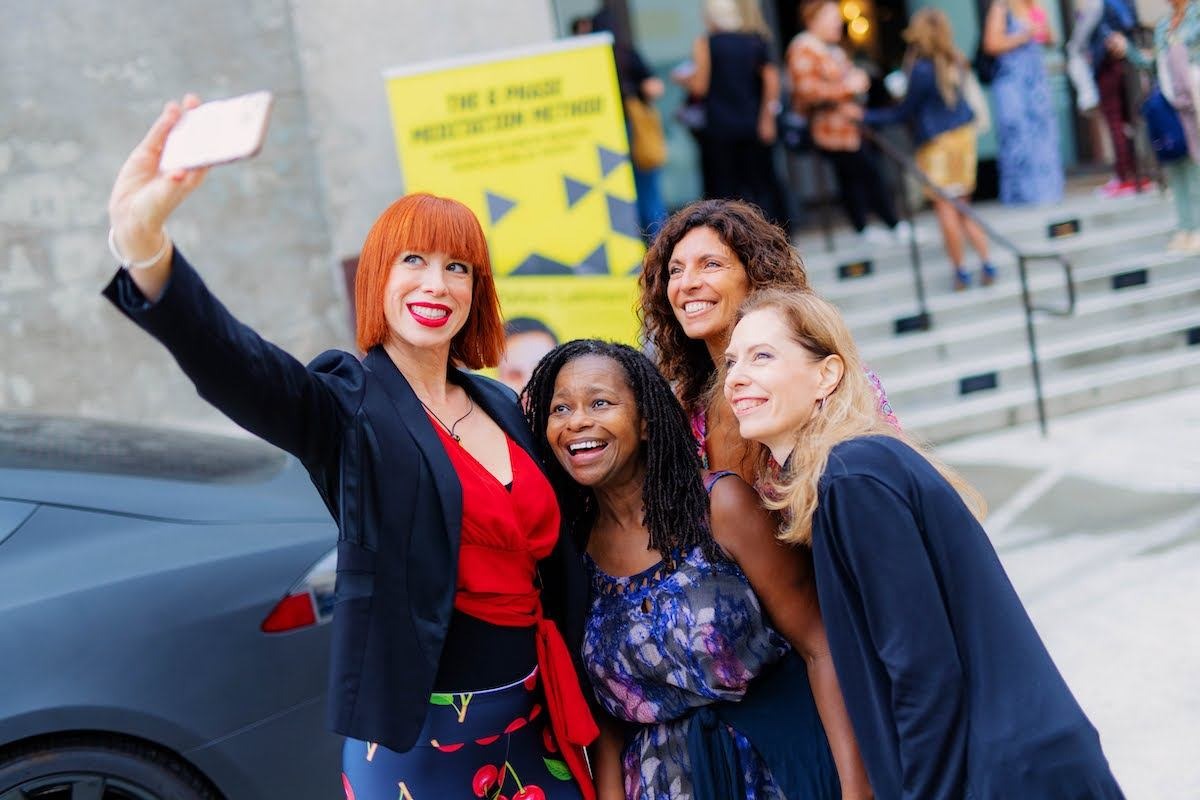 Tip 4: Find Your Best Angle
Side angle, high angle, the Quentin Tarantino angle, or even the angle of how to look good in pictures without smiling (here's looking at you, Victoria Beckham and Joaquin Phoenix).
Identifying the angles that best accentuate your features can be a challenge. The secret is to keep experimenting until you find what works for you.
The truth is, everyone has a "good" side. What's an interesting fact, though, is that several studies have found that most people favor their left cheek when facing forward, particularly in selfies, according to a 2017 study. It's been dubbed "the left-cheek bias."
So which side is your "good" side? Paulius suggests taking a selfie and seeing which side you think looks better. Here are a few more guidelines on how to pose and look good in pictures:
If your eyes are of a different size, the smaller eye should face the camera. The depth of the photo gives the illusion that both eyes are of the same size.
If your eyes look the same size, look at the jawline to see which side is sharper. The sharper jawline should face the camera as it'll make you look more presentable and confident.
Remember, this is not a critique exercise; you're not trying to be one of the Mean Girls here. It's important to smile and have fun in this process.
Paulius Staniunas' pro tip: One way to find your best angle is to "imagine nine different squares on your camera lens and try putting your attention on each one of them by physically moving your face. Practice this with a selfie camera and play around with your face to see what looks best and what works best for you.
Tip 5: Relax and Have Fun
The camera will pick up how you feel. If you're tense, sad, happy, relaxed, or experiencing any other emotion, it'll show through in the photos. As Paulius says, "It's very, very important to feel good and to translate that energy into the photo."
That's why, if you've ever noticed, photography sessions tend to have music playing. "Music will put you in a state of relaxation and a state of familiarity," he adds. It can help release that tense and nervous energy, which then results in vibrant, dynamic photos.
After all, the goal of a photo session is to capture your personality and have fun while doing it. And having your favorite tunes playing can help you tap into your higher self so you can flow better and show your most photogenic self in front of the camera.
Paulius Staniunas' pro tip: "Create a playlist of your favorite songs, which you will take with you to the studio. Remember the body movement, the mood, and how to get into that state—music will help you a lot, [so] make a playlist."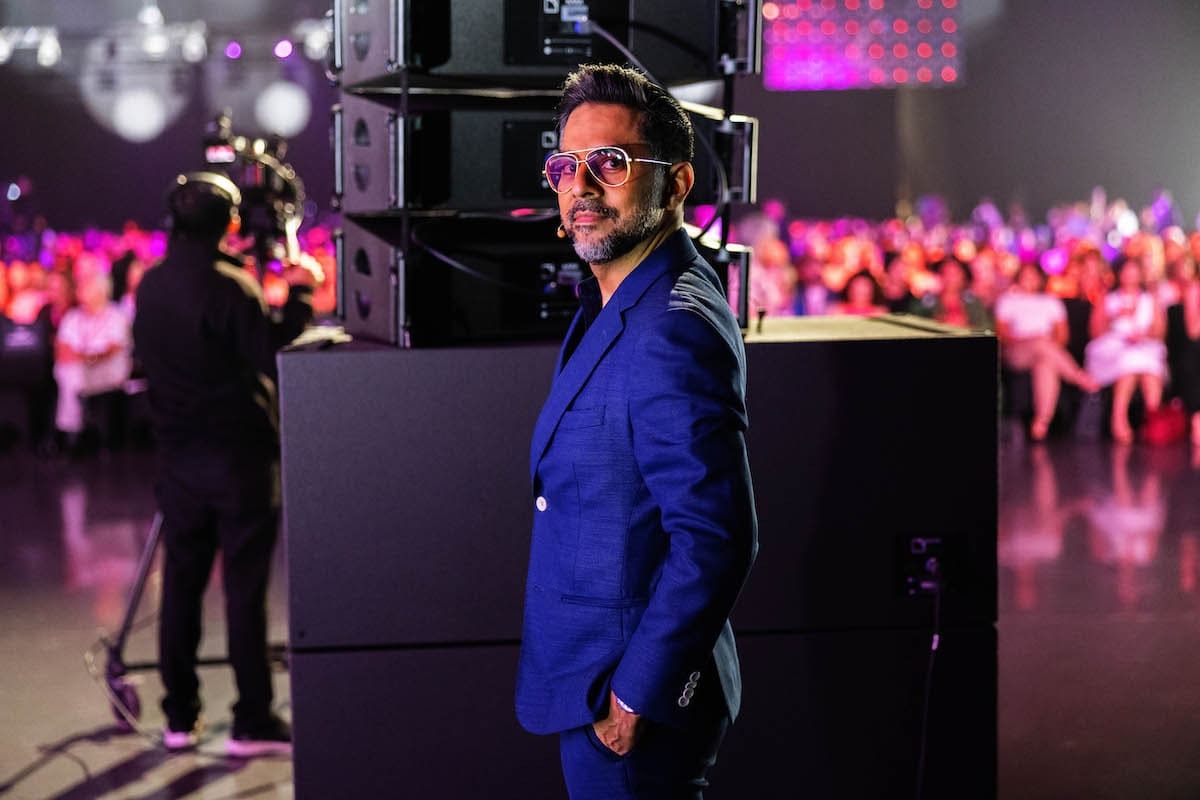 Shoot for Greatness
Knowing how to look good in photos may seem superficial, but it can make a big difference in how you present yourself to the world. As we're living in a social media-driven society, it's the first impression you make before you even meet anyone.
If you're ready to level up your photography skills, you can get tips, advice, and guidance from Paulius Statniunas on his Picture Perfect: The Art of Looking Good in Photos Quest at Mindvalley. Not only will you learn how to look good in pictures, but you'll also explore how to use photography as a tool for personal growth and self-expression.
You can sample the first few lessons of the Quest when you sign up for a free Mindvalley account. What's more, you'll be part of a global community of like-minded people who often meet up at Mindvalley events around the world, like A-Fest, Mindvalley University, and Mindvalley Live.
And now that you know how to pose and look good in pictures, you'll have the confidence to be ready at the sound of "Say cheese!"