This list of high protein vegetarian meals is unlike anything you've seen before.
Most healthy vegetarian meals you see out there are not exactly healthy.
The following 3 reasons are why this recipe list is the closest to the human diet you can ever get.
A truly healthy recipe is dairy-free. Science and human evolution have proven that dairy has no place in our diet. In fact,

dairy possibly increases the risks of prostate cancer and ovarian cancer

.

Good foods are always refined sugar-free.

Refined sugar is added to stimulate our appetite so we eat more than we need to. It doesn't offer any nutritional value at all. A healthy sugar substitute is natural sweeteners like dates, honey, and fruits which are ideal for our bodies. 

Most of our recipes are grain-free,

which also means gluten-free. According to Eric Edmeades,

creator of

WildFit®

, grains didn't exist as foods until centuries ago. Our bodies haven't evolved to digest grains perfectly, yet.
Besides getting a list of healthy high protein vegetarian recipes, you'll also learn 3 tips to get the most nutrients out of plant-based foods.
Without further ado, let's start!
How Can A Vegetarian Make A Balanced Meal?
---
One of the biggest struggles the vegetarians face at some point is getting enough protein.
Typically, plant-based foods have fewer amounts of protein than animal-based foods, and some of them are not complete proteins ⁠— which means they don't contain all 9 essential amino acids.
The good news is, there are a few ways you can take to get the most protein out of your plant-based foods.
3 tips To Help You Get The Most Nutrients Out Of Vegetarian Protein Meals
1. Ensure That Most Of What You Eat Is Fresh
Sometimes, in order to achieve the daily protein target, people reach out to pre-packaged "vegan foods". Most pre-packaged foods have been processed and their nutritional values were greatly decreased during the production process.
What we suggest is to eat fresh plant-based foods as much as possible.
In short, eat fresh foods, most of the time.
The more closely a species adhere to their natural evolved diet, the healthier that species will be.

— Eric Edmeades, Author of Mindvalley's WildFit Quest
2. Align With Your Seasonal Cycles
A vegetarian diet may seem restrictive because a lot of foods are off the table. That's why we might be eating the same foods again and again. However, eating too much healthy plant-based foods can also be bad for you.
Eating seasonal foods helps you to eat a variety of plants when they are at their freshest.
However, some of the fruits and vegetables are imported from other countries and it's difficult to find out which are actually in season.
Your first choice is always local, in season and fresh plants.
Your next best option is buying imported plants that are in season in their country of origin.
We suggest it's always best to play it safe and spend some time to create a seasonal food map and figure out foods that come into seasons in your country and other countries.
3. Get Nutrients From Natural Sources First
Research has consistently shown that nutrients from natural sources are more beneficial to human health than synthetic nutrients — isolated nutrients that are artificially made. For example, vitamin and mineral supplements.
That's because whole foods contain a wider range of nutrients alongside vitamins and minerals than supplements. For example, whole foods provide health-promoting compounds and dietary fiber that you can't find in supplements.
In short, ensure that you have your bases covered with a whole foods diet.
Reach out for synthetic nutrients only if you seriously lack a specific nutrient.
With that said, the following 5 WildFit® recipes are designed according to the tips given above so you can get the most protein out of your diet.

What Are The Highest Protein Vegetarian Foods
---
It is no longer true that vegetarians can't get enough protein from plant-based diets.
Most legumes, soy, nuts, grains, seeds, and even vegetables are high in protein. For example, tofu, black beans, hemp seeds, almonds, broccoli and so on.
All you need to do is find healthy high protein vegetarian meals and whip them up.
Luckily, we've curated a list of 5 high protein vegetarian recipes that are easy to follow and packed with multiple nutrients besides protein.
What Meals Are High In Protein?
---
These 5 WildFit® recipes are not only super healthy but will also satisfy your palate. So you can enjoy these without guilt and thank yourself afterward.
Pumpkin Bars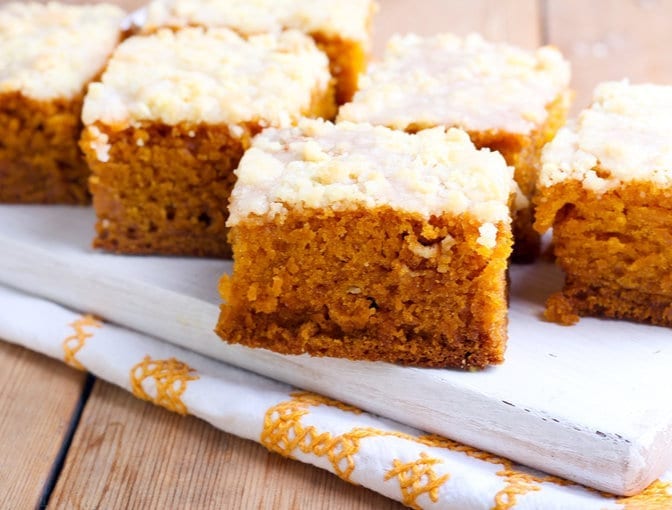 Prep Time: 10 minutes
Cook Time: 40 minutes
Servings: 16 cookies.
A naturally sweetened dessert that you can eat non-stop without feeling a shred of guilt. Simply mix all the ingredients and dump them into the oven. Even kids can make this!
Ingredients:
2 cups of pumpkin puree

Three-quarter of almond flour

Half cup and a handful of shredded coconut

Half cup and 2 tbsp of honey

1 tbsp of pumpkin pie spice mix

Three-quarter tbsp of baking soda

One-quarter tbsp of sea salt

2 large eggs
Cooking instructions:
Preheat the oven to

350 degrees F

.

Grease a baking dish coconut oil.

In a mixing bowl, mix the pumpkin puree, almond flour, half cup of shredded coconut, half cup of honey, pumpkin spice mix, baking soda, sea salt, and large eggs. Ensure they're clump-free.

Transfer the mixture to the greased baking dish and smooth the top using a spatula. Sprinkle a handful of shredded coconut on top.

Bake for

40-45 minutes

until the edges are golden.

Cool completely and chill in the fridge before serving.
Caribbean Burst Smoothie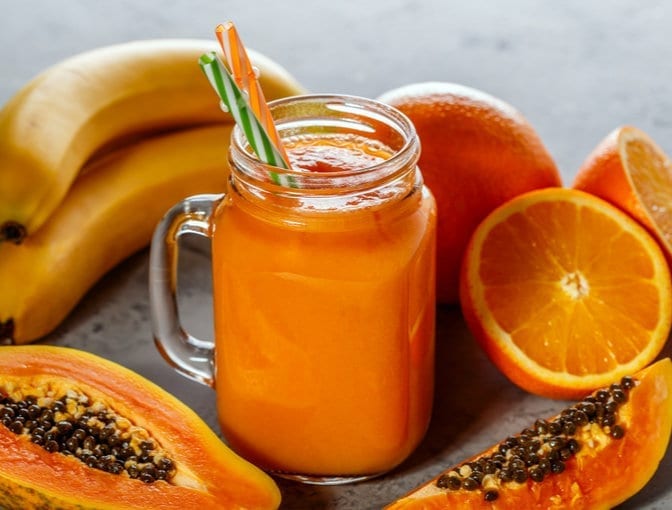 Prep Time: 5 minutes.
Cooking Time: 5 minutes
Servings: 1
It's so simple to make this protein-packed smoothie. Just throw everything into a blender and blend away!
Ingredients:
5 ounce of water

4 ounce of mango

6 ounce of goji berries

3 ounce of freshly squeezed orange juice

Half a banana

1 cup of carrots
Cooking instructions:
Rinse the goji berries and drain.

Chop the mango, banana, and carrots.

Add all the ingredients to a blender and blend to desired texture.
Enjoy!
Slow Cooker Veggie Korma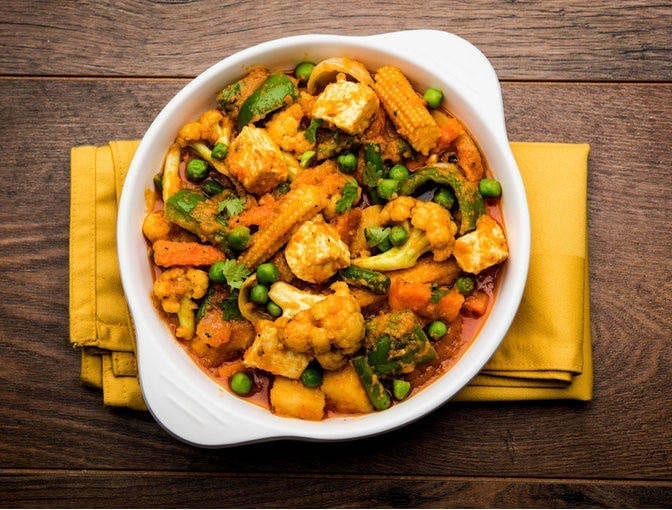 Prep time: 15 minutes
Cook time: 5-8 hours
Servings: 6
Although the cooking time takes quite long, you can start cooking this in the morning. By the time you reach home after work, the food is ready, waiting for you to chow it down.
The depth, richness, and satiety from this dish make you think this isn't vegetarian at all.
Ingredients:
1 can of coconut milk (14 ounces)

1 cup of vegetable broth

1 medium eggplant (2 cups), chopped in cubes

1 cauliflower head, chopped into small florets

1 small winter squash (2 cups), chopped in cubes

2 cups of chopped green beans

1 medium yellow onion

2 garlic cloves, minced

A 2-inch piece of ginger

2 tbsp of curry powder

1 tbsp of Himalayan salt

1 tsp of black pepper

2 tsp of garam masala

2 tsp of red pepper flakes (can be adjusted to your preference)

2 tbsp of coconut flour
Cooking Instructions:
Wash and chop all vegetables. Finely chop garlic and ginger.

Put all of them into the crockpot and mix them to ensure they are evenly distributed.

In a large mixing bowl, mix the vegetable broth and coconut flour, and whisk well together. (The coconut flour will thicken the mixture.)

Add the coconut milk, curry powder, garam masala, salt, pepper, and red pepper flakes to the bowl and whisk again until well mixed.

Pour the liquid mixture into the crockpot (filled with vegetables).

Cook on

high for 5 hours

, or on

low for 8 hours

, until the mixture becomes thick.
You can serve immediately or store in the fridge for up to one week. Bon appetit!
WildFit Winter Salad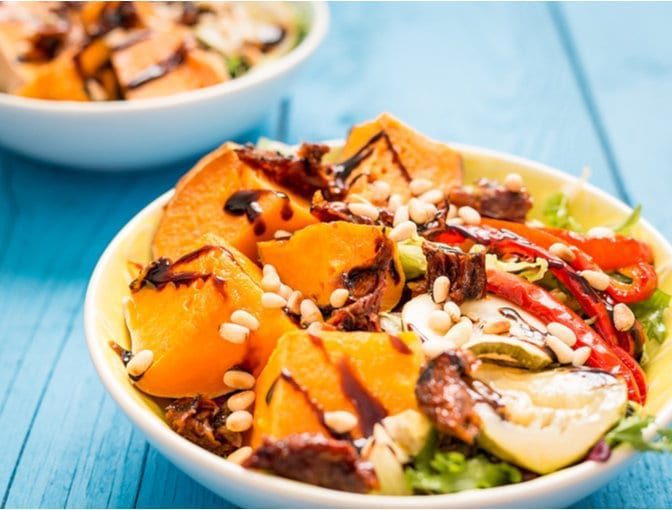 Prep Time: 10 minutes
Cook Time: 50 minutes
Servings: 4
This is a great way to eat salads without the cooling feeling, which makes it great for a healthy winter eating. You can prep this in advance and enjoy it throughout the week.
Ingredients for salad:
1 large head of kale

1 large sweet potato (2-3 cups)

4 large beets

5 tbsp of sesame oil

3 lemons

A quarter cup of sesame seeds

Half tbsp of Himalayan salt
Ingredients for dressing:
2 tbsp of sugar-free mayonnaise (or avocado)

1 tbsp of sugar-free dijon mustard

Half cup of water

Half cup of avocado or olive oil

Salt and pepper to taste
Cooking instructions:
Wash, peel and dry the vegetables.

Preheat the oven to

400 degrees F

.

Place a parchment paper on a large baking sheet and set aside.

Chop the sweet potatoes into cubes and mix with 2 tbsp of sesame oil, salt, and pepper in a large bowl.

Put the sweet potatoes onto half the baking sheet.

Chop the beets into thin discs.

Mix the beets with 2 tbsp of sesame oil, salt, and pepper in the large bowl.

Put the beets in the other half of the baking sheet.

Bake the sweet potatoes and beets for

50-60 minutes

. Turn the veggies halfway during baking.

Remove stems from kale and add the leaves to a large bowl.

Squeeze 3 lemons onto the kale leaves and add 1 tbsp of sesame oil and sprinkle some Himalayan salt. Massage the kale leaves well.

As for the dressing, mix all the dressing ingredients to a bowl and mix them well.

Once the beets and sweet potatoes are finished roasting, plate the kale, add roasted veggies, dressing and garnish with sesame seeds.
Bon appetit!
Leek & Tomato Cannelloni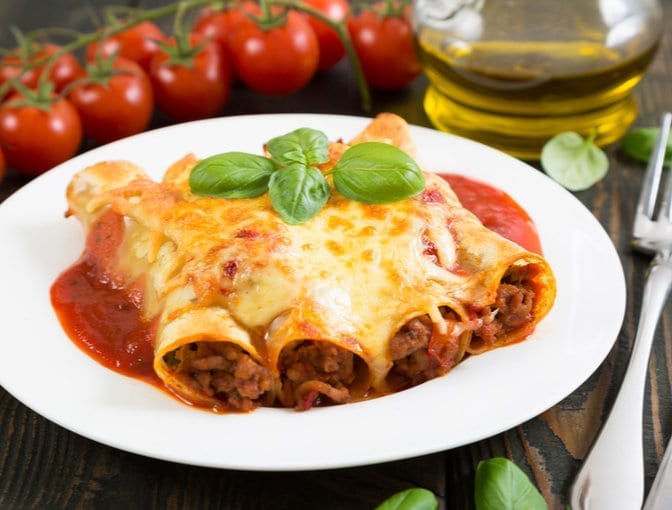 Prep time: 30 minutes.
Cook time: 30 minutes.
Servings: 2 to 4
One of the high protein vegetarian meals that are slightly more advanced but it's perfect for special occasions when you want to impress. Fret not, most parts can be prepared in advance. So roll up your sleeves for some healthy meal preps!
Ingredients:
Cannelloni:
3 leeks, trimmed and halved (by length)

4 brown cap mushrooms, finely chopped
Macadamia Ricotta:
1.5 cups of macadamia nuts

3 tbsp of lemon juice

1 tbsp of nutritional yeast

1 garlic clove (optional)

2 tbsp herbs of choice (optional)

A quarter to a half cup of water
Bechamel Sauce:
2 cups of non-dairy milk

2 tbsp of tapioca flour

1 tbsp of olive oil

1 tsp of garlic powder

1 tsp of nutmeg

2 tsp of mustard powder

Salt and pepper to taste
Tomato Sauce:
3 tbsp of olive oil

1 garlic clove (minced)

1 pint of cherry tomatoes

2 large sprigs of fresh basil or parsley

Salt to taste
Cooking instructions:
Begin by preparing macadamia ricotta:
Soak the macadamia nuts

for a minimum of

2 hours or overnight

to soften them. Put them in a bowl and cover with 2 inches of water.

When the nuts are ready, rinse them and put them in your high-speed blender or food processor with the lemon juice, nutritional yeast, and garlic.

Blend the ingredients well.

Add a quarter cup of water gradually until the ricotta is soft and smooth.

Set aside in an airtight jar.
Next, prepare the Bechamel sauce:
Pour the non-dairy milk into a measuring cup, mix it with garlic powder, nutmeg, mustard powder, and stir.

In another small bowl, mix tapioca flour with a small amount of milk and stir.

Heat a saucepan on medium-low and add olive oil to warm. Immediately pour in the mixture of milk and spices slowly, whisking well to combine.

Add the tapioca mixture and continue to whisk gently as the milk heats up.

After two minutes or so, you'll see the mixture thickens.

Lower the heat and continue stirring until you see the sauce coats the back of a spoon.
Then, prepare the cannelloni:
Cut the white part from the green of the leek.

Cut each stalk in half to make two equal-sized rolls.

Gently push out the inner leaves of each piece of leek with your thumb or the end of a wooden spoon, pulling them once they stick out at the other end.

Now you have 12 outer shells that resemble cannelloni tubes (made of leeks).

Bring a shallow pan of water to a boil, add the leek tubes and blanch for

1-2 minutes

.

Drain under cold running water and set aside.

Finely chop all the inner leaves and mushrooms.

Heat the oil in a frying pan and fry the chopped leeks over medium heat for

3-4 minutes

, stirring frequently.

Add mushrooms and fry for another

4 minutes

until the leeks are soft.

Remove the pan from the heat and allow it to cool. Then stir in the ricotta.
Next, prepare the tomato sauce:
Place a parchment paper on a baking tray.

Cover with tomatoes and garlic. Mix them evenly with olive oil.

Broil them for

8 minutes

.

When finished, pour some of the tomatoes and garlic into a blender or food processor and pulse several times.
Lastly, cook the cannelloni:
Put the mushroom mixture into each leek tube and place them side by side, in a well-oiled ovenproof dish.

Top the tubes with a light drizzle of oil.

Turn on the oven to

350 degrees F

and bake for

15-20 minutes

until golden brown.
To serve, create a shallow bed of tomato sauce on your serving plate, then add your leek rolls on top. Drizzle the Bechamel sauce and finish with a sprinkle of basil or parsley.
Enjoy!
Vegetarian Meals Are Simpler Than You Think
---
Follow the tips provided to optimize your vegetarian protein meals. Often, whole foods are enough to supply sufficient protein and other nutrients for your body.
One last tip.
Be sure to incorporate as many fruits and vegetables into your diet. You don't have to make drastic changes.
Simply substituting half of the meat for vegetables, and eating fruits before meals can go a long way.
Fruits and vegetables do not fight disease; it is their absence that causes it.

— Eric Edmeades, Author of Mindvalley's WildFit Quest
In time, your body will be grateful to you.
---
What are your favorite high protein vegetarian recipes? We'd love to know.
Be sure to share the recipes in the comments below!