Remember the book Eat, Pray, Love? There's a bit where Ketut, a Balinese medicine man, tells Elizabeth Gilbert about the importance of balance in life and how Lord Ganesh can help achieve it.
The more traditional spin on Ketut's narrative is the Ganesh mantra, a powerful tool that has been used in Hinduism for centuries. Using it can help you with success, wealth, and an unshakable balance.
What's wonderful about it is, you don't need to go far to experience the ancient power encoded in its sacred sounds. You can chant the Ganesh mantra lyrics from the comfort of your own home.
What is the Ganesh Mantra?
Simply put, the Ganesh mantra is a sacred sound or phrase that is repeated to aid in meditation or to invoke the power of a deity. It's a powerful mantra that is believed to bring success, remove obstacles, and grant blessings. And it's often chanted at the beginning of new ventures or to overcome challenges.
So, what does the mantra Ganesh mean?
The precise Ganesh mantra meaning varies depending on the mantra. In essence, it's an invocation to Lord Ganesh, the Hindu god of wisdom, knowledge, and new beginnings.
Learn more: Mantra Meditation: The Beginner's List of Mantras for Meditation
Who Is Lord Ganesh?
Ganesh is the son of the God Shiva and the Goddess Parvathi and the brother of Kartikeya. Parvathi gave birth to Ganesh when she made him out of pieces of clay from her own body.
He is described as having a human body and the head of an elephant, with only one tusk. Although the number of limbs he has varies according to lore, he is typically depicted with four arms, in which he carries a goad and a noose. He is drawn with a big, round belly—perhaps because he carries a bowl of dumplings!
But why one tusk? There are many tales about it.
One of them tells the following story: while guarding his sleeping parents, Parashurama, disgruntled with Ganesh for being denied entry to Mount Kailash, engaged him in battle.
Although Ganesh fought valiantly and was set for victory, Parashurama threw his ax at Ganesh's head, thereby severing his tusk. Ganesh took the hit without resistance because the ax was a gift from Shiva.
In essence, Ganesh is the embodiment of spirituality, wisdom, and prosperity and protects beauty, grace, and compassion.
The 6 Benefits of the Ganesh Mantra
This mantra is known to activate the mind and various chakras in the body. On top of that, it can benefit you in the following ways:
Removes obstacles. It's believed to remove all kinds of obstacles, both internal and external. Chanting this mantra can help you achieve success in your endeavors.

Grants wisdom. Ganesh is the god of intellect and wisdom, and chanting his mantra can enhance your mental abilities and improve your decision-making skills.

Promotes success. The Ganesh mantra can be used to bring success and good fortune in all aspects of life, including career, relationships, and personal growth.

Enhances creativity. Ganesh is also associated with creativity, and chanting his mantra can help unleash your creative potential.

Protects from negativity. This powerful mantra can protect you from negative energies and evil forces.

Brings inner peace. Chanting the Ganesh mantra can also bring inner peace and calmness to your mind, helping you stay focused and centered even in the middle of chaos.
If you are ready to take it to a more advanced level, try chanting it 1008 times. It's said to remove all fear from your heart.
How to Chant the Ganesh Mantra
As with any form of meditation, it's best to chant this mantra when you are alone, in a quiet area where you will not be disturbed. Make sure you're comfortable.
Begin with breathing to relax your mind and body. Then, repeat the mantra either out loud or silently to yourself.
You can use a mala or prayer beads to help you keep track of the number of repetitions. And it's best to do it consistently, so make a ritual out of it if you can.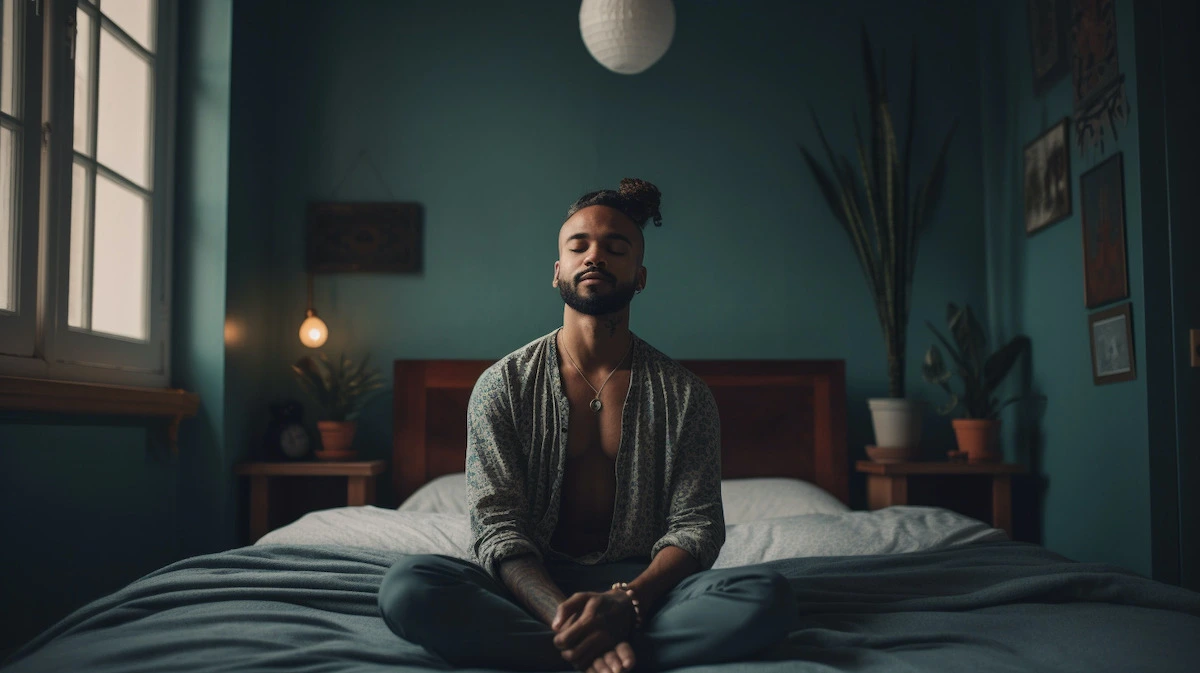 7 Ganesh Mantras You Should Try
From attracting success and prosperity to removing obstacles, there's a mantra to help you do just that. Here are seven Ganesh mantras that you can try, each with its own unique benefits and purposes:
1. Vakratunda Ganesh Mantra
Om Vakratunda Mahakaya Suryakoti Samaprabha Nirvighnam Kuru Me Deva Sarva-Kaaryeshu Sarvada.

— Vakratunda Ganesh Mantra
What it means: "I pray to Lord Vakratunda with a curved trunk and a mighty body, who shines like a million suns, to remove all obstacles from my path in all endeavors."
What it does: This is the best Ganesh mantra to remove obstacles and bring success.
2. Ganesh Gayatri Mantra
Om Ekadantaya Vidmahe Vakratundaya Dhimahi Tanno Danti Prachodayat.

— Ganesh Gayatri Mantra
What it means: "I meditate on Lord Ganesh, who has one tusk and a curved trunk. May he inspire and guide my intellect."
What it does: If you are looking for the Ganesh mantra for success, chanting this mantra will enhance your mental abilities and promote success.
3. Om Sumukhaya Namah Mantra
Om Sumukhaya Namah.

— Om Sumukhaya Namah Mantra
What it means: "I offer my salutations to Lord Ganesh, who has a beautiful face."
What it does: Invoking the blessings of Lord Ganesh, it is believed to bring good luck and promote success and prosperity.
4. Om Gajkarnakaya Namah Mantra
Om Gajkarnakaya Namah

— Om Gajkarnakaya Namah
What it means: "I offer my salutations to Lord Ganesh, who has elephant ears."
What it does: It is believed to unleash your creative potential and help you overcome challenges.
5. The Rinn Harta Mantra
Om Ganesh Rinnam Chhindhi Varenyam Hoong Namaah Phutt.

— The Rinn Harta Mantra
What it means: "I pray to Lord Ganesh to remove my debts and financial troubles."
What it does: This mantra is used to remove debt and financial difficulties. It is chanted to invoke the blessings of Lord Ganesh and is believed to bring financial stability.
6. Siddhi Vinayak Mantra
Om Namo Siddhi Vinayakaya Sarva kaarya kartrey Sarva vighna prashamnay Sarvarjaya Vashyakarnaya Sarvajan Sarvastree Purush Aakarshanaya Shreem Swaha.

— Siddhi Vinayak Mantra
What it means: "I pray to Lord Siddhi Vinayaka to remove all obstacles, bring success in all endeavors, and attract all people and things towards me."
What it does: It is chanted to invoke the blessings of Lord Ganesh to promote success and good fortune.
7. Ganesh Mool Mantra
Om Shreem Hreem Kleem Glaum Gam Ganapataye Vara Varad Sarvajan Janmay Vashamanaye Swaha Tatpurushaye Vidmahe Vakratundaye Dhimahi Tanno Danti Prachodayat Om Shantih Shantih Shantihi.

— Ganesh Mool Mantra
What it means: "I pray to the greatest remover of obstacles, the son of Lord Shiva, to give me higher intellect, and let Lord Ganesh illuminate my mind."
What it does: Being the root mantra of Lord Ganesh, it's believed to be very powerful for bringing success, prosperity, and good luck.
Taking Your Spirituality to the Next Level
Whether you're looking to improve your financial situation, find love, or simply cultivate inner peace, the Ganesh mantra can help you get there. But it is just one of many spiritual tools to help in your spiritual unfoldment.
If you want to keep evolving holistically across all areas of your life, Mindvalley is the right place to be. Here, you can learn from the best spiritual teachers in transformational quests, such as:
Becoming More Loving with Gelong Thubten,
A Yogi's Guide to Joy with Sadhguru, and
A Journey to Infinitheism with Mahatria.
The great thing is that you can sample classes of the quests with them by unlocking your free access.

Welcome in.
—
Images generated on Midjourney.