The Ganesh Mantra is best known for its ability to remove obstacles from our psychological and spiritual lives.
It may not be the most widespread mantra out there, but like others of its kind, it is powerful. And with practice, you will notice its potent benefits.
In this article we will answer the following questions:
Let's begin!
Who Is Lord Ganesh?
---
Ganesh is the son of the God Shiva and the Goddess Parvathi, and the brother of Kartikeya. Parvathi gave birth to Ganesh when she made him out of pieces of clay from her own body.
He is described as having a human body and the head of an elephant, with only one tusk. Although the number of limbs he has varies according to lore, he is typically depicted with four arms, in which he carries a goad and a noose.
He is drawn with a big, round belly – perhaps because he carries a bowl of dumplings!
Although there are many tales of how Ganesh lost his tusk, the favorite is that while guarding his sleeping parents; Parashurama, disgruntled with Ganesh for being denied entry to Mount Kailash, engaged him in battle.
Although Ganesh fought valiantly and was set for victory, Parashurama threw his ax at Ganesh's head, thereby severing his tusk. Ganesh took the hit without resistance because the ax was a gift from Shiva.
Ganesh is the embodiment of spirituality, wisdom and prosperity.

He protects beauty, grace and compassion.
The 6 Benefits Of The Ganesh Mantra
---
1) This mantra is known to activate the mind and various chakras of the body. This leads to better blood circulation and improved metabolic rate.
2) It's said that it's best to chant the Ganesh Mantra before undertaking a new venture, as he the bringer of success, prosperity, and good luck.
3) Chanting the Ganesh Mantra also brings peace, as it removes all enemies from one's path.
4) It helps us focus.
5) It brings clarity into our lives.
6) It's said that if you chant the Ganesh Mantra 1008 times, all fear will be removed from your heart.
When should you use the Ganesh Mantra?
To make the best use of the Ganesh Mantra, use it when you're ready for a new beginning.
This could be a business deal, a new job, a new relationship, or even the start of a new personal project.
There are no set rules on when to chant the Ganesh Mantra, but you can use it to summon luck, happiness, beauty, and success into your life.
It is most powerful when used to remove negativity and fear from your mind.
How To Chant The Ganesh Mantra
---
The Ganesh Mantra is chanted as:
Om Gam Ganapataye Namaha Sharanam Ganesha
From Sanskrit, the Ganesh Mantra is commonly translated as:
"Lord Ganesh, son of Lord Shiva, remover of obstacles who guards the doorway to the enlightened realms. His blessings are essential for good beginnings."
As with any form of meditation, it's best to chant this mantra when you are alone, in a quiet area where you will not be disturbed. Make sure you're comfortable. And it's best to do it consistently, so make a ritual out of it if you can.
This mantra is most beneficial if you can practice it daily for at least 40 days.
Examples of the Ganesh Mantra
If you don't know how to chant this mantra, here are two example videos for you to follow during your meditation.
To start off the day:
To remove obstacles:
---
You've Probably Got Meditation All Wrong.
A lot of people don't do it, because they just can't seem to 'clear their minds'.
They try to empty their thoughts, and when that doesn't work, they think they suck at meditation and give up.
But you see, the mind is designed to think. It does so automatically, just like how your heart beats.
The truth is, meditation isn't about clearing your mind. It's supposed to improve performance in all other aspects of your life.
If You'd Like To Discover What Meditation REALLY Is And How It Can Completely Transform Your Life And Bring You To The Next Level...Then Join Emily Fletcher, Meditation Master And Bestselling Author, In This FREE Masterclass
She'll also teach you:
✅
The 3 myths about meditation
that will allow you to focus on what meditation really is, and how it can help you enhance your performance in life,
✅
Understand the concept of 'Adaptation Energy'
, which is what high performers and successful people use to adapt and thrive in their respective fields,
✅
A 15-minute guided meditation technique
that you can use to instantly give you a boost of energy and help release the stress which is holding you back!
How to Uplevel Your Meditation to Become a Super Performer at Work & Life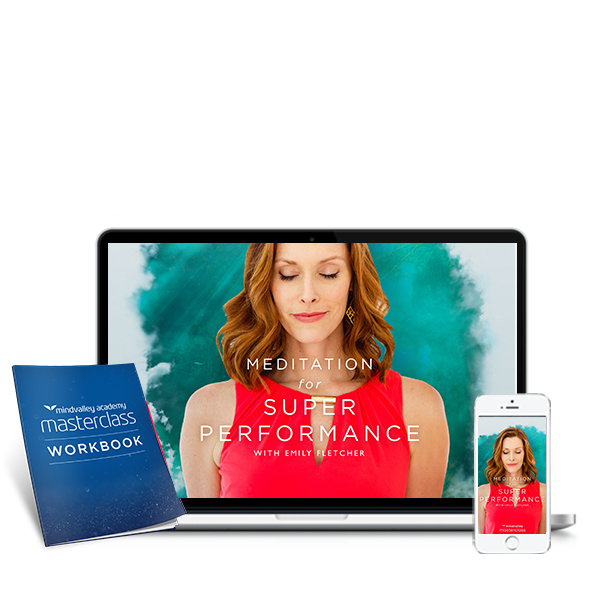 Go beyond a purely spiritual tool and learn to use Meditation to become a powerhouse at work & life
Choose a date and time below to tune in to the broadcast in your own local time zone.
[blink_amp_form webinarid="6133208003641344"]
---
So, which of these mantras are you excited to try? Let us know in the comments below!