Looking for clean, simple, healthy breakfast ideas to kick off your morning?
Sure, a healthy breakfast sounds great, but it can be tough to factor in a decent breakfast when you're always in a rush.
You know the feeling: you hit the snooze button three too many times and now you're twenty minutes late.
You barely have time to pour your morning cup of coffee into a travel mug, let alone make yourself a proper breakfast.
So you grab a bagel or an apple and rush out the door. You're still going to eat. It's not like you're skipping breakfast.
You just don't have time for all those fancy health kick breakfast ideas your best friend posts all over Pinterest.
So many of us fall into the trap of convenience and don't think twice about it.
But here's some food for thought:
A 2018 study published in the International Journal of Environmental Research and Public Health found that eating a low-quality breakfast actually had greater physiological and emotional drawbacks than skipping breakfast entirely.
You read that right.
Eating low-quality breakfast foods is actually worse than skipping breakfast.
And skipping breakfast is no joke.
As Eric Edmeades, Author of Mindvalley's WILDFIT Quest explains:
Once you begin to understand why you make your food decisions the way you do, you begin to take a step toward food freedom.
Today, we've got seven quick and healthy breakfast ideas for adults and kids alike.
3 Fun (and Healthy) Breakfast Ideas For Kids
Getting yourself out the door in the morning is one thing — but getting your kids out the door? That's another story.
Making sure your kids start their day on the right foot is all about being prepared. Setting out their clothes. Lunches are packed and ready to roll. Eating a healthy breakfast.
But breaking the Cap'n Crunch or Lucky Charms sugar habit is easier said than done.
Try one of these three fun breakfast ideas and ask your kids for the verdict. You might be surprised by what they fall in love with!
1. Delish Paleo Pancakes
Not many kids can say no to pancakes. And these Delish paleo pancakes are as yummy as they are healthy.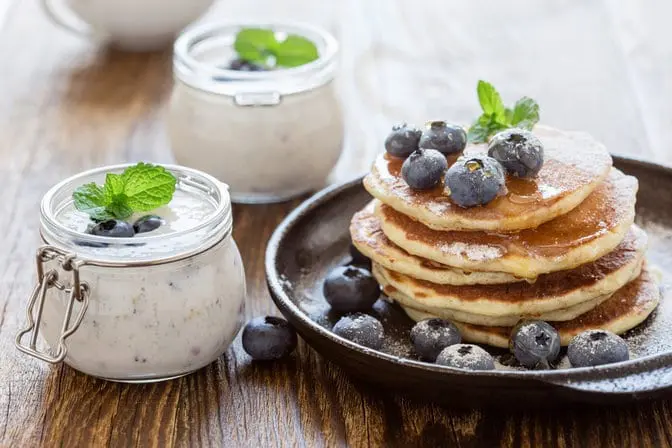 Save these pancakes for a Sunday morning in which you've got a little extra time to spare. And feel free to spruce them up with your favorite toppings!
Ingredients:
4 large eggs, separated

2 bananas, mashed

1 cup almond flour

3 tbsp coconut flour

1 tsp baking powder

1/4 tsp ground cinnamon

Pinch sea salt

1 tbsp coconut oil

Butter, for serving

Maple syrup, for serving

Berries, for serving
Directions:
In a large bowl, whisk the egg yolks, bananas, almond flour, coconut flour, baking powder, cinnamon, and salt.

In a separate bowl, whip egg whites until stiff peaks form.

Fold whipped egg whites into batter until combined.

Grease large nonstick pan with coconut oil over medium-low heat.

Pour ¼ cup batter onto the pan and cook evenly on both sides.

Serve with butter, maple syrup, and berries.
2. 3-Minute Paleo Breakfast Porridge
If you've only got a handful of minutes to throw breakfast together for the kids, then this recipe is for you.
Not only is this paleo breakfast porridge chock-full of healthy grains and fresh fruit, but it can also be made in three minutes. Literally.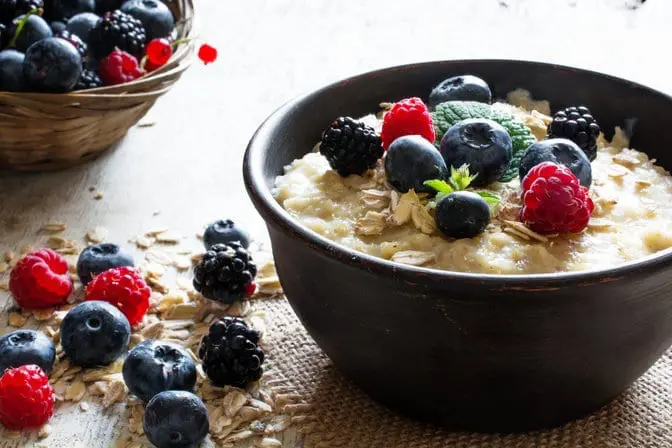 Ditch the pre-packaged sugary oatmeal and try this paleo breakfast porridge. Best of all, you can layout the toppings so your kids can customize their bowls.
Ingredients:
3/4 cup almond milk

6 tablespoons shredded coconut

3 tablespoons almond flour

1 1/2 tablespoons golden milled flax meal

1 teaspoon maple syrup

1/2 teaspoon vanilla extract

Ground cinnamon and sea salt to taste

Toppings: nut butter, paleo granola, honey, maple syrup, sliced pear, fresh berries
Directions:
Heat almond milk in a saucepan over medium heat for 1 minute until warm.

Add coconut, almond flour, flax meal, maple syrup, vanilla, cinnamon, and sea salt.

Cook 1-2 minutes.

Remove from heat.

Top with your desired toppings.
3. Bacon Avocado Range Egg Muffin
This WILDFIT breakfast idea comes to us from Lucy Skrypnek and is chock-full of all the hearty, delicious breakfast foods we all know and love. Namely: eggs and bacon.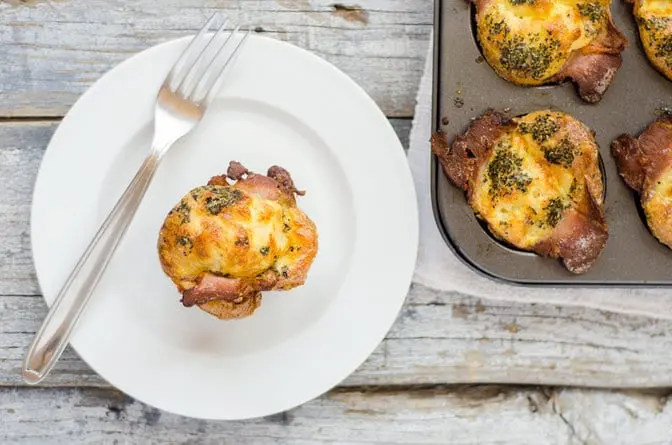 This recipe requires a little more prep and takes a half-hour to cook in the oven. But if made ahead of time, it's the ultimate portable breakfast food. And if there's one thing that makes feeding kids easier, it's the food you can take on the go.
Ingredients:
12 whole eggs, whisked

2 large avocados, diced

6 cooked strips of bacon

3 tsp vegan dry ranch mix

2 tsp chives

3 tsp dried dill weed

4 tsp garlic powder

4 tsp dried onion flakes

3 tsp onion powder

4 tbsp parsley

2 tsp black pepper

1 tsp sea salt
Instructions:
Preheat oven to 350°F.

Line a muffin tin with cupcake liners or grease it with an oil of your choice.

Scoop 1 tbsp of diced avocado into the bottom of each cup.

Break the bacon strips in half and shred one-half strip into each cup.

Sprinkle ¼ tsp vegan dry ranch mix into each cup.

Top off each cup with whisked egg mixture.

Bake 22-30 minutes or until the eggs are baked through.
4 Healthy Breakfast Ideas (for Any Morning Routine)
So, we've covered some healthy breakfast recipes for kids. But what about you?
You've decided that you don't want to skip breakfast and you don't want to grab the quickest, easiest thing on the shelf.
What are some simple, straightforward healthy breakfast ideas you can implement into your daily life?
Well, we've put together these four breakfast ideas for any morning routine. No matter your daily circumstance or time restraints, you're sure to find something doable and delicious on this list.
Best of all? Every one of these recipes is WILDFIT or paleo approved!
1. Crustless Quiche
Another of Lucy Skrypnek's WildFit recipes, this crustless quiche serves as the perfect breakfast for those mornings when you've got a little extra time and want something delicious, nutritious, and best of all — easy to make.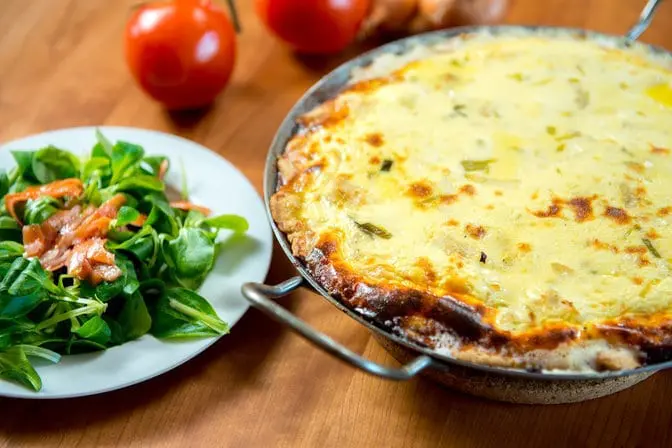 Ingredients:
12 whisked eggs, seasoned with sea salt and pepper

1 tsp coconut oil

4-6 pcs. pork sausage or bacon

2 cups of chopped greens (spinach, kale, broccoli)

Optional: add additional WildFit approved veggies or meat
Instructions:
Preheat oven to 350 degrees.

Grease pie pan with coconut oil. Set aside.

Heat separate saucepan on the stove over medium heat.

Cook sausage or bacon until cooked through.

Add greens to pan and cover with lid. Cook until greens have softened. Remove from heat and set aside.

Pour whisked eggs into greased pie pan.

Add veggie/meat mixture to the eggs.

Bake for 30-35 minutes.

Let cool and serve.
2. Blueberry Pie Smoothie
There are few things so simple and nutritious as a morning breakfast smoothie. And when it comes to healthy breakfast ideas, this blueberry pie smoothie combines everything you need in the midst of your morning hustle: it's easy, it's simple, and it doesn't involve your oven.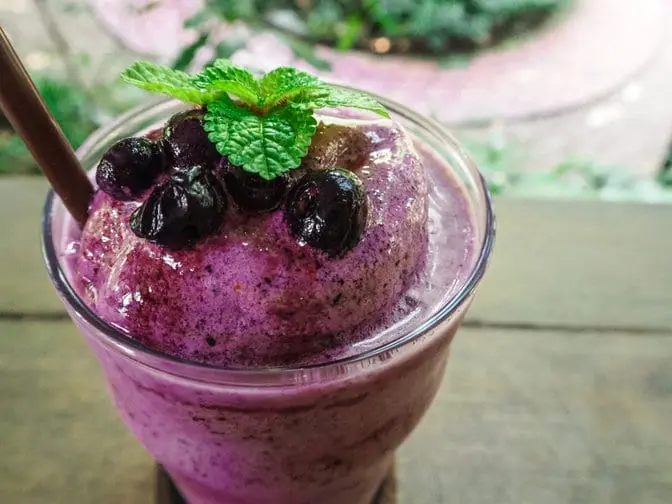 Did we mention it literally tastes like blueberry pie?
Ingredients:
1.5 cups frozen blueberries

1/2 cup coconut milk

Fresh lemon zest to taste

Pinch of cinnamon

Filtered water

Protein powder (optional)
Instructions:
Add blueberries, coconut milk, lemon zest, cinnamon, and protein powder to the blender. Blend on high until smooth, adding water as needed to thin.
3. Cauliflower Hash Browns
Okay, so this breakfast idea is a little more labor-intensive, but it's a labor of love because it is so, so worth it.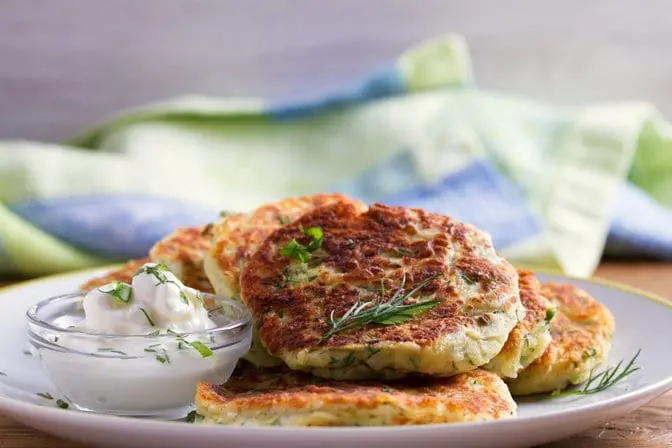 Don't believe us? These cauliflower hash browns taste like the real thing with the added bonus of being super healthy.
Check 'em out.
Ingredients:
1 head cauliflower

½ cup parmesan cheese

⅓ cup fresh chives, chopped

3 cloves minced garlic

2 tablespoons olive oil

1 teaspoon dried basil

2 eggs

1 teaspoon salt, divided

½ teaspoon black pepper

Dipping sauce of your choice
Instructions:
Preheat oven to 400°F.

Line baking sheet with parchment paper. Set aside.

Grate cauliflower into small bits.

Transfer cauliflower to bowl. Sprinkle with ½ tsp salt and mix well.

Let cauliflower sit 20 minutes for salt to draw out moisture.

Strain excess liquid from cauliflower and transfer to bowl.

Stir in cheese, chives, garlic, olive oil, basil, black pepper, eggs, and remaining salt.

Spoon mixture onto baking sheet in six even portions and shape into hash browns.

Bake 35 – 40 minutes until golden.

Let cool 15 minutes to set.

Serve with dipping sauce.
4. Cauliflower Biscuits With Bacon & Jalapeño
Last but not least, we have cauliflower biscuits with bacon and jalapeno. Another portable breakfast idea that can be prepped ahead of time for on-the-go munching.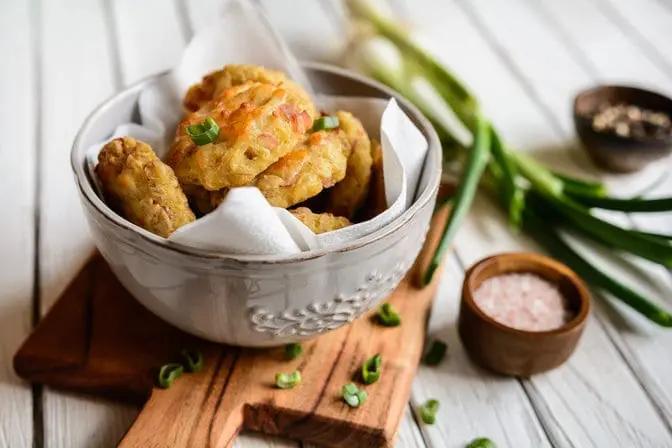 Ingredients:
24 oz. cauliflower florets

2 tbsp olive oil

1/2 cup almond flour

2 eggs

1/3 cup cooked bacon, chopped

1/2 tsp garlic powder

1 jalapeño, chopped

1/2 tsp black pepper

1/2 tsp sea salt
Directions:
Preheat oven to 400ºF.

Line baking sheet with parchment paper. Set aside.

Shred cauliflower in food processor.

Heat olive oil in skillet over medium heat.

Saute cauliflower, jalapeno, bacon, and spices for 7 – 10 minutes until cauliflower has softened.

Remove from heat.

Stir in eggs and almond flour.

Using a ¼ measuring cup, scoop mixture onto baking sheet.

Bake biscuits at 400ºF for 35-40 minutes until they golden brown.

Let cool 5 minutes on baking sheet before transferring to cooling rack.
So, there you have it! 7 quick and easy healthy breakfast ideas for kids and adults on a tight schedule.