If you ask anyone what they want in life, most of them would probably answer, "being happy".
Life's wonders present themselves to us with all the great opportunities for being happy. At the same time, it also has preparations for sadness and sorrow to occur in our lives.
So how can we solve this mysterious duality and navigate through these two conflicting waves (happiness and sadness) of the same ocean of life?
Well, although there are no definite answers to these questions, we will try to get somewhat closer to the truth in this post.
So, in order to have a mindful discussion, first things first…
What Is Happiness?
---
As the digital age settled in, the introduction of 'instant gratification' at our fingertips was born.
From entertainment, games, dating apps and even porn, the digital age has given us an abundance of services and apps that provide for some stimulatory exciting experience for our brain.
It can get confusing. You think that you are doing what makes you happy because you begin to associate these feelings of pleasure and excitement as happiness.
Over the years, society has formed a shallow misunderstanding of what happiness really is.
Would you believe it if we told you that most people don't actually know what happiness is?
Get ready for a radical eye-opening explanation that will have you rethinking your own definition.
How do you define happiness?
The problem today is the emotion of happiness has become diluted and confused with stimulatory pleasures.
You hang out with friends, play games, go out for drinks and indulge in facey dinners and parties, have a laugh and enjoy the best night out.
You may go home that day feeling great, and more often than not, that feeling is usually misunderstood as "being happy".
But just so you know, happiness is not about having a fun time out. Yes, you feel great, but that wasn't because you were experiencing happiness.
What is the difference between fun and happiness?
So let's get this fact clear, what you call happiness can usually be pinpointed to a form of excitement.
Evidence of that was in a study that examined 12 million personal blogs along with a series of surveys and laboratory experiments showed that people have confused the meaning of excitement with happiness.
For example, you "think" you feel happy when you have a nice meal at a restaurant. However, that meal is simply a form of stimulation of sensations that excite your brain.
Similarly, when you have sex. It is orgasmic, exciting, and filled with feel-good hormones and chemicals in the brain and body.
We have mistaken the true meaning of happiness for pleasures of the moment. And it's because of this, you begin to mistake these stimulatory effects and the excitement they bring as happiness.
End of the day, you do what makes you happy. And it's because if this you think, "so what is the problem with doing what makes me happy?"
Well, the problem with that is it doesn't work! Excitement is a momentary pleasure. And boy does your brain love to indulge in pleasures.
Your brains addictions (desires & pleasures):
The release of dopamine and serotonin is basically your brain's 'feel-good drugs'. It's wired to chase them because these are the chemicals that drive you.
This takes place in the brain's pleasure centers that are stimulated by specific neurochemicals that are released by our brain's machinery.
On the other hand, there are also chemicals that are responsible for making us experience negative emotions like sadness and anxiety.
So, the equation is quite simple. Events that we associate with "feeling good" release happy chemicals, whereas the bad events release sad chemicals.
That's not to say that these 'feel-good' experiences are the things that we need to chase to be happy. These are what we chase because our brain tricks us into thinking that we're happy.
If you practice self-awareness, however, you will realize that these things are just surface superficial experiences.
So then the question remains, what is happiness?
The way to happiness is a path that is fulfilled, calm and peaceful. It is what people call "being in the moment" or "just being".
Have big goals—but don't tie your happiness to your goals. You must be happy before you attain them.

— Vishen Lakhiani, founder of Mindvalley, and Author of Mindvalley's Becoming Limitless program
You experience a feeling of contentment with everything at the very moment. There is nothing that can make the moment better or worse. The moment you are living in is perfect just the way it is.
You've probably heard the saying that, true happiness comes from within. To put it in another way, happiness is a phenomenon comes from a place that is "inside-out" and not from "outside-in".
With that in mind, happiness then starts with you.
You can't really begin to reap the benefits of information without rewiring your minds programming.
Let's see how we can begin with that…
5 Keys To Being Happy: Part 1 (Things To Avoid!)
---
What may seem to be on the surface a simple question, if you dig a little deeper, you'll find that the answer is a lot more complicated than you think?
Psychologists have researched the topic and found that people don't actually know what it is that makes them happy.
But they have however identified common misconceptions of what we think makes us happy versus what actually has a real contribution to your long term happiness.
The way to happiness (what not to do)
Research shows that the best indicator of happiness tends to reflect on the quality of your relationships with friends and family and love life.
Believing that you are unworthy:
The truth is most people live in fear. They don't actually think that they can achieve that big spectacular contribution. This 'fear' is crippling, destructive and elusive.
It convinces you that you are limited, and the dreams you set for yourself are hard to achieve. It can eventually affect your self-growth and future happiness.
Brene Brown, a researcher at the University of Houston spent 10 years studying vulnerability. She was quoted saying,
"There was only one variable that separated the people who have a strong sense of love and belonging and the people who struggle for it. The ones that had a sense of love and belonging simply believed they were worthy of it.
The one thing that keeps us out of connection is our fear that we're not worthy of connection. That was something that personally and professionally I felt like I needed to understand better.

— Brene Brown, Research Professor at the University of Houston, and Author of five #1 New York Times bestsellers
You can, however, conquer this fear through self-love. You can learn more in a piece we wrote about self-love techniques you can practice yourself.
Being A Hermit (Not Socializing)
Travel or outdoor exploration and activities provide a wide range of mental and physical benefits. It has even shown to improve the self-esteem of people with mental illness.
Aside from that, research knows that sunlight is essential for vitamin D production, and in one study also highlights the negative effects of artificial sunlight.
It's also worth highlighting that when you become an indoor hermit, you will over time become a loner. What results from such a lifestyle is that you begin to have less social interactions and get accustomed to a lonely lifestyle.
Over time, a natural outcome of little to no social interaction is can increase the chances of depression and self negligence.
You start to care less about yourself and in some sense let yourself go.
if you want to be happy then the message here is you must be more open to the outdoors and start spending more time in nature. As a result, it can help in increasing your self-confidence.
Consuming Instead of Contributing
'Contribution' is an essential part of living a happy and meaningful life. You may not notice it, but you spend the majority of your time consuming the world around you instead of creating it.
You live every day on autopilot and soak up more information rather than creating it.
To find true happiness you have to actively work towards uncovering your life purpose and then set yourself on a path of contributing, and building it out through contribution to yourself and the world that you utilize towards that purpose.
Work on that, and you'll see how much of a difference in your happiness level will be daily life.
The way to happiness (
what to do more of
)
Exercise! exercise! Exercise!
There isn't really much to say here. This is almost a no brainer habit that almost everyone knows they should incorporate into their lives.
Exercising promotes the release of those 'feel-good' endorphins in your brain, and leaves you feeling positive, stress-free, promotes good quality sleep, boosts your self-esteem, self-image, and confidence.
Additionally, you will also develop a discipline that you can apply to other areas in your life.
This is a basic yet foundational key to living a happy life.
Explore yourself and find your purpose (Do what you love)
Start living a life that is more mindful with the aims of finding your purpose.
Why? Because your life purpose is the will be the driving force behind why you get out of bed every day excited and hungry for life!
If the ladder is not leaning against the right wall, every step we take just gets us to the wrong place faster

— Stephen Covey
With a clear purpose for what you are doing, you will become more proactive and enthusiastic wanting to build the life you want that will bring you closer to happiness.
In other words, you will let life happen for you and not to you.
An easy start to this task is to explore what is it you love doing? Hobbies, jobs, extracurricular activities, etc…find out what that is, and then explore the possibilities of making money from it.
Practice gratitude, affirmations, and meditation (An essential and powerful combination)
We put these three together because they all go hand in hand and ca produce 10x the results if you practice them in parallel.
The practice of gratitude will undoubtedly reframe the way you start seeing the world over time. You reframe your thinking from "fear of missing out" to being "grateful for what you have".
Like we mentioned earlier, happiness is not a stimulation of excitement or fun time, but a feeling of being at peace and fulfilled with the very moment.
Gratitude practice in a way allows you to shift your minds to focus on being grateful for what you have and not what is missing in your life.
If you want to explore how to start we suggest checking out 40 Ways To Practice Gratitude as a starter guide.
The most powerful word in the English language that you use on a daily basis is the word "I am".
What you say after "I am", what you believe after "I am", what you think after "I am" will control your decisions and shape your life.
Hack your past with forgiveness. Hack your present with mindfulness. Hack your future with 'I AM ENOUGH'.

— Vishen Lakhiani, founder of Mindvalley, and Author of Mindvalley's Becoming Limitless program
You may not believe it, but and that is really the problem at hand. Happiness is all about believing in it and letting be a part of you!
When it comes down to it, 'happiness' is really is a choice you make.
People always think that you become happy because you achieved or attained something that made will make you happy.
However, happiness is not a byproduct of success or attained, it is a state of mind, being, and intention you put out for yourself.
Start practicing affirmations and learn how to lead your life into happiness. This is probably the most underrated practice in our opinion.
Belief in yourself can be created as a mental habit.
Meditation will be one of the biggest factors for increasing your happiness.
It helps you stay focused and keep the distractions of your mind in check.
If practiced it will also fule your gratitude and affirmations practice in ways that you won't experience without it.
If you deliberately practice meditation daily, even for just minutes a day, you will manage your inner negative monologue and enable to become a master of your emotions.
A Final Word To Remember
---
We discussed the life-changing benefits of rewiring our brains for sustained happiness and even physical health.
Or how we have to learn to be happy in the moment rather than chasing happiness or focus on what we don't have rather than be grateful for what we do have.
So now, let's focus on some practical techniques that will make us be truly happy now.
To put this simply, it is through consciousness engineering and other transcendent practices that we must approach in order to reprogram ourselves for being happy.
You can begin with these two outstanding programs available in Mindvalley:
For starters, The 6 Phase Meditation quest will be perfect. You will learn to be mindful, compassionate, grateful, focused and more in the present moment. You will also learn how to overcome fear and manifest happiness in your life on a consistent basis.
Then, you may move ahead to actual consciousness engineering for reaching the higher levels of consciousness and fully reprogramming your mind for happiness.
For this, Mindvalley founder Vishen Lakhiani's Becoming Limitless quest is the best available tool so far.
This program will allow you to break free from all the faulty programming and reach the state of limitless where the constant feelings of joy, blessedness, and inspiration become your normal state of being.
So, what are your thoughts on reprogramming your mind for sustained peace and happiness? Please, let us know in a comment below!
It's simple really, the happier you are in your social engagements, the happier you'll be in general. It's been shown that the positive effects of these relationships ripple into many aspects of your life's happiness.
---
Do you believe that you need to work hard to be successful?
Like most people, your answer is most probably 'yes'. After all, it's what we've all been brought up to believe.
The problem is that when you believe this, you start to lose yourself to the grind. You start to associate success with pain and struggle.
But What If You Didn't Need To Suffer To Be Successful? Wouldn't That Be Far More Sustainable? If That Sounds Good To You, Then...Join Vishen Lakhiani's FREE Masterclass, Where He Shows You How You Can Attain Success Without Having To Suffer For It.
You'll also learn,
✅
The Myth of success
, where Vishen reveals the ultimate myth of success that keeps us locked in mediocrity and prevents us from achieving our goals,
✅
A simple daily practice
that will allow you to notice more positive opportunities throughout your day. This will allow you to see just how malleable reality is, and how you can bend it in your favor.
✅
Understand the Four Key Stages of Human Consciousness
, and how to identify where you are today, so you can accelerate your personal evolution. Understanding which stage of consciousness you're at will tell you how best to maximize your growth so you can accelerate your transformation!
Get Proven Tools To Instantly Awaken Your Limitless Potential On This Free Masterclass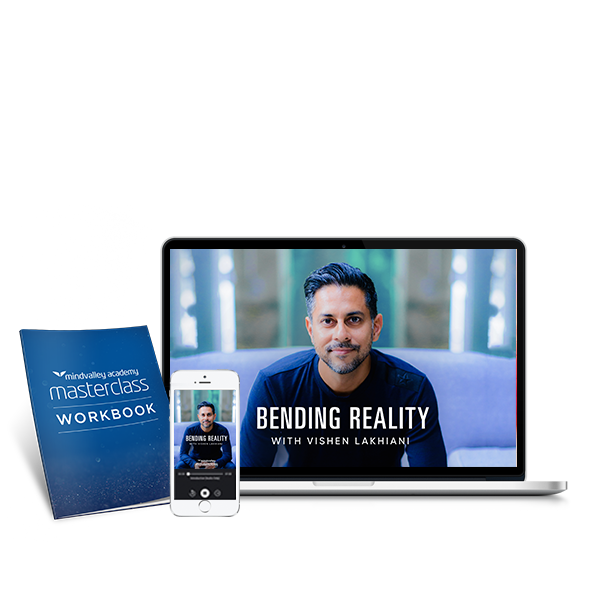 Learn How To Unlock Your Highest Level of Human Consciousness
Choose a date and time below to tune in to the broadcast in your own local time zone.
[blink_amp_form webinarid="5210301832626176"]
---