Many people struggle to be truly fulfilled in their lives today. Even if we think we're doing everything right and are working hard to achieve our goals, we're still not as happy as we'd like to be.
What if the secret to your happiness formula lies in three simple, yet profound questions that can shed light on your truest aspirations and values in life?
Before you give up on your goals or start setting new ones, here's what you need to know:
If you haven't given this much thought before, you're not the only one. Many people don't ask themselves what it really means to live a good life.

But will you be the one who does?
Why Is Goal Setting Important?
Founder of Mindvalley, an award-winning entrepreneur, speaker, and New York Times bestselling author, Vishen explains that we all seek happiness at the very core of our pursuits in life. But it is hard to find it because most people set means goals.
These are short-term goals based on bullsh*t rules (which Vishen refers to as brules) imposed by society.
So you want to set end goals that reveal your true desires to live your best life — the long-term goals unique to your Soul, as long-term as your life journey itself.
Learn more:
7 Ways to Live Happier With Better Short-Term Goals
Long-Term Goals That Will Inspire You to Do Great Things
Means goals vs. end goals
There is a big difference between end goals and means goals. An example of a means goal would be to:
Get a certain degree in school
Make a certain amount of money
Get a good job
Purchase a nice car (or a house)
End goals are the result of being a human. They are about experiencing love, being truly happy, and contributing to the world.

– Vishen
Many of us mistakenly think that means goals are end goals — if we achieve any of these goals, we will be happy and fulfilled.

This, as it turns out, is not so.

Although means goals certainly can be helpful, achieving them is not what our life is about.

Instead, you want to get clear on your end goals and focus on those, by asking yourself:
What is it I really want?
And what would genuinely make me and the people I love happy?
Learn more: How to Determine Your True End Goal in 4 Simple Steps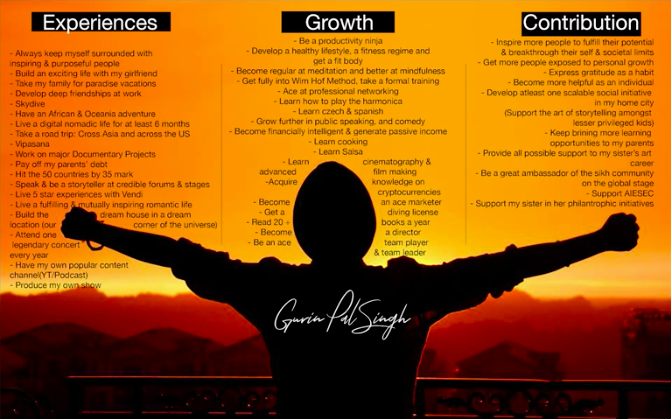 The 3 Most Important Questions Framework
Growing or developing ourselves and contributing to society are essential parts of our spiritual needs. And acting on those needs is the surest way to find fulfillment.

These are two of the three main categories or 'buckets' you can divide our lives into experiences, growth, and contribution.
The three most important questions you can ask yourself are:
What do you want to experience in life?
How do you want to grow and develop yourself?
How do you want to contribute to the world?
Answering these questions will give you a blueprint into your soul and make you discover what it takes for you to know you truly lived life.
Take no more than 90 seconds to answer each of these questions.
The point is not to overthink it but to let the answers flow through you. This is how you will hear the answers that instantly come to you, straight from your heart.
Keep on writing for the full 90 seconds, and do not stop. At some point, your critical mind shuts off, and you start writing what matters.
And remember, there are no right or wrong answers here. This is about discovering what makes your soul shine and makes your life a wonderful experience. Dare to dream big.
1. What do you want to experience?
Write down everything that you could dream of doing or having that would make you feel happy:
Think about any experience that you wish to have in this lifetime.
Consider your love life, your relationships, and your sexuality.
Think about what experiences you'd like to have with your friends and family.
What would you like your social life to look like?
Assume you have unlimited access to funds. What type of car would you want to drive?
What type of home would you want to live in? Are there any other things you dream of having in your life?
What places do you want to travel to?
What activities, hobbies, or sports would you love to explore?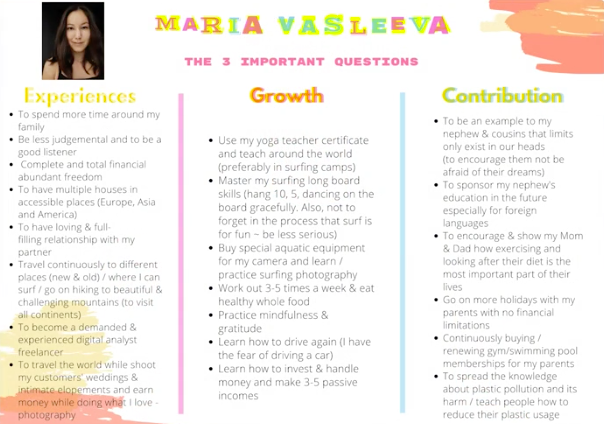 2. How do you want to grow?
Jot down anything you'd like to develop in your life:
How would you like to develop yourself? Think about your intellectual life, for instance.
What skills would you like to obtain?
How do you want to deal with stressful events in your life?
What languages would you want to master?
What character traits do you admire in others, and which would you like to master?
How do you want to show up in social situations?
What are your health and fitness goals?
How long would you like to live?
How would you like to feel, and what would you like to be able to do in your old age?
Is there a particular aspect of your spiritual life that you'd like to dive deeper into?

3. How do you want to contribute?
As Vishen puts it, no matter how shitty your life might be, giving back is one of the surest ways to happiness.

So lastly, think about all the various ways you want to contribute to the world. No matter how big or small your ideas, write down everything that comes to you:
How could you contribute to your family, friends, society, city, or even the entire planet?
What will be your legacy?
How will you make the world a slightly better place?
Which problem would you like to solve for the planet and humanity?
It could be volunteering or giving your time to specific people. It could be a particular work you'd like to create. Anything you can think of that would benefit others and our world.
Now that you have a deeper understanding of the 3 Most Important Questions framework, it is time to do the exercise yourself. So grab a notebook and a pen, sit back, and let yourself be guided by Vishen in this powerful goal-setting exercise.
The 3 Most Important Questions to Ask Yourself – Video
Why This Exercise Is Getting Picked Up by Schools and Organizations
When the video on the 3 MIQs was first released, Americal Management Association tweeted it, and it helped spread this method to companies across the US.
For example, LVMH Moët Hennessy Louis Vuitton, commonly known as LVMH, did the 3 Most Important Questions exercise with their employees in February 2022.

Vishen presented this framework at the PwC event European Partner Conference in Vienna in May 2022.
Schools in India also use it to inspire children to get clarity on what they want in life at an early age.
At Mindvalley, the 3 MIQs are a centerpiece of the company's corporate culture.
They call it "the blueprint of your soul."

As Vishen puts it, "it is a powerful way to get to know someone from a larger, wider, and deeper perspective, as a soul having a human experience."
He explains that when people get to talk about their dreams and deepest aspirations, it causes them to stay at the company longer, deliver more results and be helpful to one another.
Because this framework creates transparency and visibility, it builds unprecedented connections among people.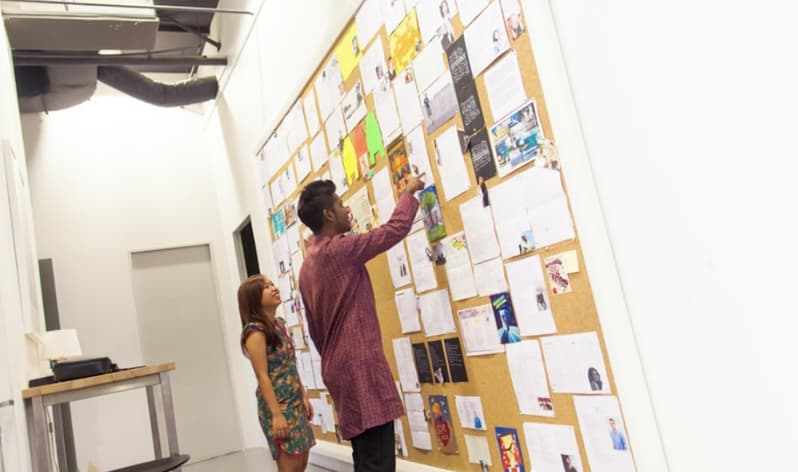 How to use the 3 Most Important Questions in your workplace:
Get together over lunch and talk about your 3 MIQs.
How Mindvalley does it: Every person who joins the company does this exercise, and Vishen takes them for lunch, where they talk about their most important questions.
Make it visible to your team members.
How Mindvalley does it: There is a shared board in the offices in Kuala Lumpur where team members share their 3 MIQs papers. You can also find digital versions on the company's Google Drive in a separate folder dedicated to the 3 MIQs.
Practice unexpected gifts.
How Mindvalley does it: Team leaders read the 3 MIQs of their team members and give gifts based on their goals. By contributing to their personal goals and dreams, they show that they care and are genuinely interested in their growth.
When you make it visible to everyone else in the company, you might find your dream mate who shares one dream with you. And together, you can make it happen quicker.

It's called collaborative goal attainment.
On top of that, people get inspired by each other as there is no monopoly on dreams.
And when you practice unexpected gifts as a leader, you establish a personal connection with your employees by showing them that you care.
Studies show that when a supervisor or someone at work cares about you as a person, you are more productive, contribute more to profits, and are significantly more likely to stay with the company long-term.
Transformational Stories of the 3 Most Important Questions in Action
There is magic in the 3 MIQs, and you don't have to know how to get there. You need to know where you want to go, and the Universe will figure it out for you.
Many people now can swear by its magic, and here are just a few examples of transformational stories.
Vishen's transformational story
Vishen was chasing means goals before he discovered the 3 MIQ's magic. At some point, he realized that everything he was chasing wasn't coming from his soul but the culturescape.
Back in 2010, he wrote all the things and experiences that he truly wanted in life into one paper:
traveling to exotic locations around the world with his kids
staying at 5-star hotels with his family
having friends from all around the world driven by humanity focused values, doing big things in the world, meeting all the people that inspired him
having fun at work

After a while, he got a crazy idea to start a festival around personal growth and surfing that came out of nowhere. He called it A-fest, which was organized in Costa Rica.
Ten years on, it's a spectacular event that made everything he put down in his 3 MIQs come true.
"It all came true because I stopped focusing on the culturescape and focused on what was coming from within, letting the Universe connect all the dots for me," he adds.
Luminita's transformational story
Luminita Saviuc joined Mindvalley in 2012 and did the 3 MIQs exercise during the team retreat.

She wanted to become an international bestselling author, a speaker, a photographer, and a leader.

Luminita started writing a blog in English and published the article "15 Things to Give Up to Be Happy." Within a few months, it was shared by 1.2 million times on Facebook, making it the most shared personal growth article in 2013 in the history of the platform.
Penguin Random House offered her to write a book, so she wrote a book under the same title.
She used that money to travel the world and became a great photographer. Then she spoke on stage at A-Fest sharing her story about surviving an abusive father. That story got picked up by the Goalcast Media and it got a million views.
Although things that she wrote on her MIQ paper seemed disconnected, they all came true.
Magic? Yes, it is.
Get Your 3 MIQs Answered
You do not have to wake up one day feeling deeply unsatisfied with your life. And if you haven't figured it all out, don't postpone asking yourself the most important questions.
Before your final day arrives, what is it you want to experience? What do you not want to miss out on in this lifetime?
If there were no limitations and you would presume abundance, what could you honestly do without?
Remember, your life is about what your soul truly wants. And you can find out what it is by joining The 3 MIQs Quest.