The Science Of Rapid Muscle Growth: How To Get Ripped With Mindvalley's 10X Protocol
Well, then it's good news there is.
Vishen Lakhiani, founder of Mindvalley and Lorenzo Delano, Mindvalley's Chief Fitness R&D expert shares the science behind the 10X method in this video from A-Fest.
About The Video
---
The idea that you should spend hours every week in the gym in order to look fit and put on muscles is a myth.
Science has proven that High-Intensity Interval Training (HIIT) is more effective in losing weight and gaining muscle mass than any low-intensity steady state cardio in the gym or even a run in the park.
But most people still think they have to compromise on their time in order to achieve their fitspiration goals. That's because most exercise programs are rooted in outdated science and they're often over-hyped.
To bust those misconceptions, Lorenzo Delano decided to create Mindvalley's own in-house strength and muscle building protocol based on the latest science on fitness.
First, he tested it on himself. Ahem, it went pretty well.
Then he tested it on Vishen. He only spent an average of 40 minutes per week in the gym while his chest size went from 98cm to 103.5cm. He also achieved a 50% strength gain after the training (his flexed biceps are the testimony to this in the video above).
Eventually, Lorenzo turned the Mindvalley team into his guinea pigs and took them to the gym.
His first test group was about 80 people who adopted the 10X method and took quantitative measurements while training. Lorenzo tracked around 50 different variables on each individual.
Did it work? Well, the team got 25% average strength gain in an average of 117 mins a month doing the "Big 5" weight training exercise.
It's pretty much the fastest way to go from tummy to 6 pack, provided you have your diet in check.
Want to give it a try? Lorenzo and Vishen share more about the fascinating study that gave birth to this protocol and explains what the Big 5 exercises are in the video above.

---
Your Biological Age vs Your Chronological Age
Do you know how old you really are?

We all know our chronological age based on the years we've spent on this planet… But it turns out, our longevity has more to do with our biological age.

Ben Greenfield is chronologically 38 years old. But biologically? He has the body and health of a 20-year-old.

How did he reverse his biological age?

In one word - Biohacking

Ben reduced his biological age with simple biological 'hacks' which he honed and perfected over the years. It's so simple in fact, that anyone can do it.

We all have the power to hack our biological age to become younger, healthier, and happier people.
So, if you'd like to learn these powerful hacks for enhanced health & longevity, then join Ben Greenfield, Renowned biohacker, In This FREE Masterclass, Where You Will Learn:

✅ How to maintain your strength, energy and still have a lean, sexy body well into your golden years (this idea will shift your entire idea of what it means to "age gracefully")

✅ Why hour-long exercise routines are a waste of your time and how you can get better results in under 10 minutes.

✅ The FOUR pillars of complete and balanced wellness — This single concept is the key to crafting a ripped, healthy body that will last a lifetime.

✅ A simple 5-minute shower routine that will boost your metabolic rate so you're naturally burning fat throughout the day.
Register Today And Discover Ben's Rapid Biohacks For Enhanced Health & Longevity!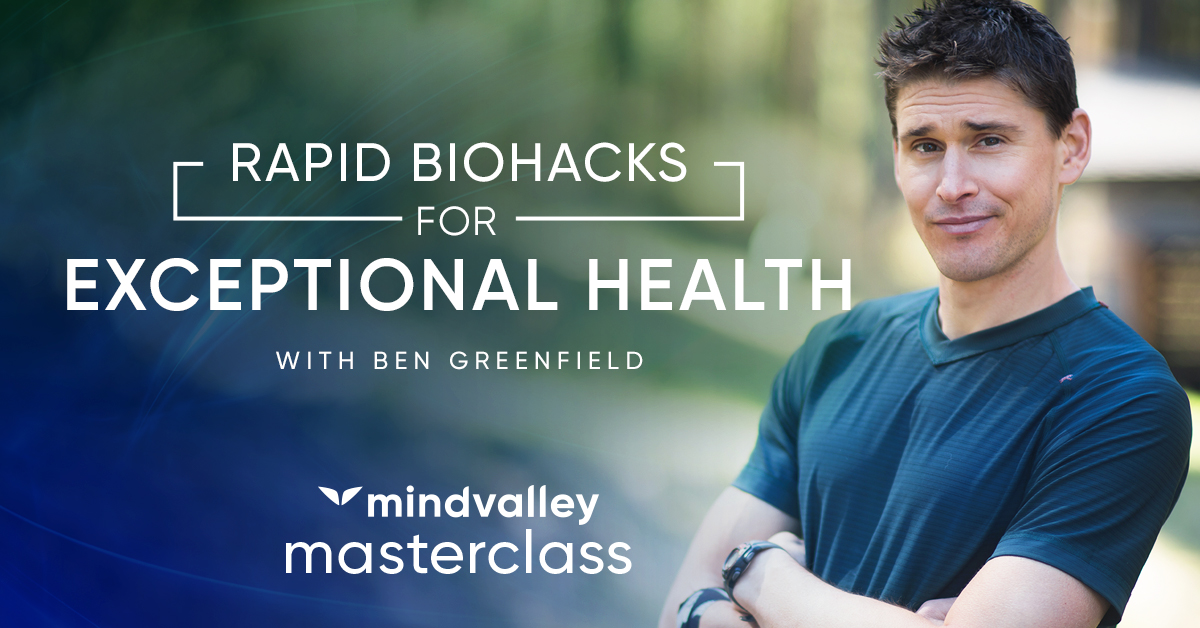 What's your fitness goal for this year? Share it with us in a comment below.