Whether you're a new or experienced coach, an effective approach to increasing your impact and transformation without doubling your coaching hours is through group coaching.
Group coaching programs are great for putting together individuals with different backgrounds but a similar purpose for their life or business, and leveraging the wisdom of the group – plus your coaching skills – to create results for each of them.
Being part of a group offers different perspectives and ideas for problems, and it broadens the view so the most authentic and effective transformations can show up.
Here are the 5 steps you should follow to create and run a successful group coaching program:
Step 1: Identify the Theme
Start by visualizing the main outcome the group is interested in achieving. The outcome can be seen as a theme for the program based on your expertise and niche as a coach.
Be sure you have a "why" to initiate a group coaching program and the area of expertise you want to focus on. Will it be on strategies to build a thriving business, mindset shifts for better performance, or focused on personal development?
If you're not too clear about your group coaching theme, check out these questions for guidance before going on to the next step.
Remember, your theme will ultimately be the common ground for everyone in the group to connect so make sure it's clear before enrolling your clients.
Step 2: Build the Process of Your Coaching Program
There's no ideal guideline on the program length or delivery, but a good rule is…
It's better to go with a program that's too long rather than too short.
It's hard to guess how the group will reach the aspired results or how long it will take to reach them.
So, if this is your first group coaching package, it'd probably be best not to offer express programs. Go for longer periods, around 3 months or more, to ensure the transformation is created for everyone in the group.
In this step, you also want to define which framework would work best to deliver the results regarding the theme you've chosen and based on your expertise.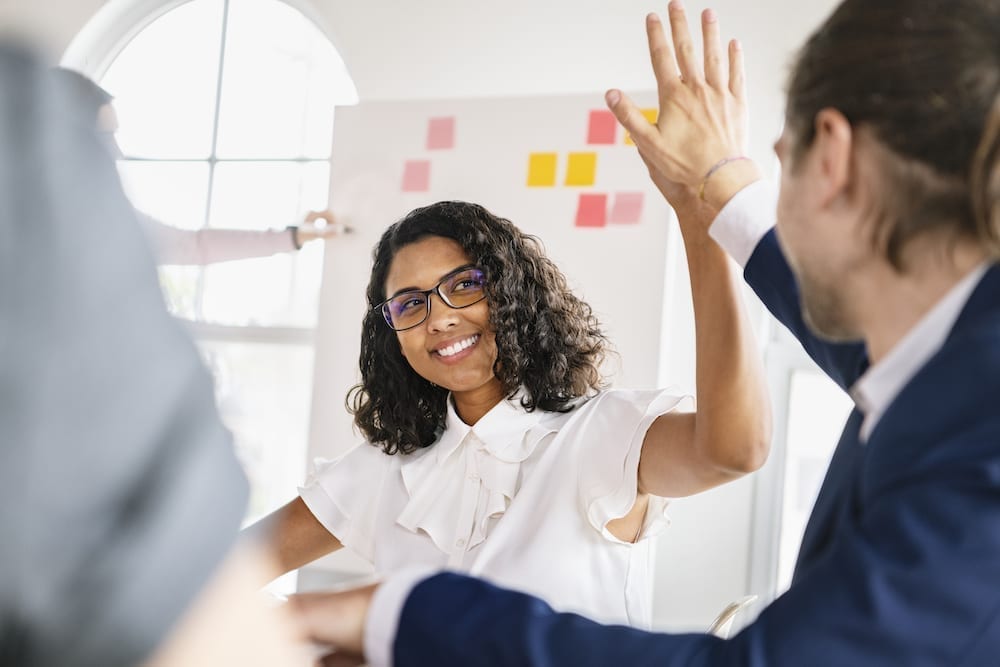 Step 3: Keep Your Group Motivated
The main factor in any group coaching program's success is accountability among members. That is why creating a community among your group members is so important.
It is the support system that clients need to stay motivated and inspired to complete their assignments, worksheets, and hit milestones.
Be sure that your clients are not going through a mental, emotional, or physical checkout from exceeding in their group results and making progress.
You can track if communication among members is disappearing, and check-outs increase if the attendance to sessions decreases and engagement between them becomes a ghost.
An effective way to ensure accountability is by having the members choose an accountability partner within the group and share their weekly progress.
Step 4: Create a Safe Space
The first step to implementing a safe space is building trust between you and each member, and between the group members themselves.
This takes time, so let it take time. If you try to force it, you will not get the results you want.
Creating this space can be through "ice-breakers" during a video call with the whole group, an in-person meet-up, or retreats. Any activity you believe fits your program members and your own skills as a coach.
Step 5: Boost the Group Energy Up
To keep the coaching group activated, they need to be engaged.
Additional to the group sessions, you can include in your programs bi-weekly check-ins with the members individually.
This has two great outcomes: they'll feel they are getting their money's worth plus you'll be able to directly follow up and sense what is their state of mind and how you can help them move forward further.
If there is a lack of communication among the members, you need to trigger it back on so they feel involved and supported.
Some ideas to boost the energy are creating bonus webinars or suggesting question prompts on social media to get members talking.
Follow these five simple steps to give your group coaching plan a solid backbone. With each program, you deliver, make sure you get feedback to refine your structure and hone your skills further. You'll be a group coaching expert in no time!