Are you ready to take your AI game to the next level? Join us for the "3 Days to Mastering ChatGPT" Challenge Launch with Andri Peetso, an entrepreneur and AI expert who is passionate about helping businesses and individuals leverage the power of AI to increase engagement and productivity.
Over the course of three live sessions, Andri will guide you through the ins and outs of ChatGPT, an AI language model that can help you with anything that can be expressed with language. Whether you're a business owner looking to streamline your operations, a content creator seeking new ideas, or just someone curious about the possibilities of AI, this challenge is for you.
Program Outline
Day 1: Introduction & Use Cases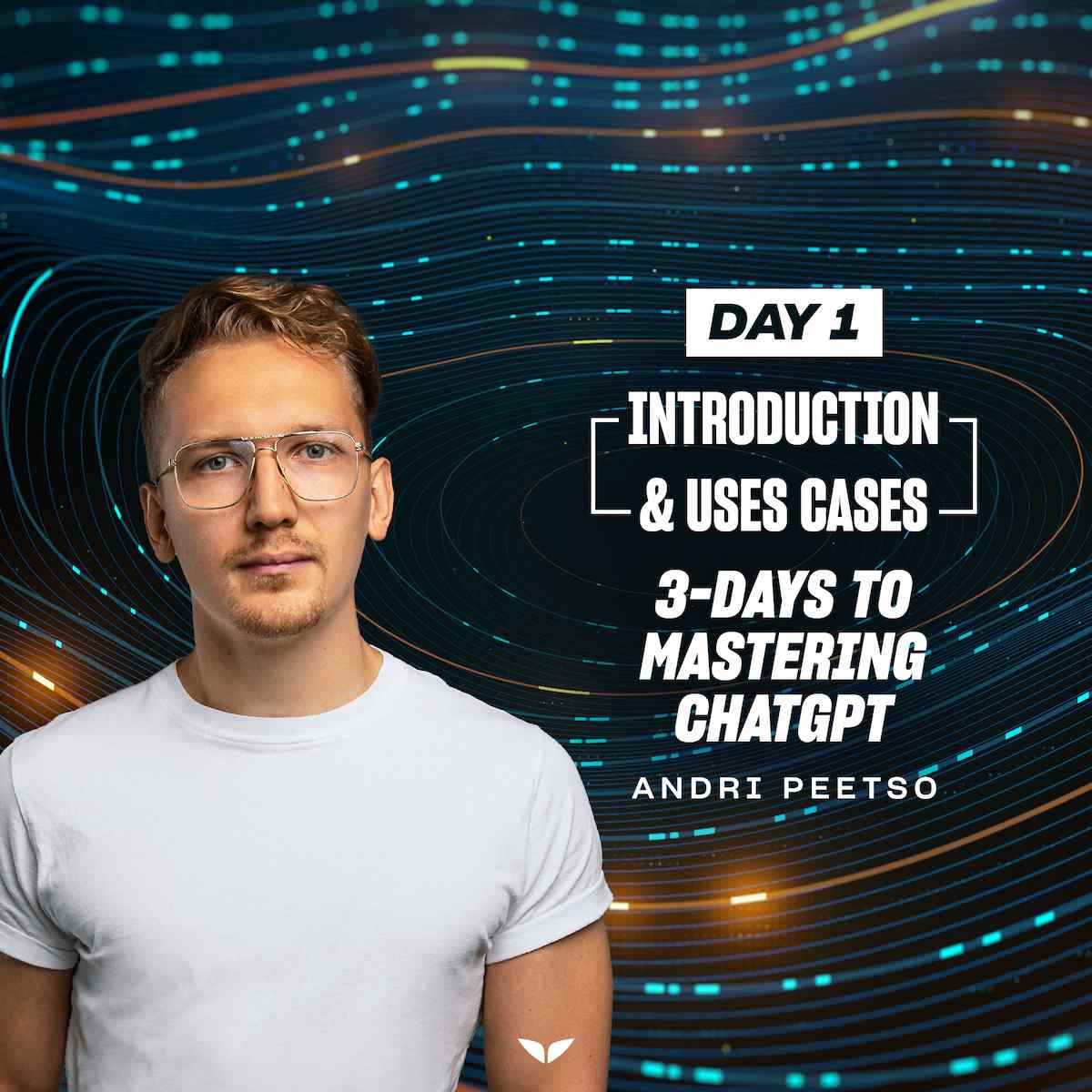 Schedule: Tuesday, February 21,  08:00 AM Pacific Time
Duration: 1 Hour
On the first day, Andri will introduce you to ChatGPT and its many use cases. You'll learn how ChatGPT works and how it can be applied to various domains, from marketing to education to healthcare. Andri will share real-world examples of how businesses and individuals have successfully used ChatGPT to achieve their goals, and you'll get a chance to brainstorm your own use cases.
Day 2: How to Talk to AI & Prompt Engineering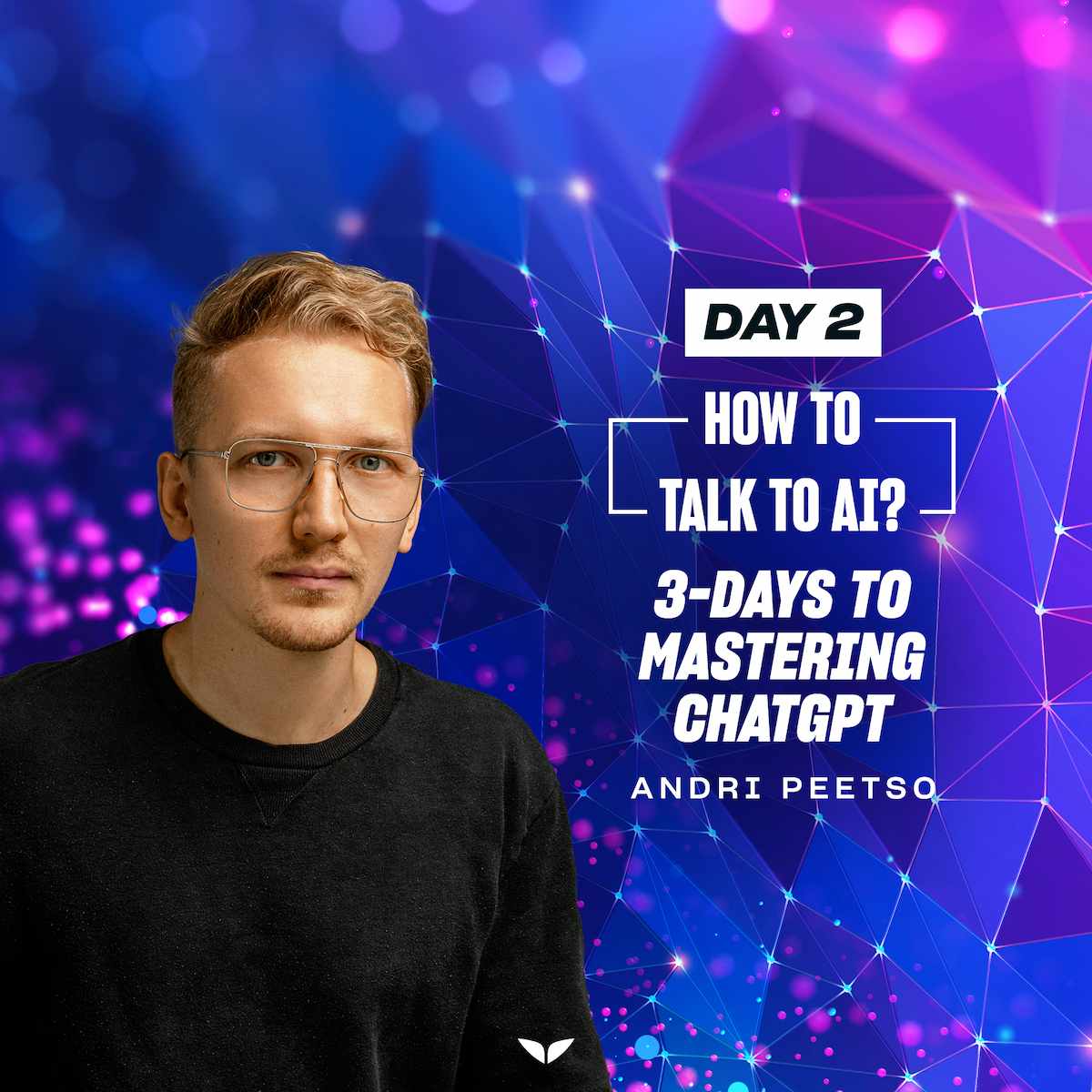 Schedule: Wednesday, February 22,  08:00 AM Pacific Time
Duration: 1 Hour
On day two, Andri will dive deeper into the art of talking to AI and prompt engineering. You'll learn how to ask the right questions and get quality information from ChatGPT, rather than generic outputs. Andri will share tips and best practices for prompt engineering, including how to structure your prompts and how to use context to get more relevant responses.
Day 3: Advanced Uses & Prompt Frameworks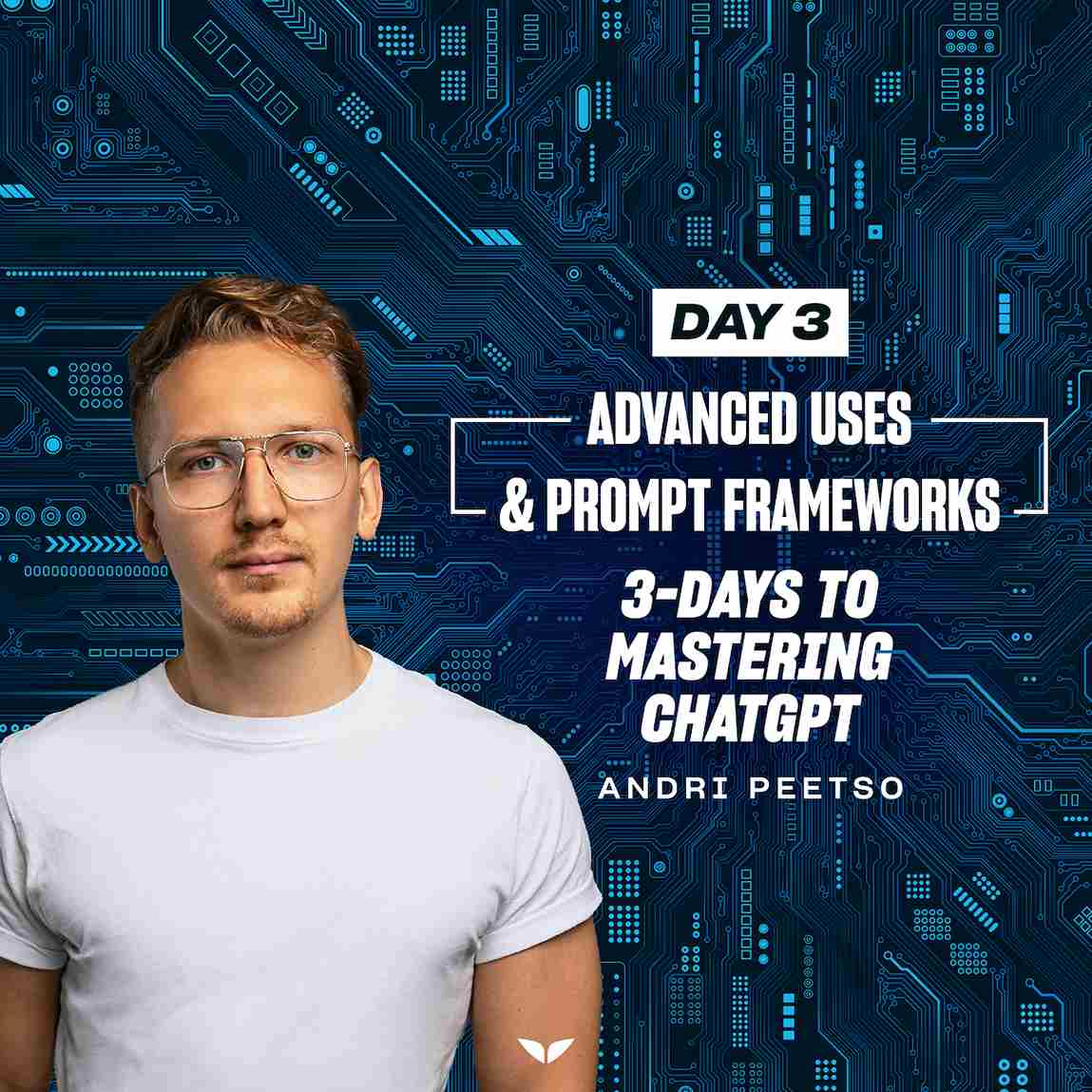 Schedule: Thursday, February 23, 08:00 AM Pacific Time
Duration: 1 Hour
On the final day, Andri will show you just how powerful ChatGPT can be with its advanced uses and prompt frameworks. You'll learn how to build and run prompt frameworks, which can be used to automate tasks and generate new ideas. Andri will share some of his own frameworks and show you how to create your own.
Special Bonus
In addition to the live sessions, you'll also get access to a telegram group where you can receive guidance and exercises to practice what you've learned. Andri will be available to answer any questions you have and provide feedback on your prompts.
About Andri Peetso
Andri Peetso is an entrepreneur at the forefront of the AI revolution, with a passion for technology and a broad range of experience across various domains, including visual creation, web development, and AI. As co-founder of Conturata-AI, an AI learning platform, Andri is helping businesses increase engagement and productivity by leveraging the power of AI. He is also co-founder of Whomesome, an educational platform focused on creating healthy environments and holistic homes, as well as co-founder of Conturata, a social media growth agency.
With his nuanced knowledge across multiple verticals, Andri is uniquely qualified to help people master ChatGPT for various business and productivity purposes. He has a strong focus on practical solutions and real-world results, making his insights and experiences highly valuable to those seeking to unlock the full potential of AI.
---
This workshop is available for existing Mindvalley Members only.
Not a Member yet? Sign up on mindvalley.com/membership.
---