Vishen Lakhiani And Fellow Visioneers Pitch The Winning Idea At XPRIZE
The winning pitch for 2015 was the "Human Dignity" XPRIZE, conceptualized by Vishen Lakhiani, Jessica Banks, Jonathan Knowles and Christina Weiss Lurie, which aims to revolutionize refugee housing by making it cheaper and more durable, with sustainable and groundbreaking technology.
Every year, the XPRIZE Foundation organizes a highly leveraged, incentivized prize competition that pushes the limits of what's possible to change the world for the better. The winning XPRIZE idea leads to hundreds of millions of dollars going into innovations to solve massive world problem.
In 2005, Vishen Lakhiani was part of the winning team at XPRIZE Visioneering. With his team, he helped pitch the idea that won first prize at the summit in Rancho Palos Verdes, California.
The proposal? Vishen and his team of fellow visioneers wanted to help improve refugee housing worldwide.
What Is XPRIZE Visioneering?
---
Held on May 7th-8th 2015 at Terranea Resort in Rancho Palos Verdes, California, the annual XPRIZE Trustees' Visioneering gathered 150 corporate leaders, philanthropists, journalists and thinkers to debate the grand challenges faced by humanity.
Previous XPRIZE competitions included a self-guided education platform to teach kids to read and do math, funded for $15 million USD by Elon Musk. And the Ansari X Prize in 2004 aimed to inspire research and technology for space exploration.
The topics explored at the visioneering event focused on the future of five key areas:
Home
Mind
Food
Health
Work
Teams were formed to conceptualize and pitch their ideas. The judges consisted of XPRIZE Foundation and Singularity University co-founder, Peter Diamandis, renowned scientist, entrepreneur and author, Astro Teller, and Chief Technology & Strategy Officer of Cisco Systems, Padma Warrior.
Vishen And Team Pitch The Winning Human Dignity XPRIZE Idea
---
The winning pitch for 2015 was the "Human Dignity" XPRIZE, conceptualized by Vishen Lakhiani, founder of Mindvalley, alongside Jessica Banks, founder of RockPaperRobot, Jonathan Knowles, senior advisor at Autodesk, and Oscar-winning documentary filmmaker, Christina Weiss Lurie.
The "Human Dignity" XPRIZE aims to revolutionize refugee housing by making it cheaper and more durable with sustainable and groundbreaking technology.
"There are 80 million forcefully displaced people around the world today," explained Vishen Lakhiani. "Some are refugees displaced because of war. Others, because of economic downturn, ethnic riots and natural disasters – like the earthquake in Nepal and the displacement of the Rohingya community.
Every day, 32,000 more people are displaced. If all the displaced people in the world today were gathered you would have the 26th largest country in the world. We aren't doing enough," Vishen concluded.
Developing Self-sustaining community infrastructures
"The world needs to pay more attention to the refugees," he added. "That's why we call it the Human Dignity XPRIZE. The challenge is to develop a scalable, instantly deployable, and self-sustainable community infrastructure so refugee camps and slums can be turned into functional townships – think a pack-and-go housing solution that provides efficient water, electricity, and sanitation, has a lifespan of at least six months, and can be adapted to multi-terrain and climate conditions."
The XPRIZE Foundation has gone on to award prizes for earthquake alert systems, off-grid energy access, and lifting farmers out of poverty. And in 2018, the top prize design went to Coral Survival, a plan to help revitalize the dying coral reefs.
The XPRIZE Foundation isn't just about recognizing top notch ideas from our world's leading thinkers and philanthropists. It's about putting this ideas into action.
---
Most people think that learning is the key to self-development
It's how we were raised – when we were young, we studied algebra, read history, and memorized the names of elements on the periodic table.

But once you grow up and experience life, you realize that you can't 'learn certain things – like personal growth.

Vishen Lakhiani, founder of Mindvalley and New York Times Bestselling author, discovered that the key to self-development was not to 'learn', but rather, to 'transform'.
If You Want To 'Transform' And Are Ready To Accelerate Your Own Personal Growth, Then Join Vishen Lakhiani's FREE Masterclass, Where You'll Learn:

✅ The Framework For Flow: The 3 Big Pillars of Life which will help you to rapidly grow on autopilot, so personal development happens naturally.

✅ How you can harness the energy surrounding you to automatically attract the tools you need to unlock your true potential, allowing you to easily make transformative shifts in your life.

✅ Apply the #1 principle to eliminate obstacles in your life, and subsequently show up as your best self and make a positive impact on the world.
Discover The Proven Framework for Extraordinary Transformation and a Brand New You in 2020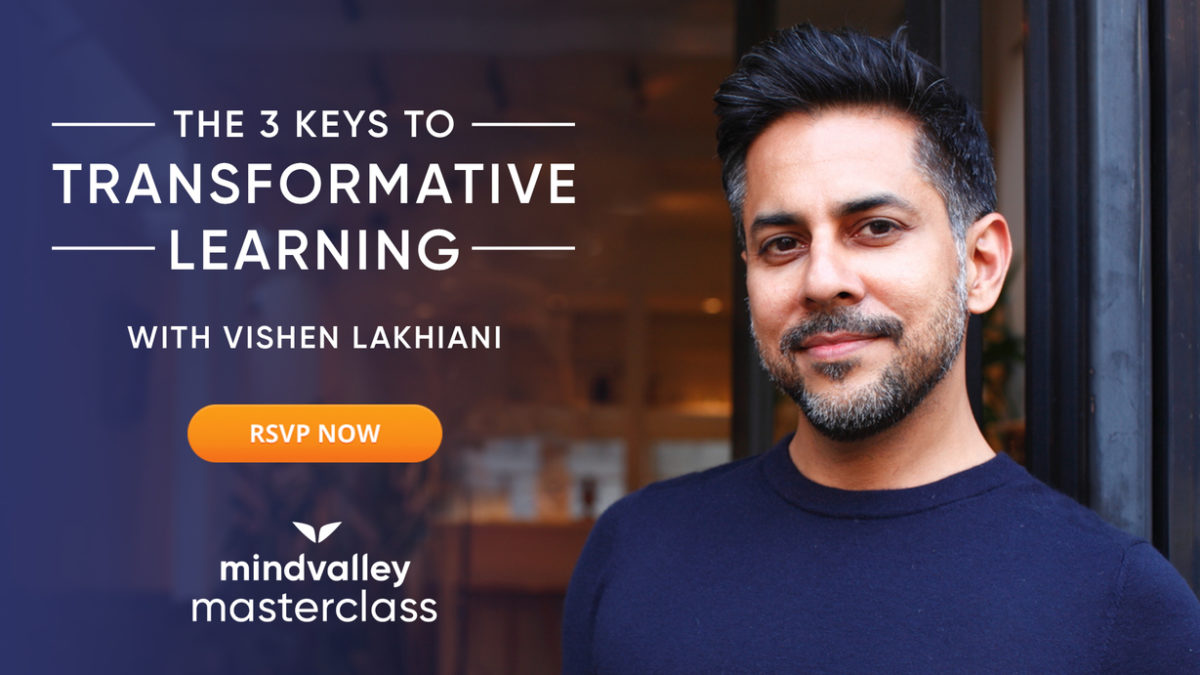 What would your winning XPRIZE pitch sound like? Share your thoughts below.