Back in 2014, A-Fest West took place in Puerto Vallarta, Mexico. During the event, C-Founder of Google X, Tom Chi, took to the stage to deliver an incredible talk. 
And the crowd loved him – he was rated one of the best Awesomeness Fest speakers to date.
Tom was the head of innovation at Google X and the creator of the first Google Glass Prototype. In this talk, The Democratization of Genius, Tom highlights 5 mental debugs to redefine how we view the world and how we can unlock human psychology towards global prosperity. 
At Mindvalley, we have so much respect for Tom because of his diverse professional background (from being an astrophysics researcher to a Fortune 500 consultant) and for his innovative ideas on leadership, human development, and entrepreneurship around the globe which has influenced thousands.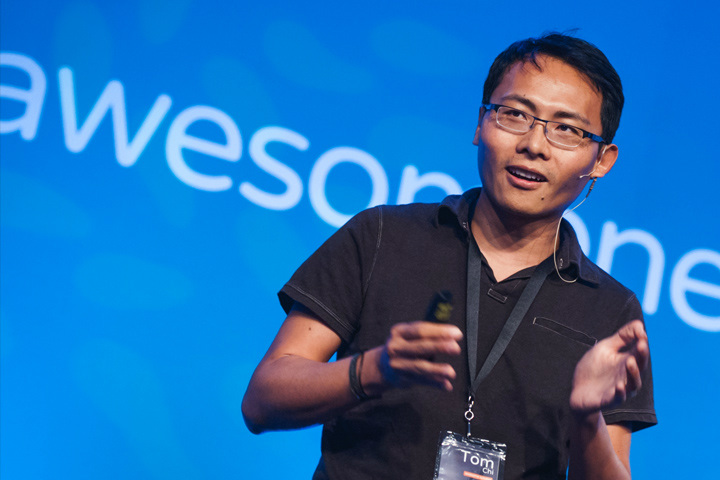 Here are our favorite quotes from Tom's talk at Mindvalley's A-Fest. 
Leave a comment below and let us know which ones resonate with you most!
1. "'Knowledge' is a noun, and accumulating knowledge is great. But 'knowing' is a verb that we choose to do with our knowledge."
2. "You need to be in a state of learning in order to solve new problems; create new possibilities; to do something that hasn't been done a million times before." 
3. "We apply nouns to human beings… And that's where the greatest crimes can happen. We call people Muslim, or Republican, or any other noun. And as soon as we say that noun we're done thinking about them…. Challenge the nouns you come up with. Spend another 5 minutes to think about the verbs to describe a person so that you become more present."
4. "[The knowledge gap is not the most important thing. It's about] getting across the practice gap… At the end of the practice gap is the beginning of the Mastery Gap. Mastery is the place where human possibility is expanded."
5. "The closer that you can stay in your medium, the more that you have the possibility of creating your masterpiece… Instead of chasing success, the only question to ask is: How to love your medium enough to create your masterpiece?"
Don't forget to leave a comment below.
This talk was filmed at A-Fest, Mindvalley's transformational event that gathers an extraordinary community of change-makers and visionaries who are driven by epic ideas to impact the world.