Have you ever wondered what Energy Medicine does to the body? It's difficult to defend the concept of Energy Medicine unless you are shown what it can do.
But Master Energy Medicine Practitioner, Donna Eden, is no stranger to skepticism. She suffered from multiple sclerosis, asthma, and heart attacks. She tried traditional medications prescribed from her doctors, but nothing worked.
When multiple doctors told her she would never fully heal from her ailments, Donna turned to energy medicine. Since then, she has been treating people with major illnesses with energy medicine and there are great results.
If you're skeptical of energy medicine, Donna Eden can prove the powers of natural healing through energy medicine in the video above.
Skeptical of Energy Medicine? Watch The Video To Change Your Mind
---
In modern day society, we're sensitive to the judgments held by the "hard science" folks and skeptical of energy medicine.
But in the 7-minute video above, Master Energy Medicine Practitioner, Donna Eden, demonstrates the power of energy medicine on an audience member. And not just any audience member, but a skeptic.
In the video, you'll learn:
The significance of our electromagnetic fields in energy medicine.
The science behind how we can use magnets and other energy medicine tools.
With the simple exercise shown in the video, you can reverse stagnant energy — which is great for arthritis, fatigue, or when you're just starting to feel sick. Note: This is not set up or staged.
Three Benefits of Energy Medicine On Healing Your Body
---
Western medical practices is based on taking pharmaceuticals, antibiotics and over-the-counter medications. The notion that taking a pill heals everything is not always accurate.
When Donna Eden grew up with ailments such as multiple sclerosis and asthma, she too turned to medication to alleviate her symptoms. But after years of taking the same medications, she found that her body wasn't healing.
Essentially, her body stayed the same and she looked to energy medicine as a natural way for her body to heal. For over 40 years she has been a natural healer to others who suffered from similar sicknesses as her.
Moreover, she believes that through energy medicine, you can actually get healthy and never experience the same illnesses again. Here are three benefits of energy medicine on healing your body:
More Energy – When you constantly battle ailments such as a cold or flu, you lose energy. When you take antibiotics to treat your illness, it takes a toll on your immunity leaving you feeling tired. When you use energy medicine, your body will get rid of the toxins of past medications and will leave your body feeling more energetic.
Less Dependency On Medication – When you use energy medicine, you become less dependent on medication. Instead, your body gets used to the natural healing powers of energy medicine.
Healthy Immunity – Taking anti-biotics depletes your immunity of healthy bacteria because it suppresses it. When you use energy medicine, your immunity goes back to its normal state.
---
Revitalize Your Health With Energy Medicine
What would it be like if you could heal and revitalize yourself?
And what if you could enjoy living in your own body more?
Master Energy Medicine Practitioner Donna Eden is no stranger to chronic illness.
After visiting many doctors, she made the decision to do something about her own ailments. That's when she turned to energy medicine.
Now, Donna has over 40 years of experience. Her expertise in energy medicine has transformed the lives of over 100,000 of her students (including many physicians, nurses, and other mainstream health professionals).
And as part of her mission to increase global health and wellness, she has decided to bring energy medicine to Mindvalley.
You don't have to be a gifted healer to start using energy medicine on yourself and your loved ones.
If You Want To Discover Powerful Practical Ways to Bring Energy Medicine Into Your Everyday Life, Then Join Donna Eden, Master Energy Medicine Practitioner, In This FREE Masterclass, Where You Will Learn:
✅
Simple techniques to tap into your hidden reserves of life energy.
With these simple techniques, you'll heal, restore, and revitalize yourself naturally.
✅
Conquer stressful situations with two fun energetic shortcuts.
Anyone can do this. You don't have to be a healer.
✅ And so much more…
Register Now to Master the Secrets of Energy Medicine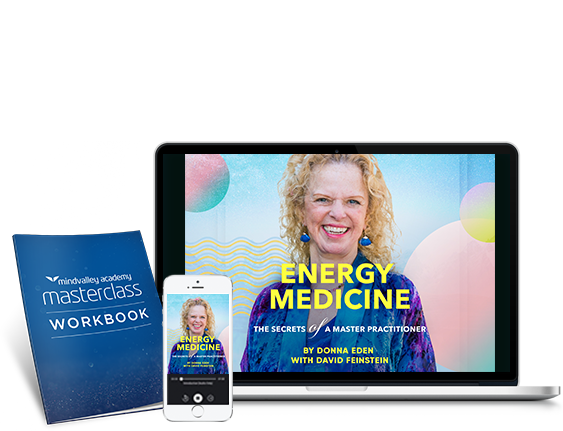 Discover Four Powerful Practical Ways to Bring Energy Medicine Into Your Everyday Life
Choose a date and time below to tune in to the broadcast in your own local time zone.
[blink_amp_form webinarid="6362335083233280"]
---
What's your experience with Energy Medicine?
Share it with the tribe in the comments below!