How To Cultivate Self Knowledge On A Daily Basis
How well do you know yourself? Is it easy for you to understand why you feel the way you feel? Or why you do the things you do?
This is the essence of self-knowledge: being able to understand who and what you are on a fundamental level.
We may spend a lot of time and energy trying to learn more about ourselves. And yet, there are still many things that can catch us by surprise.
Here's how to expand your self-knowledge to cultivate more personal wisdom on a daily basis.
What Is Self Knowledge In Psychology?
---
Self-knowledge is defined as the ability to fully understand one's thoughts, emotions, and the way they push one into taking action.
Essentially, it's about figuring out who we are at our core and knowing how much of our life is in alignment with our true selves.
You need to be able to understand your core values, thinking patterns, desires, and beliefs. And once you're able to do that, you can make choices that will bring your life ever closer to the ultimate in fulfillment. 
Unfortunately, this is easier said than done. But there are several methods you can use to start diving deep into who you truly are. 
How can I have self-knowledge?
Before you can develop self-knowledge, you have to understand the roadblocks that stand in your way. 
First of all, most people spend the majority of their time on autopilot. Such mindlessness doesn't allow us to take a closer look at who we really are.
Another roadblock? We often identify too strongly with our thoughts and feelings, equating them with our innermost selves and judging them.
It's important to note that you are not your thoughts. You are not your feelings. Both these sensations are fleeting. And take a moment to consider: who is the person observing the thoughts and feelings?
If there were no separation between you and what you think and feel, you wouldn't be able to observe them. The simple fact that you can observe your thoughts and feelings proves there is a separation. 
Take some time to ask yourself the following:
What makes me excited?

Are there certain emotions would I like to feel more/less of?

What kind of work is meaningful to me?

What do I want to do with my life?

What's something about myself that I'd like to change?
Once you start, you'll likely come up with all kinds of questions that you'll want answers to.
Pretend like you're meeting someone you're interested in, and think about what it is you'd like to know about them. This way, you'll be able to look at yourself from a different perspective, which can do wonders for gaining self-knowledge.

What is the importance of self-knowledge?
Why should you strive to know yourself on a deeper level? It's the first step towards building your desired life. Without a clear picture of who you are, you can't choose the direction you want to move in.
Once you get to know who you are, you can start building a vision of your best self. And you can start to think about the steps you need to take to make this vision a reality to start creating a life of purpose and meaning.
What are self-knowledge and values?
Values play a vital role in our lives. They guide us on a daily basis, pushing us toward our goals and pulling us from what doesn't serve our best interests.
Some values are learned, others are imposed. But getting to know yourself on a deeper level will help you uncover your core values.
The road to fulfillment and lasting success can only be found through the exploration of self-knowledge. Stay in touch with your core values and be true to who you are. 
---
Gain Instant Clarity On What You Really Want In Life – And Have It All
There's a reason that so many brilliantly talented, naturally creative, intelligent and capable people never reach their potential, and it is, quite simply, a lack of direction.

Even if you have a vague goal in mind, you still need a plan, a process to get you there.

You can have the most expensive, fastest car in the world, but if you set off without a clear idea of where you're going, then the rusty old Beatle with a map and compass will beat you there every time.
If You're Ready To Experience The Extraordinary Life Design System That Gives YOU The Power To Author Your Ultimate Life, Then Join Jon & Missy Butcher's Free Masterclass

Where You will Learn:

✅ Are you stuck on the hamster wheel of life, instead of rushing towards your fullest potential? Discover how to escape the 3 soul-crushing reasons most people unknowingly cheat themselves of their greatest lives.

✅ Do you always set goals and rarely achieve them? It's not your fault – traditional goal-setting is seriously incomplete! Discover how Lifebook empowers you to rapidly and consistently take charge of your life, and realize your every dream.

✅ Experience the 'Instant Clarity' exercise: a powerful visualization exercise that guides you through your ideal day – and gives you instant clarity on who you really are, and what kind of life you really want to be living.
Step Into The New Year With A Crystal-Clear Vision For Your Ultimate Life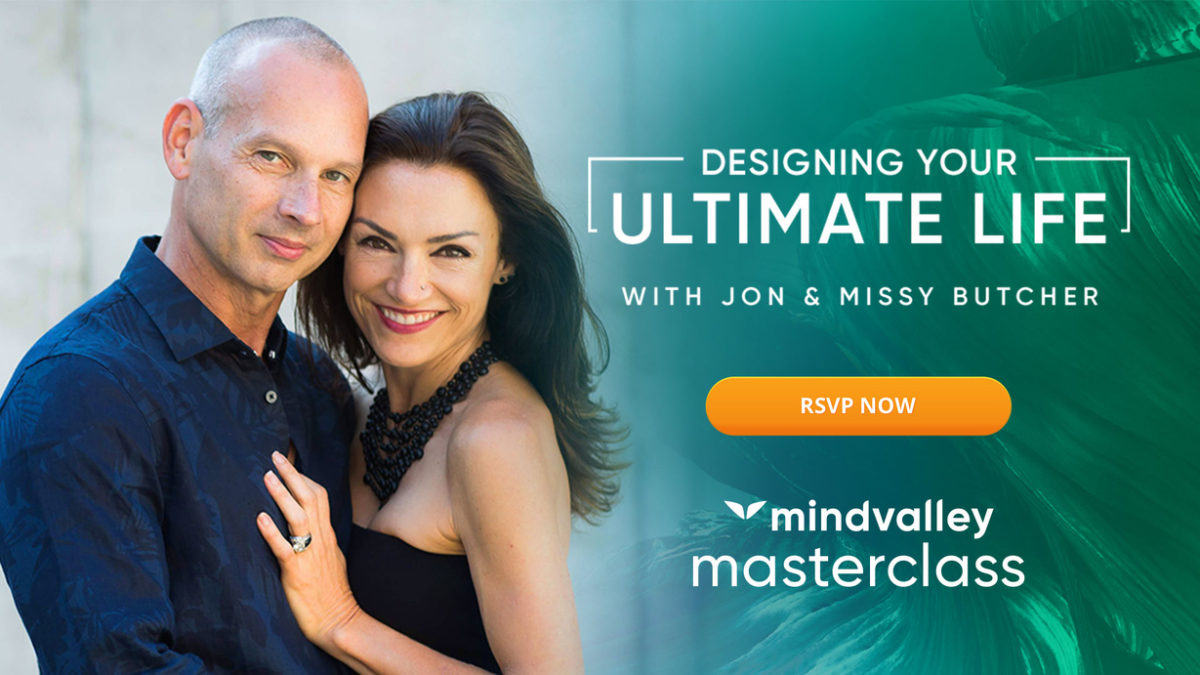 So, how well do you know yourself? Share your thoughts below.