Productivity In The Time Of Corona(virus): 6 Things You Can Do From Home
As nations shut down borders and issue lockdowns, many of us are forced to work from home. This doesn't mean productivity slows down – in fact, it's a great opportunity to sit down and focus.
Here are six powerful tips to keep your personal and professional growth on track – even when you're practicing social distancing.
Maintain a regular schedule.
Although remote work sounds like a blank check to do whatever you want, you still need a schedule. Find the time you're most productive and plan your day around it.
When you customize your schedule, you're taking advantage of your most productive period. This means you're always doing your best work.
If you're a morning person, start work as soon as you wake up. Tackle the hardest tasks when you're most rested and alert. You can work on less important tasks later in the day.
On the other hand, if you're productive at night, then sleep in. Clear low priority tasks after you wake up. Once night comes, get in the zone and focus on what's important.
The trick is knowing when you're most productive and then planning your day around it.

Be organized
Working from home means you're completely in control of how you want to work. But without a manager breathing down your neck, it's easy to miss deadlines and meetings.
If you want to be efficient, learn to be organized. Mark important dates on your calendar. Take note of the deadlines for each task. Have a to-do list every day.
Show your stakeholders that you're capable of getting things done, even without supervision. They'll trust you and be more confident in your ability.
If it's difficult for you to get organized, use productivity tools. There are plenty of free apps and programs which can help track your progress and increase efficiency.
Communicate, Communicate, Communicate
When working remotely, there's a tendency to just focus on work and ignore everything else. But if your team doesn't see or hear from you, they might think you're slacking off.
A great way to avoid that is by constantly communicating. Send regular updates to your boss. Participate in chatroom discussions. Reply to emails promptly.
Constant communication also ensures that you're always on track. You won't waste company resources working on the wrong thing.
More importantly, your teammates will know that you're on top of things. This goes a long way towards building team confidence and morale.
---
If You Want To 'Transform' And Are Ready To Accelerate Your Own Personal Growth, Then Join Vishen Lakhiani's FREE Masterclass
Choose a date and time below to tune in to the broadcast in your own local time zone.
[blink_amp_form webinarid="5987823134703616"]
---
Draw a line between work and play
One of the biggest dangers of remote work is mixing your personal and professional life. You don't want to feel like you live in an office, or that you're always on call.
There needs to be a boundary between work and play. Without it, your family might think it's okay to interrupt you while you're working. Your clients and bosses might also think it's fine to call you anytime.
Set a specific working schedule and stick to it. Tell your family not to bother you during this period. Similarly, don't respond to work emails or calls outside of your working hours.
Setting strong boundaries between your personal and professional life ensures that you have balance and focus. Whether it's dinner with family or an important business call – you'll always be present.
Stay active!
Studies have linked too much sitting with early death. Our homes are likely to be more comfortable than the office, so remember to move!
Set a timer for breaks and do something physical. Contrary to popular belief, you don't need a gym – you can work out even in your living room.
Simple exercises like pushups or even light stretching for a few minutes is enough. The goal is simply to move your muscles and get your heart pumping.
By exercising regularly you won't just be burning calories – you're literally extending your life. Studies show that having a 'movement break' every 30 minutes significantly lowers the risk of early death.
Use this time to work on yourself as well
Working from home is one of the BEST times to focus on personal growth. Cook healthy meals. Reconnect with friends and family. Plan for your future. Use this time to work on yourself as well.
It's a chance to sit down and really focus on you.
Ask yourself – what are the skills that you've always wanted to learn? How close are you to your goals? What are the things in your life that you wished were different?
Once you have clarity on these questions, you can start strategizing on how to achieve them.
Mindvalley's founder, Vishen Lakhiani, believes that there are three most important questions everyone should ask themselves. If it's your first time working on personal growth, that's a great place to start.
The good news is that whatever your personal goals are, it's easy to work on them. There are tons of online resources to learn from, whether it's YouTube, podcasts, or online training programs. You can develop yourself, all from the comfort of your living room!
And there you have it, six tips to keep you productive while working from home. Do you have a tip of your own? Share it with us in the comments below!
Looking to completely transform yourself? Try Mindvalley's Quest All Access by signing up below and learn from Mindvalley's entire training library!
---
If You Want To 'Transform' And Are Ready To Accelerate Your Own Personal Growth, Then Join Vishen Lakhiani's FREE Masterclass, Where You'll Learn:

✅ The Framework For Flow: The 3 Big Pillars of Life which will help you to rapidly grow on autopilot, so personal development happens naturally.

✅ How you can harness the energy surrounding you to automatically attract the tools you need to unlock your true potential, allowing you to easily make transformative shifts in your life.

✅ Apply the #1 principle to eliminate obstacles in your life, and subsequently show up as your best self and make a positive impact on the world.


Discover The Proven Framework for Extraordinary Transformation and a Brand New You in 2020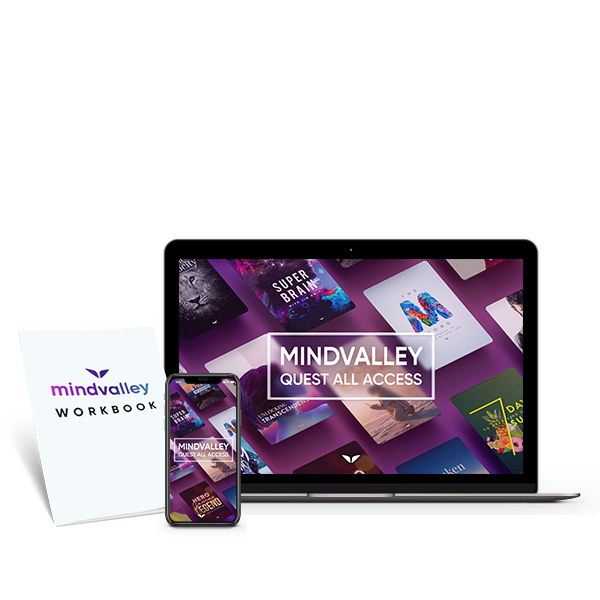 Vishen Lakhiani Shares The Most Powerful Practices For Driving Transformation.
Choose a date and time below to tune in to the broadcast in your own local time zone.
[blink_amp_form webinarid="5987823134703616"]
---