The Truth About Abundance: Notes From Christie Marie Sheldon's Masterclass [Infographic]
Christie Marie Sheldon is Mindvalley's No. 1 Bestselling and most viral author. Her Masterclasses are always breaking records with tens of thousands of people tuning in to hear what this gifted intuitive life coach and author has to say.
When Christie Marie Sheldon's first Masterclass came out in 2014, it broke a decade-long record here at Mindvalley. 26,000 people from 80+ countries were live AT THE SAME time, experiencing Christie's wisdom and a wonderful transformative meditation session. Since then, the session has only gotten more popular each year.
She's dedicated her life to helping others clear their abundance blocks and build a better, richer life. Over the last 15 years, she's worked with CEOs, celebrities, political leaders, and more to help them overcome their abundance blocks.
So what are abundance blocks? And why do we need to clear them?
In the infographic below you'll find the truth about abundance blocks and energy clearing from Christie's Unblock Your Abundance Masterclass.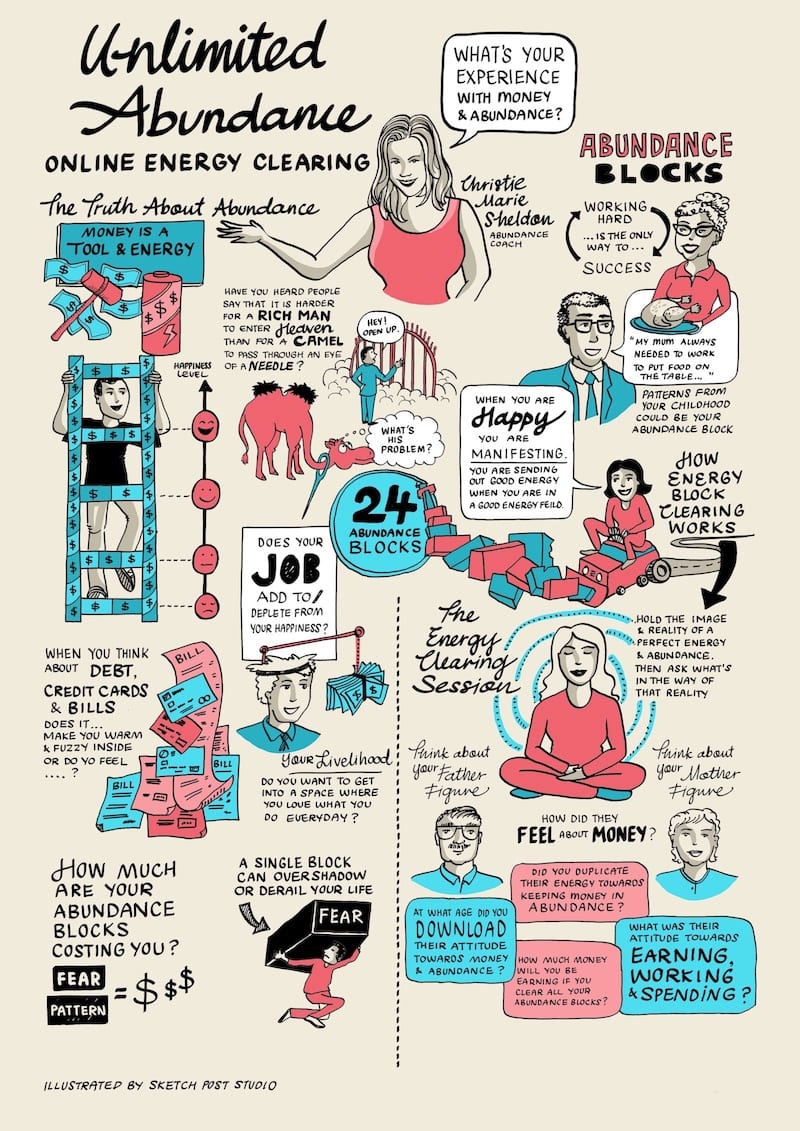 Abundance blocks are limiting beliefs and thought patterns that constrict your life and keep you trapped there. These are the obstacles that, when you're seemingly doing everything else right in your life, keep you from achieving your goals and dreams. They come in the form of self-sabotaging behaviors and negative mental stories. Ultimately, they keep you from achieving real success.
All of these abundance blocks come in different forms — 24 forms in total. They might come in the form of thinking you don't deserve money, so you don't end up promoting yourself at work.
Or perhaps they come in the form of making you think that only bad people are rich, so you subconsciously pull away from your own possible achievements.
Or perhaps you think working hard is the only way for you to achieve success, so you pull the long haul overnight but don't put your energy where it needs to be.
There are 24 abundance blocks in total, partly because society doesn't have a very healthy relationship to money. Most people are still in a state of real or perceived scarcity.
That's why it's so important to determine what your blocks, thought patterns, and subconscious beliefs are. Have you ever asked what relationship you have with money? Do you feel like it comes naturally to you? Or do you feel guilty for having or wanting more money?
The bad news is that most of us have these blocks. The good news is that it is possible to work through these blocks. One of Christie Marie Sheldon's major gifts is that she's able to use energy clearing techniques to help people overcome their limitations and accomplish exponentially more things with fewer challenges.
Eventually, they notice that instead of striving for their success, it ends up coming naturally to them. Just as if they were attracting it with a magnet. All because they learn how to attract abundance into their life and start contributing more to the world they want to live in.
What did you experience during the Masterclass with Christie? And which abundance block would you like to clear this year? Leave your comments below.
---
Here's How To Clear The Biggest Obstacles To Your Success
The biggest obstacle to your dreams isn't hard work - it's something you're not even aware of.

You could be working hard in your career, your health, and your relationships – but still not achieve success.

Why?

It's because you still have what we call 'Abundance Blocks' – limiting beliefs and thought patterns that cause you to unconsciously pull back from success.

The good news is that you CAN easily remove your Abundance Blocks - in less time than it takes to finish a cup of coffee.
So, if you want to eradicate these Abundance Blocks from your life, sign up for this Free Masterclass With Abundance Coach, Christie Marie Sheldon, Where You Will Learn:

✅ How to clear ALL your Abundance Blocks through an incredible 20-minute Energy Clearing session with Christie as she taps into your energy field and amplifies your ability to attract wealth.

✅ What are the 24 Abundance Blocks that lock you in a scarcity mentality, and how to destroy them so you can create a direct path to success and abundance in 2020, and

✅ Everything else you need to know about Abundance Blocks, as Vishen Lakhiani dives deep in a Q&A session with Christie to find out just how fast a newbie can expect results, and how exactly Christie taps into your energy through the internet.
Sign Up Now To Clear The Energy Blocks That Stop You From Attracting The Abundance You Deserve!