For most of our lives, we sat in classrooms to be told the rules of engagement for life.
Not to question and experience, but to mechanically replicate the systems of the past.
What to believe, who to be, and how to be a good member of society.
And often, that's come at the expense of our own growth, truth, and evolution.
And the well well-being of the entire planet.
We've seen where that path has taken the world and that's why Mindvalley University has put together a pioneering curriculum to defy everything you, or your kids, ever learned in school.
We're here to innovate and give a major upgrade to what learning means to your family and have created a one-month experience that invites your kids' minds, bodies, and spirits to unfold alongside a global tribe of change-makers.
Here are 5 ways Mindvalley University has been designed to empower your children to be mindful and inspired creators of the future.
1. Experiential Learning Experience
---

One of the core values woven into this year's curriculum is self-discovery through play.
Mindvalley is working with pioneers in the field of education to produce a curriculum that is strongly geared around experiential learning.
How To Put Yourself in an Accelerated Cycle of Growth
By Vishen Lakhiani
By the end of this Masterclass, you will walk away with the tools and techniques you need to automate your personal growth and unlock your extraordinary potential.
Reserve My Spot
Kids 6-12 years old will engage in exciting activities like the Peace Guardians' Quest, which is inspired by Joseph Campbell's "Hero's Journey." In this quest, students will move through a series of values as the hero of their own story, with each value corresponding with activities that allow them to uniquely embody that value within themselves.
Activities like the Peace Guardians Quest cultivate emotional literacy, community connection, and empowering leadership skills, but not in the traditional, or "codified," kind of way.
Instead, like many of the other activities designed to inspire the kids to learn by doing throughout the month, they allow for experiential learning.
This means that each activity invites students to take their own, unique, journey.
Of course, these activities are also tailored to suit the needs and journeys of different age groups.
Teens will enjoy workshops like Busting Through Limiting Beliefs with Shelly Lefkoe, whose programs have reached over 200,000 people worldwide, as well as empowering workshops by the former American Grammy-nominated comedian Lisa Lampanelli on "Love Your Body, Feel Your Soul" and "The Power of Laughter."
Among the highlights will also be weekly workshops with Nicole Gibson, a multi-award winning social entrepreneur, that create a safe space for teens to connect, express themselves and acknowledge their alikeness and differences by stepping into their voices, stories, and beliefs.
Designed to ignite the transformation of the youth's inner and outer worlds, these experiential workshops will be cathartic ignitors of change.
2. Powered By Everything That Schools Don't Teach Your Kids
---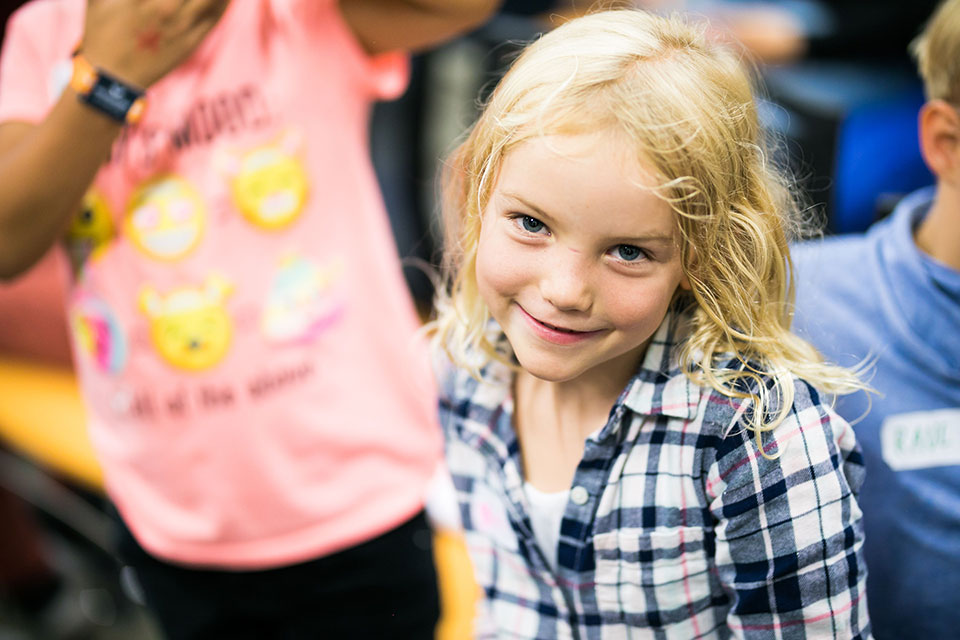 This year, Mindvalley University has teamed up with WOW Learning Lab and pioneering educational specialists to create a program for kids and teens that is fueled by innovative and up-and-coming approaches in education.
Community and collaboration are the heart of the program, designed to unlock the co-creative power of community.
While we learned to memorise Maths and Geography in school, nowhere were we taught the importance of co-creation and community.
The power of tuning into own envisioning potentials and re-imagine the world as we want it to be.
Of harnessing the creativity and power of the tribe to birth broader, world-shaking, projects.
That's why Mindvalley University's youth program emphasises these missing elements: to ensure our children are fully equipped to be not just participants but co-creators and designers of the future.

3. Learning In A Global Campus
---

Last year, people from over 70 countries gathered for Mindvalley University.
Mindvalley University's youth program will be a culturally rich experience that will challenge and encourage kids and teens to explore their place in a globalised world.
They will have the chance to experience unity and learn alongside one of the most international communities in the world.
To ask the questions that come with that expanding scope.
They will build connections that cross boundaries and belong to a tribe that espouses our unity and by so doing, changing the world already.
Diving into the inherent interconnectedness with everyone and all things will ensure that no student walks out of Mindvalley University unchanged.
4. Gathering The Highest Caliber of Facilitators And Visionary Directors
---
The range of visionary creators leading the program this year are sure to WOW you.
They include WOW's Founder & Caretaker of Wonder Judy Julin, who developed and ran Deepak Chopra's children's program and founded the child edutainment center CosmiKids.org, published InspiredParenting.com, and is the founding member of the social and emotional learning alliance of California (SEL4CA.org).
WOW's Program Director & Chief Innovation Officer Leon Campbell has been the Director of the Youth and Family Ministry at Agape International Spiritual Center since 2004.
Also leading the activities will be Tisha Marina Bernard, Founder of the I Choose Peace Academy, who has worked with hundreds of schools to help create safe school environments. She received the 2009 Season for Non-Violence Local Hero Award from the Common Peace Center for the Advancement of Non-Violence and co-developed Pathfinders for Peace.
We're sure you'll also be impressed by the work of the multi-award winning social entrepreneur Nicole Gibson, who has impacted over 250 000 people worldwide with her unconventional models of community development and transformation.
The CEO of a global movement called Love Out Loud, at just 20 years old, Nicole was a finalist for the Young Australian of the Year and is listed as one of Australia's top 100 most influential women at 21. She also served as the youngest Commonwealth Commissioner for Health in history, advising directly to the Australian Federal Health Minister and Prime Minister.
As a bonus, we've also gathered young nomads and change-makers like Kaitlin and Cassidy Murray who are offering workshops on Global Advocacy. Kaitlin and Cassidy are world travelers, refugee advocates, international speakers, and authors who have grown up living a nomadic lifestyle and exploring the world full-time with their family.
They've visited over 90 countries across 6 continents and in 2015, co-founded a non-profit organisation to help Syrian refugees and have been working in refugee camps in Greece and Turkey since then.
These leaders are leaders in their craft, innovative thinkers, and pioneers with a mission who will inspire your children to unleash their creativity and WOW themselves, and the world.
5. Catered To Different Age-Groups, With Seeds Of Awareness At Its Core
---
We know that each age group learns differently and so we've divided our program into age groups in order to harness the superpowers and needs of every age.
Curriculum for children between 6-9 years
The program for kids aged 6-9 will be focused on developing self-awareness, self-respect and an attitude of gratitude. They will learn to appreciate the importance and richness of diversity and difference in others, as well as Social and Emotional Learning (SEL) tools, understanding and appreciating the gifts of nature, building resilience, self-esteem, and play with the power of thoughts, words, and deeds.
Curriculum for children between 10-12 years
The program for children between 10-12 will provide a foundation for interpersonal communication and dialogue and open opportunities to seek the knowledge of past and present wisdom keepers. It will provide forums for dialogue and sharing to enhance learning, understanding, and acceptance of each other.
The program offers Social and Emotional Learning (SEL) tools, as well as ways to integrate learning approaches into everyday practice, trust-building with self and others, and experiencing the power of vulnerability into strength. Children will learn the joy of having permission to be themselves, understanding and navigating relationships through connection, building resilience, as well as charge their self-esteem and efficacy.

Curriculum for teens between 13-17 years
Finally, teenagers between 13-17 years will be learning more about self-awareness, social awareness and relationship skills, important tools like the attitude of gratitude, responsible decision making, appreciation of nature, mindfulness, interconnectedness, and "possibility thinking."
In addition to these, there will be a nursery for children between the age of 3 and 5, to make sure parents get the off-time they need to go through their own transformation while knowing that their children are well taken care of. The young ones will be enjoying the gifts of nature, a safe environment with professional, loving, care-takers, and time for uninterrupted play and freedom to explore.
Mindvalley University promises a round-up of workshops and experiences designed to bring the young community back into the flow state.
At the heart of the Youth Program is a vision to support the youth in knowing, loving and respecting themselves in order to actively create a better future for themselves and the whole of humankind.
Mindvalley University will empower children of all ages to discover their own superpowers and connectedness with others through gratitude, courage, creativity and timeless wisdom.
How do you think education needs to change for the next generation? Let's discuss in the comments.