Last week, a few of us emerged from our caves in hope of meeting interesting people in Malaysia. We were searching for cool people who may share similar interests.
And we found a few! 🙂
There were many web geeks, photographers, and cool people at the 24 hours of Flickr party in KL.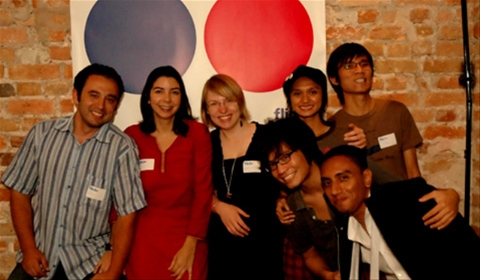 Edu, Lou, Meike (our most recent hire from Germany), Khailee (me), Effa (my friend), Tim, and the dude captured by my muscular arm is Muid Latif, I'm a big fan of his artwork. He is one of Malaysia's leading new media artists.
Jiangti (our lead developer) and I also had a good chat with Jason, who manages communications in Southeast Asia for Yahoo!. We explored the possibility of Hack Days in KL… whoopee!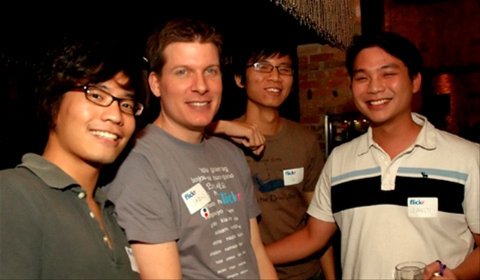 Jiangti got to meet other web application developing creatures too! Like Tate. Who coincidentally organized a Worlds Debating Tournament I participated as a judge in. This was like, 3 years ago?
They decided to talk in acronyms so I left.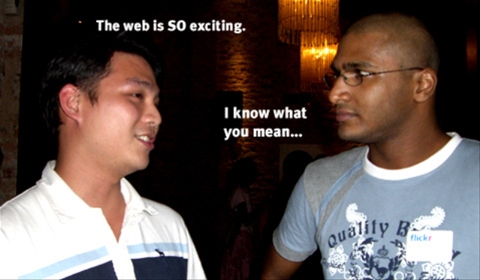 Overall it was really refreshing to meet like-minds in KL! The internet is the most exciting thing ever, and I rarely get to share this with other people, apart from my colleagues.
I'm sure in Silicon Valley you could talk about web2.Ohhnotagain with like, the bus driver. But Malaysia is not the same… it can get lonely here if you don't proactively go out of your way.
Like this dude on the left.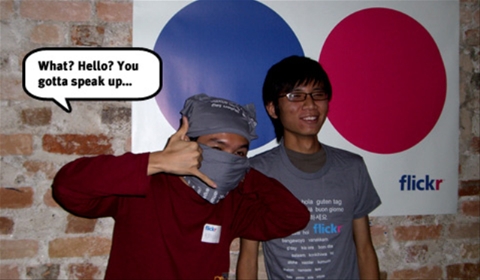 His name is Edmund. He is pictured here socializing, like the rest of us.
Just want to clarify that he is not part of Mindvalley.
But he is "staying" with us for one month for a "brain exchange." He's an interesting internet marketer in his own right, and a really smart 20 year old, for that matter. He's helping us out on a top secret project.
Hence the disguise. Oh what the hell here's his blog.
See more photos of the event. Good fun.
We were also at another event before this, organized by theMalaysian Multimedia Development Corporation.
Special thanks to John and the team at Hatchlings for the invite!

It was really nice to meet them! They're all around my age, and have gotten funding for their game development company. Very interesting bunch.
I also met Jeff, who runs a mobile game development company which is getting listed in the HongKong next year, and Charles, a senior tech journalist.

I asked Charles if he knew any other exciting, interesting companies or people based in Malaysia, and he suggested a few… (few being the keyword)
Overall it was free food free booze a very encouraging experience. Who would have guessed that meeting interesting people in Malaysia could be so easy!

Being based in Malaysia isn't THAT lonely, I'm sure the community will grow!
All this has inspired me to organize some meetups too. Would you like to join us in meeting interesting people in Malaysia? Any ideas who we should invite?
Will you come? 😉