10 Inspiring Dr. Martin Luther King Jr. Quotes On How To Make The World A Better Place
Dr. Martin Luther King Jr. led the American Civil Rights Movement for only 13 years, and yet African Americans achieved more significant progress toward racial equality during that time than they had in the past hundred years. Ultimately, Martin Luther King, Jr. is remembered as the face of the American Civil Rights Movement and one of the most respected leaders in the world.
To celebrate his 89th birthday despite his passing, here are 10 quotes that we hope will inspire you to continue his legacy of compassion and advocacy. His lessons are timely reminders of how unity, love, and leadership can change the world.
---
1. On Who Changes The World
Almost always, the creative dedicated minority has made the world better.

— Dr. Martin Luther King, Jr.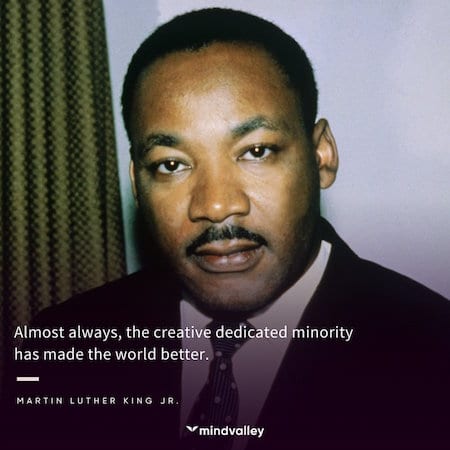 2. On How We're All Connected
Whatever affects one directly, affects all indirectly. I can never be what I ought to be until you are what you ought to be. This is the interrelated structure of reality.

— Dr. Martin Luther King, Jr.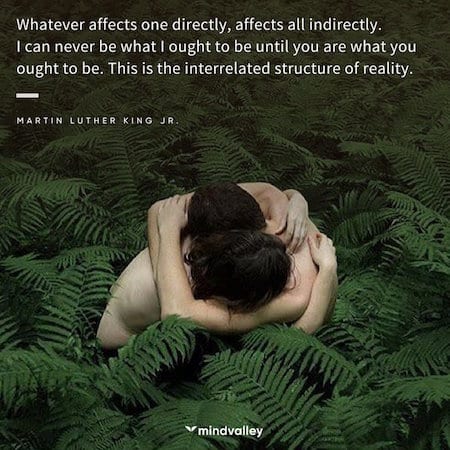 3. On Who's Able To Be Great
Not everybody can be famous but everybody can be great because greatness is determined by service… You only need a heart full of grace
and a soul generated by love.

— Dr. Martin Luther King, Jr.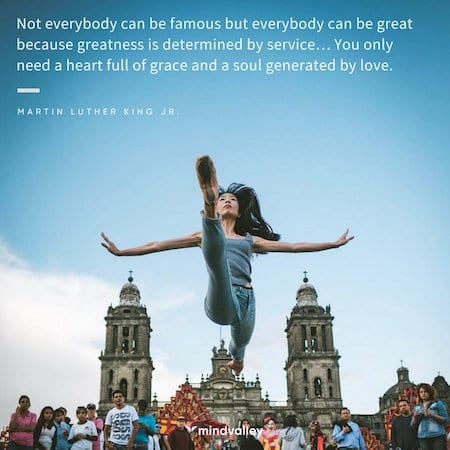 4. On How To Find Happiness
Those who are not looking for happiness are the most likely to find it, because those who are searching forget that the surest way to be happy
is to seek happiness for others.

— Dr. Martin Luther King, Jr.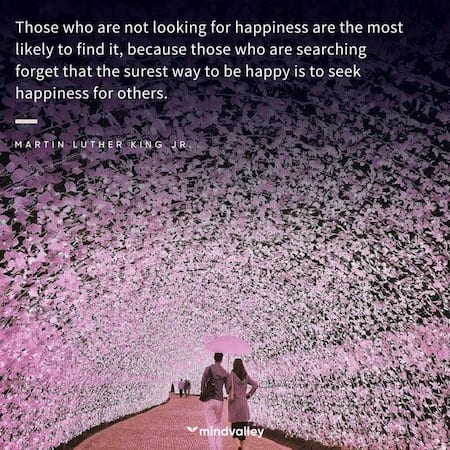 5. On Why You Need Your Voice
I came to the conclusion that there is an existential moment in your life when you must decide to speak for yourself; nobody else can speak for you.

— Dr. Martin Luther King, Jr.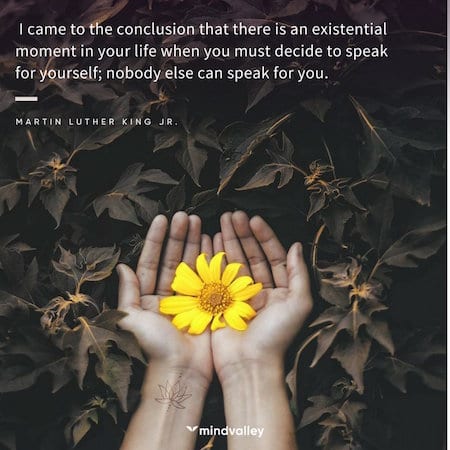 6. On Genuine Leadership
A genuine leader is not a searcher for consensus but a molder of consensus.

— Dr. Martin Luther King, Jr.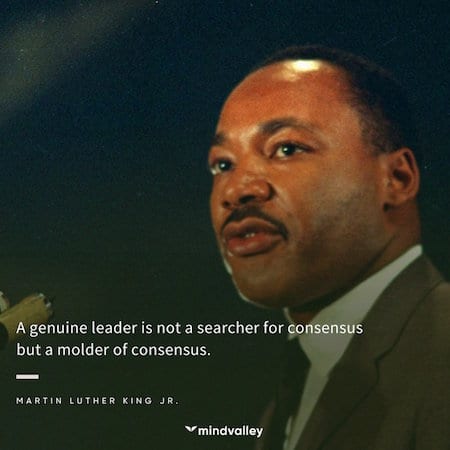 7. On The Power Of Nonviolence
Nonviolence is a powerful and just weapon. which cuts without wounding and
ennobles the man who wields it. It is a sword that heals.

— Dr. Martin Luther King, Jr.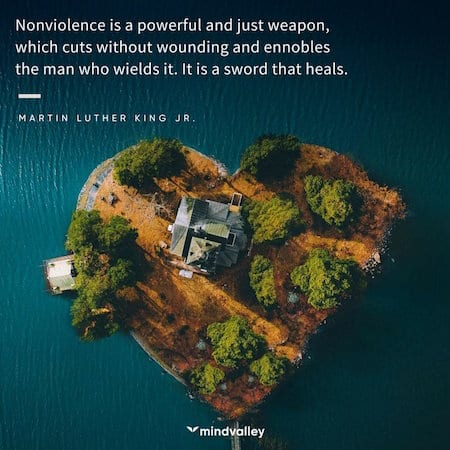 8. On The Function Of Education
The function of education is to teach one to think intensively and to think critically. Intelligence plus character – that is the goal of true education.

— Dr. Martin Luther King, Jr.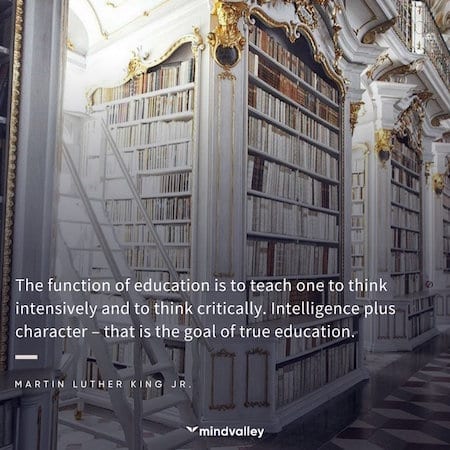 9. On Why Love Always Wins
Darkness cannot drive out darkness; only light can do that.
Hate cannot drive out hate; only love can do that.

— Dr. Martin Luther King, Jr.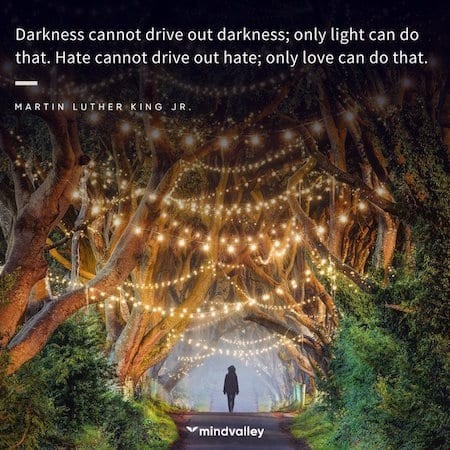 10. On Doing Your Best
If you can't fly then run, if you can't run then walk, if you can't walk then crawl,
but whatever you do, you have to keep moving forward.

— Dr. Martin Luther King, Jr.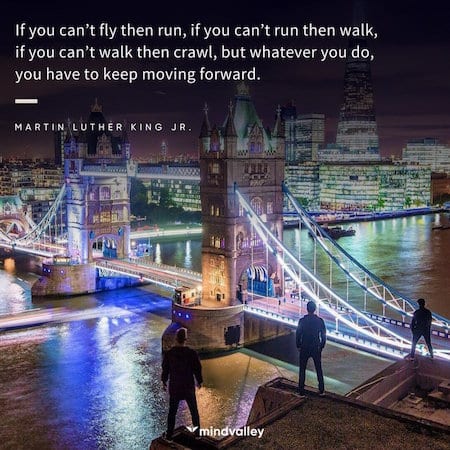 Want more inspirational quotes on how to change the world? Follow Mindvalley's Instagram account.

---
Most people think that learning is the key to self-development
It's how we were raised – when we were young, we studied algebra, read history, and memorized the names of elements on the periodic table.

But once you grow up and experience life, you realize that you can't 'learn certain things – like personal growth.

Vishen Lakhiani, founder of Mindvalley and New York Times Bestselling author, discovered that the key to self-development was not to 'learn', but rather, to 'transform'.
If You Want To 'Transform' And Are Ready To Accelerate Your Own Personal Growth, Then Join Vishen Lakhiani's FREE Masterclass, Where You'll Learn:

✅ The Framework For Flow: The 3 Big Pillars of Life which will help you to rapidly grow on autopilot, so personal development happens naturally.

✅ How you can harness the energy surrounding you to automatically attract the tools you need to unlock your true potential, allowing you to easily make transformative shifts in your life.

✅ Apply the #1 principle to eliminate obstacles in your life, and subsequently show up as your best self and make a positive impact on the world.
Discover The Proven Framework for Extraordinary Transformation and a Brand New You in 2020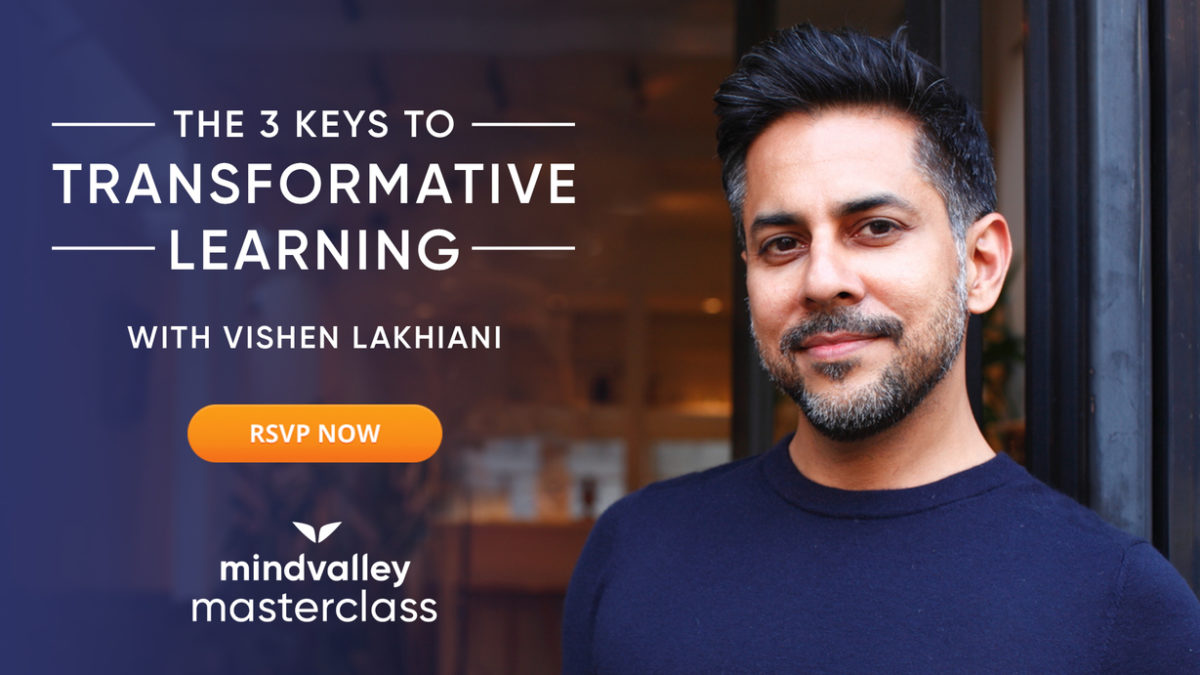 What are your favorite quotes from Martin Luther King, Jr.? Share in the comments below.