Live Your Quest
---
The idea of having a "life mission" has always fascinated me.
And apparently, it's an attractive idea for you too.
A few months ago I surveyed our list and what I found is that the single biggest question people had was about finding their purpose, their passion, and their mission.
This is why, in a few short weeks, a beautiful convergence of great minds is happening in Mexico. Spiritual leaders, Silicon Valley mavericks, and men and women who have built billion-dollar brands that are helping bring joy and health, and positivity to the world are coming together in Cancun for Mindvalley A-Fest West 2016 (taking place November 3-6).
The theme is "Live Your Quest."
For those of you who have read my book The Code of the Extraordinary Mind, you'll know what I mean by this phrase.
See, many people today (the vast majority of us, actually) work in jobs that are merely functioning as vehicles for us to get paid so we can survive.
A few luckier ones have their own business or jobs where they get to have some fun, and maybe even a healthy income.
But there is a tiny proportion of us, a few individuals, who have gone beyond work, beyond jobs, beyond ordinary entrepreneurship to instead rise to a level where they are fully in tune with what one might refer to as their "calling" or "quest."
When you're living with purpose, the obvious side-effect is of course happiness, excitement, and joy. But as I started diving into this topic over the last few years I noticed other emerging trends. Some of which almost makes this path have an aura of mysticism to it.
How To Put Yourself in an Accelerated Cycle of Growth
By Vishen Lakhiani
By the end of this Masterclass, you will walk away with the tools and techniques you need to automate your personal growth and unlock your extraordinary potential.
Reserve My Spot
People would talk about being guided by strong hunches, serendipitous events, being driven by pure mission, coincidences that defy the odds, and other things that we'd never talk about in normal business conversations. And some of this was said by people who had built billion-dollar brands.
I wanted to explore this further, which led me to have deep conversations with some remarkable people. Here are some of the biggest insights that might just help you find your own personal quest.
1. Don't Seek Goals. Listen To Them.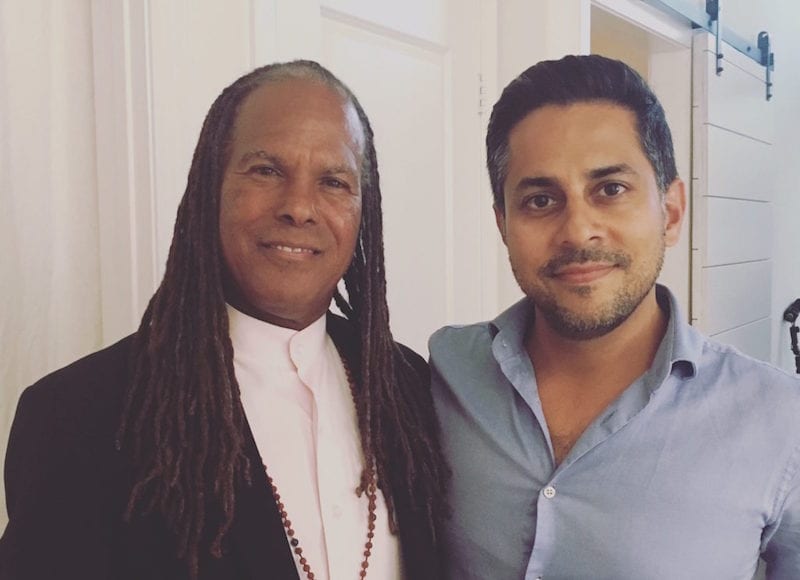 The first man that really started me on this journey was no other than Dr. Michael Bernard Beckwith. Beckwith suggests that there is a model for living where rather than SEEK goals we LISTEN to our inner voice. We tap into that space within and truly understand WHY we are here on Earth and what we're meant to do.
There are no EXTRA people on planet Earth," he told me.
If you're born here, you've got a purpose.

– Dr. Michael Beckwith
What you need to do is listen — and follow that purpose. You can live with intention as most people do or you can live from inspiration. BUT… when you live from inspiration — Your inspiration LEADS to your intention.
And your intention ends up being what is best for you and the world.
You see, when we try to set goals, we often get infected by brules of the culturescape. So we're not setting goals that resonate with our souls, but goals that we think we need to pursue.
We think we need that career, that job, that money in the bank.
But when we are fully in tune with our reason for being, we get inspired by the right goals for ourselves.
People who live like that don't tend to chase goals that are common in society. They tend to do extraordinary things. The misfits and the rebels of the world. And they tend to be a lot happier and fulfilled.
2. Harnessing Your Inspiration
This idea, of living from a state of perpetual inspiration, may sound unrealistic.
Is this a state just for artists or creative types? Or can this state lead to building extraordinary businesses that change that world?
A guy who made me really believe this was possible was Jeffrey Perlman, the co-founder, and CMO of Zumba.
Zumba, as you might have heard, is the world's largest fitness and health brand. Every week a whopping 15 MILLION people take a Zumba class at one of 200,000 locations worldwide. Inc Magazine also made Zumba their Company of the Year in 2012.
Not only is Zumba a massive company, but it's also a company that is positively touching many people's lives on a daily basis.
I got to know Jeffrey and in one of our conversations, as I asked him what lead to Zumba, he spoke like a mystic. He told me about coincidences, inspiration, and living from values to serve. He said if he and his partners had not started Zumba, someone else would have.
It was meant to be birthed by the Universe.
He just listened and acted and coincidences guided him. At A-Fest, Jeffrey will be speaking on this topic. He will talk about harnessing the opportunities that the universe puts in front of you, to move life forward and doing epic things.
One of the things I learned from Jeffrey is the importance of having a mission.
3. Be Obsessed By A Mission
Our next speaker is a guy who built a company which made #2 on Inc Magazine's fastest growing company list — Tom Bilyeu of Quest Nutrition.
I met Tom Bilyeu at a non-profit event for the XPRIZE Foundation. As we got to talking I learned something about Tom. Tom told me he used to be obese. Not just him, his entire family suffered from obesity. This unfortunate health situation is what drove Tom in to dive into his quest. He wanted to change the way America consumes food.
The result was a mission-based company with the goal of helping people become healthier by eating well rather than pure profit motivation. Quest Nutrition grew 57,000% in its first 3 years and made the number 2 spot on the 2014 Inc. 500 list. On the Quest website, Tom's bio says the following:
As it would turn out, this new focus on something deeply personal and passion-based led him and his two partners to found Quest. Even though they stopped making decisions solely based on what makes the most money, by the end of their third year Quest was named as the second fastest-growing private company in America – generating more revenue in a single day than their former company generated annually.
And it all had to do with being Obsessed by a Mission.
But just having a mission is not enough. You must have a strong passion for serving this mission.
4. Passion: The Inner Fire That Fuels You
Pursuing a mission is definitely a powerful way to live your life.
But just like anything else, that mission has to make your soul dance.
You could have the most honorable missions out there but if you don't have a deep, unwavering passion for it, you will inevitably run out of steam.
Passion is the fuel that will help you persevere even through the toughest of times.
But the problem a lot of people face is not knowing what their passions are.
This brings us to Janet Attwood. Janet's Passion Test Methodology is one of the most beautiful ways I've experienced to help you quickly identify what jobs, goals, and careers best resonate with your soul. You discover what makes your heart sing and learn how to use this discovery to make sure you're living a life aligned with your passions. Janet will be taking us through this at A-Fest.
5. Recognize The Angels That We Are
From Janet Attwood, we come to Don Jose Ruiz.
Jose wrote the book, The Fifth Agreement, with his father Don Miguel Ruiz. He is part of the famous Ruiz family and their list of books, including The Four Agreements and Mastery of Love that have become some of the greatest spiritual classics of our generation.
I'm actually writing this from Reno, Nevada, where I've been spending the day with this remarkable family. Jose Ruiz will be talking about our role as messengers. Jose Ruiz says;
Toltec tradition teaches us that we are all messengers. So then we have to ask ourselves, what are the messages that we are sharing with others? What ripples are we making?
As messengers, Don Miguel Ruiz told me today, we are really angels. But we don't believe WE are angels. So we worship the angels in pictures with wings. But all of us are here with our message for the world.
Don Jose Ruiz will be yet another remarkable speaker at this A-Fest.
6. Expanding Your Awareness
So we learn to set goals by listening to inspiration.
To harness coincidences.
To live with a mission.
To identify what brings out our passion.
To live up to our true identity as angels here with a message.
Next, we learn to listen to the guidance that can flow to us and to expand our spiritual potential through practices like meditation.
For this, I'm bringing you Emily Fletcher, founder of Ziva Meditation, and one of our all time favorite speakers at A-Fest.
Emily has taught me a lot about how to listen to the deep voices within us that emerge when we practice transcendent practices like meditation. She will be teaching you the tools to bring this level of awareness into your life daily.
7. Discover Your Values
As you emerge into this new you— truly in touch with your mission, your purpose, your passion and your intuition, it now becomes necessary to be able to attract others into your sphere of influence. These could be customers, clients, employees or business partners, and collaborators. One of the best ways to do this is to be able to identify the VALUES you hold and knowing how to infuse these values into your company and your products.
And this brings us to Amir Ahmad Nasr, our next trainer. Amir grew up in Sudan with his mind infected by fundamentalist Islam. But as he traveled the world and got more exposure he began to question the dogma of his upbringing. Amir went on to join my team at Mindvalley as an intern in 2007. A few short years later he had become a famous blogger and his book, My Islam, went on to make the Foreign Policy Magazine's List of Top 25 Must-Read Books of 2013.
Today Amir is a master storyteller and consultant who helps companies and game-changing individuals identify what values MOVE them. And then he helps them infuse these values into their creations. Amir is one of the guys who has consulted me on how to build my following and the brand around Mindvalley. He will be running a workshop to help you make your core values emerge. It's a powerful exercise that has had a profound impact on me and I wanted you to experience it too.
And finally, let's ask ourselves, what's the point of this all?
8. Live With Mission And Purpose
Why live with mission and purpose?
It's got more to do than just living a life that's joyful and of meaning. According to Tom Chi, our final speaker, it's because at a deep level we're all really connected with each other and the earth.
Tom's one of the smartest people I know. He was a founding team member of Google X, Google's special think-tank for radical new ideas to benefit humanity. There he built the first Google Glass Prototype. Today Tom is working on special projects to save Earth's coral reefs from the effects of Global Warming.
I caught up with Tom and the Japanese Tea Gardens in San Francisco's Golden Gate Park where he shared his ideas with me. Tom will be talking about connection — yes — but not from a personal growth sense. He talks about the connection from a scientific viewpoint, with a story of how our air, our life, our cells, and the planet are so deeply intertwined, we might as well be one giant organism called Earth. I've never seen a talk on science move people to tears before. And so I asked Tom to come to A-Fest to deliver this same talk. I know you're going to love it.
So at this A-Fest, expect to expand your mind to all of these possibilities.
Expand Your Mind
---
Just three hours ago I sat with Don Miguel Ruiz to discuss how Mindvalley can build the Greatest School on the Planet and if so, what topics would it teach. Miguel Ruiz said that we must teach humanity that we are all Angels. When we stop telling ourselves the programmed stories of history and wake up to the fact that WE are angels, we can go forth to transform this planet and truly attain our greatest selves. This, he said, is the greatest education one can have.
This is what this A-Fest is about. Reminding you that you are so much more than what the world made you believe you could be. And giving you wings.
Also, all of these phenomenal talks are going to be available to our entire Mindvalley community (this means you) free on YouTube. This is Mindvalley's commitment to the world. I wanted to give you a quick glimpse of why this particular theme is so important and some of the legendary teachers we're bringing you.
For those of you who would like to attend and actually get to join our powerful tribe, and meet these individuals and dance and talk and fall in love, and meet some of the most amazing souls on the planet, I encourage you to apply on A-Fest.com to join the tribe. It will be one of the greatest decisions you ever make in your life.
I'm always looking to have in the audience men and women with diverse backgrounds who can take the lessons from A-Fest back to their companies, communities, schools, nations, and more. If this sounds like you, apply here.