How To Clear Limiting Past Beliefs To Do The Impossible
Is there something you've always wanted to do like write a book, travel the world, or even change careers? But whenever you start planning for it, there's a little voice in your head that tells you can't do it?
That voice of resistance is caused by limiting past beliefs.
The good news is that you don't have to live by the limiting beliefs you have in your head. You can let them go, even eliminate them altogether.
From Homeless To Creative Powerhouse
---
Many people recognize Joe Vitale because through his appearance The Secret or the 15 albums he's released.
Or as the author of numerous titles, including the following bestsellers: The Attractor Factor, The Awakened Millionaire, There's a Customer Born Every Minute, and Life's Missing Instruction Manual.
He's also President of Hypnotic Marketing, Inc., a marketing consulting firm, and has worked with the Red Cross, PBS, Children's Memorial Hermann Hospital, and many other international corporations.
But here's the amazing part: he was homeless before he became an uber-successful entrepreneur and artist. Through his discovery of personal growth and his dedication to rooting out negative beliefs, he went from homeless to the creative powerhouse he is today.
And in the 3-minute video above, he shares the tools that empowered him to change his life.
Why Limiting Beliefs Slow You Down
---
The video comes from a Mindvalley Mentoring session with Vishen Lakhiani. Joe Vitale explains his method of erasing past negative beliefs to do "the impossible." He shares the key difference between people that struggle and people that achieve seemingly impossible feats.
Here's what you'll learn in the video:
Why limiting past beliefs can impact your career and slow down results;
How to remove the negative beliefs that become obstacles in your life;
How Joe Vitale uses clear goals to achieve his dreams faster.
In Joe's case, he wanted to be a musician but he was faced with a limiting belief:
"Who am I, as a 60-year-old man, to play the guitar and write music?"
Once he dissolved this belief, there wasn't anything standing in the way of him pursuing his dream.
Whenever you reach for something new,
any beliefs inside of you are going to start bubbling up…
As you dissolve all of those beliefs, there won't be anything
in the way for you to proceed.
So, the clearer you are, the faster you get the results in your life.
It's all about changing your beliefs.
— Joe Vitale
You Can Do The Impossible
---
When you discard limiting past beliefs, you can achieve extraordinary accomplishments. Want to know what are your own limiting beliefs? Try this short activity.
Write down a list of your own limiting beliefs. For example, "I'm not an expert in my field."
Acknowledge that these are only beliefs and they aren't true. Write down, "I only think that I'm not an expert, but it isn't true. I can always improve."
Write down the limiting belief in a positive statement. For example, "I'm not an expert in my field. But I am going to dedicate myself to becoming one."
Take a different action. Make a plan to upgrade your skills, take a class, or seek a mentor to help you become an expert.
---
Here's How To Clear The Biggest Obstacles To Your Success
The biggest obstacle to your dreams isn't hard work - it's something you're not even aware of.

You could be working hard in your career, your health, and your relationships – but still not achieve success.

Why?

It's because you still have what we call 'Abundance Blocks' – limiting beliefs and thought patterns that cause you to unconsciously pull back from success.

The good news is that you CAN easily remove your Abundance Blocks - in less time than it takes to finish a cup of coffee.
So, if you want to eradicate these Abundance Blocks from your life, sign up for this Free Masterclass With Abundance Coach, Christie Marie Sheldon, Where You Will Learn:

✅ How to clear ALL your Abundance Blocks through an incredible 20-minute Energy Clearing session with Christie as she taps into your energy field and amplifies your ability to attract wealth.

✅ What are the 24 Abundance Blocks that lock you in a scarcity mentality, and how to destroy them so you can create a direct path to success and abundance in 2020, and

✅ Everything else you need to know about Abundance Blocks, as Vishen Lakhiani dives deep in a Q&A session with Christie to find out just how fast a newbie can expect results, and how exactly Christie taps into your energy through the internet.
Sign Up Now To Clear The Energy Blocks That Stop You From Attracting The Abundance You Deserve!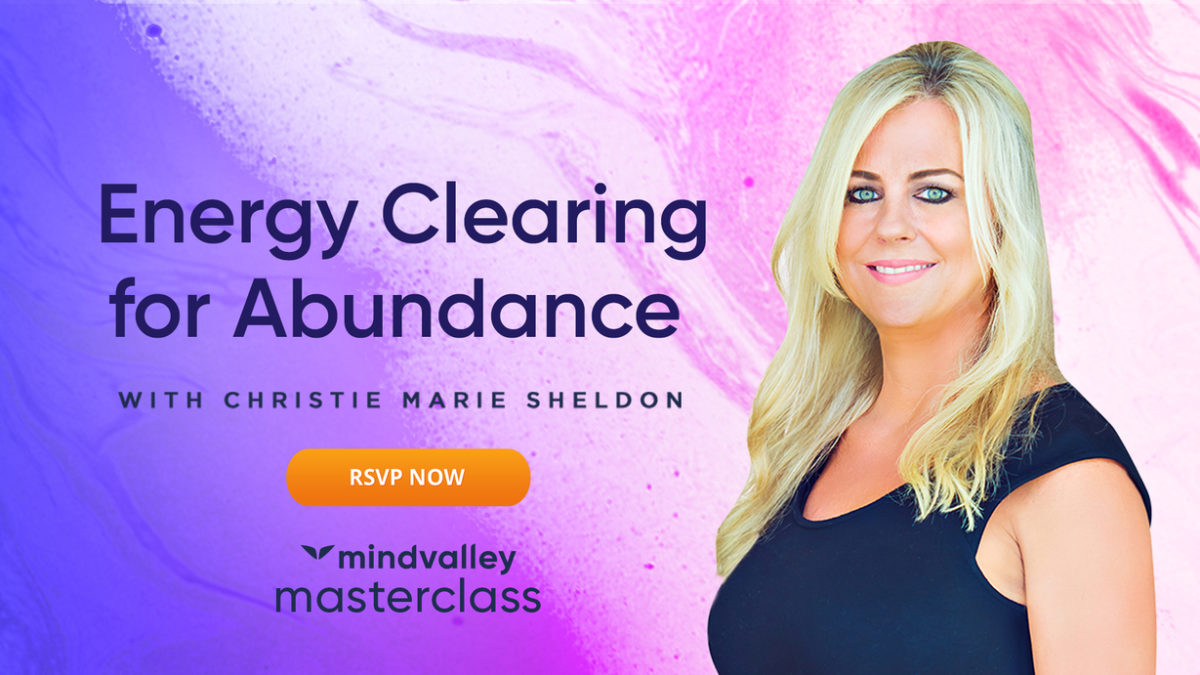 Are you inspired to conquer your 'impossible' goals? Let us know your thoughts by commenting below!