The Day I Stopped Believing The Lies About Money
As of writing this blog post, my book, The Code of the Extraordinary Mind, is currently at the #4 spot on the Business Books bestsellers list on the New York Times.
Now that may seem strange at first glance. After all, what the heck is a personal growth book that talks about forgiveness, meditation, intuition, "bending reality," and more doing on the "Business Books" bestsellers list?
The truth is, personal growth is the secret to building a great business.
And there's one little story I share in my book that a lot of people ask me about. It's about how my business went from bleeding $15,000 a month and nearly running out of cash…
… To experiencing incredible 400% growth in just 8 months after I gained certain insights.
And it was all thanks to several teachers whose wisdom came to me at the right time.
One of those teachers was T. Harv Eker.
I had attended a seminar he held in my city in May 2008, just when I was at a miserable point in my life.
Now, I don't go into the specifics of what I learned from Harv in my book. But given how many requests I've gotten to share more about this story, I decided to reveal the truth in this blog post.
Firstly — the back story.
From Debt To Our First Million Dollar Month
---
It was May 2008.
And we were in business for the last five years. But despite having invested these five years into the business, my business partner and I were still in debt.
He still had his college loans to pay off.
I had a mortgage on my house.
And honestly, there was nothing more demoralizing than knowing that we could have been in less debt if we hadn't bothered starting this business in the first place and had just stuck to our corporate jobs.
Five years as entrepreneurs and we had little to show for it.
Now as chance would have it, I happened to get a bunch of free tickets to a three-day seminar by T. Harv Eker, which was happening in my hometown. A friend of my father's who was a ticket distributor had several free tickets left over and sent me a dozen for me and my team.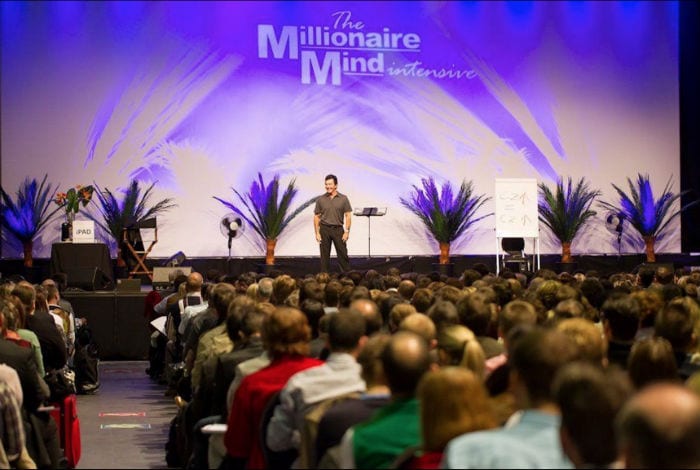 So we decided to go and see what it was all about. We also brought along another nine members of our team.
I can't remember exactly what I was expecting, but I do remember this much…
I wanted to leave shortly after I got there.
In fact, on the first day of the seminar, my business partner turned to me and said, "This is absolute rubbish. He's telling us stuff I already know and I want to get out of here."
I agreed with him.
But despite my initial urge to head straight for the exit, something pulled us to stick around just a little longer.
And so we stuck around… And I'm glad we did.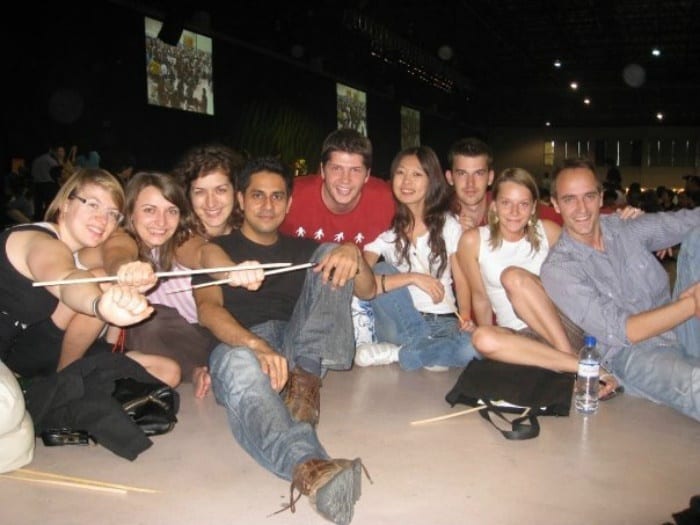 With my business partner and members of my team doing an arrow breaking exercise at Harv's seminar in May 2008
By the end of the second day of the seminar, I turned around and saw my business partner in tears.
I too was almost tearing up.
We both had massive breakthroughs. And it was then when we realized that the true reason why our business was not going anywhere was not because of our skills, or our strategies, or even the business itself.
After all, my business partner had a Stanford MBA.
And I had a degree in Computer Engineering from one of the top universities in the world.
What was slamming the brakes on my growth was the myriad of odd and deeply disempowering ideas I had about wealth and money.
Most of which I inherited from the culture I grew up in, my upbringing and very specific moments that happened to me as a kid.
How The Mindset Of Success Creates Abundance
---
In a moment, I will share with you the exact mindset shift that we experienced.
But first, let me tell you what happened when these ideas were plucked out of my head, which I shared in my book, The Code of the Extraordinary Mind.
Here's what happened in just eight months after the shift:
The Business Exploded: From being on the verge of laying people off, we grew 400% in revenue in just eight months. We'd never experienced growth like this. In May 2008, we did $250,000 in sales. Eight months later, by December of the same year, we'd had our first million-dollar month.
Work Became Fun: I no longer felt suffocated by the pressure or the grind.
We Started Getting Dream Clients: No more working the phones and haggling. Often clients came to us. Part of my role became learning to say no.
We Got An Amazing Team: In a year, we grew from 18 employees to 50.
As our revenue soared, we were able to build a new space for our growing company. Below is a before-and-after image of our office.
This is what our office looked like before: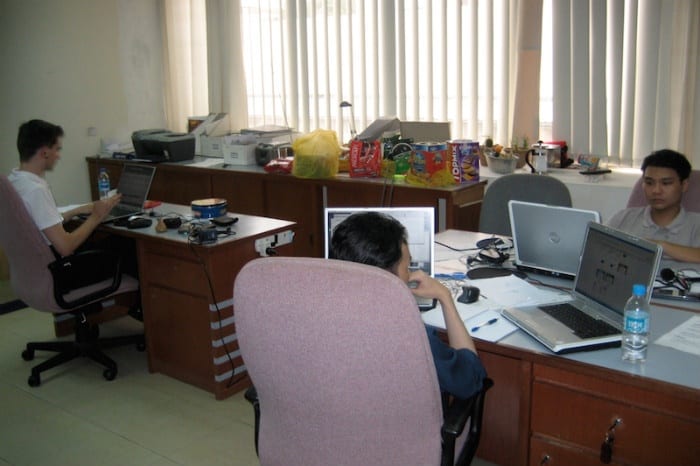 And here is what it looks like now: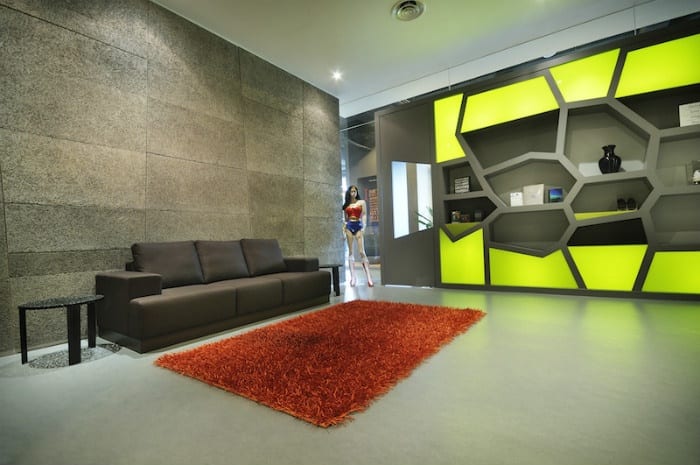 We were also now in the privileged position to give back to charity, and it allowed us to join social projects we've always wanted to be a part of.
So what happened at Harv's seminar that sparked this extraordinary transformation?
Well, there were many exercises that we did during this seminar, but there was one exercise that stood out to me.
It was called the "Money Associations Exercise." Below is an image of one the original pages we got at the seminar.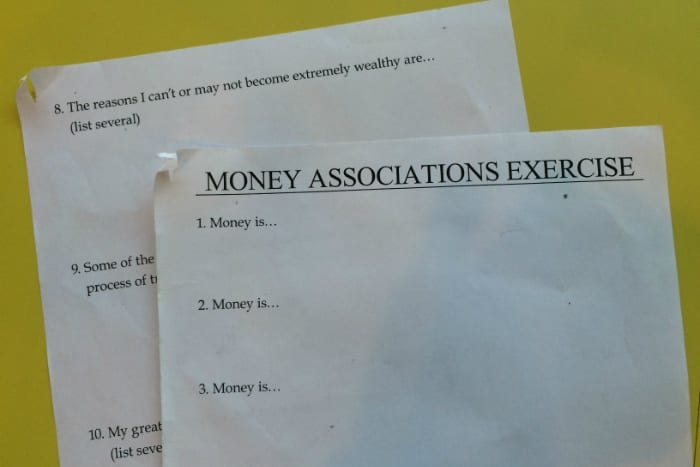 Changing The Way You Think About Money
---
The idea was pretty simple. We were given a few minutes to write down the first things that came to our mind when filling out the blanks on these two pages.
The full exercise is below and you can do this right now.
Tip: Give yourself a short time limit to complete this (10 minutes max), and try not to spend too much time rationalizing what you think the "right answer" is.
Just write down the first thing that comes to mind.
Money Associations Exercise:
Money is…
Money is…
Money is…
Wealth is…
Wealth is…
Rich people are…
Rich people are…
The reasons I can't or may not become extremely wealthy are… (list several)
Some of the possible negative about being rich or going through the process of trying to get rich are… (list several)
My greatest worries and fears regarding money and wealth are… (list several)
The worst thing about money is…
When I did this exercise, and I wrote down the first thoughts that came to mind, it finally dawned on me.
I had a massive brule (bullsh*t rule) in my head about work.
I believed that the only way I could become successful was if I worked extremely hard.
Each day, I would be putting in crazy long hours in the office and by the end of the night, I would be completely drained. And I would repeat the process the very next day.
That meme in my head of "hard work equals success" was so strong that if I didn't feel like I was exhausting myself, I wouldn't be successful. As I dived deeper into why this brule existed in my head, I realized that I gained this belief from observing my father and grandfather.
My grandfather was a general manager at a department store. My father was an entrepreneur.
Both of them had an incredible work ethic and spent many, long, hard hours at work.
As a kid, I would, from time to time, work with my dad at the warehouse, hauling heavy boxes into the back of a truck. It was back-breaking manual labor. But this is what I believed it took if you wanted to be successful.
And I held on to this belief into adulthood.
The thing is, when I built my business, everything was online. So, naturally, I spent the bulk of my time on my computer, sitting in a comfortable chair in an air-conditioned room.
This was far removed from the back-breaking work I did with my dad, and as a result, this never really "felt" like hard work.
This caused a massive inner conflict in my mind.
Because that meme in my head of "hard work equals success" was so strong that if I didn't feel like I was exhausting myself, I wouldn't be successful.
Then my son, Hayden, was born. And I decided to cut back on the hours I spent in the office so I could get home earlier and spend more time with Hayden.
The crazy thing was that this triggered the inner conflict in my mind even more. And at one point, I believed that I had to sacrifice success so that I could be a decent father.
As I sat through Harv's seminar, the pieces started falling into place.
And it occurred to me that all these ideas were nothing more than limiting beliefs.
But whether our beliefs are good or bad, empowering or disempowering, right or wrong, they ultimately shape our world.
And by believing in this "hard work equals success myth," I was actually holding myself back.
So what did I do?
Breaking The "Hard Work" Myth
---
I decided to get rid of this "hard work" myth that I held on for so many years, along with a dozen other myths in my head, and I changed the way I approached work.
We created a work culture of fun and play.
We set bigger and bolder goals.
And most importantly, I finally got rid of my limiting beliefs.
Within one month of taking this seminar, I took my team on a team retreat, where we made an audacious monthly revenue goal of $500K. This was in June 2008. When I took the seminar in May 2008, we were doing half that amount as a small business — A mere $250K.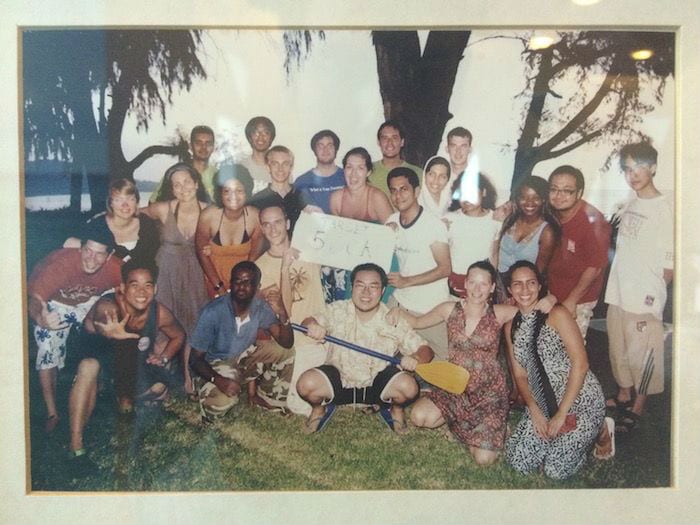 My team and I on our team retreat with a sign that says "TARGET 500K"
We ended up hitting that $500K goal pretty quickly. And it was a big deal for us. We had been in business for five years, and we had never hit a number like that before.
This happened in August 2008, just three months after I attended Harv's seminar. And then we set a new goal — the big $1,000,000.
It was an obscene goal. It was four times more than what we were usually bringing just a few months ago.
Yet in December 2008, we hit that goal.
It was as if the stars aligned and a whole list of opportunities and synchronicities just popped up to help us get there. But that's what happens when you completely shift your mindset.
But these massive changes didn't stop with me and my business partner. After all, I brought along another nine of our team members.
Within two years, almost everyone experienced incredible transformations.
Four of them received significant raises in the company and became among the best and most valuable employees in our team.
Another four left our company — but for a very good reason. They would go on to start something on their own, all of which became extremely successful.
One became one of the city's top yoga instructors.
Another started a very successful software firm.
The other two became highly sought-after freelancers in their respective fields.
Only one person saw "no results" so to speak. And that was only because she was an intern with us and had to return to college. But it wasn't long before she ended up getting a lucrative job at Google.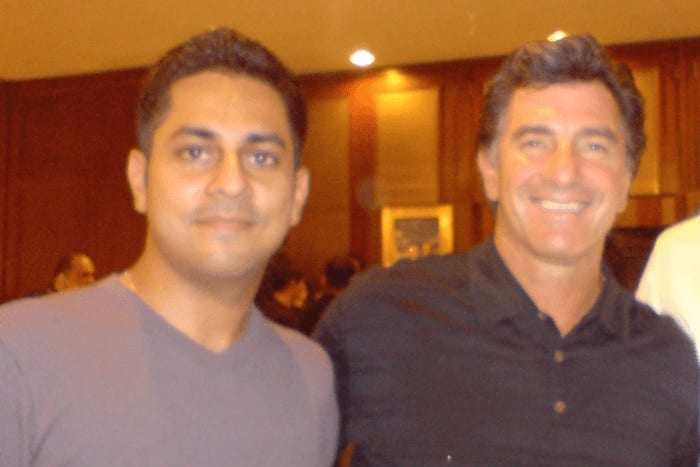 So all of us benefited from this experience with Harv.
This is why I really want you to understand the following:
1. The Overriding Factor For Success Is Attitude
---
We sometimes think we require smarts, intelligence, and brainpower to be successful. Sure, the right knowledge certainly makes a difference if we're planning to build a business or to improve our careers.
But the overriding factor that will contribute most to anyone's success is our attitude and our thoughts about wealth, abundance, and money.
To this day, I firmly believe it is your money mindset that determines how successful you're going to be. Fix this, and everything else will come to you.
2. You Can Discard Money Blocks, Just Like I Did
---
I may have only mentioned Harv in my book briefly. But I do owe this man a great debt because of the way he shifted my life.
---
Here's How To Clear The Biggest Obstacles To Your Success
The biggest obstacle to your dreams isn't hard work - it's something you're not even aware of.

You could be working hard in your career, your health, and your relationships – but still not achieve success.

Why?

It's because you still have what we call 'Abundance Blocks' – limiting beliefs and thought patterns that cause you to unconsciously pull back from success.

The good news is that you CAN easily remove your Abundance Blocks - in less time than it takes to finish a cup of coffee.
So, if you want to eradicate these Abundance Blocks from your life, sign up for this Free Masterclass With Abundance Coach, Christie Marie Sheldon, Where You Will Learn:

✅ How to clear ALL your Abundance Blocks through an incredible 20-minute Energy Clearing session with Christie as she taps into your energy field and amplifies your ability to attract wealth.

✅ What are the 24 Abundance Blocks that lock you in a scarcity mentality, and how to destroy them so you can create a direct path to success and abundance in 2020, and

✅ Everything else you need to know about Abundance Blocks, as Vishen Lakhiani dives deep in a Q&A session with Christie to find out just how fast a newbie can expect results, and how exactly Christie taps into your energy through the internet.
Sign Up Now To Clear The Energy Blocks That Stop You From Attracting The Abundance You Deserve!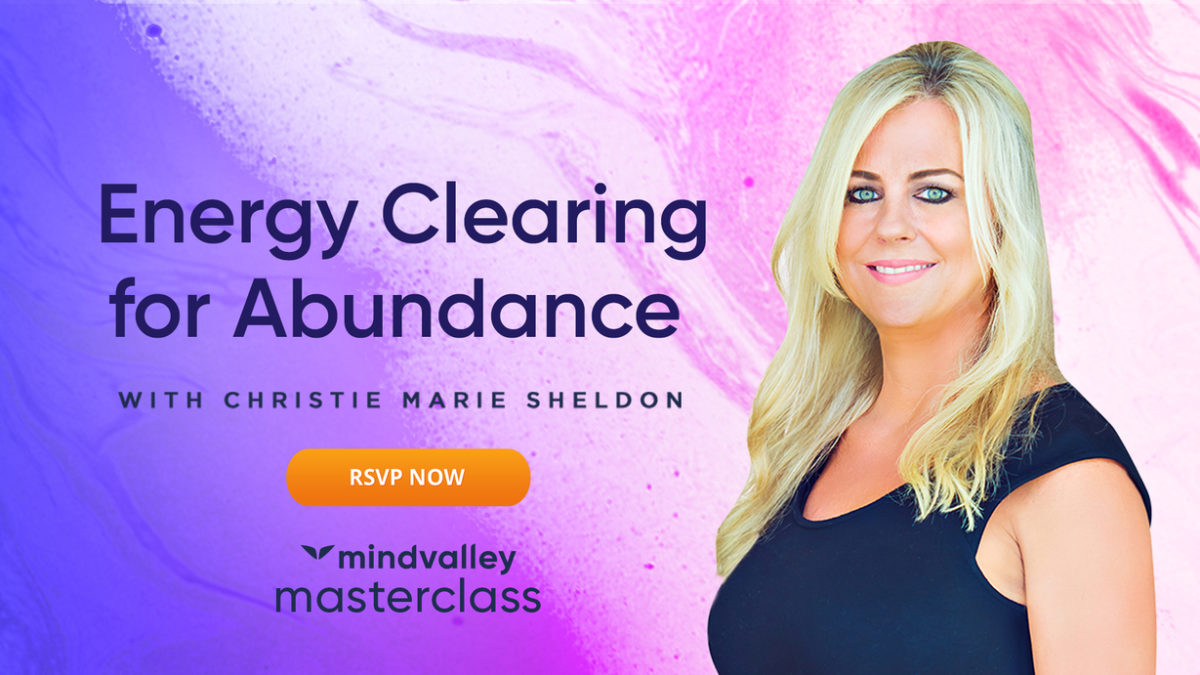 What are some lies about money that you've noticed? Share in the comments below.