Lifebook Founder, Jon Butcher, and his wife, Missy, went on a Facebook Live session at our Mindvalley Headquarters to answer some of the most asked questions from the Mindvalley community.
About The Video
---
We recently had the honor of having the founder of Lifebook, Jon Butcher, and his wife, Missy, do a Facebook Live session at our Mindvalley Headquarters.
And the result was a candid and deeply insightful Q&A session with our entire Mindvalley community.
From tips on creating lasting relationships, to health and fitness strategies — even on to more personal topics like how Jon and Missy met — this video will give you an extraordinary glimpse inside the minds of this inspiring couple and their family.
In less than 24 hours of posting this on our Mindvalley Facebook page, this 35-minute session was viewed over 50,000 times and has garnered over 250 comments.
Here are the questions asked by our community:
(1:06) — How did you (Jon and Missy) create Lifebook?
(3:03) — How do you accomplish traveling to another part of the world for months at a time, and still manage your children's education? (Jon's insights on this is mind-blowing.)
(7:30) — What is the highest leverage strategies to stay fit, healthy and maintain a high level of vitality? (Bonus: Missy shares one of her recipes for a "green smoothie.")
(13:31) — You regularly mention that your love relationship (between Jon and Missy) is the "foundation of your life?" What do you mean by this? And what are your tips for building a strong love relationship?
(15:05) — How can you optimize your time between your role as a parent, your career, and still give yourself your own personal time?
(18:36) — How do you go about setting your goals if you don't even know where to start?
(21:40) — Who inspires you? What are your favorite books or resources?
(24:30) — What do you recommend for a powerful morning routine?
(25:50) — What are some of the things you struggle with? (Jon shares a gem of wisdom about how we should all be investing our time, money and effort?
(29:40) — How did you meet? Was it love at first sight or did your love develop over time?
---
Discover What You Really (Really) Want In Life, And How To Have It All, In This FREE Masterclass. Join Lifebook, Regarded By Many As The World's Most Powerful Life Envisioning Method.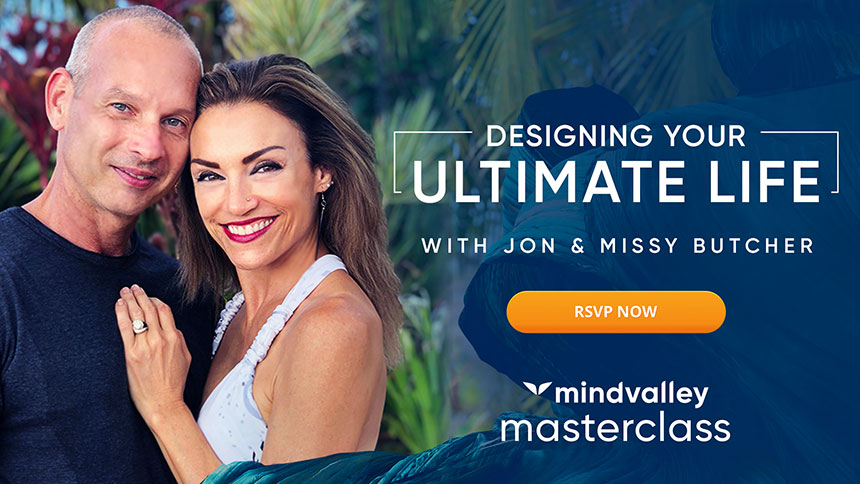 ---
Are you inspired by Jon and Missy? How are you applying their ideas into your life?
Share your thoughts with us in the comments section below.