Uncover The Ideal You For Lasting Fulfillment
Almost everyone has something they would like to change about themselves. It's in our nature to strive towards improvement to achieve the best life we can.
So, what does the ideal you look like?
Although there are many things we have no control over, there's so much we can do to improve ourselves.
Here's how to uncover the ideal you for lasting fulfillment.
Constructing The Ideal You
The single most important relationship in your entire life is the relationship you have with yourself.

-Jon Butcher, Author of Mindvalley's Lifebook Quest
As with all things in life, reaching your ideal self starts by setting clear goals. Unfortunately, this isn't always an easy thing to do. It requires that you devote a lot of energy into getting to know yourself.
You'll need to think about the things that matter the most for you. A great question to start with is: what do I want to do with my life?
There's no wrong answer to this.
You can choose to pursue family, wealth, travel, spirituality, or anything else you believe will help you to live a fulfilled life. The only thing you need to do is ensure these are your needs and not the expectations of someone else.
This can be a real challenge, since many of the people in our lives have expectations we feel we must meet. But by endlessly meeting those expectations, we tend to lose the sense of what it is that we actually want.
Reflect inward and ask yourself what your ideal self and ideal life look like. In fact, sketch some of your ideas out on paper to help clarify your thoughts and aspirations.  
This way, you can paint a clear picture of who you want to be and have something to reflect back on in the future.

Using self discipline to achieve your goals
Once you have an idea of what your best self looks like, you'll need to figure out what needs to happen for you to achieve your personal goals.
There's no one-size-fits-all strategy for this, as everyone has a different version of their ideal self. However, there are a few things that can be helpful no matter who you are.
The first one is self discipline. Once you've made up your mind about changing your life, you'll need to create a plan and stick to it, which requires a lot of persistence and dedication.
Breaking away from our old patterns isn't easy, but you can't let your old habits hold you back from becoming your best self. With self discipline, you can make sure this doesn't happen.
It's also important to enjoy the process of becoming the ideal you. After all, it's about the journey – not the destination, right?
Your ideal self is likely to change with time, so it's important to develop a growth mindset. This can help you remain flexible and adaptive along the path to self improvement.  
It all starts with the ideal you
Usually, people feel motivated to change when they realize their life isn't what they had once imagined. After an initial disappointment, this can become a strong motivator that pushes you to strive towards building your desired life.
Whoever you want to be, there's a surefire way to become the ideal you. What's important is to set realistic expectations, or you'll be chasing unrealistic goals that will only serve as a source of frustration.
Keep in mind that even the smallest actions count. You can't become the best version of yourself overnight.
Each little step you take brings you closer to the ideal self you strive to be. Be patient and disciplined, and you'll begin to reap the rewards of your efforts in no time.
---
Gain Instant Clarity On What You Really Want In Life – And Have It All
There's a reason that so many brilliantly talented, naturally creative, intelligent and capable people never reach their potential, and it is, quite simply, a lack of direction.

Even if you have a vague goal in mind, you still need a plan, a process to get you there.

You can have the most expensive, fastest car in the world, but if you set off without a clear idea of where you're going, then the rusty old Beatle with a map and compass will beat you there every time.
If You're Ready To Experience The Extraordinary Life Design System That Gives YOU The Power To Author Your Ultimate Life, Then Join Jon & Missy Butcher's Free Masterclass

Where You will Learn:

✅ Are you stuck on the hamster wheel of life, instead of rushing towards your fullest potential? Discover how to escape the 3 soul-crushing reasons most people unknowingly cheat themselves of their greatest lives.

✅ Do you always set goals and rarely achieve them? It's not your fault – traditional goal-setting is seriously incomplete! Discover how Lifebook empowers you to rapidly and consistently take charge of your life, and realize your every dream.

✅ Experience the 'Instant Clarity' exercise: a powerful visualization exercise that guides you through your ideal day – and gives you instant clarity on who you really are, and what kind of life you really want to be living.
Step Into The New Year With A Crystal-Clear Vision For Your Ultimate Life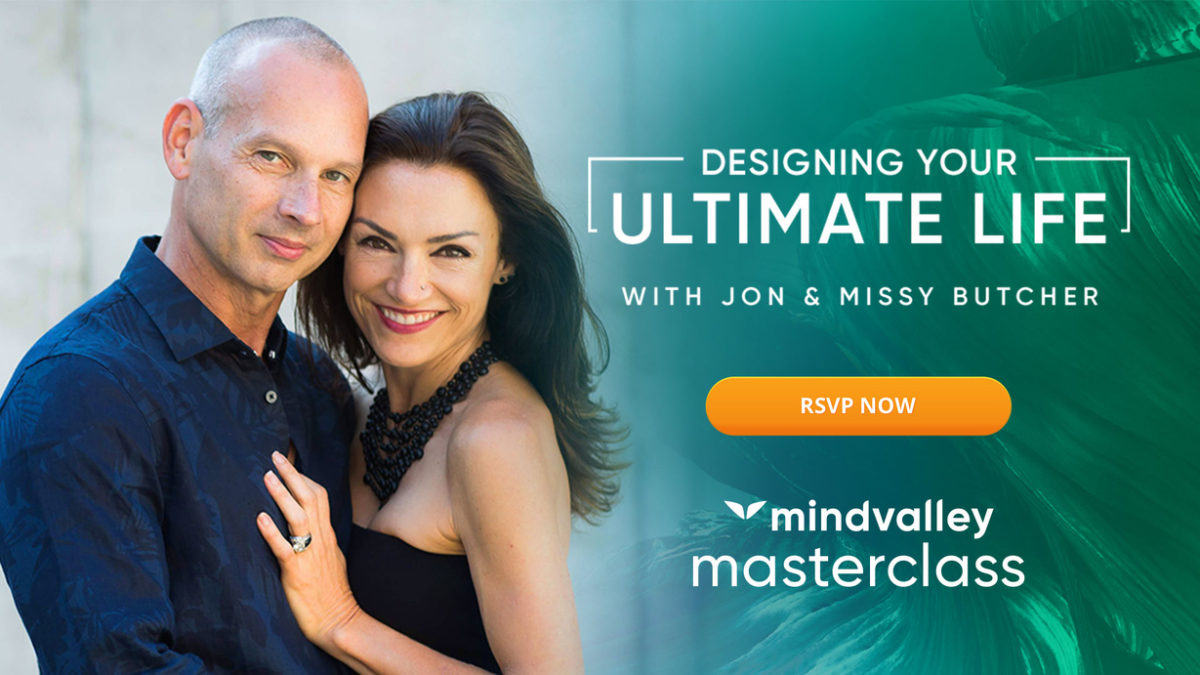 What does the ideal you look like? Share your thoughts below.