Learn How Vibrations Affect People And You
Have you ever considered how vibrations affect people?
Do you believe you are affected by, or immune to, other people's vibrations?
The answer lies somewhere in the middle, as you'll see in a moment.
When someone in a bad mood walks into a room, they can instantly bring everyone down. It works the other way, too – a happy person can uplift a room full of grumpy people. From an energetic standpoint, the energy of the person who walked into the room changed the vibration of the people already there.
That happens a lot if we are not conscious of the fact that it's happening. It happens often. In a conversation with a friend who is upset about her relationship problems, you may have started the conversation in a good mood, but as you both think about the problem and feel the emotions of the situation, your vibration changes.
But what if you were to become conscious of this, and become the positive influence, or had the ability to deflect negative energy so you can keep your energy high?
We are all emanating a vibration, all the time. What that vibration is, depends on our predominant thoughts and feelings in any given moment. Happy thoughts and good feelings create high, positive vibrations and sad/angry thoughts and bad feelings create low, negative vibrations.
When you live on auto-pilot, unconscious of people's effect on each other's vibration, you are much more easily influenced.
To stop yourself from being at the mercy of other people's vibrations, learn self-awareness and instantly catch yourself when your mood starts to change. It's hard to uplift yourself when you're miserable so don't let people drag you down. Catch yourself, and focus deliberately on thoughts that make you feel good.
When you notice people saying things like, "I know this company party is going to be a drag because I'll have to talk to all these boring people…" you can guess what their experience will be like. It's a self-fulfilling prophecy, so don't let THEIR prophecy influence your enjoyment of any part of life.
You can say, "I know this company party will be interesting because I've come up with some great conversation starters and I'll always have something to talk about." Totally different, happy experience, coming up!
Keep focusing on the good, even when people TRY to bring you into their drama. Example:
Your friend: "Ever since Tom and I broke up, people have been coming up to me and talking about him in negative ways. I don't want to listen to that anymore!"

You: "Well, why don't you just tell them you don't want to talk about Tom?"

Your friend: "Yeah but I never start that conversation. They just start talking and telling me what a jerk he was and – "

You (interrupting): "But you could just say that you don't want to talk about him."

Your friend (now defensive): "Well I don't want to be rude. But now I wish I had known these things before I dated him. I don't understand why people feel compelled to tell me this stuff."

You: "Live and learn. But you know, I don't want to talk about Tom either. I'd rather talk about the trip to Moab instead."
Some people – let's face it – LOVE drama. They're addicted to it, and they love to share their addiction. It's totally up to you if you want to join in and get hooked on the negativity, or not.
If you consciously say "STOP" to the negative downward spiral, you can prevent other people's vibrations from bringing you down. People's bad moods won't influence you. Deliberately keep your vibration high and you will influence others – and they refuse to be influenced by your positive vibe… that's okay. You will soon attract people into your life who match your new, happier vibration!
---
Gain Instant Clarity On What You Really Want In Life – And Have It All
There's a reason that so many brilliantly talented, naturally creative, intelligent and capable people never reach their potential, and it is, quite simply, a lack of direction.

Even if you have a vague goal in mind, you still need a plan, a process to get you there.

You can have the most expensive, fastest car in the world, but if you set off without a clear idea of where you're going, then the rusty old Beatle with a map and compass will beat you there every time.
If You're Ready To Experience The Extraordinary Life Design System That Gives YOU The Power To Author Your Ultimate Life, Then Join Jon & Missy Butcher's Free Masterclass

Where You will Learn:

✅ Are you stuck on the hamster wheel of life, instead of rushing towards your fullest potential? Discover how to escape the 3 soul-crushing reasons most people unknowingly cheat themselves of their greatest lives.

✅ Do you always set goals and rarely achieve them? It's not your fault – traditional goal-setting is seriously incomplete! Discover how Lifebook empowers you to rapidly and consistently take charge of your life, and realize your every dream.

✅ Experience the 'Instant Clarity' exercise: a powerful visualization exercise that guides you through your ideal day – and gives you instant clarity on who you really are, and what kind of life you really want to be living.
Step Into The New Year With A Crystal-Clear Vision For Your Ultimate Life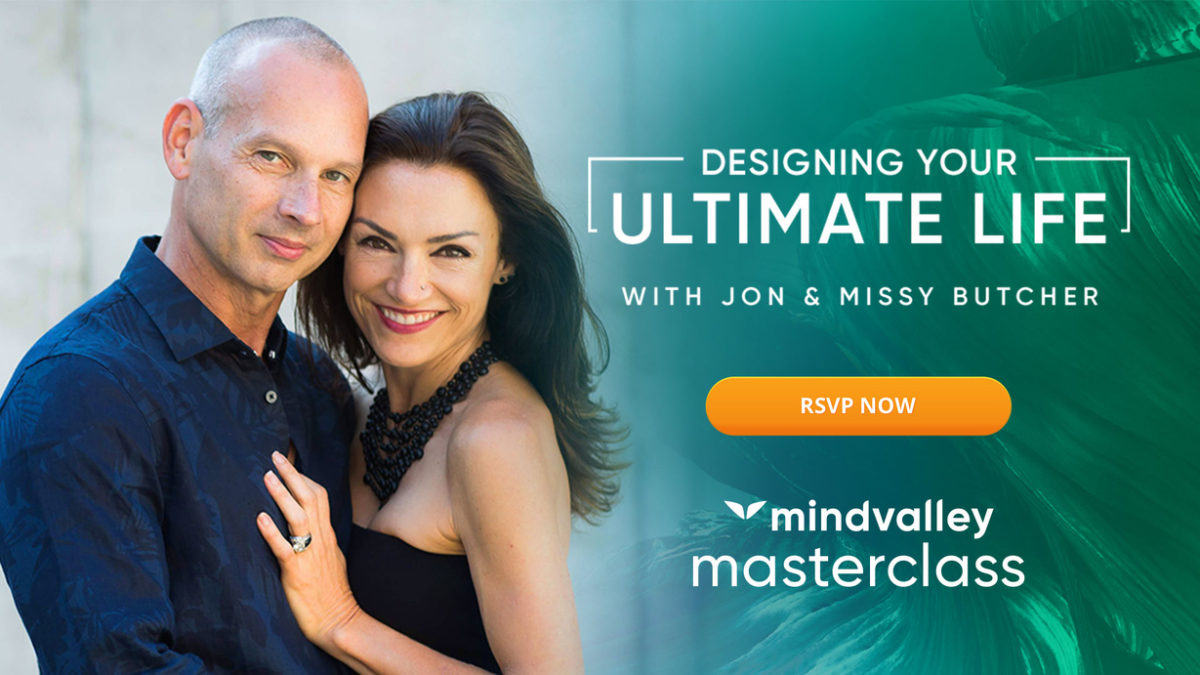 Did this article resonate with you? Share the biggest takeaway moment for you in the comments below.
And don't forget to follow Mindvalley Instagram for more stories, pictures, and lessons on the most important subjects regular schools forgot to teach you.