Almost all of us at some point in our lives will experience some form of heartbreak or a bad relationship. Be it a friend or a lover, you may at times find yourself stuck in trying to figure out how to move on with your life and be free.
When you realize that you've surrounded yourself in bad and toxic company you'll want to get out asap. Sometimes, recognizing the early signs of a toxic relationship is the key to knowing how to move on.
As the saying goes "misery loves company", and these types of people (even when you are at your best of highs) can be contagious.
Oftentimes, navigating a relationship with a toxic person can be difficult and could eventually negatively disrupt your happiness and health.
In this article, we'll go through ways to avoid such scenarios from happening and answer some important questions like;
How Do You Move On From Someone You Love?

What to expect when going through the journey of trying to move on toward a life you deserve?

3 ways you can tactfully

take back control of your time, energy, and life?
You'll also get sound advice on how to begin moving on by applying '3 key strategies' into your life.
Let's jump right in…
How Do You Move On From Someone You Love?
---
Learning how to move on from a relationship means to live your life for you and not for others.
If your relationship ended or had a falling out with a friend, you know you've moved on when you go on with your everyday life.
You don't move on by thinking of them constantly, be sad about the relationship ending, or start dwelling in the, I 'would have', 'could have', and 'should have', state of mind.
Should've, Would've, Could've, Never Got Anything Done

— Zed
There are many aspects to this. After ending a relationship, we're all guilty of snooping around our ex's social media…Yes yes, we know. We're not here to judge, we're here to help.
You'll know you've moved on when you no longer look at their updates online and get sad or jealous when they post a picture of them being happy.
When you are stuck in your thoughts and begin to exaggerate and build fictional stories of what the other person is feeling.
You start to make it all about 'you' and why this is happening and get into that 'victim mindset'. When in fact you don't really know the actuality of anything.
Why does this happen? Because as you're learning how to move on, you enter a state of grieving.
In 1917 Freud noted, "grieving is a natural process that should not be tampered with." And we think that it still holds true today.
There are five stages of grieving that you will go through, and it's important to realize this and be aware of it. It will really help you in the process of knowing how to move on and not to focus on the wrong things.
The 5 stages of grief:
Denial:
An attempt to pretend that the loss does not exist. At this stage, you are also trying to absorb and understand what is happening.
Anger:
A new reality has presented itself to you and you need to accept it. You'll be experiencing extreme emotional discomfort, because any change, good or bad is never easy. There is so much to process that anger may feel like it allows us an emotional outlet.
Bargaining:
When you begin to face reality, you begin to cope with what "was". You become desperate not to lose the place of comfort you once had. You begin to consider any way you can avoid the current experience.
Depression:
At this stage, your emotional fog and panic begin to subside and the situation will begin to feel more present and unavoidable. In these moments, sadness begins to grow, and you may feel that isolation is easier for you to deal with yourself.
Acceptance:
Acceptance is a form of moving on. You reach a point of acknowledging that all that you could have done can't fix or change reality. So instead of resisting, you give in to and allow yourself to start experiencing this new place.
At this stage, you essentially "get back in touch with yourself" and you begin to grow again.
Counterintuitively, these five stages are a bittersweet necessary journey. You will have to remember that and push through to learn from each stage you go through.
In the end, you will learn a valuable lesson that transforms this bitter journey of self-growth, into something invaluably sweet. It will point you in the direction of knowing how to move on to a better life, psychology and growth mindset.
You reach a place of finding personal "meaning".
Consequently, when trying to understand "how to move on" you'll notice that your perspective changes as well.
You begin to see things with more of an openminded approach of "whatever had to happen happened, and though it may not have worked out, you lived and you learned".
3 Ways To Start Moving On
---
Although toxic relationships can be uncomfortable, and even harmful. But with the right perspective, they can serve to be valuable lessons. These relationships can teach you key lessons on how to move on with your life and develop a strong sense of self-worth.
I'm sure you've heard the saying, "what doesn't kill you only makes you stronger."
That being said, making the initial change to distance and protect yourself from an unhealthy relationship can be difficult.
3 things you can do to learn how to move on toward the life of your dreams
Change who you surround yourself with
You are the average of the 5 people you most associate with.

— Tim Ferriss
Whether you like it or not, the people you surround yourself with influence your life choices.
Perhaps you've heard something along these lines before (many successful people share this same message), but the reality of this is actually far deeper.
Research on happiness at the Framingham Heart Study found that you are even influenced by the friends of your friends (even if you don't know them).
For instance, if a friend of a friend of a friend is happy with their life, you are 6% more likely to be happy with your life!
Will Smith even says, "Look at your five closest friends. Those five friends are who you are. If you don't like who you are, then you know what to do…"
So, start hanging out with people who are more aligned with your mindset and values; the people who inspire you to grow and chase your dreams.
Try new things
Novel experiences inspire new ways of thinking. So, changing up your routine can greatly support your efforts in knowing how to move on from a toxic relationship.
This will aid your personal growth and can help you meet people who think more like you. Plus, taking up new hobbies can also provide opportunities to care for yourself.
The outdoors offers many options for self care — whether you are seeking quiet and introspective time to yourself (hiking), social interaction (swimming or biking), or adventure (snowboarding or rock-climbing).
And as an added bonus, spending time in nature can improve your physical, mental, and emotional wellbeing.
If you're really looking to spice it up, try traveling to a different country and immersing yourself into a whole new culture.
Embrace forgiveness
Above all, practicing empathy and forgiveness is the most powerful course of action to free yourself from the weight of a toxic relationship.
Vishen Lakhiani (founder of Mindvalley and author of Mindvalley's life-changing program Becoming Limitless), teaches the immense power of forgiveness. He tells us,
Hack your past with forgiveness. Hack your present with mindfulness. Hack your future with 'I AM ENOUGH'.

— Vishen Lakhiani, founder of Mindvalley, and Author of Mindvalley's Becoming Limitless program
When you can let go of all the negative emotions that have arisen from a toxic relationship, you turn the experience into a lesson on learning how to move on.
In doing so, you can begin to create the life of your dreams. You can look at these relationships as fertilizer for your personal growth.
In understanding and forgiving yourself and others, you turn your pain into wisdom.
To learn more about the power of forgiveness, how to forgive yourself and others, and much more, check out our guide on all things forgiveness.

---
Do you believe that you need to work hard to be successful?
Like most people, your answer is most probably 'yes'. After all, it's what we've all been brought up to believe.
The problem is that when you believe this, you start to lose yourself to the grind. You start to associate success with pain and struggle.
But What If You Didn't Need To Suffer To Be Successful? Wouldn't That Be Far More Sustainable? If That Sounds Good To You, Then...Join Vishen Lakhiani's FREE Masterclass, Where He Shows You How You Can Attain Success Without Having To Suffer For It.
You'll also learn,
✅
The Myth of success
, where Vishen reveals the ultimate myth of success that keeps us locked in mediocrity and prevents us from achieving our goals,
✅
A simple daily practice
that will allow you to notice more positive opportunities throughout your day. This will allow you to see just how malleable reality is, and how you can bend it in your favor.
✅
Understand the Four Key Stages of Human Consciousness
, and how to identify where you are today, so you can accelerate your personal evolution. Understanding which stage of consciousness you're at will tell you how best to maximize your growth so you can accelerate your transformation!
Get Proven Tools To Instantly Awaken Your Limitless Potential On This Free Masterclass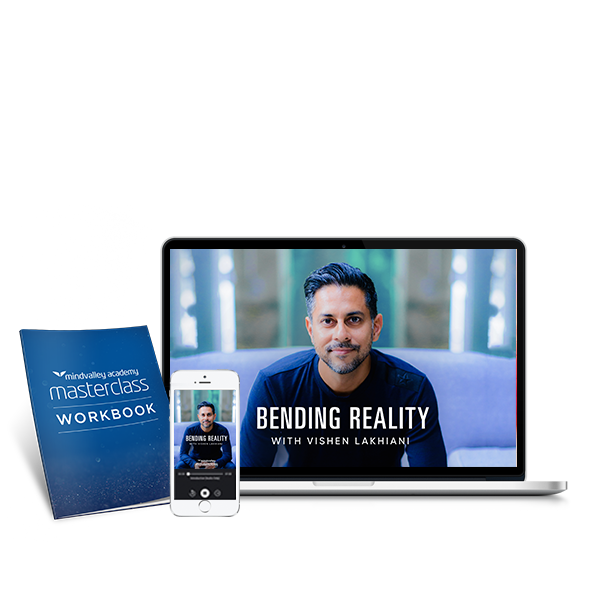 Learn How To Unlock Your Highest Level of Human Consciousness
Choose a date and time below to tune in to the broadcast in your own local time zone.
[blink_amp_form webinarid="5210301832626176"]
---
Have you freed yourself from an unhealthy relationship lately? How do you feel now? Share with us in a comment below!