How To Boost Testosterone And Last Longer In Bed
What if you could improve your sexual performance, with simple lifestyle changes that are easy to do?
"The Big T" is key to men's sexual performance and satisfaction. In fact, testosterone is crucial to almost every area of the male body, from muscle growth to body fat. And healthy testosterone levels are essential for mental, physical, and sexual health.
Due to age and lifestyle factors though, testosterone levels can diminish over time. In fact, low 'T' levels are surprisingly common. This can result in reduced vitality and libido, as well as sexual dissatisfaction — both for men and their partners.
Thankfully though, there is a lot of scientific evidence and studies around the area of this healthy hormone. Thus, there are good guidelines out there to keep your "T" levels within a healthy range.
Easy Lifestyle Changes to Boost Testosterone
---
If you'd like to boost your testosterone levels, increase your libido, and become a more satisfying lover, these guidelines will get you on the right track:
Stress: decreasing the stress in your body is important for healthy testosterone levels. In fact, it's one of the most important things you can do. Stress raises cortisol, which actually lowers testosterone. Thus, getting enough rest and sleep is important. You could even try meditation if you haven't already.
Body-fat: Excess body fat causes a boost in Oestrogen. Thus, keeping a healthy body is essential, ideally with 10-20% body fat. As Dr. Gary Wittert – Head of the School of Medicine at the University of Adelaide, Australia suggests, "Weight loss has a predictable and linear relationship with increased testosterone naturally."
Diet: a healthy balanced diet of natural foods and few processed foods is ideal. Zinc, Magnesium and getting Vitamin D (ideally from sunlight) is particularly important. Some experts even recommend Cortiseps mushroom, ginger, and intermittent fasting.
Mental Health: letting go of negative thinking, resentment and anger are key to a healthy inner life. And this is crucial for a healthy hormone balance too. Upping your mental game can even increase your partner's pleasure (for more, see video).
Exercise: by far one of the easiest first steps to sorting this area in your life out is by working out. Not only does it boost testosterone, but growth hormone too. Weight lifting and high-intensity training can be of particular benefit, as mentioned in the video above.
Psalm Isadora's Testosterone Boosting Tips
---
In this video 4 minute, Psalm Isadora, Mindvalley Academy's intimacy coach not only shares her testosterone boosting tips but also you'll learn:
(0:21) — How to gain vitality and increase testosterone through specific workouts;
(1:55) — How to up your mental game and ensure your partner's pleasure;
(2:41) — How to build up your natural ability to feel pleasure;
(3:17) — How to use sexual tension to increase intimacy and ecstasy.
So if you're ready to boost your testosterone, increase your libido, and become a more satisfying lover, this short video will teach you just that.
---
Do you have experience with lower testosterone, and want to improve it naturally?
Has raising your T levels brought the passion back into your life?
Share in the comments below!
---
If You Want To Discover How To Instantly Activate Your Sensual Energy for Intimacy and Attractiveness, Then Join This Free Masterclass With Late Legend, Psalm Isadora

Where You will Learn:

✅ How the mind-body-spirit can transform not only your sensual life but also every other part of your life — your career, your finances, your friendships and more.

✅ How to uncover and delete psychological and energetic blocks around intimacy – you'll know exactly how one of Psalm's clients, a famous actress, turned around her "hopeless relationship" into an amazing adventure that led to a picture-perfect marriage.

✅ Discover how to connect with your energy shakti (even if you're a man) and experience more energy, more intimacy and more fearlessness in your life through simple practices of the ancient sages.

✅ The Transformational Sound Breath Exercise — a powerful ecstasy-inducing 30 second exercise designed to liberate you from your intimacy blocks and activate your "right brain."
Register And Access The Late Legendary Psalm Isadora's Sensual Secrets To Greater Intimacy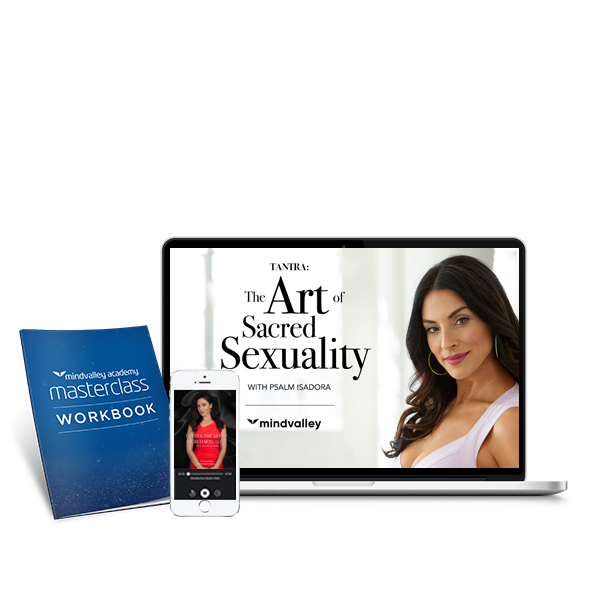 Discover 4 techniques that instantly activate your Tantra Energy for intimacy and attractiveness
Choose a date and time below to tune in to the broadcast in your own local time zone.
[blink_amp_form webinarid="6586759324631040"]